You have probably heard of the terms: Green travel, organic, eco-conscious, eco-friendly, responsible, sustainable, eco-tourism, but what do they really mean? What is the definition of green travel exactly?
In the past several years, these environmental catchphrases have cropped up everywhere — in newspaper articles, online, in stores.
But what do they all mean in the context of travel? Since these concepts are still in their formative stages, defining them is tricky. But we've compiled definitions from reputable sources and added our own two cents.
Travel Green On Your Next Vacation to Reduce Impact
How to Travel Greener Tips and Eco-friendly Preparations
How Green can you be On The Road
Innovations in Green Travel Series
Shades of Green Travel: How Green Are You?
Green Travel Quizzes: Revealing and Fun Quizzes to Enjoy
Turn Any Vacation Green
Damages of Air Travel on Our Environment
6 Awesome Travel Ideas for a Green Vacation
15 Reasons to Travel Green to be a Responsible Traveler
Sustainable Souvenirs – How to Find Them and Why Buy Them
Reduce your travel footprint by holidaying closer to home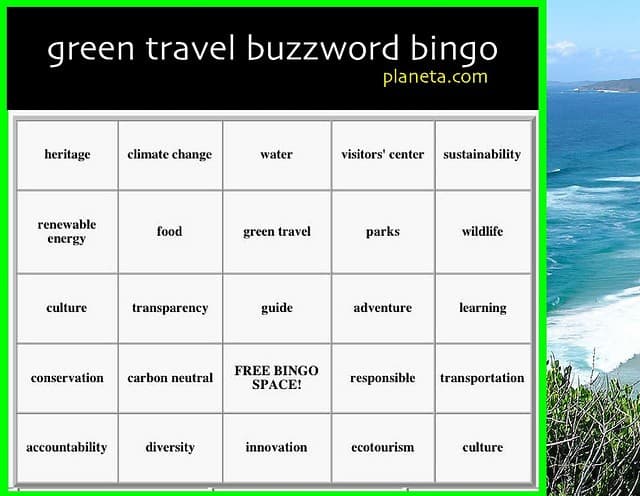 Definition of green travel and how to travel green
Eco-conscious travel
Conscious means being aware of something. Eco means concerning the environment, so "eco-conscious travel" essentially means being aware of the environment, and your impact on the environment, when you travel.
Eco-friendly travel
Again, eco relates to the environment, and we all know what friendly means, so "eco-friendly travel" means being nice to and having little impact on the environment when you travel.
Eco-Tourism
From our good friends at Ecotourism Australia, "Ecotourism is ecologically sustainable tourism with a primary focus on experiencing natural areas that fosters environmental and cultural understanding, appreciation and conservation."
Responsible Travel
This concept expands beyond the traditional notions of environmentalism and encompasses socially-conscious travel. It means understanding, respecting, and supporting the cultures and people in the area you are visiting.
We have paraphrased the definition from Lonely Planet, which seems to really hit the mark. Lonely Planet describes it as travel that considers the "triple bottom line" issues of the environment; social/cultural; and economic.
Environment:
travel that strives to minimize negative environmental impacts. If possible, seeks to make positive contributions to the conservation of biodiversity, wilderness, natural and human heritage.
Social/Cultural:
travel that respects traditions and culture; and looks for ways to foster authentic interaction and greater understanding between travelers and hosts.
Economic:
travel that has financial advantages for the host community and operates on the principles of fair trade.
Sustainable Travel
From Detour Destinations, this is defined as "a level of tourism activity that can be maintained over the long term because it results in a net benefit for the social, economic, natural and cultural environments of the area in which it takes place."
Organic Travel
Because so many people now associate the term "organic" with the food they consume or the clothes they wear, this term could have many meanings and interpretations. It could mean to take "staycations" where you travel close to home, visiting the museums, parks, and downtown areas. Maybe it is easy to drive to or maybe you take the bus or train to get there.
Perhaps instead of taking the bus tour, you seek out a walking tour or bicycle tour. It could mean being as local as you can be wherever you are. As an example, while on a vacation, or anywhere and anytime really, seeking out local produce from the grocery, farmers market, or road stand.
It could mean eating in a local, rather than brand name, restaurant. It could mean staying in a small, local bed & breakfast instead of the larger, often more wasteful, large hotel chain.
Green Travel
As defined by the staff at GoGreenTravelGreen, we consider green travel to mean:
Thinking about your impact on the environment (both the physical and social environment) when you travel
Doing your part to minimize your impact on the environment — so that tourism in your destination can be maintained in the long run
Understanding eco-friendly choices you can make
Making eco-friendly choices when they are options
Doing your research to be a responsible traveler
Saving money by making low-impact choices
Definition of What is Green Travel
There are many answers to the question of what is green travel. By being mindful of your choices, it can easily become a habit. Just seek out and implement the eco-friendly options when you can.
Green Tourism: A PR Trend or Something More?
Lately, I've noticed a number of city or state specific green tourism sites popping up. For instance, Wisconsin has a green tourism site.
Boston has a green site.
San Franscico has an excellent site.
Minnesota (through the University of Minnesota) has launched a site.
Virginia was one of the first states I saw with a green tourism site.
Even a city in Vietnam has put forth a green tourism initiative.
Green Tourism: A PR Trend
photo credit: Yodel Anecdotal
I'm curious about what others think about these sites and promotions. Is it just tourism hype? Or a good conscious effort to make a city green? Or somewhere in between?
Personally, I think the green tourism trend seems to be a good thing. The tourism sites I've seen are (for the most part) really well put together with useful information.
Even with the economy as it is, green tourism is growing. And it's nice to see that cities are still pushing green travel.
Consider these 13 tips for meeting other green travelers
Meeting fellow travelers can be intimidating, especially when you first start traveling. But it doesn't have to be. These tips and tricks will help you find fellow green travelers to join you on the next leg of your journey – whether it be a day in a nearby village or a month in Costa Rica.
Using these 13 tips for meeting other green travelers can be a wonderful way for everyone to benefit from conserving our earth's precious resources.
Become a couchsurfer
At CouchSurfing, you search for locals to stay with in thousands of destinations across the world, from Switzerland to Sri Lanka. You can search based on language, gender, age, and key words, so it's easy to find someone with interests and passions similar to yours.
Odds are if people are hosting couchsurfers, they probably couchsurf themselves so you could meet a future travel companion.
It's our kind of organization – it's free, it's a non-profit, and it has a conscience. According to its website, CouchSurfing's mission is "to internationally network people and places, create educational exchanges, raise collective consciousness, spread tolerance and facilitate cultural understanding." For other couchsurfing sites, check out The Top 5 Couchsurfing Sites from the Times Online.
Volunteer for the environment
At Volunteer Abroad you can search for volunteer opportunities by region, city, and interest area, including "environment." Volunteer Latin American focuses on sustainability and conservation and offers a variety of green volunteer opportunities throughout Latin America.
At Idealist.org, you can choose an interest area and a location to search for volunteer opportunities and jobs. For more green volunteering abroad ideas, check out this Green Guide post.
Use social networking sites
MySpace alone has over 20,000 groups categorized under "Places & Travel," including World Travels, Travel Thailand, and Brazil. Join an international group or find your destination and post a call out for other green travelers in the forum.
Take the bus or train
In addition to being less environmentally-friendly, traveling by rental car is isolating. It's hard to meet other travelers while you're locked inside your Prius. But intra-country public transportation sets you up to be much more social.
If you're looking for traveling friends, choose to sit near other backpackers and when you get the chance, take the opportunity to talk with that German couple in your train car.
Seek out group activities
Ask the person working the hostel desk what kinds of low-budget group activities he or she would recommend. Find something that sounds interesting and sign up for it.
Whether you're whitewater rafting or taking a day trip to a nearby city, spending an entire day with other travelers will help you get to know them. And if you pick a green activity, odds are you'll meets lots of other green travelers.
Arrange a group activity
Can't seem to find a prearranged group activity? Set one up yourself. Ask other hostelers what they've done and if they'd recommend it.
Look online or in your travel guide for day trips or local activities. Pick some interesting activities and invite your fellow hostelers to come along. Don't be shy – you'll be surprised how many others will take you up on your offer.
Search online forums
Before you head to your next destination, check out travel or backpacker message boards and forums. There are country-specific forums, like Backpacker Board in New Zealand, and international ones like those on Eurotrip.com, Trip Advisor, and Hostels.com. Try a search for "travel buddy" or "travel partner" if you're seeking a fellow green traveler to join you on the next leg of your trip.
Strike up a conversation
It's easy to be intimidated in new situations, but remember that everyone in a hostel is in the same boat. Start a conversation with other travelers in the hostel kitchen or the town square. Ask people where they're from, what they like to do, where they're headed next. If you share the same interests, suggest going out for dinner at the local organic restaurant you heard about.
Go to a meetup
Meetup.com is a free way to organize online and in-person around just about any interest. You can find meetups in your hometown before you start your travels or you can look for meetups in your destination.
Join the meetups that look interesting to you and make friends with people who share your interests. In addition to great travel advice, you might also meet some future travel buddies. You can start by browsing the travel, backpackers, and environment meetups.
Contact a green travel organization
Ask around about or search online for green travel associations in the country you're visiting. Organizations like Camp Green, Canada, which is "a national campaign of Canadians working together to improve the environment," will be able to tell you about local green activities and connect you with other green travelers.
Take an Ecotour
Ecotours are becoming increasingly widespread to the extent that even non-environmentalists are checking them out. It's a double-edged sword – it's good because it means people who wouldn't otherwise care about the environment are doing something to help it, but bad because it means it might be harder to meet other sincere green travelers.
Planeta.com, which "has provided tips for travelers and locals who share a vision of eco-friendly, people-friendly and place-friendly travel" since 1994, is a great place to start.
Peruse online classified ads
Community-based online classifieds like Craigslist in the U.S. and other countries and Gumtree in Australia are good places to look for green travel events and travel partners. On Gumtree, click the "travel/travel partners" under "community" to browse ads other travelers have posted.
As always with situations when you're meeting strangers, be smart and use your better judgment. If you find a perspective green travel buddy, meet him or her in a public location.
Talk to your friends and family
Even if they don't travel much, friends and family members likely know people who do. You never know – your mom's college roommate's daughter who's majoring in environmental science might be in Costa Rica when you are.
Keep your family and friends in the loop on your next travel destination and let them know you'd like to meet up with anyone they know in that country.
Bonus Tip: Remember sometimes it's ok to travel alone
So you follow the steps above and meet Barbara, a fellow green traveler, in Munich. She's nice enough but by day 3, you've realized a long-term friendship isn't in your future. Good thing you're leaving for Prague in the morning, right?
But when you get up to head to the train station the next morning, Barbara's waiting and excitedly tells you she's changed her plans and can go with you to Prague.
Think it won't happen to you? This is a true story, as told to me by Toby, an Australian backpacker I met in Poland. Barbara had followed him to two countries and was planning to tag along to a third. His plan?
To escape to Budapest under the cover of darkness to avoid confronting her. If this happens to you, have no fear – Brave New Traveler has outlined How to Escape An Undesirable Travel Mate.
Always trust your instincts and use common sense when using 13 tips for meeting other green travelers.