Go Green Travel Green is viewed by tens of thousands of visitors every month. We cover everything from eco-tourism and public transit to local foods and green travel gear.
Go Green Travel Green's targeted topics make it an excellent match for a wide range of advertisers, including hotels, resorts, credit cards, personal finance tools, tourism bureaus, countries, airlines, and green product companies. Our website visitors are savvy moms who love to travel, are dedicated to reducing their environmental impact, and are smart with their money.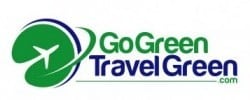 The [London] Times Online named Go Green Travel Green a Top 100 Travel Sites Newsweek, Forbes, Los Angeles Times, MSN Money, National Geographic, PC World, and others have featured Go Green Travel Green
Go Green Travel Green is the top online resource for sustainable travel.
Whether you're a lifelong environmentalist or a traveler who's just starting to exploring ways to decrease your environmental impact, we're committed to providing you with tips, stories, and travel gear to make green travel easy.
We cover everything from eco-tourism and public transit to local foods and Go Green Travel Green gear.
Founded in 2008, Go Green Travel Green (GGTG) quickly became a top sustainable travel website.
GGTG was re-launched with a focus broadened to include green living, money tips, family travel.
Thanks for reading!
Find us on Twitter, Facebook, and Pinterest.
Go Green Travel Green in the News
Go Green Travel Green has been featured in media such as Newsweek, Forbes, Los Angeles Times, The Observer, MSN Money, National Geographic, PC World, Kayak, and Lifehack.
We were named one of the [London] Times Online's Top 100 Travel Sites.
MSNBC: EarthTalk: Haiti quake, green prisons ~ January 26, 2010
The Westerly Sun: It seems that everyone sees green in green ~ December 20, 2009
ABC News / PCWorld: Who's Responsible for Outrageous Gas Prices? ~ August 19, 2008
The Observer: The travel gurus' guide to 2010 ~ January 3, 2010
Forbes: How To Save On Holiday Travel ~ October 10, 2008
Los Angeles Times: JetBlue coupon; Snagging discount New York theater tickets; Green Travel index
Lifehack: Lifehack Digest for February 24 ~ February 25, 2008
Times Online: Best websites for specialist travel ~ March 18, 2009
Credit Donkey: Best Travel Blogs ~ July, 2018
We are extremely excited to announce that we were named one of the Times Online Top 100 Travel Sites for 2009!
You'll find us in the Best Websites for Specialist Travel category.
Of course, we couldn't have done this without you and the rest of our readers.
You are what make this green travel community so amazing.
Some others who were featured in the top 100 websites include: Gridskipper, Travel Rants, Green Traveler, and Cranky Flier.
Check out the complete list of Top 100 Travel Sites.
We have a guest post up at Kayak.com about 5 (+1) Ways to Travel Green with Kayak.
If you haven't checked out Kayak lately you'll see that they have recently added features like sorting rental cars by miles per gallon.
Remember whenever you use Kayak to give back to the environment by searching with Search Green Travel.
The History of Go Green Travel Green
Kimberly and Elizabeth, co-founders of Go Green Travel Green, are avid travelers and environmentalists.
After living in Russia and traveling across Eastern Europe, Egypt, and Turkey for 2 months in 2004, they temporarily settled in Washington, DC.
In 2008, they quit their DC jobs to travel.
Elizabeth and Kimberly explored Argentina and Belize for 4 months before settling in Minneapolis, MN.
They became moms in 2011 and they're both passionate about green living and creating a safe and healthy environment for their son.
They're also determined to keep traveling and are learning that traveling with kids is both incredibly challenging and tremendously rewarding.
Kimberly and Elizabeth have been to a collective 36 countries and so far their favorites are Ireland, Egypt, and Argentina. Legoland California trip
Meet Our Writers
Kimberly, Co-Founder and Editor
Kimberly's passion for travel was born when she studied abroad in Krasnodar, Russia in high school.
Since then, she's been to six continents and is scheming to get to seven.
A long-time environmentalist, Kimberly led online outreach at Environmental Working Group.
In 2011, she became a mom and set her sights on helping moms like her find the resources they need to travel with their kids and adopt a green lifestyle.
Kimberly enjoys writing travel stories, product reviews, and green living tips for families.
When she's not busy chasing her son around, she likes listening to records and frequenting thrift stores.
Elizabeth, Co-Founder and Editor
Elizabeth, a freelance writer and attorney, loves travel and being a mom.
Her favorite activities include sampling local ice cream, playing tennis, training her dogs, and exploring the outdoors with her son.
She enjoys writing about personal finance for moms, product reviews, and family travel tips.
Elizabeth also writes for the personal finance website Wise Bread.
Amy Whitley, Staff Writer
Amy Whitley is an adventure, eco, and family travel writer based in Oregon.
When she's not writing at Go Green Travel Green, She and her family love exploring the outdoors, navigating new cities, and finding great hotels and restaurants along the way.
Tell us about your travel experiences.
I was one of those kids fortunate to have parents and grandparents who traveled, so experiencing new places and cultures has always been a priority in my life.
As a child and young adult, I traveled across Europe, Mexico, Canada, and U.S., and after my own children were born, I was determined to raise them in the same manner.
I quickly learned that while traveling with kids comes with challenges, the rewards vastly outweigh any inconveniences.
Kids adapt to new places and new people with enviable grace, and I learn as much as they do when we set forth on each adventure.
In what ways do you consider yourself green?
Our favorite type of travel involves natural spaces, national parks, and outdoor exploration.
I've been 'green' long before the term was coined, and I credit this mindset to my appreciation of the outdoors.
Because of this respect for our parks, natural wilderness, and wildlife, it's important to me to teach my children how to preserve and care for our environment.
To this end, I've been a vegetarian for fifteen years, travel and explore locally with as light a carbon footprint as possible, and keep an eye on eco travel products which will help me on this quest (staying away from excessive packaging, a pet peeve of mine).
Am I perfect?
Goodness no.
But I believe that green travel is not only possible, but natural.
What types of interesting tips and adventures can we look forward to hearing from you?
It's a bit of a mission in my life to convince parents that they can (and should) travel with their kids, so many of my travel tips and destination reviews will come from a perspective of family travel.
I've been told I'm one of the most organized people you'll ever 'meet', so you can expect plenty of travel planning and itinerary tips from me as well.
You'll also see a lot of backpacking and hiking posts, eco product reviews, and adventure travel tales.
If you can hike to it, paddle around it, climb it, or zip-line across it, I want to go!
Where else do you write on the web?
I'm the founding editor of a family travel site that reviews hotels and resorts, outdoor spaces, museums, and more across the U.S.
Stop by, and you'll find road trip itineraries, flying tips, our top ski resort and beach town picks, theme park advice, and more.
Every Tuesday, you'll also find me at Practical Travel Gear, where I review the latest in outdoor and family travel gear.
Occasionally, you'll see me elsewhere, as I'm a contributor to regional print newspapers and magazines in my home state of Oregon.
Tell us about your travel experiences.
I caught the travel bug in 2006.
Since then I've traveled to over 25 countries.
More than that, I've been able to experience life in many of them.
While living in South Africa for 4 years, I explored countless cities and cultures throughout sub-Saharan Africa.
In what ways do you consider yourself green?
I've been vegetarian for quite a few years, mainly because of the environmental impact meat production has on the environment.
My husband and I tend to focus on long-term travel.
Going at a slower pace means we get a more authentic experience, but also lessens the impact we're having on the environment.
What types of interesting tips and adventures can we look forward to hearing from you?
We've been lucky enough to do a lot of long-term travel, I'm excited to share tips on how that's worked so well for us.
After living in Africa for a few years, I have a lot of tips for over-landing and traveling through the massive continent.
Also, later this year we're moving to Scotland.
I'm excited for this new adventure, and I'm sure I'll be sharing all sorts of lessons we learn as we prepare to move overseas again.
Where else do you write on the web?
I co-founded Peas in a Blog with one of my best friends.
We focus on vegetarian food and fitness.
But, because we both love travel, we throw it in as much as we can!
Eco-Lodges, Green Tours, Green Hotels, Green Tourism Industry, Travel Gear and Luggage
We know that many of our readers are affiliated with the green travel industry in some way.
Running an eco-lodge, green hotel, WWOOFing, volunteer tours, etc.
We're thinking of starting up to three new initiatives and would like to know your thoughts:
Free Guide:
Greening Your Travel Business — A Consumer's Perspective
Free E-Newsletter
For people working in green tourism initiatives.
It would be from a consumer's perspectives with roundups of what other travelers are saying online, resources, etc.
Directory of Green Hotels, Tours, Eco-Lodges etc
Best of the Best Luggage
We've featured a number of luggage posts this year.
Here are the best of the best – all of the top luggage posts we've featured.
Best Rolling Duffel Bags featured the best rolling duffel bags to help save your back when packing a duffel.
Best Weekender Bags showcased the top rated weekend bags for when you're taking a short trip away.
Best Travel Bags for Women revealed all the fun prints that are available for women looking for a suitable bag.
Lightest Luggage: Light Weight Luggage Reviews highlighted the best new luggage for light weight travel.
Kids Carry-On Luggage Your Children Will Love (enough to carry themselves)
Lightweight Luggage and Suitcases Reviews for Frequent Travelers
Best Backpack ~ 9 Tips to Choose the Best Travel Backpack
Lightest Luggage – LightWeight Luggage Reviews
TSA Locks: Luggage Lock Reviews
Green Luggage Reviews
Digital Luggage Scales: Luggage Scale Save You Money and Environment
Our goal is always to help make it easier for you to travel.
Our site will continue to be focused on green travel tips for individual travelers, but this would be a way for people in the tourism industry to hear directly from green consumers.
If there's not enough interest, we won't bother.
But if you or your business is even slightly interested, let us know by filling out the opt-in form directly below.
We'll let you know next week if there are enough people interested to move forward.
For information on our disclosure and privacy policies, please visit our Policies page.
Have suggestions or questions?
Let us know.
For more information about Go Green Travel Green, check out our About page.
To learn more and Search Green Travel, the first eco-conscious travel search engine, visit the Search Green Travel About page.
Links to OUR FAVORITE BLOGS, WEBSITES AND RESOURCES
I Love my Kitchen ~ Great website about kitchen designs and bathroom designs.
TravellingKing.com ~ Writes about how to travel for the part time or casual traveler and how to travel in luxury without breaking the bank (or taking out a loan!).
Where to go Honeymooning ~ Searching for the best destinations, hotels and activities for your honeymoon? Checkout this website
Trekking Nepal ~ Great information about the awesome once-in-a-lifetime experience!
This Life In Trips ~ collection of memorable experiences, great food, and overall awesome times.
Global Debauchery Currently visited all 50 states and 37 countries in four years.
Check out her travel blog for discount travel tips, unique must-sees, travel tech, and my own personal misadventures!
The Roman Guy ~ Italy travel guide
Happy Frog Travels – It's all about the place!
Green Travel Articles
You may also be interested in some of the articles we have written about green travel.
The Green Hotels page lists a wealth of information about green hotels.
The 25 Days to Green Travel Series provides an introduction to green travel in a series format.
Organic Goes Corporate
Travelers, it's 10 am.
Do you know where your organic food is?
Possibly on its way to your local grocery store from a corporate food processor.
You might have been concerned when Clorox acquired Burt's Bees
I know I was – somehow bleach and personal care products just don't mix in my mind.
But did you know that M&M Mars bought Seeds of Change, a company whose mission is to promote sustainable agriculture, over 10 years ago in 1997?
Or that Coca-Cola owns Odwalla and Pepsi owns Naked Juice?
The list goes on – Kraft lays claim to Boca Foods, Kellogg has dibs on Morning Star and Kashi.
It seems like all of the major American corporations are jumping on the green bandwagon.
Does it change how you feel about the food you buy from these companies?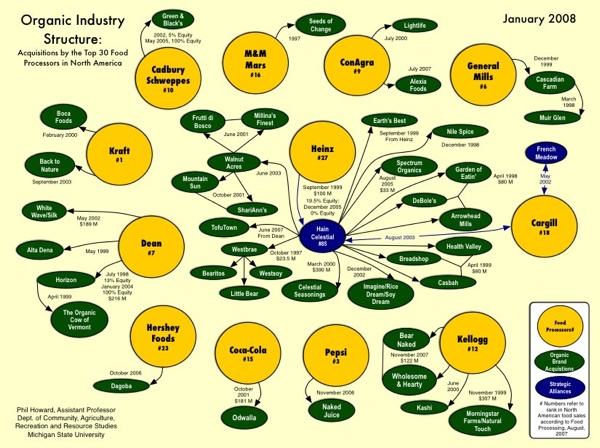 image credit Phil Howard
I first saw this image, created by Associate Professor Phil Howard at Michigan State University.
His website has lot of other interesting charts and even a movie depicting how it all comes together.