Not all kids' carry-on luggage is created equal.
For families flying carry-on only, it's important to find the best suitcases for kids to do the job.
We travel with kids over a dozen times per year, and reach for the same bags each time.
The luggage we recommend for family travel is versatile, tough, kid-sized, and carry-on luggage sized.
Kids' Carry-On Luggage for kids

Kids' Carry-On Luggage Your Children Will Love (enough to carry themselves)
Traveler's Choice Rome 21″ Hardside Rolling Carry-On
We love Traveler's Choice for its affordability and quality, and their Rome Hardside Rolling Carry-On is the perfect first 'grown-up' carry-on for school-aged kids.
It's lightweight, and its four wheels swivel in all directions, making it easy for kids to maneuver even through dense crowds.
It fits into airplane's overhead bins easily.
The shell is polycarbonate which absorbs impact, so it will last a long time, even if luggage handlers handle it, should you decide to check it.
There are different sizes and colors to choose from.
This is a suitcase that will be practical for your kids to use into their teens and beyond.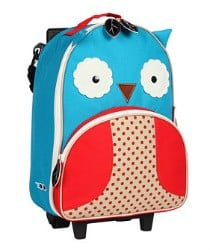 Skip Hop Zoo Kids Rolling Luggage
For younger travelers, the Skip Hop Zoo rolling suitcase is a great option.
This adorable animal-themed bag comes in many designs: ladybug, unicorn, bee, dog, owl, giraffe, rhino, butterfly, and monkey.
Your little traveler is sure to love it — and so will you.
They are colorful and bright and easy to keep track of.
There's just enough space to carry clothes and a small stuffed animal or toy for a weekend trip.
It's also the perfect way for your little one to carry his or her own snacks, books, and toys around town.
You'll probably find they use it for trips to the library, sleepovers and play dates, and to tote games and books for long car rides.
This is the smallest bag on our list.
The Skip Hop Zoo Kids suitcase measures 12x5x16″.
It usually ships free.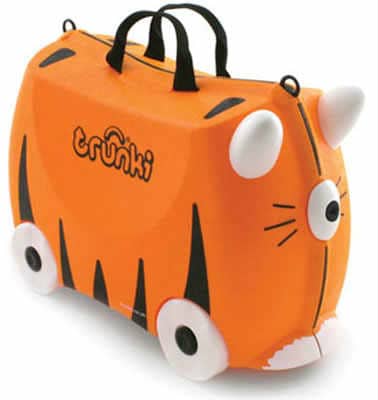 Kids' Carry-On Luggage by Melissa and Doug Trunki
Everyone's noticed a Trunki or two rolling through an airport.
Bright and colorful, these rolling hard-shell carry-ons serve a dual purpose: Toddlers and preschoolers can ride them like push-toys as well as pack their belongings in them.
Trunkis include a tow-strap, locking catches, and two carry handles for mom and dad, as well as a teddy bear seat belt and a sticker pack for the kids.
Kids love to customize their Trunki.
At 46x20x31cm (18x8x12″), Trunkis are carry-on size while still big enough to carry what small children need.
Like the Skip Hop above, your child will probably use this luggage piece a lot.
It's perfect for the airport and airline travel as well as road trips and travel by bus, train and ship too.
It's practical for around-town too, not only vacations.
Trunki carriers are easy to tote and easy to spot.
They are unique, bright and colorful.
This makes a great gift too.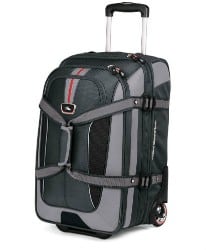 High Sierra Wheeled Duffel
Another dual-purpose pack, the High Sierra Wheeled Duffel, is two bags in one: a rolling duffel and a backpack.
We love it because kids can be in charge of both their carry-on and their backpack.
The main compartment features a divider panel that creates two internal compartments, and an internal mesh zip pocket on the front flap.
This is great for dirty laundry!
The bag includes a pull-handle and wheels.
The whole ensemble is 22x13x9″, making it carry-on sized. See High Sierra luggage.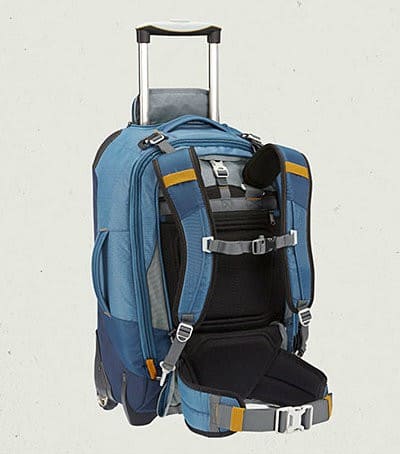 Eagle Creek Flip-Switch
This new offering from Eagle Creek comes in two sizes.
We recommend the 22″ for kids.
It can be used as both a roller and a backpack.
That's right: When your kids encounter those pesky stairs down to a boarding area or up to a terminal, they can easily switch to backpack mode.
The backpack straps (including a waist strap) fold into the external zippered pocket when not in use, but are easily accessible when you need them.
Eagle Creek has even addressed our only complaint: The stowed straps do take up a decent amount of room, but you can remove them altogether and use the external pocket for other items if you're sure your trip will not necessitate the backpack.
The Flip Switch is lightweight, durable, and includes a roller handle and roller wheels that actually roll.
It's one you'll be using for a long time. Buy the Eagle Creek Flip-Switch on Amazon.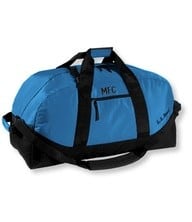 L.L. Bean Adventure Duffel
We've been using L.L. Bean's Adventure Duffels in the medium size for years.
These tough-as-nails duffle bags are small enough to be toted by kids as young as preschoolers, but roomy enough to store all they'll need for a week's vacation.
We love the thickly padded, removable shoulder strap, and the easy-to-grab handles.
The duffle bag comes in four sizes and an array of bright colors.
We monogrammed ours for each child, but alternatively, your family could keep track of their own by color.
They have a reinforced bottom that's water resistant.
There are cinch straps.
Ours show literally no wear and tear, and we've been traveling with them for at least five years.
Why get kids' carry on luggage
You may be feeling like wanting to buy your child a piece of luggage for an upcoming trip is a luxury purchase.
But know your child will most likely use it many times, not just for big trips.
When kids have their own luggage, they take pride in keeping track of their belongings and want to live up to the challenge of being responsible, especially as they get to tote it around the airport.
Get them involved with the packing too, and help them to learn early on what to pack.
Suitcases for kids are an all-around win!
Best suitcases for kids
What's your favorite kids' carry-on luggage?
Luggage for Kids Travel Gear for Children
Are you planning a trip for your family of four?
Whether you're going to a tropical getaway in Bermuda or a ski trip to Colorado, you need a way to carry your gear – and so do your kids!
When it comes to choosing luggage for your kids, we know you want fun yet practical options.
You don't want something too large or too expensive as your child is constantly growing.
This article will provide you with the best luggage for kids and also give you tips on how to travel with your little one.
Read on to discover the top kids' luggage the internet has to offer.
Kid's Luggage Scooter:
Oh to be young and be able to skate through the airport on portable luggage.
This is the perfect piece of luggage for your energetic child.
It will hold all of their stuff while also wearing them out.
Once they spend some time skating around the airport, they will be nice and tired and ready to sleep on the plane all the way to your destination.
This luggage scooter comes in bright yellow so you won't be able to easily lose your child.
Hey's Marvel Two Piece Luggage Set
Encourage your kids to be SUPER with this Marvel superhero luggage set.
Not only will these suitcases make your kids feel trendy, they're also practical.
They come in a two piece set with one large suitcase and one small.
You can pick which suitcase is appropriate for your length of travel and leave the other one at home.
American Tourister Finding Dory Luggage
This Finding Dory suitcase is perfect for any ocean destination.
The Finding Nemo movies are beloved by most children and your child will surely love traveling with Dory.
This suitcase also features a hard shell top so your child's belongings won't get damaged.
3D Car Travel Suitcase
A toy and a suitcase in one!
This 3D car suitcase is on wheels so your child can play with is between destinations.
It also features a durable outer shell and an adjustable handle.
Backpack with Trolleyhand
This bag is a backpack-trolley hybrid.
Your child has the convenience of wearing it on his or her back when you need to move quickly or pulling it behind them when it's time for easy rolling.
It comes in a fun, hot pink color that will make your child happy to carry it.
American Tourister Disney Mickey Mouse Spinner
Are you planning a trip to Disney World?
If so, this is the perfect bag for your child.
It's compact and practical with the appearance of Mickey Mouse.
It will give your child a taste of the Disney vacation that's to come. American Tourister Disney Mickey Mouse Spinner
Hey Girls' Spinner and Beauty Case
This is the perfect suitcase for your little diva.
It comes with a "beauty bag" for all your little ones' hair and make up essentials.
It's also Hello Kitty themed and very cute. Hey Girls' Spinner and Beauty Case
Lily Bloom Under The Seat Bag With Wheels
Lily Bloom Under The Seat Bag With Wheels: Covered in cute animals and trees, this is the ideal bag for nature enthusiasts.
This bag is shorter than all the others and great for car trips as you can store it under car seats.
You can't go wrong in choosing this piece of luggage for kids.
Cabin Max Bear Children's Luggage
Cabin Max Bear Children's Luggage: Does your child have a stuffed animal they can never leave behind?
If so, end your luggage search now.
This is the bag for you.
This suitcase has a pouch in front for the sole purpose of carrying your child's stuffed animal.
Buy this piece of luggage for kids and your child will never have to be separated from their fur-ever friend.
JustNile Children's EVA Brown Bear Travel Luggage On Wheels Trolley Bag
JustNile Children's EVA Brown Bear Travel Luggage On Wheels Trolley Bag boasts a spacious interior and an adjustable handle.
It is also shaped like a penguin and your child will feel like they're traveling with a friend instead of a suitcase.
Tips For Traveling With Children
Ok, you've chosen the perfect piece of luggage for kids and your child squealed in delight when they saw how cute it was.
But do you think you're ready to travel long distance with your little angels?
We're here to give you some tips on how to travel with kids.
Don't forget to stay up to date on the current TSA regulations.
While luggage for kids is typically well under the 50 pound limit for bags, it's still important to abide by the other TSA rules for travel.
Prepare for the climate of your destination.
You've just updated your child's luggage, it may be time to buy them the clothes they'll need for your destination too.
Inform your kids what to expect:
Let your kids know what they're in for at airport security.
If your child has never flown on a plane before, they may be overwhelmed when it comes to airport security.
Help ease their anxiety by giving them a run through before hand.
Tell them in advance they'll have to remove their shoes and let go of their beloved stuffed animal.
Pack Toys and Games:
It's important to keep your children entertained and happy during travel but don't pack so many toys that you get bogged down.
Traveling with kids can be very stressful.
Just remember that they're learning and taking in a new environment too and be patient with them.
Getting angry will do nothing but ruin the trip for everyone involved.
Luggage for Kids: Kids' Carry-On Luggage and Travel Gear For Your Little Ones
We hope this guide has provided you with enough information on choosing the best suitcase for your child!
Remember when choosing luggage for kids one of the best places to start is with your child's interests.
There are suitcases out there in a variety of themes your child may love including: Star Wars, My Little Pony, Minions, and many more.
If your child loves their luggage, it will make traveling less scary for them and make you happier in return.
Don't forget to keep TSA regulations in mind before traveling and pack entertainment for your children.
Whether you're staying in the states or going abroad, this guide will help make traveling with kids a breeze.
See Related Contents: