Small Travel Backpack – When it comes to traveling the bag that you choose could be the difference between bringing back fun mementos from your time overseas, or bringing home the lasting memory of an aching back.
Your backpack is the single most important item you'll be bringing with you on your travels, so it's important to choose one that will enhance your vacation, not hinder it!
The Importance Of Traveling Light
Not all travel backpacks are created equal.
These days, it's important to embrace traveling light, especially if you're going to be moving quickly from place to place.
Small travel backpacks are really the way to go if you want to maximize your space and minimize your troubles.
Fewer Hassles And Fees At The Airport
It's certainly is no secret that airlines are looking to cut back on costs as much as they can.
This is especially true if you're flying on a budget airline.
Instead of white-glove service, expect tiny seats and hidden fees.
One of the biggest moneymakers for airlines is charging big fees for checking luggage.
The days of free checked bags are totally over, and you can expect to hand over up to $40 at the counter for each bag that you check.
There are also size limitations on carry-on luggage.
Small backpacks don't guarantee that you won't be hit with an extra fee, but you are far more likely to get on the airplane without putting a dent in your bank account.
As an added bonus, they fit nicely in the overhead bin!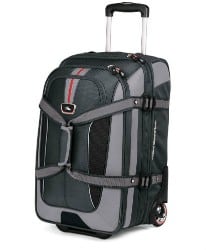 More Space On Buses And Trains
Similarly, you'll have more space on buses and trains.
Depending on the country that you're traveling to, you might find that there's absolutely no space for your luggage.
I once passed a very unpleasant four hours between San Jose and Puerto Viejo with a huge backpack on my lap.
I barely had room to breathe, let alone move comfortably.
If you pack light you'll have more space.
You also won't run the risk of annoying your neighbors by intruding into their space with your big backpack. It's a true win-win.
Your Back Will Thank You
Lugging around a heavy backpack will hurt your back, especially if you have to do a lot of walking.
No matter how strong you are, the straps of a heavy bag will dig into your shoulders and cause sharp pains that won't go away for weeks on end!
Nobody wants to bring back the souvenir of an aching back. Simply put, when you have a lighter load, you have a happier back.
The bigger the bag, more crap you end of carrying…'If I have room I got to fill it up' – TRUTH!
Less Luggage Means More Security
Small backpacks are much more secure than larger ones.
When you have less stuff to look after, you tend to keep a closer eye on your belongings!
You can also keep a little backpack on your lap, or wedge it between you and the window on a long bus trip.
A big part of travel safety comes down to being a hard target.
When I was traveling in Colombia, I learned the phrase "no dar papaya," which means "don't give people a reason to mess with you."
Getting robbed is never your fault, but there are certain things that you can do to minimize your risk.
Having a lighter load is one of them!
Best Camera Backpack for Travel
What To Look For In A Small Travel Backpack
Don't mistake a good travel backpack with your middle-school backpack.
When you're wandering the world, you'll need a pack that does more than just hold your lunch and math book!
There are a few things that set excellent backpacks apart from mediocre ones.
Lots Of Compartments
No matter how small the bag, make sure that it has plenty of compartments.
This is especially true if you're planning on bringing electronics with you on the road.
Multiple compartments will help you keep organized, and keep expensive equipment safe.
Make sure that each of these compartments zips up and are independent of the others.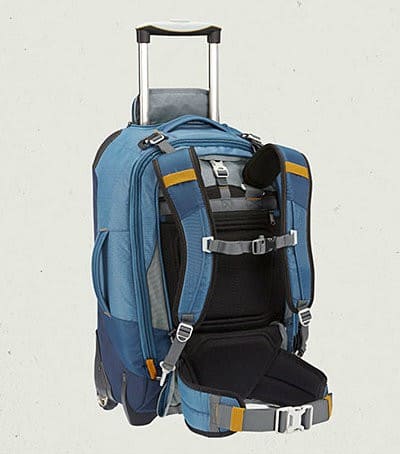 Zippers That You Can Lock Together
If added security is something that you're concerned about, check the zippers on your backpack.
The best ones have two zippers that you can lock together.
This will prevent people from slyly unzipping your pack and rummaging around inside.
Most seasoned backpackers will lock their bags up.
It's a wise idea that takes three seconds to do, and could keep your valuables from being nicked!
Back And Shoulder Padding
The best backpacks have good padding on the back and shoulder area.
One of your primary objectives should be to have a backpack that gives your shoulders a little breathing room.
Minimize pinching and shoulder stress by investing in a backpack that has plenty of padding.
Your back and shoulders will definitely thank you!
Waterproof
You never know what kind of weather you'll be encountering on your travels, so it's good to think ahead and invest in a backpack that is waterproof.
The last thing that you want is for your precious cargo to get soaking wet!
If you have electronic equipment, like a laptop or smartphone, getting the inside of your pack wet could be a costly and unpleasant experience.
It's simple to check whether or not a backpack is waterproof, so simply make this one of the non-negotiable qualities that you're looking for.
Take Care Of Your Backpack
Once you've found the perfect backpack, you'll want to have it for as long as possible!
Don't over stuff your backpack
Try not to force the zippers closed as this will lead to rips and tears
Wash your backpack regularly
Your backpack is the single most important investment that you'll take with you on the road.
Make sure that it does the job by investing in small travel backpacks that are waterproof, sturdy and built with plenty of compartments.
That way, you'll feel comfortable hitting the road to go on your adventure!
Osprey Farpoint 40 – Our Review and Why We Love It
Osprey Farpoint 40 review – We were excited when Osprey introduced the Osprey Farpoint 40, an excellent small travel backpack.
They were kind enough to send us one to try out, and we wish we'd had this backpack for the long-term travel we did around Argentina a few years ago.
It's comfortable, compact, attractive, and has lots of pockets.
Plus, the Farpoint 40 is the ideal backpack for packing light.
It's Compact and Lightweight
The recommended load weight is 30-40 lbs and it measures 21 x 13 x 9″.
Plus, it's lightweight, weighing in at just 2 lb 14 oz.
If you're a regular reader of Go Green Travel Green, you know we're all about packing light.
It saves money (no checked baggage fees) and it's better for the environment (lighter weight luggage means less it takes less fuel to carry it).
The Osprey Farpoint 40 is the perfect small travel backpack for packing light.
In fact, it would be great for packing for a round-the-world trip.
Osprey has Great Pockets
An essential quality of a good backpack is pockets, and lots of them.
Staying organized is essential for stress-free travel, and having designated pockets for your gear makes it easy to be organized.
The Osprey Farpoint 40 has eight strategically placed pockets (nine if you count the shoulder/hip strap storage pockets), including two external water bottle pockets.
My favorite pocket is the padded laptop pocket, which will be very convenient on longer-term trips.
Osprey Farpoint Super Comfortable
I'm very picky about padding on backpack straps.
Some packs are great in every other way, but skimp on the strap padding, which makes for an uncomfortable pack.
Fortunately, Osprey prioritized adequate padding with the Farpoint 40.
The shoulder and hip straps are nice and cushy, as is the part of the pack that rests against your back.
Even the side and top handles are padded for those times when you're carrying the pack in your hands instead of on your back.
Osprey Farpoint a Front-Loading Pack
I've traveled extensively with top-loading packs and while they're great from cramming in a bunch of gear, it's a hassle to have to dump them out every time you want to get to something in the middle or the bottom.
That's why I prefer front-loading backpacks like the Osprey Farpoint 40, especially for extended travel.
You simply unzip the main pocket, take out what you need, and zip up the backpack.
No need to re-pack every time you want a change of clothes.
Osprey Farpoint Attractive
Attractiveness isn't the most important feature of a backpack, but if you're going to be looking at your pack every day of your travels (and, for some of us, that's months on end), it might as well be attractive.
The Farpoint 40 fits the bill. It comes in three colors: Charcoal, Mud Red, and Lagoon Blue.
Mine is Lagoon Blue, and I love it.
It's an attractive, gender-neutral color, as are the other two.
Osprey Farpoint 40 Features At-a-Glance
The Osprey Farpoint 40 is a great backpack with fantastic features for the casual camper or the long-term traveler.
Here are a few that you'll want to know about:
Comes in two sizes to ensure a good fit (S/M and M/L)
Zip-away shoulder, chest and hip straps
Handles on the top and on the side for easy carrying
Large panel zip access to main compartment offers easy access to contents
Two mesh water bottle pockets on the front
Padded laptop pocket which protects your computer
LightWire frame provides flexible load support
Padded, low-profile shoulder straps and hipbelt offer excellent fit and support
Adjustable sternum strap with rescue whistle
Dual front compression straps keep load stable
Lockable sliders on main compartment zipper
Zippered mesh pocket on inner front panel
Two internal compression straps hold contents securely
Removable sleeping pad straps
The Bottom Line
The Osprey Farpoint 40 is a fantastic small travel backpack.
It's incredibly comfortable, lightweight, and attractive, and it has great pockets.
I would highly recommend this backpack for both long-term travel (including round-the-world trips) and shorter, more casual trips.
It's great for the casual camper and the harder core backpacker.
Read more about travel backpacks and backpacking:
Osprey Farpoint 40 review
We would definitely choose the Osprey Farpoint 40 for traveling.
We thoroughly enjoy using this lightweight backpack.
Keen Aliso Daypack Review
I'm a big fan of small backpacks.
Small backpacks allow you to pack light, which saves you money on luggage fees, but more importantly they give you increased flexibility and freedom because you can easily change plans at the last minute when you're not weighed down by stuff.
I'm also a huge fan of daypacks.
What's the difference between a daypack and a backpack?
To me, a daypack is a bag that you carry around with you during the day or for up to one overnight.
Ideally daypacks are much smaller than backpacks, which prevents you from over packing.
They also ideally have easily accessible pockets to get at everything you need to get out during the day.
KEEN (the maker of some of my favorite travel shoes) has a new line backpacks and sent us their new Aliso daypack to test out.
Here's my review.
Keen Aliso Daypack Review: The Pros
Well Organized with Good Pockets
The Aliso is a very well-organized backpack.
There is one easily accessible pocket on the side for a water bottle and a pocket in front for other items you need to grab frequently.
Inside the bag there are two large pockets against the back (which are perfect for a laptop or tablet) and another zipper pocket on the front. Plus, there's a clip, which is a great spot to hang keys.
Small (22L)
I really like the size of the day pack.
It's 22L, which is on the smaller side, but it prevents you from over packing (as I do whenever I have more space).
If you're looking for something slightly larger, Keen has a 28L (the Tilden Daypack) and a 35L (the Ellwood Daypack).
To give you a sense of backpack size in the context of school, I would consider the Aliso to have enough space for an elementary school books and papers, the Tilden to have enough space for books for a high-schooler, and the Ellwood be large enough to carry the books you had in college.
Extra Padded
Almost as important as the organization of a bag is amount of padding.
The Keen daypacks are extremely comfortable and have something they call "Wishbone strap technology" which distributes load weight across the shoulders.
Whatever the technology is, it works. Even loaded down with multiple of water bottles, you can barely tell you have anything on your shoulders.
Stylish
Check out the pictures of the Keen Daypacks.
These aren't the backpacks you grew up with.
They are great looking and I've gotten many compliments on my Aliso.
Weatherproof and Durable
The bottom of the bag is weatherproof, which means your stuff won't get damaged if you accidentally set the daypack down in a small puddle.
And the material for the bag as a whole is very durable; we've been carrying around the bag for about a month and it still looks brand new.
Bonus: Makes a Great Diaper Bag
With an 18 month old who is constantly "go-go-going" (his words), a traditional diaper bag doesn't quite cut it anymore.
We have a Skip Hop and a Petunia Pickle bottom and both feel too bulky when I'm chasing my son around.
The Keen Aliso Daypack, on the other hand, fits everything my son needs for a day and is far more comfortable to carry.
We will be taking this with us as our daypack/diaper bag of choice when we head to Vancouver next month.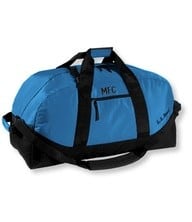 Aliso Daypack Review: The Cons
Honestly, the Aliso daypack is an awesome small daypack.
There are almost no drawbacks that I can think of.
The only thing I would do to improve it is that I would have added a second water bottle holder/side pocket to the other side of the bag.
One pocket is nice, but two would have been better.
Small Travel Backpack Recommendation
If you're looking for a small, well organized, extra padded and comfortable daypack, the Aliso is the bag for you.
If you're looking for other great daypack/backpacks, check out our guide to picking the best backpack for travel and a review of a small backpack.
Disclaimer: Keen sent us the Aliso backpack to review.
This post also contains affiliate links, which help us provide great content for free.
Thanks for your support!