In my quest to find the best travel shoes, KEEN was kind enough to send me a pair of Verona Mary Jane women's shoes to review.
Kuru Shoes Review – Women's Travel Shoe Review Kuru Halcyon Shoes
They're cute, comfortable, and make excellent travel shoes.
Learn more by reading our KEEN Mary Jane Review.
KEEN Mary Jane Review – the pros
Here's what I like about these women's KEENs.
Keen Comfort and Arch Support
The Verona's are extremely comfortable.
They flex well and the arch support is better than average for a pair of Mary Janes, but not outstanding.
Strap
The top strap will keep your foot from slipping.
My feet tend to slip out of a lot of shoes.
An awesome feature is that the strap is padded!
That's right, there is padding on the strap to keep you from getting blisters.
Toe Protector
The scuff protector on the front of the toe means that you can take on all your regular travel activities.
From hiking to running after a bus to climbing super steep stairs.
Without having to worry about ruining the front of your shoes.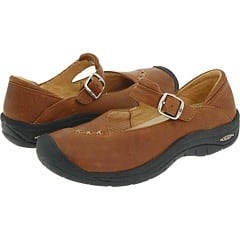 The Keen Company
KEEN as a company is very green.
They have a number of shoes that are made from recycled materials.
Though the Verona Mary Jane's are not.
Room for Improvement – the cons
There are only two things that keep me from naming these the best travel shoe of all time.
I have yet to find those shoes.
For rain, snow or slush, I never like wearing leather shoes as I worry about ruining them.
For my feet I could have used a little more arch support.
Though, as I said before these shoes had better arch support than many other Mary Janes I've tried.
More about Keen Women's Shoes and the Verona Mary Jane
I normally wear an 8.5 or 9 in nice shoes and a 9.5 in running shoes.
I received a pair of 9's and they fit perfectly with winter socks on, but I might have gone for the 8.5 if I was looking for a summer shoe.
(Remember on there is free shipping, so, if you must you can always order 2 pairs and send 1 back.)
The Verona Mary Jane features:
Adjustable strap over instep
Full-grain leather upper
KEEN toe protection
Leather lining
Metatomical footbed
Keen classifies some of their shoe features as "Hybrid.Ologies" which means that the these features "eliminate anything that comes between you and your hybrid life."
There is an internal support mechanism that is engineered to provide anatomically correct arch support.
There is also KEEN's toe protection system in which the shoes' outsoles wrap up and over the toes for ultimate protection.
Sydney versus the Verona
The Sydney is another extremely popular Keen Women's shoe.
It's nearly identical to Verona except the Sydney has microfiber lining.
The Sydney has moisture-wicking textile linings while the Verona mary jane has a Metatomical footbed Finally, the Verona Mary Jane looks a little nicer in terms of leather quality and colors.
Honestly, I've been looking for a pair of shoes like this for a long time.
They are shoes I will definitely pack whenever I travel.
They are nice enough looking to wear into even a fancy restaurant (given a nice pair of pants or cute dress).
But they are comfortable and casual enough for spending an entire day on my feet walking through the street of Florence.
Mary janes are timeless and classic.
We hope this KEEN Mary Jane review helped you see what we like about them.
Note: We will only recommend products or services that we believe, based on our experience, are worthy of endorsement.
We link through affiliate links when they are available.
We are not compensated to provide opinion on products, services, websites, or other topics.
Any product claim, statistic, quote, or other representation about a product or service should be verified with the manufacturer or provider.
Best Walking Sandals for Travel
Kuru Shoes Review
Best Vegan Shoes
Best Water Shoes
Best Women's Shoes: KEEN Mary Jane
Best Travel Shoes, Travel Sandals, Walking Shoes and Hiking Boots
Related Contents: