Travel Socks and Travel Underwear – Unlike most of our posts where we've given multiple options for our favorite dresses, skirts, hats, and jackets.
Choosing a favorite pair of travel socks or pair of travel underwear is easy.
Best Travel Underwear
Hands down the answer is Ex Officio underwear.
The Ex Officio underwear is perfect for travelers because it dries quickly.
Seriously, it is the fastest drying underwear I've ever owned so it's perfect for longer travel where you're forced to do loads of laundry.
With Ex Officio you can just wash it out in the sink and it will be dry by morning.
Men's and women's Ex Officio underwear can be bought with free shipping at Zappos.
And if you don't like them, you can send them back to Zappos and they'll refund your money and pay for shipping.
Best Travel Socks (Generally)
The best travel socks I've come across are Thorlos.
Yes, they are insanely expensive for socks.
But for hiking, walking, and running they have the best support and cushion so that you're not left with sore feet at the end of the day.
Plus unlike other socks I've packed on previous travels they don't wear out.
We had to buy extremely uncomfortable.
Where that funny toe seam hit just the wrong part of your toes.
Fake Adidas socks in Argentina because so many of our Target brand socks had worn through from all of the hiking.
If you're mainly going to be hiking, checkout this more from this article.
Best Travel Socks (for Winter)
If you're heading somewhere extremely cold and want to pack socks that are warmer than Thorlos, buy Smartwools.
For both men and women Smartwools are the best travel socks for winter that you can find.
They are insanely warm, cute, durable, and comfortable.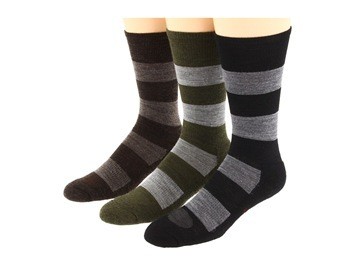 Disposable Underwear
Disposable Underwear: this may be the most un-green traveler thing I have come across in a long time.
And it's just a little too ridiculous not to post about.
I wish I had found them in time for April Fool's Day (and the joke would have been that they are real.)
That's right – they make disposable underwear for travel.
Perhaps the commentator /reviewer with the most helpful disposable underwear review said this:
These are a life-saver for people going on extended trips. They can be washed and dried several times if you choose to be economical and environmentally conscious. They dry much faster than conventional underwear. Since they are lighter than conventional panties, they save a small but useful amount of energy by making your suitcase lighter. I also find them comfortable. I often find conventional panties chafing; these are very kind to my body.
If you are going somewhere just overnight, you might be able to save the inconvenience of carrying a suitcase simply by tucking a pair in your purse — not a discreet option with conventional underwear. They look like a little cotton roll and are wrapped in plastic.
Other reviewers also noted how light they are and that they are better because there are no dyes in them.
Besides for travel, it seems people also buy disposable underwear for maternity and hospital stays.
And men have the option of disposable briefs or disposable boxers.
They are relatively inexpensive – $20 for 30 pairs of panties or briefs or $7 for 10 pairs.
The cost of the men's boxers are $20 for 18 pairs.
Given that they are washable, it makes them perhaps an understandable choice for for extended travel.
But note that they are made from polypropylene.
What will they think of next?
Related Posts: