The best travel skirts are versatile, comfortable, flattering, and easy to match with different types of shirts and shoes.
They are great for traveling when you need to pack light and mix and match different outfits. Our favorite skirts are ones we wear when traveling and also wear often at home.
Qualities to look for in a travel skirt
Must be easy to match with shirts and shoes
Still fits when gain or lose 10 – 15 pounds
Expandable, elastic waist
Don't want to have to tuck my shirt in
Touches the knee
Casual but can dress it up
It's a go-to skirt, even at home
Easy to care for, machine-washable
Easy to pack
No wrinkles
Being reversible is a bonus
Travel skirts for women
Many skirts are made with special materials which keep the wearer cool. They also pack well and resist wrinkling. Oftentimes, they block out the harmful rays of the sun.
Travel skirts are so fashionable and functional that it's no surprise that so many women are choosing to wear them no matter where they roam. So, what to look for in a great travel skirt?
Our go-to travel skirts
Colorado Clothing Tranquility Skirt – Best reversible travel skirt; elastic waist; wore with a 20 weight change and still fit great
Toad&Co Chaka skirt – Best all-around organic cotton travel skirt; flexible waistband
Toad&Co Chachacha Skirt – Best versatile and dressy travel skirt; awesome elastic waistband
Royal Robbins Discovery Strider Travel Skirt – Great for tall and/or thin women; best travel skirt with pockets
Best travel skirts
Today's women's travel skirts offer plenty of style and versatility. For reference, I'm 5′ 4″ and vary between 130 – 150 pounds (and own mediums in these skirts).
Here are my five favorite skirts for women who are on the road. I wear them all the time at home/work too! I can dress all of them up or down and wear them with different types of shirts and shoes to change up the looks.
Best Reversible Skirt: Colorado Clothing Tranquility Skirt
I first saw these reversible skirts at Costco in the spring and bought one.
I wish I bought more because when I went back, they were all sold out. And with good reason… they are awesome. A few months later, I was thrilled to see them on Amazon and bought three more.
These reversible skirts are so versatile and easy to wear. I've seen reversible clothing before but never thought I would wear both sides. What's great about these reversible travel skirts is that both sides are actually usable.
I bought the following and have worn them all multiple times, both sides.
Black Pattern – black solid
Cobalt Paint – cobalt blue solid
Marble Stripe – fucshia solid
Greek Isle – turquoise solid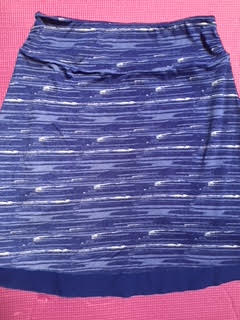 They have other nice patterns and colors as well. The colors are easy to match with my wardrobe. The solid sides are all good shades, making them easy to match with shirts.
I wear a solid or a print top with the solid side and a solid shirt with the printed side. The patterned side fabric is about two inches shorter so you will also see the solid color below. It's a little bit thicker than a sheer fabric, but it's almost sheer.
These skirts look good with tanks, tees and also with nicer tops. They don't wrinkle at all and are a flattering length. These are all-season skirts, 21″ in length.
They have flattered me at different weights and match a lot of my shirts. A key component for a travel skirt is to have a forgiving waist. I don't want to have to squash into a skirt after eating at restaurants all week. These are elastic but don't look dowdy or frumpy.
I put these reversible skirts first on the list because they so versatile and easy to wear. I've worn these skirts for walking around town, on trails with gym shoes, and with flip flops and sandals at my kids' school.
They are great travel skirts to wear with dressier sandals at night. I also liked that that there aren't any tags on these skirts. You can easily wear them on both sides without having to cut out tags.
Updated to add: I've been wearing these skirts for over four years now, and they've retained their shape and are still in excellent condition.
I launder them in the washer on cold. Sometimes I put them in the dryer and sometimes I air dry them. They haven't shrunk, faded or become ratty or pilled.
Black travel skirt
If you are seeking a black travel skirt, choose the reversible one above to double your outfits.
While all of these skirts on this list would be helpful additions to any wardrobe, many of us tend toward black clothing, especially black skirts and pants. Black is slimming and usually matches most things.
I absolutely love my black Colorado Clothing Tranquility Skirt. The Black Pattern (floral side showing) reversible skirt is also be easy to wear in the winter with a sweater and boots or black heels.
It's hands-down, my favorite black travel skirt of all time. It is very easy to wear and match with different types of style shirts and fabrics.
Reversible skirts are great travel skirts because you get two looks for one item.
It's fun to have some fashionable patterns, and you will be sure to get lots of wears on both sides. The overall material has a nice stretch to it without being overly fitted.
Note, I love the black travel skirt and consider it a wardrobe staple. However, also choose a skirt for your travel outings in a fantastic pattern or bright color. Try one of them in addition black; you will happy you did.
Update: If you are looking for more flare — these are more straight but again, forgiving — we read good things about the material, cut, and shape of these skirts.
Best Organic Cotton Skirt: Chaka Skirt from Toad&Co
Wow! I love this organic cotton skirt. Choices for organic cotton clothing for women have come a long way, and there are more choices than ever.
We can be choosier — or dare I say, pickier — more now than ever before. You could buy the Chaka skirt in all the patterns and solids, and it wouldn't feel like you were wearing the same style.
This skirt is appropriate for your travels, hiking, errands, or for an awards assembly at your child's school. It seems like it will flatter most body types. It's flattered me and continues to fit even as my weight fluctuated 10 – 15 lbs.
This skirt made for travel is made with 48% organic cotton, 48% Tencel, and 4% Spandex. The material is soft and is just all around a pleasure to wear.
I live in the hot southwest, so I abhor jeans and pants in general. Sometimes when I wear shorts, I feel so squashed in, confined, and hot. I wear skirts every day I can. Toad&Co's Chaka skirt, with its elastic waistband and flattering cut, has fast become one of my beloved items of eco clothing.
Easy to wash
I've been washing the Chaka skirt on cold on the quick cycle. When I take it out of the washing machine, there isn't the sort of stretch that other clothes have. It really holds it's shape.
One day, when I accidentally dried it with a bunch of towels for over an hour, it didn't shrink or alter its shape in any way.
I take this skirt with me on vacations. It travels well. Whether I roll it or fold it, it's wrinkle-free when I take it out of my suitcase. After years of use, it hasn't pilled or lost its color.
Many patterns and colors
I liked Toad&Co's patterns but went for a more neutral color, the Cocoa Quito Line Print. I love so many of their prints, including the skirts with stripes and the Buffalo Basket print.
They have neutrals as well as bolder colors as in their Turquoise Cove Geo or Spiced Coral. They have tribal prints as well as solids.
The Chaka skirt features a small interior pocket on the right side of the skirt that would hold cash or a pack of Tic Tacs. Updated to add: It's the perfect place for me to put my step counter/Fitbit Zip.

Best Fun Travel Skirt: Chachacha Skirt from Toad&Co
Like the above Chaka skirt, this is a jersey knit made with 48% organic cotton, 48% Tencel, and 4% Spandex.
The Chachacha skirt has a little bit of flare and swing to it, making it a little more dressy feeling, though I wear it easily with tank tops and tee shirts and sandals.
You can see all of
Toad&Co's
skirts made for traveling along with their cute colors and prints.
I choose the Chachacha skirt in the Seaport Quito Line print. The material also is wrinkle-free and easy to wear. This style is multi-paneled but it doesn't affect the weight. It's more that there are additional seams all around the skirt.
While this would be comfortable enough to wear as a hiking skirt, I probably wouldn't being I have the Chaka skirt. This one is a tad dressier feeling with the cut flaring out a bit.
Still, it's very versatile and works with many different types of shirts and shoes.
It will look awesome with boots but not as good with traditional gym shoes. (However, it looks cute with Toms and other less bulky styles.) This travel skirt also looks great with sandals and shoes with a heel or platforms.
Toad&Co seems to be discontinuing their ChaChaCha skirt. Thankfully, they still offer their Chaka skirt. These two are among the longest skirts they make.
If you are of a certain age, or you're not wanting to show off your legs, longer skirts that come to the knee are often the most flattering.
Easy to care for
I've also washed this organic skirt in the washing machine on cold and dried it in the dryer without any issues. It's the same material as the Chaka skirt and has worked well with my changes in weight.
The ChaChaCha skirt also doesn't wrinkle. I've packed it in my suitcase as well as in my duffel bag for several trips. It remained wrinkle-free. In addition, like the other Toad&Co skirt, it doesn't take up a lot of room in my luggage or carry-on.
Best Travel Skirt with Pockets: Royal Robbins Discovery Strider Skirt
Known for traveling clothing, the Royal Robbins Discovery Strider Skirt was made for travelers. This skirt has pockets. In addition, it withstands moisture and water. It perfectly balances style with practicality.
Royal Robbins skirts are amazing and made with lightweight, "non-swishing" material that wicks moisture away. They are 96% nylon and 4% Spandex.
Royal Robbins has two popular skirts, the Discovery Skirt and the Discovery Strider Skirt. If you are in a smaller size, either of these will be great.
The Discovery Skirt has a little ruffle at the bottom which is not flattering on me because I have thicker legs but it would be if I were taller or thinner. However, the Discovery Strider Skirt is flattering and more forgiving.
The Discovery Strider Skirt has sun protection of UPF 50+. It's comfortable to wear, packs well, dries quickly, and can be dressed up or down.
A cute feature is it's a tad shorter in the front than it is in the back. To me, this makes it look a little dressier. It looks good with dressier or casual sandals and equally well with tennis shoes. This is important when traveling, when you walk and sightsee a lot.
The only downside for me about this skirt is there is a zipper in the back. It's cute and stylish; however, I prefer elastic waistbands. So this skirt isn't as forgiving as the others if your weight tends to fluctuate.
Their skirts come in vibrant colors, including Dusty Coral, Dark Lapis. The Light Taupe, Khaki, Jet Black, and Stone are more neutral.
Best Sporty Travel Skirt: Nike Modern Rise Tech Classic Golf Skort
If you're looking for a skirt that fits your active lifestyle, Nike is a good choice. This Nike skirt (technically, a skort) has built-in UV protection, lots of pockets, and is made of Dri-FIT fabric.
For sure, it was made with the athletic traveler in mind. This is a great skirt to wear when it's really hot outside. And I always love a comfortable skort to wear when I'm more active, hiking, playing sports, etc. They are much more flattering than shorts.
I don't wear this one as often as the others because it's shorter than the other skirts I own. This is a personal preference and typical of these types of skirts — this type just isn't particularly flattering on me (5'4″ and 145-ish lbs).
However, it's easy to wear to a nice restaurant, into shops, and to museums as well as when doing more active travel outings.
It's a good black skirt for someone who backpacks, hikes, golfs, or plays tennis on their vacations.
Runner up: I don't like wearing long skirts — also known as maxi skirts — but if you do, this is one to check out.
Best Long Travel Skirt: Patagonia Serenity Skirt
This ankle-length skirt is made of organic cotton and spandex. It's long, but not frumpy and its fit will complement most body types. It's machine washable and dryable, which is great for women on the go.
I also like that it looks nice with tanks and tee shirts. It's easy to drape a cute sweater or scarf with it for traveling. This will also help change up the look. This maxi skirt is nice for travel because it's so versatile.
Women also choose travel skirts because they can go from day to night so easily. A long skirt looks fantastic and keeps the wearer cool on hot days, but looks glamorous enough for dinner at eight. Just a change of blouse and perhaps shoes is all that is required to transform a daytime look into one that is suitable for evening.
Travel skirts with elastic waists
I don't want to worry about drinking too much water while hiking or eating too much at a restaurant, so I like skirts with elastic waists.
This way, it will always be comfortable, so I will always want to wear it, unlike many of my other skirts and clothes that I only wear when I have to or when I'm at my ideal weight. These skirts are still cute and fashionable.
The best travel skirts are so much easier to wear than shorts. They are also more flattering and usually a lot more comfortable. I still wear mine with tee shirts and layers, just like I would with shorts or jeans.
Again, the versatile travel skirts are my favorite because they take up less room in my suitcase and give me two looks in one piece.
Wearing a skirt with gym shoes
Typically, I wouldn't wear a skirt with tennis shoes; however, when traveling and walking so much, it's often inevitable. Sure, you could get a more fashionable type of athletic shoe, but mine are not.
While none of these skirts look particularly fantastic with your basic athletic shoe, the skirts that look best with them are the Colorado Clothing Tranquility skirts, the Chaka skirt from Toad&Co, and the Nike Modern Rise Tech Classic Golf Skort. Wearing these with a less bulky trainer, such as Keds, Toms, Vans, or other canvas shoes with a rubber sole is ideal.
White skirt, Denim skirt, Maxi skirt
While there are many white skirts, denim skirts, jean skirts, and maxi skirts we love, we didn't pick them among our favorite travel skirts. When traveling or even wearing around at home, we don't want to worry about a white skirt staying clean.
The white skirts we favor are made from cotton which easily wrinkles. It's not ideal for traveling. They also aren't in season in the colder months.
Denim skirts are on trend but aren't as versatile to wear for hiking and outdoor pursuits. They tend to not be as lightweight as other skirts though they are usually wrinkle-free. Also, they typically don't have the elastic waistband I favor.
Maxi skirts can be suitable as a travel skirt, especially for religious attractions and museums, but sometimes aren't as versatile.
For me, it's easier to wear one of the other shorter skirts multiple times in a week without it looking like I'm wearing the same thing repeatedly. Somehow with maxi skirts, it's just more obvious. They also take up more room in the suitcase. Also, I'm shorter, so they don't look as good on me than they would on someone 5'6″ – 5'7″ and taller.
Eco-friendly skirts
I choose to review Toad&Co's skirts because I was looking for organic cotton skirts to build my travel wardrobe. Also, I was familiar with their eco-friendly practices.
I've owned Toad&Co clothing before, (I have one of their travel dresses that is great) and love them for their eco-friendly principles. When a company uses organic cotton, you know they are interested in eco issues.
Toad&Co practices sustainability everywhere they can. Giving back to their communities is important to the company and to their employees. They compost; use 100% recycled paper products and 100% LED light bulbs; and they purchase Renewable Energy Certificates to offset their energy usage at their three locations.
Their employees are actively involved in community service. Also, Toad&Co is a member of the 1% for the Planet community.
My two travel skirts from Toad&Co arrived in a package that is 50% post consumer recycled paper with a reminder to recycle, compost or reuse it to return or exchange an item.
The company's fun spirit shines in it's note that if you don't receive a compliment within three wears, you can return it. Ha!
Organic cotton skirts from an eco-friendly company
Toad&Co offers other travel skirts that I haven't tried that look very cute, easy-to-wear, and stylish as well. Here are some of their other skirts made with organic cotton:
Tica skirt – made with 58% organic cotton. This looks like it would flatter most shapes. I should have asked for this to review as well. I think I'd love it. It comes in different stripe patterns… very cute!
Sama Sama – made with 48% organic cotton
Sereena Samba Skort -(I wish I saw this one when I ordered because I would have asked for this to review. Who doesn't love a great travel skort!?
Best travel skirt
I'm partial to organic cotton clothing, and really love the Chaka and Chachacha travel skirts. They are great skirts for wearing around town.
I love them and am looking forward to more of each in a different color and print. I'd love to own their Chaka skirt in all of their patterns and colors — it's that great!
If I could only buy just one, for my lifestyle now, I would choose Toad&Co's Chaka over the Chachacha but that is because I do a lot of outings with my children and am dressed more casually.
If I was going to eclectic restaurants with my friends and wanted to wear the skirt with cute boots and layer it with sweaters, etc., I would choose Toad&Co's Chachacha skirt.
As it is, I'm happily enjoying wearing both with my sandals, boots, flip flops, and tanks and tees.
Skirts that pack easily
Most travel skirts are fashioned from lightweight fabrics that resist wrinkles. This means that the skirt can be folded in a suitcase for days, but still be ready to wear after a quick shake. When you choose the right travel skirt, you will wear it again and again.
Easy-to-clean skirts
The best travel skirts are simple to wash and easy to care for. You can wash most styles in a sink while traveling and let them dry overnight. Most times, you can wear them several times before needing to wash them. You can easily wash them in a washing machine when you get home.
Versatile skirt for vacation
While traveling, you want to pack light and be comfortable. Bringing a travel skirt can be a versatile option that will serve you well in many circumstances. They are among the best travel clothes for women.
Also, many religious sites adhere to strict dress codes, requiring women to wear travel skirts or dresses. The best travel skirts are versatile and lightweight, making them the perfect addition to your travel wardrobe.
Lightweight skirts for travel
Skirts are great for traveling because they're lightweight, versatile, and take up a small space in your luggage. And, if you pick the right travel skirt, you can dress it up and wear it to the theater or dress it down and wear it hiking.
These comfortable, easy-to-wear items are the perfect carefree look for any getaway.
Travel skirts with hidden pockets
Some travel skirts are popular because they have amazing pockets. A hidden pocket is great for protection. You can carry a passport, identification, a room key or some emergency cash. No one will know it's there.
Travel skirts sometimes have more than one pocket. Sometimes they feature an oversize pocket where it's possible to carry a map or small wallet.
Many skirts have pockets you can zip to deter pickpockets. Travel skirts make it very easy to carry essential items without calling attention to them.
Picking a flattering skirt
Again, I'm partial to the travel reversible skirts above as well as Toad&Co travel skirts because they reached just above the knee, which is flattering and also appropriate for my 40+ years.
With Toad&Co's patterns and fashionable designs, women of all ages should be able to find something that fits their style. Skirts are so much more flattering than shorts as women age.
They've been my go-to skirts for dressing casually but comfortably and have transitioned well when I did errands, went to school functions, and had a business casual lunch meeting.
Both of Toad&Co's organic cotton skirts look good with long-sleeve shirts and short sleeve tee shirts, tanks as well as dressier blouses. I was able to change the look easily with a different necklace, shoes or shirt.
Depending on the color you get, they would look excellent with black boots as well making it an essential travel skirt for cooler months.
We reached out to Toad&Co because they are an eco-friendly clothing company. They sent us two organic cotton skirts which have become my go-to skirts. I've owned them for over four years and still love them.
I was familiar with Toad&Co and how they are a very eco-friendly company. Always on the hunt for stylish and practical organic cotton clothing, I purposely sought out Toad&Co and asked them to send me the above two skirts. I've owned their products in the past. The opinions are all my own.
I wear them extensively, even after returning from my trip.
Organic cotton clothing is great and easy to wear.
Choosing skirts for travel from the many choices
Whether your style leans toward athletic or fashionista, there's a perfect traveling skirt for you. They will serve you well wherever you roam.
Related Contents: