Packing Light – We're of the mindset that there's only one way to pack, and that's to pack light.
Packing light saves time, money, and stress on bodies and on our planet.
Think about the time spent waiting for baggage at the airport.
Think about the money spent on having to pay for checked luggage.
Then there's the stress of worrying about lost or stolen luggage.
Remember too, the stress on our bodies as we lift, lower, carry and cart around heavy suitcases.
And there is the impact on the environment; less luggage means less fuel used to transport it.
In our quest to bring you the best and highest quality information on packing light, we've compiled our Ultimate Guide to Packing Light. Essential Backpacking Tips and items to pack
Easy Tips for Packing Light
Make a Packing List
Make one master list. When you think of something you really need to bring, write it on this one list.
Check Your Packing Twice
Edit Your List. Edit it down. Way down.
Cross off everything you don't absolutely need the first three days.
Remember, you can buy just about everything abroad if you end up needing it.
Choose the Right Bag
You know how work expands to fill the time?
The same is true for bags.
If you bring too big of a bag, you will fill the space.
It's just human nature.
We done lots of reviews for the best backpack and our favorite lightest luggage. (Though from pictures and reviews I'm partial to: Mother Lode Mini Duffel
for business, the Osprey Farpoint 70 travel backpack
 for backpacking, and the Osprey Farpoint 40 for something a bit smaller.)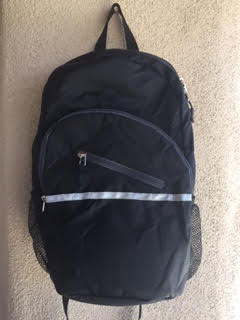 We love this small backpack from Sporting-USA.
It's not one you would pack exclusively for a trip, but it folds up nicely and at just 8 ounces, can be tucked into your luggage or travel backpack and used when needed for hikes, sightseeing, and around town.
It's waterproof, made of lightweight nylon and while it has separate sections, it has light straps and compartments.
We have two of these backpacks, and they have become a family favorite.
How to choose a bag to pack light
The most important things to consider are:
Quality — Luggage needs to be durable.
Transportability — You will carry your luggage more than the carriers will.
Airline carry-on limits — In the real world, there are two kinds of luggage: carry-on and lost.
Fold Your Clothes
Fold your clothes in an efficient, wrinkle free manner.
Use a special compression bag to roll and remove the air.
Roll your clothes to save space
Best tips for packing light
Following are the best tips for packing light and what to pack from a variety of great sources:
4-Hour Workweek: How to Travel the World in 10 pounds or Less Tim Ferriss' blog post on "how to travel with 10 pounds or less" is a good post to see just how extremely light you can pack; however, his theory of "buy it there" isn't always the best for the environment. Some items he suggests that we also like:
Carrying off the art of one carry-on reminds us of the hassles of traveling in a post-9/11 world – "Swiss Army knives are a real bugaboo."
Pack good socks.
Come As You Are:

Wear your power suit on the plane and take it off once you get to the hotel.

Group "Hot" Items: If you know that your money clip, tweezers, watch, or necklace is going to set off that metal detector, group those items into one carry-on that you can send through the x-ray machine.

Leave the guidebook, novel and iPod at home.
Every seven pieces packed should yield at least 14 ensembles. Each piece of clothing that goes into your luggage should be interchangeable with at least one other piece you intend to pack. Every shirt should match at least two pairs of pants, every blazer should work with at least two different shirts or sweaters, and so on.
More packing tips
Other considerations are to include two off-the-beaten-path travel items:

Small maglite torch / flashlight
Bottle opener keyring – handy for opening bottles

Wear your heavy clothes and travel shoes on the plane.
Check in advance that your passport is valid for 6 months past your return date (required in many countries)
Be sure to print out the information from your country on what to do if your passport is lost or stolen
Washington Post: Packing Light Issue — This is a series of good articles on how to pack light,  including a fun "what's wrong with this picture."
There are many items you can find abroad that are cheaper than at home.
Do not underestimate the value and benefits of flip flops.
Sound Money Tips: Pack Efficiently says: "Find out what amenities the hotel already has, i.e., robes, hairdryers, shampoo, and don't pack those items."
Save makeup and skincare samples that come with cosmetic purchases. Check online too! Brands like Neutrogena, Estee Lauder, and Nivea often offer a sample of some sort.
My Money Blog: Save Time and Money by Traveling Light suggests packing the right travel clothes, including the right travel pants, like Sahara Convertible Pants.
More packing light tips
Only bring clothes from thrift store shopping. When you wear the same clothes repeatedly and wash them each night, they get worn out faster. So be sure to not bring your favorite clothes with you.
While we disdain plastic bags, they can shield books from the rain, carry dirty laundry, keep small items in one place, and more. Stash a few in your luggage/backpack just in case.
You can easily volunteer to be bumped on a full flight. You won't need money to tip porters for helping you with your bags.
When necessary, pack long underwear so you don't have to bring extra pants and shirts.
Transitions Abroad: Pack Light and Travel Happy

The world's getting really small. You can buy Dial soap, Colgate toothpaste, Tampax, Nivea cream, and Bic razors in Sicily. Tourist shops in major international hotels are a sure bet whenever you have difficulty finding personal items. If you can't find one of your essentials, ask yourself how 300 million Europeans can live without it.

Rick Steves: Pack Light: You'll never meet a traveler who, after five trips, brags: Every year I pack heavier. He also has packing lists.
Many packing light guides suggest leaving space in your pack for accumulating souvenirs. "
Bring a bar of soap and also use it for shampoo.
Packing light for ski trips: fleece is the dominant fabric for layering.
Packing Light with Double Duty Travel Gear suggests a filter water bottle which has a built in filter.
One of the biggest things you can do to pack light is to pack clothing and gear that does double duty.
If you need help booking your flights, check out our posts on Priceline Bidding.
More packing light resources
Want even more information? Check out these books for more tips on how to pack light:
Wiki How: How to Travel With One Bag Also suggests packing using a bundle method.
You can leave some items, like books and clothing, behind. By giving away and donating items not necessary for traveling, you help the area you visited.
How do you pack light? What's your best packing light tip? We look forward to hearing your tips!