Lightweight Luggage Reviews – Looking for the lightest luggage on the planet?
Look no further, we've rounded up all the best lightweight luggage reviews.
With airlines charging steeper fees for luggage, every pound counts.
Remember, heavier luggage takes a toll on your body too.
Oftentimes, many pieces of empty luggage are extremely heavy.
Many styles, especially with wheels, can weigh up to 12- 15 pounds empty!
Light Luggage for kids
Lightest Carry On Luggage Reviews
Generally, the smaller your piece of luggage the lighter it's going to be.
Therefore, to keep the LightWeight Luggage Reviews standardized we are only looking at the larger size rolling suitcases that are carry-on size.
These are usually 22" luggage pieces.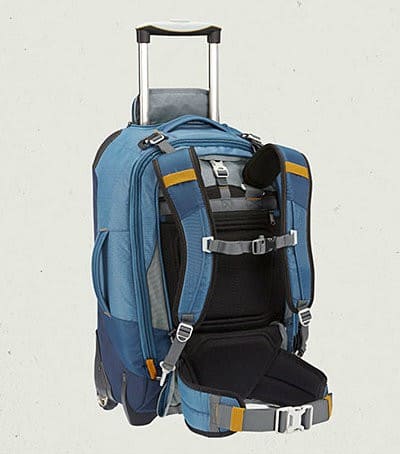 Lightest carry on luggage bags currently on the market:
Atlantic Ultra Lite 22" Carry-On
This is recommended as the lightest luggage.
Having carried the Atlantic for years, their Ultra Lite bags are stellar.
If you want a fully functional lightweight piece of luggage, this is the bag you should buy ([easyazon_link identifier="B00SWR4U7M" locale="US" tag="gogreentravel-20″]check price here[/easyazon_link]).
The Atlantic Ultra Lite 22" carry-on weighs a little more at 6.5 pounds.
But it's a little less skimpy than the other bags.
It has great pockets (both inside and out), and it wheels around the airport well, and it doesn't feel cheap.
Having handles on all sides is a huge plus for lifting into overhead bins.
I took this bag with me on a 10 day trip to Australia as my only bag.
It fit everything and traveled well, even through pouring rain.
GoLite TraveLite Wheeled Carry-On
The GoLite Travelite Wheeled Carry-on weighs 5.1 pounds and it is a 21" carry-on.
Travelpro Luggage Maxlite 2 22″ Expandable Rollaboard
The [easyazon_link identifier="B016IO9GSS" locale="US" tag="gogreentravel-20″]Travelpro Luggage Maxlite rollaboard[/easyazon_link] is a great option for a lightweight carry-on.
It measures 22″ x 14″ x 9″ and weighs 6.4 lbs.
It's a bit pricier at just over $100, but is high quality and will last a long time.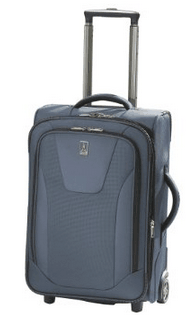 Lightest Luggage Sets
If instead of a single bag you're looking for a light weight luggage set, here are some of the lightest luggage sets currently on the market.
Samsonite Lightweight Mobility Set
Samsonite Lightweight Mobility 3 PC Set has 3 pieces weighing a combined total of 28 pounds.
Samsonite Winfield vs Samsonite Omni Carry On Luggage – Which Should You Choose?
Calpak Club 3 Piece Lightest Luggage Set
The CalPak KLUB 3 Piece Hardside Spinner Set Black – Hardside Luggage set has a hard protective case and weighs 25 pounds for $165.
That's pretty light and a great price.
International Traveler IT 2
The International Traveller IT–2 Worlds Lightest Side Bound Luggage Set Red – Luggage Sets weighs a combined total of just 23 pounds for 4 pieces of luggage which is pretty amazing.
Which Light Weight
Here are the factors you should consider in determining which lightest luggage is best:
Lightweight luggage reviews
Which ones are best?
([easyazon_link keywords="lightweight luggage" locale="US" tag="gogreentravel-20″]check prices here[/easyazon_link]) I personally reviewed the Atlantic bag (above) and found it perfect for my use. nice looking, frequent traveler, also good for business.
But all of the links above also link to other reviews – so confirm that others like it before you by.
Luggage Weight
Obviously the luggage weight matters.
But is an extra pound lighter going to be worth the lack of warranty or stability that might come with it?
Look for the lightest luggage that has the features you want.
Lightest Suitcase Color
Don't buy a black back.
Seriously, you will never be able to find it in the luggage carousel at the airport.
Instead opt for a color that you like. You will be so glad you did.
Lightest Suitcase Size
Size of carry-on bags matter.
You don't want to get a bag too small because then it won't fit enough stuff.
You also don't want a bag that won't fit in the overhead.
Any of the bags listed above as being carry-on size will fit in a overhead bin.
I like to go larger because then I can fit enough in for a multiple week trip.
There's also the option of carrying on a backpack.
How to Travel With a Suit Garment Bag
Lightweight luggage reviews
What is the lightest luggage you've ever owned?
It's less taxing on your body and on your transportation and on our planet when you think light and pack light.
Using lightweight luggage reviews will help you find the best lightweight luggage.
And remember, packing less stuff means toting less around.
It's also less to unpack, manage, repack and keep tabs on.
Related Contents: