Stainless Steel Baby Bottle – The Pura Kiki stainless steel water bottle is a great choice for babies and toddlers.
You can use it instead of a plastic baby bottle for an infant, or in lieu of a sippy cup for an older baby or toddler.
My one-year-old, who was slow to catch on to sippy cups, loves it.
Depending on which Pura Kiki style you buy, they come with either the nipple or the straw cup.
They are great for home, car and travel use.
Here's what I love about the Pura Kiki Stainless Steel Baby Bottle:
Some stainless steel baby bottles are pricier than others.
The Pura Kiki is more affordable.
You can buy the 11-ounce Pura Kiki bottle, 9-ounce Pura Kiki bottle, 5-ounce Pura Kiki bottle.
It makes the perfect baby shower, first birthday, or Christmas gift.
It's Safe and Durable
We've written a lot about the merits of stainless steel water bottles, and the Kiki is no exception.
The Pura Kiki is 100% free of BPA, phthalate, lead, and PVC.
It doesn't leach any heavy metals and, unlike plastic bottles, there's no risk of the Kiki leaching chemicals or petroleum by-products.
It's made of solid stainless steel that won't break when your baby inevitably throws it on the ground.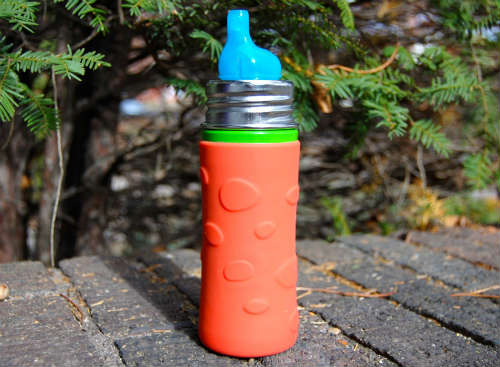 It's the Perfect Size
The Pura Kiki bottle now comes in three sizes: an 11 ounce bottle, designed for 6 months+, a 9 ounce bottle, and 5 ounce bottle, designed for 0-6 months.
The 11 ounce size is perfect for my 12-month-old.
I keep it in the side pocket of my diaper bag so it's accessible when we're on the go.
It's also great for travel because it doesn't take up much space.
Both sizes come with a nipple or spout and a spout travel cover.
We love that these bottles grow with your child.
It Comes in Fun Colors
So many stainless steel bottles come in just one color, but the Pura Kiki stainless steel baby bottle is different.
It comes in 6 bright colors: spring green, aqua blue, pretty pink, grape, orange, and natural stainless.
We have the spring green, and I love the vivid color.
Your toddler will love it, too.
As you can see in the photo above, I also have a Pura Kiki Pebble Silicone Bottle Sleeve on my bottle, which I would highly recommend.
It protects the bottle (and the floors!) when my toddler tosses it off of his highchair tray.
You can buy the silicone sleeve for tall or short.
Many of the Pura Kiki bottles now come with the silicone sleeve attached.
It's Versatile and Compatible with Many Nipples
I love that the Pura Kiki is compatible with many major bottle nipple and sippy cup spouts.
That means you can save money by using nipples and spouts you already have.
Compatible nipples include: Avent® Sport Spout, ThinkBaby™ Nipples, Born Free Stage 2 Silicone Nipples- Twin Pack, Dr. Brown's Wide Neck Nipples, Pura Vented Nipple, Pura Kiki Silicone Sip Spouts Pigeon™ Silicone Nipples, and UPIS nipples.
It's Easy and Convenient to Use
The Kiki has internal markings so you can easily measure ounces and keep track of how much your baby is drinking.
It's also dishwasher safe — just be sure to wash it on the top rack.
And I love how slim the Kiki is; unlike other sippy cups, it doesn't take up much space in the diaper bag, which means I can keep it accessible.
That's especially important when we're traveling and my son needs to stay hydrated.
The Bottom Line
If you're in the market for a stainless steel baby bottle or a kids' stainless steel water bottle for your baby or toddler, the Pura Kiki is a great choice.
It's safe, durable, compatible with nipples you already have, and comes in fun colors your baby will love.
With the holiday season just around the corner, the Pura Kiki water bottle would make a great gift for your favorite baby or toddler.