Best Travel Water Bottle for Kids – Parents who travel green are among the most responsible consumers: not only are they committed to eco-friendly products, but they demand the highest standards when it comes to the safety of their kids.
I'd like to think I'm no exception, which is why I did extensive research before purchasing stainless steel water bottles for my children.
The good news is that there are so many safe, non-plastic lined or coated options now available.
The bad news is that it's still hard to know which bottles to invest in for your family.
Below, you'll find my picks for the best travel water bottle for kids.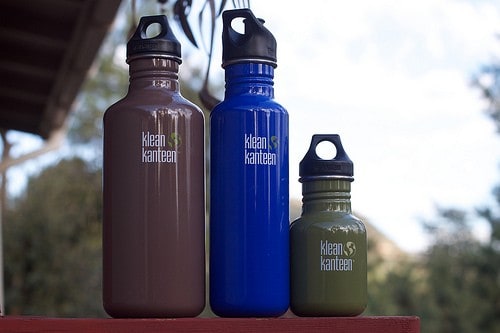 Best Travel Water Bottle for Kids
Klean Kanteen Stainless Steel Bottle
This classic (and one of the first stainless steel options to arrive on the scene) continues to be the most durable in our household.
My kids have been carting Klean Kanteens back and forth to school daily for 2-3 years, and they always survive drops and crashes.
Kleen Kanteen bottles will dent slightly like all stainless steel bottles, but because they're not lined, no damage occurs from a health perspective.
For families with kids of multiple ages like mine, it's nice that they come in the most sizes of any stainless steel bottle brand (including the small 12 oz).
As an added plus, additional tops can be purchased and interchanged; my kids prefer the sports tops, but families with babies and toddlers will love the sippy cup top option.
Klean Kanteens has a great variety of colors and sizes for kids.
They are usually less than $20.
Camelbak Better Bottle
I love that Camelbak's Better Bottle comes with inserted "bite valve" straws for easy drinking (and less spilling!), and it doesn't hurt that they come in such nice patterns and colors.
Even with their bite valve feature, the Camelbak Better Bottle has no moving parts, which makes cleaning easier, too.
You can get an insulated version as well (though they're pretty hefty, and therefore a bit less travel-friendly).
A lighter insulated pick is the Hydro Flask, though they're pricer than most families care to pay and only come in two sizes.
Pick up a Camelbak for between $14-$32, depending on size and features.
Crocodile Creek Stainless Steel Water Bottle
Besides being cute as button, the Crocodile Creek Stainless Steel Bottle, which is made just for kids, has a nifty little cover over the top.
This cover not only reduces spills, but is more hygienic, as kids tend to let their bottles rest in the dirt, sand, and other places I probably don't want to think about.
The bottle holds over 13 oz. Depending on the pattern and where you buy them, these range from as low as $10 to around $20.
Stainless steel vs plastic water bottle best for kids
While most water bottle brands are featuring BPA-free plastic options now, we still believe in using stainless steel day in and day out.
We're just not all that comfortable with how the plastic may break down after use.
Also, it's always in the back of our minds to not drink water from plastic when it's been sitting in the sun.
So we typically choose stainless steel for kids.
Our one exception?
Air travel.
When we travel by air, our kids bring their BPA-free bladder-style water bottles.
They pack very easily (and lightly), making them perfect to carry through airport security empty to be refilled on the other side.
The downside: the cheaper brands tend to leak and use the non-safe plastics, so you definitely don't want to bargain shop in this department.
Our favorite, which uses only Polyethylene (PET) plastic (which is not known to leach any chemicals into water), is the Platypus.
Do your kids use stainless steel water bottles? Which is your child's favorite?
Please share your favorite brand and style in the comments!
Photo credit: cogdog and I Love Water Bottles
Related Contents: