If you're in the market for a kids' insulated stainless steel water bottle with a straw, this look no further than the Eco Vessel kids bottle. It's insulated, made of safe stainless steel, attractive, leak-proof, and has a flip straw top. The folks at Eco Vessel were kind enough to send me one to try out. My son thinks it's great, and I love it, too. Here's what we like about it.
Safe: BPA- and Phthalate-Free Insulated Stainless Steel Water Bottle
The Eco Vessel kids insulated stainless steel water bottle is made from two layers of stainless steel. Stainless steel is one of the safest water bottle materials and it's what I choose of my son. This bottle is phthalate- and BPA-free, which means it's safe for your kids. (BPA and phthalates are chemicals that have been linked to a number of adverse health effects, from cancer to asthma — not something you want to expose your kids to.)
Insulated
One of the best features of the Eco Vessel Frost kids water bottle is that it's insulated. It will keep your kids' drinks cold for hours. Use it for juice, milk, or water. If you like the grown-up version of the insulated Eco Vessel water bottle, you'll definitely like the kid version.
Flip Straw Top
I really like that the Eco Vessel kids bottle has a flip straw top. Especially for younger kids, a bottle with a flip straw (as opposed to a sport cap) is easier to manage. I even prefer a straw bottle for going to the gym, traveling, and hiking. They're easier to use and less likely to spill.
Leak-Proof
When the straw is down, this bottle doesn't leak, which is great. That said, if the straw is open and the bottle is left on its sid, it does leak a little bit — but that's true of most water bottles.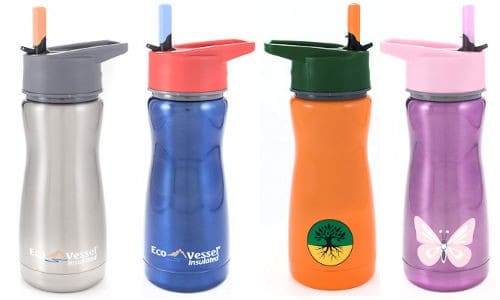 Great for Kids on the Go
Because this Eco Vessel kids bottle is insulated and leak-proof, it's great for families on the go. You can use it for just about anything, including:
Lunch boxes
Picnics
Camping trips
Hiking
Travel
Diaper bag (I like to keep a kids water bottle in my diaper bag for my son at all times)
Fun Designs
This bottle comes in six fun designs to choose from, none of which feature commercial characters (a big plus for some parents). My favorite is the orange bottle with the tree, but you can also get a purple bottle with a butterfly, a plain blue or silver bottle, a white bottle with a girl reaching for a heart, or a black bottle with flames at the bottom. Regardless of your child's taste, you'll be able to find a design he or she will dig.
Not Too Expensive
At Amazon, the Eco Vessel insulated kids water bottle is a good value. Theoretically  you'll get years of use out of the bottle. Personally, I would rather pay a little bit more on the front-end for a product that will last than have to replace a cheaper bottle every couple of years.
Know Before You Buy
For Kids Age 4+
Like CamelBak's Eddy Kids water bottle, the Eco Vessel kids water bottle comes with a minimum age: it's made for kids 4 and up. As with the Eddy, I assume it's because there are small parts that could theoretically come loose. But my 16-month-old, who enjoys throwing it on the ground almost as much as he likes drinking out of it, has yet to loosen any of the parts.
Not Made in the USA
As I've mentioned before, I have yet to find a stainless steel water bottle that's made in the USA. Eco Vessel is no exception and their bottles are made in China. That said, Eco Vessel strives to ensure that workers and the environment are treated well. From their website:
We do not know of any stainless steel bottle that is manufactured in the U.S. or in any other country other than China. Having said that, we use very responsible facilities where there is respect for the workers and the environment.  We visit them on a regular basis to ensure their compliance with our high standards. All of our bottles are made with premium quality, food grade stainless steel – the same kind many people use for eating and cooking.
The Bottom Line
If you're looking for an insulated stainless steel water bottle for kids, this Eco Vessel kids bottle is a great option. It's safe and made of stainless steel, insulated, leak-proof, has a straw, and is great for kids on the go. I would recommend this safe, insulated, stainless steel bottle for kids.
Also, check out our Eco Vessel Surf Recycled Glass Water Bottle vs Zulu Glass Water Bottle
Alex Bottle Stainless Steel Water Bottle Review
Stainless Steel Water Bottles Smackdown
Sigg Water Bottle Review: Best Aluminum Bottle
This post contains affiliate links, which allow us to provide high-quality content for free. Thanks for your support!