Best Insulated Water Bottle – Insulated water bottles are great because they don't sweat on the important documents on your desk, and they keep your water cold in the summer heat.
The best ones are light and not bulky so you can take them with you while hiking or on day trips.
Best Insulated Water Bottle
Here are our top picks for the best insulated water bottles.
My family used all of these for weeks or months, and some for over a year.
Insulated Stainless Steel Water Bottles
Hydro Flask Double Wall Vacuum Insulated Stainless Steel Water Bottles
I'd heard so much about Hydro Flask's stainless steel water bottles and loved their vivid colors.
There are so many sizes, lids and colors to choose from.
I ordered the 21 ounce size for the kids and the 32 ounce size for myself.
Had I realized how sleek and streamlined they are, I would have ordered the 24 ounce and 40 ounce water bottles too.
Each water bottle is surprisingly small for holding so much water.
Ozark Trail Tumbler the Walmart Version of Yeti Tumblers
We ordered and are reviewing:
Hydro Flask 21 ounce Standard Mouth with Flex Cap
Hydro Flask 21 ounce Standard Mouth with Sports Cap
Hydro Flask 32 ounce Wide Mouth with Flex Cap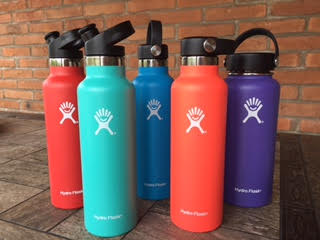 Hydro Flask review
There are many great things about Hydro Flask's double-walled, insulated water bottles.
They keep cold drinks cold and hot drinks hot for hours. Ice cubes fit in easily.
Living in the southwest, this is a big deal.
We carry water bottles everywhere.
In the summer, most people's water comes out warm-to-hot out of the faucet.
Ice cubes are essential.
With many other water bottles, only crushed ice fits.
With the Hydro Flask, it's easy to fill them with ice cubes.
This is especially great for when my kids take them school.
The water stays cold all day.
Even more than that, they are one of the few water bottles which seal completely without needing a plastic ring.
The lids screw on/off so there is only the cap, with no extra plastic.
Extra plastic is hard to clean and difficult to dry out completely.
There's always the risk that mold will grow.
For our family, the fewer the "parts" to a water bottle, the better!
The lids interchange as well, so you can buy the Standard Mouth with Flex Cap and purchase the Standard Mouth Sport Cap separately.
Both caps/lids are easy to use.
Hydro Flask 21 oz standard mouth review
The 21 ounce water bottle is only a little bit wider than an aluminum can, which makes it fit in most car drink holders.
These bottles fit easily in their backpacks.
My kids have loved taking these bright water bottles to school.
They said they are easy to refill at the drinking fountain too.
They enjoy using both lids.
The 21 oz Hydro Flask is smaller than some water bottles they've used that were 17 – 18 ounces.
Again, if I could do it again, I would have ordered the 24 ounce size instead of the 21 ounce because the Hydro Flask is very streamlined and lightweight.
You can interchange the lids
Flex Cap:
This cap has a great handle which can remain upright or fold down.
It's very easy to carry the water bottle by its looped cap.
Sports Cap:
This cap enables you to drink from it without having to remove the lid.
My kids like them equally well but the Sports Cap is more convenient for them at school.
It's also convenient to carry the water bottle from the loop.
FYI, the sports cap shouldn't be used for hot beverages.
Hydro Flask 32 oz wide mouth review
Hydro Flask's 32 ounce water bottle also offers a wide range of colors to choose from.
It is available in the Flex Cap (which I ordered) and the Sports Straw.
Given this holds a lot of water, I expected it to be a lot larger than it is. I've owned 24 ounce water bottles that were larger than this one at 32 ounces.
The Flex Cap twists on and off easily and offers the same handle which can remain up or down.
The wide mouth measures just over two inches wide from the opening.
It's great for adults; kids could use it but they may prefer the narrower bottles for their smaller hands.
The bottle itself measures approximately 3.5 inches wide.
Great insulated stainless steel water bottles
Now that we own these Hydro Flask water bottles, I see them everywhere.
It's hard to miss the unique, bright colors, and the quality is undeniable.
These keep water cold for longer than I need them to, which is a good thing.
Hydro Flask's stainless steel water bottles are made with 18/8 pro-grade stainless steel.
They are also sweat-free and BPA-free.
Like all insulated water bottles, you need to hand wash these.
It is important to always air dry the water bottles completely, including the lids, to prevent mold growth.
Hydro Flask focuses on the community as well by donating 5% of the net proceeds to the charity of the customer's choice.
Hydro Flask offers great sizes too.
They have smaller sizes from all the way to 64 ounces.
We love the bright, matte colors.
They haven't chipped or shown wear after using them for over three months.
Two of my mom friends bought Hydro Flask water bottles for their kids as gifts.
A third mom friend bought them and saved them as something special for when her kids began the new school year.
Klean Kanteen Classic Double Wall Vacuum Insulated
The Klean Kanteen bottle we love is 20 ounces.
It is stainless steel and has a loop cap. It has a streamlined body which makes it easy to hold while drinking and while toting it around.
Like the others, it keeps drinks cold for 24 hours and the bottle remains "sweat-free."
It's easy to open and close the leak-proof cap.
While we love a water bottle that doesn't sweat, this one is great for several other reasons too.
What's great about Klean Kanteen is the variety of caps and lids you can interchange.
You can make your insulated water bottle safe for drinking hot liquids with a special cap.
There is even an all-stainless steel cap that you can purchase, making it the only lid that doesn't contain any plastic.
Klean Kanteen offers the choice of the best cold water bottle or hot water bottle.
Thinksport Insulated Bottles
Thinksport makes a 750ml and a 350ml insulated water bottle that is double walled and one of the more attractive bottles on the market.
These bottles are durable, and as long as you keep them forever out of the dishwasher, they will last for a long time.
Personal note: My sons bring the smaller ones (17 oz) to school and they are able to easily drink from them as well as refill them on their own.
They like being able to hold the strap which connects the lid to the bottle.
It is also convenient for refilling at their drinking fountain as the cap is attached and they don't need two hands to hold it while trying to refill it.
For adults, the 25 ounce Thinksport is perfect for hikes or even to leave in the car to refill our other bottles.
Water stays cold in it all day, even on 100+ degree days!
Our family has personally enjoyed the Thinksport insulated water bottles.
They are easy to carry by the handle when walking.
Update: Since moving to the very hot and dry southwest, my sons (8 and 10) bring the 750 ml (25 ounce) bottle to use at school.
It's become my go-to water bottle since moving here as well.
I can carry it easily by its loop.
It holds enough for me to get through my errands, etc. when the sun is blazing.
Lately, I've been adding my teabag in it for extra flavor.
CamelBak Unisex Eddy Insulated Stainless Steel Water Bottle
CamelBak was one of the first to make stainless steel insulated bottles.
The Unisex Insulated Eddy is a little smaller than some other bottles, which allows it to easily fit in car cup holders and in most bike holders.
It's their traditional Better Bottle with bite valve so if you already have a CamelBak and like the straw, this may be your best bet.
You can pick one up online.
This is a great one to use for sports or while exercising (and even driving!) as you don't have to remove the entire lid to get a drink.
This is really important if you like to drink water while commuting. It's a great non sweat water bottle.
Thermos Insulated Water Bottles
Thermos has a number of highly rated stainless steel bottles – the Hydration (18 ounces) and the Nissan Hydration (26 ounces), and the Nissan Briefcase Bottle (34 ounces).
The Briefcase Bottle is one of the largest capacities of any of the insulated bottles on the market.
At 18 ounces, the Thermos Hydration bottles are a great size and design for kids to bring with them to school.
Personal note:
My kids used them for an entire school year when we lived in the Midwest, and I used mine whenever I brought a water bottle anywhere.
But then within two months of each other, all three of our lids broke.
This was after using them for approximately 11 – 12 months with almost daily use.
We haven't been able to find replacement caps which is a downside to these bottles.
Otherwise, we really love them and love the small, easy-to-hold design.
Because we used them so much, I put the stainless steel water bottle (not the lid) in the dishwasher multiple times a week and never had any problems with it.
This slim bottle is very well designed.
It holds a lot of water and fits in car drink holders and in the outside pouches in kids' backpacks.
It even fits in bike water carriers.
The only downside is they don't sell replacement caps for Thermos.
Sporting-USA Insulated Bottles
This water bottle from Sporting-USA holds 25 ounces, and is made from 18/8 food-safe stainless steel.
It's vacuum insulated and double-walled.
Your drinks will remain cold all day.
Drinks stay hot for 4 hours.
This brand is a newer entry to the market.
What is unique about this water bottle is that it comes with two lids, for hot drinks and one for cold.
This is nice because usually companies sell water bottles for use with cold or room temperature drinks, not hot.
Usually if a stainless steel water bottle is able to hold hot drinks, you have to buy the lid for hot beverages separately.
Both have screw-top lids and are leak-proof.
The "cold" lid is a sports type with a flip up spout with a plastic straw.
It would be great for using for sports.
I'm not a big fan of straws and extra plastic in general so I don't use this feature, and it works just fine.
The "hot" lid is also a screw top.
You take off the lid and drink from the actual bottle.
What's great is that it holds 25 ounces but isn't bulky or exceptionally heavy.
We like the lifetime warranty the company offers but don't see ourselves ever using it.
When a water bottle is easy to use, you will use it more
Update: This Sporting-USA water bottle has become my son's new favorite water bottle.
It holds more water which he needs as he doesn't like to refill his smaller water bottles while at school.
At first, I gave him the screw-on cap which he used and liked for weeks until I finally convinced him to try the flip lid which he now absolutely loves.
He is drinking more water than ever because it's so convenient.
After using this for a few months, the paint has chipped off, but that's typically expected with all water bottles, unless they are the non-painted stainless steel bottles.
My son has the white one, and my husband uses their black one.
UPDATE: We've used this bottle on and off for 18 months.
It's holding up but the paint is chipping a lot.
I wish this bottle just came in stainless steel without paint.
Eco Vessel Insulated Water Bottle
Eco Vessel makes a triple-insulated stainless steel water bottle called EcoVessel Boulder.
It's a great size at 24 ounce / 700 mL. They've designed it for hot and cold beverages, and it's sweat-proof.
It includes a removable mesh screen which you can use for a tea bag or to block ice when you are drinking.
I generally don't use the screen because I don't add ice to my water but it's a handy feature.
We also like it has a loop, like the Thinksport bottles, which make it easy and convenient to carry.
In addition, EcoVessel offers the benefits of the Boulder in larger sizes.
There are a variety of colors at different price points.
EcoVessel Bigfoot at 45 oz (1300 mL)
EcoVessel Boss at 64 ounces (1900mL)
Please note, we haven't tried or ever used EcoVessel's larger vacuum-insulated water bottles, Bigfoot and the Boss insulated water bottles.
They also make an insulated bottle with a flip straw top and a non-insulated filtered water bottle.
Eco Vessel has a strap on it which makes it easy to carry.
The screen is a nice feature and is also easy to clean.
This also is a water bottle that doesn't sweat.
Downsides of all the insulated stainless steel water bottles
Unfortunately, most of the stainless steel bottles should not cleaned in the dishwasher.
Additionally, most of the caps, with the exception of purchasing the all stainless steel cap from Klean Kanteen, are made with some plastic (BPA, toxin and phthalates free) and cannot be placed in the dishwasher.
This Klean Kanteen stainless steel cap is magnificent.
It fits some of the other water bottles as well.
While we continue on our quest to find an insulated stainless steel water bottle made in America, none are.
These are made in China, responsibly.
Best Glass Insulated Water Bottle
If you're in the market for a an insulated glass water bottle, this one might be just what you're looking for.
Sun Tea's Double-Wall Thermol Travel Mug glass bottle, holds 18 ounces of liquid, and has a screw-on cap.
What I love about this one is that you can wash the "body" in the dishwasher as it's all glass.
Glass is generally my first choice but I only bring this with me when I'm not going to carry it around a lot.
Glass seems the cleanest to me. Given a choice, I prefer glass over stainless steel water bottles but worry about it breaking.
This is the best insulated glass water bottle we've used.
Most other glass water bottles are only glass with a plastic/rubber case/holder… the glass bottle itself isn't insulated as in the case of Eco Surf Recycled Glass Water Bottle and Zulu Glass Water Bottle.
Best Plastic Insulated Water Bottles
The Big Chill 25 ounce bottle is a 25-ounce, BPA-free insulated plastic bottle that fits in bike bottle holders.
My kids take these when we ride bikes. I like that it comes in lots of colors so we know which bottle belongs to each of us.
My kids love that they can drink it or squirt it (to drink or at each other!).
Again, I'm not a big plastic water bottle person so I never grab this when I'm walking or hiking.
But because these are so lightweight, I often fill an extra one or two of them when we go hiking as a family so that we can refill our other water bottles if necessary.
Trudeau has a 24 ounce and 16 ounce plastic insulated water bottle with straw.
It is also BPA-free but doesn't keep water as cold as all of the other bottles.
My water stayed cold for only about 4-5 hours.
This is fine for me as I don't like drinking cold water all of the time but most people buy insulated bottles to keep things colder longer.
How to Pick the Best Insulated Water Bottle
We believe the best water bottles are insulated stainless steel and glass water bottles. Here's what to consider when looking for the best insulated water bottle.
Actual Size of Bottle
Because insulated water bottles have a double wall they are larger than bottles that hold the same amount of water.
For example, the .5L CamelBak Eddy insulated bottle is the same size as the .75L CamelBak Eddy non-insulated bottle.
If you're looking for a bottle of a particular size (like to fit in your bike bottle holder) I would recommend the .5L CamelBak or a Thermos brand bottle.
CamelBak also has a Big Chill 25 ounce bottle. It fits in most bike drink holders. It is made with 100% BPA-free plastic.
We like this one especially because it is lined with material that eliminates bacteria from growing.
Bottle's Liquid Capacity
Generally, insulated water bottles have double wall construction.
The liquid capacity is less than you can get with a similarly sized, non-insulated bottle.
Thermos has some good, large capacity bottles.
You can choose from a 34-ounce or 26-ounce insulated water bottle.
EcoVessel has an excellent 25-ounce, all-purpose stainless steel insulated bottle.
Know that many of the best insulated water bottles only hold 15 – 18 ounces.
This is fine for when you're sitting at your desk and can refill it but not ideal if you want to use it for hiking or other forms of exercise.
Some may view it as fine because they don't want to carry the weight of extra water, but in the dry southwest, we need to carry more water on our hikes.
Cleaning Insulated Water Bottles
The manufacturers of most of these bottles recommend hand washing only.
We've learned the hard way to always wash by hand because of the seal on most of the lids.
You want to be sure your bottle stays 100% leak proof.
The best way to ensure they are clean is to use a water bottle cleaning brush.
They aren't very expensive, and you can use the cleaning brushes to ensure mold doesn't grow, especially in the lid.
So, in addition to using a special brush, how do you clean your water bottle when you can't put it in the dishwasher?
It helps to have a detachable drinking spout/cap and a large opening.
Remember, you can only put an all-stainless steel bottle in the dishwasher.
You have to hand-wash them otherwise.
It is extremely important to allow your water bottle to air out and dry completely to prevent mold growth.
For this reason, we prefer when there is a larger opening.
Type of Material and Where Manufactured
Unfortunately, as we've covered extensively while talking about stainless steel water bottles, there aren't any stainless steel bottles made in the US. They are all made in China.
Oh, how we have searched for a great insulated water bottle made in America!
Therefore, if you want an insulated stainless steel water bottled that's not made in China, you may have to buy a plastic water bottle.
Just make sure it's a BPA-free water bottle.
Another option is to buy a glass water bottle.
We highly recommend that you buy stainless or glass because they are safe water bottles.
There won't be BPA, a hormone disrupter, that you will find in many plastics.
Straw or No Straw
When we first started reviewing stainless steel water bottles, we didn't like straws in them because they are difficult to clean and rarely dry completely.
Straws need to dry completely to prevent mold growth.
The best we have found with a straw is the CamelBak Glass Eddy water bottle.
CamelBak also offers a stainless steel insulated water bottle with a straw.
Also, Eco Vessel is another great choice for an insulated water bottle with a straw, and they come in lots of colors too.
We were on the quest for the best reusable drinking straws for kids because sometimes straws are beneficial.
Even for adults, like at work, as using a flip top or a straw prevents spills.
Using a straw is also a lot safer to drink from while driving.
Insulated Carrier
If you already have a stainless steel water bottle but it's not insulated, there are ways that help to make it insulated.
You can purchase an insulated carrier instead of buying an entire new bottle.
These are made with neoprene.
Think of them as a beverage cozy.
The downside is that if you don't get the exact water bottle brand and size, it may be an improper fit.
Also, most of the insulated covers are expensive.
It may be more cost effective to buy a new insulated water bottle instead.
These are reviews of the best insulated water bottles on the market today.
All of them make excellent choices, depending on what is most important to you.
There are a lot of features to consider when you are looking for an insulated water bottle bottle.
Being BPA-free (if plastic) and the liquid capacity as well as how easy is it to actually use, are all important to consider.
Bring your insulated water bottle with you on your vacations, when camping and when hiking.
Keep your drinks cold for hours with one of the best insulated water bottle reviews above.
If you are only considering stainless steel, read our reviews on the best insulated stainless steel water bottles on the market today.
You should also checkout our Yeti Rambler Tumbler vs Ozark Trail Tumbler shootout to see which is the best tumbler.
Best Insulated Water Bottles are:
Hydro Flask Double Wall Vacuum Insulated Stainless Steel
Klean Kanteen Classic Double Wall Vacuum Insulated
Thinksport Insulated