Through my childhood, in the 70s and 80s, and even through the 1990's, my sister and I would joke how my father always chose made in America products.
When we asked for gift suggestions for his birthday, Father's Day and other holidays, he would always make sure to note "make sure it is made in America."
He would often ask for a Parker pen and or pencil set.
And he would offer up certain brands, that sitting here now decades later, I cannot remember, or maybe are no longer in existence.
I also remember how he never would wear a shirt with a name brand on it, showing on the front.
Now that wasn't nearly as common as it is today, but there were some brands that printed them on the shirt.
He would say that they should pay him to advertise their brand and refused to wear them.
It was funny then but it actually makes a lot of sense now.
Tour Amazon Fulfillment Center ~ Free Warehouse Tour…Come on AMAZON we need a Made in America Filter
Why buy Made in America products
If you are an American, who wants to support their country and help the planet buying products made in the USA is a great way of doing both.
You, like anyone else who buys American products, also benefit from the fact that you are buying goods from manufacturers who are held to high standards.
There have even been songs written about Made In USA.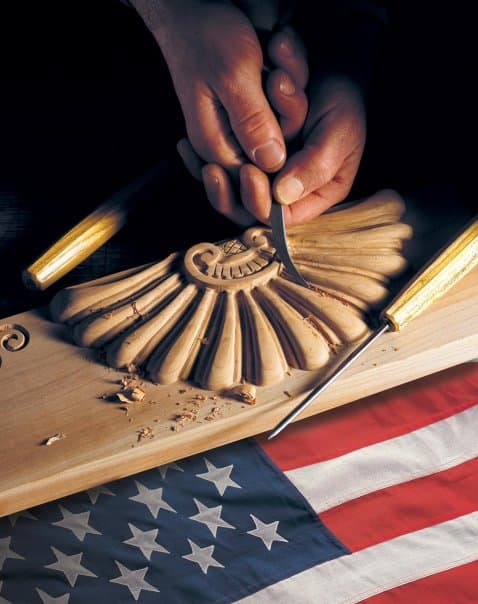 Made in America Products can be a green way to buy
When you buy locally, the distance the product has traveled has been reduced considerably reducing the carbon footprint of your purchase.
In addition, American firms have to take steps to protect the environment during the manufacturing process, for example, disposing of their waste safely.
Sadly, in many other countries this is not a requirement.
Even in some countries where there are similar rules, they are not always enforced.
Proudly Made in the USA ~ Great way to support your community and economy
Buying products Proudly Made in the USA is one of the best ways to help the economy.
Every time you buy Made in America products, you are helping someone to stay in a job.
This helps people to be able to live independently.
In addition, because they pay tax on their wages some of what you spend is being fed back to state.
This means more money is available to provide vital services like education.
The more Americans there are in jobs the better it is for the economy and the nation overall.
It is a ripple effect: It means that more people have money to buy services and goods from local companies.
This keeps our nation thriving and keeps people out of poverty.
Made in USA products are great products
American producers are carefully regulated.
The products they make have to be made to a certain standard.
Often that standard is higher than it is in other places.
Now that you have some reasons to buy American, here are our favorite Made in America products:
Companies who still make products in America
Filson Apparel ~ Made in America
Filson Apparel all-American company was founded in 1897 and today remains in private ownership.
Filson sell clothes through a range of outlets in the US and use catalogs to reach the rest of the country.
The firm is best known for making high quality outdoor clothing.
Filson recently produced a line of fashionable work wear with Levi Strauss & Co.
Filson luggage is also very popular.
It is stylish, durable, practical and well made.
Pyrex Glassware ~ Made in America
Over 100 years after the company was found Pyrex glassware is still made in the US.
Their glassware is known the world over for its durability and heat resistance.
It is popular throughout the world.
This has led the firm to open up other factories in Europe, but all of the products that are sold in the US are still made here.
Hammond's Candies ~ Made in America
Come take a great free tour the next time you are in Denver, CO.
We easily found free parking and loved learning about Hammond's Candies.
Everyone can see into their factory and enjoy watching them pull, stretch and form their candy creations.
Afterwards, everyone will enjoy a full-sized sample (we were offered to choose from different flavors of candy canes).
Their store right on site is a must stop, even if you don't have time for the short tour.
Harden Furniture ~ Made in America
Harden Furniture is one of the oldest furniture manufacturers in the USA.
Since 1844, Harden Furniture has been making furniture in McConnellsville, NY.
Harden Furniture is American Made furniture in the traditional style, but part of the reason they have been so successful is that they have expanded their range to meet the needs of modern consumers.
Their office range is particularly popular.
Sub Zero and Wolf Kitchen Goods ~ Made in America
Wolf Kitchen Products is an iconic cooking and kitchen appliance manufacturer who was taken over in 2000 by Sub-Zero.
When that happened people were worried that the firm would move some of the manufacturing abroad.
Instead, Sub-Zero bought a large manufacturing facility in Arizona.
Today, you can buy stylish ranges, cooker and refrigerators that are made to exceptionally high standards in the USA.
Hershey Chocolate ~ Made in America
For me no list of American made products would be complete without mentioning Hershey.
This is partly because chocolate is pretty much the center of my universe, but is also because Hershey is the one name I have found most people across the world know and recognize as American.
It really is an American icon, and I am pleased to report that Hershey chocolate is becoming more widely available as the company spreads its wings and goes global.
Last summer I even found a Hershey bar in a Spanish supermarket.
I look forward to not having to miss out on American chocolate during my travels.
Craft Breweries across America
A great thing to do on vacation or if you live locally is to go to a local brewery.
Many of them, such as Sprecher Brewing Company in Milwaukee, WI also brew their own soda which is fun for kids.
If you're in Iowa with kids, check out Amana Brewery.
Candle-Lite Candles ~ Ohio
175-year-old candle maker that employs 600 people to make and sell 250 million candles a year in Leesburg, Ohio.
Candle-Lite manufactures a good quality product that are made in America.
Candle-Lite commitment to sourcing 90% of the glass, wicks, and wax from manufacturers all across America.
Made in USA products ~ food and drinks
It used to be a given that food was made in the United States.
And it usually is.
However, more and more, especially with candy and character-type foods, they are made overseas.
Always check the labels of products like frozen seafood and some vegetables, like edamame.
Produce is also something to always watch.
Sometimes there isn't a choice, but if there is, always choose American.
Ozark Trail Tumbler the Walmart Version of Yeti Tumblers
Companies with Headquarters in America
There are many companies who claim to be American companies.
They may have their headquarters in the United States but their factories may be across the globe.
When there are choices, we choose the actual Made in America label.
Manufacturing jobs are critical
In the United States, manufacturing is still critically important to the well-being of the nation.
Remember when you want to buy something to take a few moments to check where it is made.
If it is not made in America, check out the other brands too.
Even if it costs a little more, try to buy the product that is made in America.
You will probably have better quality.
And you will definitely be helping ensure that jobs stay in America and help contribute to the economy with each "made in America" product you buy.
So many consumers wish an American company would make insulated water bottles and insulated tumblers like Yeti, but unfortunately, they are all made in China.
This is the same with the latest fidget cube craze.
They are also made in China, like so many toys.
Support American companies
And yes, there are a few companies left who only produce their wares in the USA.
Support these companies with all of your might!
What are your favorite made in America products?
Please share, and let's all support them.