Here we've compared the best stainless steel water bottles available. Our family has tried over 40 water bottles over the years. We've chosen our favorites with their pros and cons. Here we compare and contrast the best stainless bottles on the market.
We are still on our eternal quest for a water bottle made in the US but that is not a reality yet.
There's lots to consider when choosing a water bottle. Here's what to think about:
Is it heavy empty
How many ounces it holds
Where will you bring it

Will it fit in backpack, lunch bag, purse, car drink holder, bike rack
Will you carry it on walks or hikes

Do you want to be able to put ice in it
How do you carry it

Is there a handle on the lid

Can you buy replacement lids
How to access the water (screw top lid; pop-off lid)
Other considerations:
Is it painted or it is just stainless steel
Food grade stainless steel 18/8 or 18-8
Made in USA
Any plastic parts
In the meantime, we have our favorite brands, including Klean Kanteen, CamelBak, Thinksport, and HydroFlask.
We've decided to wrap it up once and compare these stainless steel water bottles in one go. We've put together this post which reviews and compares all of the best stainless steel water bottles on the market.
Below you'll see which bottles we like best, and why.
Stainless Steel Water Bottles
We detail which bottles are best that are insulated, which bottles aren't made in China, which bottles have straws, even bottles that fit in bike holders.
Here are the Stainless Steel Water Bottle contenders:
Klean Kanteen – You can read our full Klean Kanteen Stainless Steel Water Bottle Review here.
CamelBak – You can read our CamelBak Stainless Steel Better Bottle Review here.
New Wave Enviro – Another popular brand of water bottles.
Thinksport – One of the first insulated stainless steel water bottles on the market.
HydroFlask – The brand that made "keeping drinks cold for so long" popular to everyone. With the variety of colors and wide-mouth bottles that kids and teens everywhere wanted to own and decorate with stickers.
Sigg – Disqualified! Contrary to popular belief it's made from Aluminum.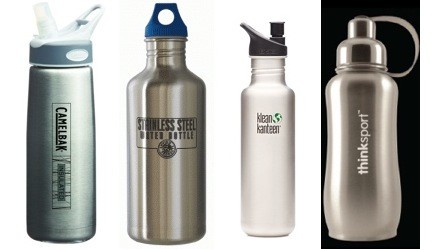 Stainless Steel Water Bottles Round-by-Round Winners
Insulation:
Want your drink to stay cool and not drip condensation?
We have previously compared all of the best insulated stainless bottles in this post and these were our top choices for bottles: Thinksport and CamelBak both come insulated.
BPA-free:
BPA-Free bottles are a must – you don't want all of those hormone disrupting chemicals in your bottle.
So, which bottle was the best in this category?
All of our contenders passed tied this round as they are all BPA free water bottles.
Tops/Cap Options:
Do you want to hook your stainless steel bottle to carabiner some days and other days want a sport cap?
We like this option: Klean Kanteen offers 6 different types of tops.
Ease of Drinking:
Don't like tipping your bottle upside down and risking water dribbling all over you? We have become huge fans of water bottles with straws.
You can read a full review of water bottles with straws here. The best choice in this category is CamelBak. Their Bite Valve and straw system makes drinking easy.
Looks:
Want a good looking water bottle?
CamelBak has some fun designs, but I think Thinksport wins overall for a sleek, yet professional, yet fun look.
Variety of Sizes:
Depending on your activity you may want a large 40 ounce bottle or a small 12 ounce water bottle or perhaps somewhere in between.
CamelBak and Thinksport have two sizes, while New Wave Enviro and Klean Kanteen both come in four sizes.
Bike Water Bottle Holder Friendly:
If you bike a lot you definitely want a stainless steel water bottle that fits in your bike's water bottle holder.
Which ones do?
With the exception of the 40 ounce bottle, all of Klean Kanteen's bottles fit in a bike water bottle holder, making the Klean Kanteen the most reliable brand.
I use these while I commute on my hybrid bike.
Sippy Cup Option:
If you have kids, a stainless steel sippy cup is handy. But check out our list of the best bottles for kids. If you are looking to transition your child off of sippy cups, read our article about straws.
Price:
We checked out prices for the size closest to 25 or 27 ounces in a silver color.
Best Stainless Steel Water Bottles
So who won the Stainless Steel Water Bottle Smackdown? It depends on what you're looking for. All four contenders offer something unique.
Our personal favorite is the CamelBak. If you want a complete list of the winners by category, here they are:
The Winners: Best Stainless Steel Water Bottles
Best Insulated Bottle with Straw: CamelBak is your best bet.
Best for Cheapest Price and Overall Value: New Wave Enviro.
Best Overall for Brand Reliability: Klean Kanteen.
Stainless steel water bottles made in USA
Best for not made in China: Unfortunately, all stainless steel water bottles are made in China.
You can buy a BPA free Nalgene (plastic) or a glass water bottle if you want something made in the US.
If you want a company with sustainable practices and want stainless steel, we recommend Klean Kanteen.
You may also be interested in our post about ;Eco Vessel Surf vs Zulu glass water bottles.
You also might want to check out our:
It's always a great idea to use a reusable water bottle whenever possible.
It's an easy way to go green too.
You can get more fruits and vegetables in your diet by using a fruit infused water bottle for on the go and a NutriBullet while at home.
Check out our post about Best Stainless Steel Cookware: Set Showdown, which will help disentangle the safety issues with nonstick cookware.
Never buy a plastic water bottle again.
There are so many benefits to using stainless steel water bottles while on the go.
They are better for our environment than plastic and will save you money as well. Bring one with you wherever you go.
Others to consider:
Alex Stainless steel water bottles
New Wave Enviro