We've written so much about stainless steel water bottles We are still on our eternal quest for a water bottle made in the US but that is not a reality yet.
In the meantime, we have our favorite brands, including Klean Kanteen, CamelBak, and Thinksport.
We've decided to wrap it up once and compare these stainless steel water bottles in one go.
We've put together this post which reviews and compares all of the best stainless steel water bottles on the market.
Below you'll see which bottles we like best, and why.
Stainless Steel Water Bottles: Smackdown
So what is this post all about?
It's a Stainless Steel Water Bottle Smackdown.
We compare and contrast the top stainless bottles on the market.
We detail which bottles are best that are insulated, which bottles aren't made in China, which bottles have straws, even bottles that fit in bike holders.
Here are the Stainless Steel Water Bottle contenders:
Klean Kanteen – You can read our full Klean Kanteen Stainless Steel Water Bottle Review here.
CamelBak – You can read our CamelBak Stainless Steel Better Bottle Review here.
New Wave Enviro – Another popular brand of water bottles.
Thinksport – One of the first insulated stainless steel water bottles on the market.
Sigg – Disqualified! Contrary to popular belief it's made from Aluminum.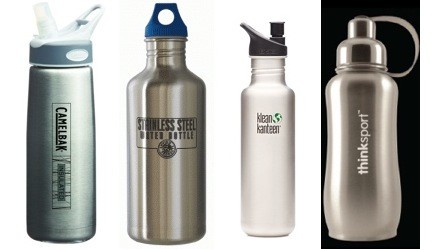 Stainless Steel Water Bottles Round by Round Winners
Insulation:
Want your drink to stay cool and not drip condensation?
We have previously compared all of the best insulated stainless bottles in this post and these were our top choices for bottles: Thinksport and CamelBak both come insulated.
BPA-free:
BPA-Free bottles are a must – you don't want all of those hormone disrupting chemicals in your bottle.
So, which bottle was the best in this category?
All of our contenders passed tied this round as they are all BPA free water bottles.
Tops/Cap Options:
Do you want to hook your stainless steel bottle to carabiner some days and other days want a sport cap?
We like this option: Klean Kanteen offers 6 different types of tops.
Ease of Drinking:
Don't like tipping your bottle upside down and risking water dribbling all over you?
We have become huge fans of water bottles with straws.
You can read a full review of water bottles with straws here.
The best choice in this category is CamelBak .
Their Bite Valve and straw system makes drinking easy.
Looks:
Want a good looking water bottle?
CamelBak has some fun designs, but I think Thinksport wins overall for a sleek, yet professional, yet fun look.
Variety of Sizes:
Depending on your activity you may want a large 40 ounce bottle or a small 12 ounce water bottle or perhaps somewhere in between.
CamelBak and Thinksport have two sizes, while New Wave Enviro and Klean Kanteen both come in four sizes.
Bike Water Bottle Holder Friendly:
If you bike a lot you definitely want a stainless steel water bottle that fits in your bike's water bottle holder.
Which ones do?
With the exception of the 40 ounce bottle, all of Klean Kanteen's bottles fit in a bike water bottle holder, making the Klean Kanteen the most reliable brand.
I use these while I commute on my hybrid bike.
Sippy Cup Option:
If you have kids, a stainless steel sippy cup is handy.
But check out our list of the best bottles for kids.
If you are looking to transition your child off of sippy cups, read our article about straws.
Price:
We checked out prices at Amazon.com for the size closest to 25 or 27 ounces in a silver color.
Best Stainless Steel Water Bottles?
So who won the Stainless Steel Water Bottle Smackdown?
It depends on what you're looking for.
All four contenders offer something unique.
Our personal favorite is the CamelBak because of the straw.
If you want a complete list of the winners by category, here they are:
The Winners: Best Stainless Steel Water Bottles
Best Insulated Bottle with Straw: CamelBak is your best bet.
Best for Cheapest Price and Overall Value: New Wave Enviro.
Best Overall for Brand Reliability: Klean Kanteen.
Stainless steel water bottles made in USA
Best for not made in China: Unfortunately, all stainless steel water bottles are made in China.
You can buy a BPA free Nalgene (plastic) or a glass water bottle if you want something made in the US.
If you want a company with sustainable practices and want stainless steel, we recommend Klean Kanteen.
You may also be interested in our post about ;Eco Vessel Surf vs Zulu glass water bottles.
You also might want to check out our:
It's always a great idea to use a reusable water bottle whenever possible.
It's an easy way to go green too.
You can get more fruits and vegetables in your diet by using a fruit infused water bottle for on the go and a NutriBullet while at home.
Check out our post about Best Stainless Steel Cookware: Set Showdown, which will help disentangle the safety issues with nonstick cookware.
Never buy a plastic water bottle again.
There are so many benefits to using stainless steel water bottles while on the go.
They are better for our environment than plastic and will save you money as well.
Bring one with you wherever you go.
Alex Bottle Stainless Steel Water Bottle Review
We love reviewing reusable water bottles because we are so against disposable water bottles consuming our resources and filling up our landfills.
We are highlighting the Alex Bottle as an innovative green travel product because it made from 50% recycled materials.
The Alex Bottle is a new stainless steel water bottle that is so popular because of it's amazing design.
We tested it, and we have also heard from people who have tested and the reviews have been incredible.
There's a lot of great reusable water bottle available, and they are easy to find on Amazon.
Here's what we love about this one.
Why we love Alex Bottle
We only consider bottles that are completely BPA-free.
We absolutely LOVE when our water bottles are dishwasher safe, which this one from Alex is.
Because we use our water bottles every time we leave our home, they get a lot of use.
We like being able to sanitize them at the end of each day.
And again, this one is made from recycled materials which makes it so much better than its competitors.
Even more, this one offers an incredible 2-year warranty.
Most water bottle companies only offer a 30-day warranty.
Alex Bottle stainless steel water bottle features
Comes ins 20 and 32 oz sizes (but can combine to make a 26 ounce)
Premium Grade 304 Stainless Steel (50% recycled)
BPA FREE Polypropylene #5 Cap and CST
50% recycled bottle, 100% recyclable
Eco-friendly powdered paint
Dishwasher safe
Fits ice cubes
Strap made from recycled plastic water bottles
Fits cup holders
Cap covers bottle lip to protect from germs
Conceived in the USA; made responsibly in Indonesia
Alex Bottle is available in black and white with different color bands
Plus the ALEX Bottle also features a 2 year warranty and there there is no liner (unlike Sigg water bottles and aluminum water bottles).
I cannot tell you how many water bottles do not offer anything but a 30 day warranty, so this is an incredible bonus.
You can also put smoothies, sports drinks, and other beverages in the bottle.
Because it easily comes apart and fits in the dishwasher the drink will come out much more easily than other bottles.
Where is the Alex Bottle made?
There is still a great search out there for stainless bottles made in the USA.
The Alex Bottle doesn't live up to this challenge. Instead it's manufactured in Jakarta.
It seems that the compatibility of the ALEX Bottle will make it the biggest selling point for green travelers looking to pack light.
There are a lot of great water bottles on the market, and finding the best stainless steel water bottle is important.
The Alex Bottle is a little harder to find but if you are considering a stainless steel water bottle, it is a great option.
Read about a great water bottle for kids too.
New Wave Enviro: Water Bottle and Container Review
After I wrote Stainless Steel Water Bottle Smackdown, comparing and contrasting the top selling Stainless Steel water bottles on the market, New Wave Enviro Products contacted me and sent me some products to review.
I love water bottles that are reusable and that are made from stainless steel.
Anytime I can forgo plastic and eliminate the need to buy and dispose of consumables — like plastic drink bottles — I'm happy.
That's why I love reusable water bottles so much.
New Wave Enviro Stainless Steel Water Bottle 40 Ounces
I've been wanting a 40 ounce stainless steel water bottle for months.
But I couldn't find a way to justify shelling out for Klean Kanteen's 40 ounce bottle, when I had two perfectly good 18 and 27 ounce bottles that would do just fine.
And I didn't know New Wave Enviro made a 40 ounce bottle until researching for the Smackdown post.
Anyhow, New Wave Enviro was kind enough to sent me their 40 ounces stainless steel water bottle to give it a spin.
I've been using it for a couple of weeks and honestly, I love it.
40 ounces is a perfect size for extended car rides, bike trips, hikes, or any sort of sporting event.
When I visit the southwest in the heat of the summer, you can bet I will be bringing and using this water bottle and taking it with me anytime I step outside.
In comparison to a Klean Kanteen, there is really no difference except in price and in caps.
The New Wave Enviro bottles are significantly less expensive.
However, you won't get the same cap options that you do with a Klean Kanteen (such as flat top, etc.).
And the New Wave Enviro Stainless Steel Water Bottle 40 ounces ships with a stainless steel top, not the plastic top that is worse for the environment.
Another option is fruit infused water bottles.
This has become a big trend as consumers who have stopped buying disposable plastic water bottles are now wanting more flavor in their water.
New Wave Enviro Stainless Steel Food Container
About 2 years ago we ditched our plastic Tupperware in favor of glass/Pyrex.
A good variety set is this 18 piece Pyrex set.
We felt that warming up food in plastics.
Which can leach chemicals and melt at hot temperatures wasn't worth any potential health risks.
The only problem I've found with glass is that it is extremely heavy to carry on a daily commute to work.
But, it never occurred to me that there was an alternative.
Another of the New Wave Enviro Products is the Stainless Steel Food Container.
While you can't heat it up, it's great for salads, fruit, sandwiches, or any other dry foods.
I will definitely be using this frequently.
Another brand I use is Lunchbots.
The stainless steel lunch containers I have from this line are perfect for packing my kids' school lunches.
New Wave Enviro Bamboo Lunch Bag
Another creative lunchware piece is the Bamboo Lunch Bag.
Bamboo is lightweight and sustainable.
And the bag is surprisingly soft.
This is my go-to lunch bag.
Learn about fruit infused water bottles as a way to drink more water.
Whenever you can, work toward eliminating plastic and opting for reusable products.
New Wave Enviro products makes it easy to use reusable products.
You will be doing yourself, as well as our earth, a huge favor.