Klean Kanteen Stainless Steel Water Bottle – It was just over a year ago when the BPA in water bottles information flooded mainstream media (though environmentalists had been warning about it for a long time) and we wrote one of our most popular posts:
We have also recently written about Best Stainless Steel Cookware Sets and why you don't want toxins in your kitchen.
In that post we declared our love for Klean Kanteen Stainless Steel water bottle.
A reader recently asked me to go into further detail about the Klean Kanteen bottles including my likes and dislikes of their product.
Here's the extended version of my review.
And please note that I received absolutely no compensation or freebies for this review.
Though I wouldn't mind a free 40 ounce bottle or Wine Karafe…
I just feel strongly about their product and the need to be BPA free.)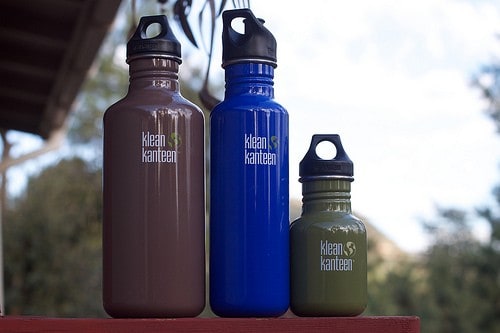 Klean Kanteen Stainless Steel Water Bottle: What I Love
Klean Kanteen is BPA Free
The number one reason I purchased my Klean Kanteen water bottle was because it contains absolutely no (even trace amounts of) BPA.
For more information about the dangers of BPA check out.
Klean Kanteen is Durable
My Klean Kanteen can be thrown around and the worst thing that has happened is some scratches.
In a year it still hasn't dented.
And it doesn't crack the way plastic might.
Klean Kanteen has No Lining
Some stainless steel water bottles are lined with a product containing a small amount of BPA.
The Klean Kanteen is not lined with anything.
Klean Kanteen is Dishwasher Safe
When I had a dishwasher (our new house does not), it was easy to put my Klean Kanteen in the dishwasher.
Now I wash it by hand, which is simple enough as it has a wide mouth.
Loop Cap
This may seem small and insignificant, but I really love the loop cap on my Klean Kanteen stainless steel water bottle.
It makes it easy to attach to bags for backpacking.
Klean Kanteen is Cool
Given that it's stainless steel, it makes sense that the Klean Kanteen stays cool in cool temperatures (see needs improvement for my thoughts about warm weather).
Klean Kanteen 27 Ounce Bottle
We have an 18 ounce bottle and a 27 ounce bottle.
The 27 ounce bottle is the perfect size for day trips or traveling or just sitting on my desk.
Plus, it's on the skinnier side making it easy to hold.
I find the 18 ounce bottle to be a little small for most activities.
I may some day invest in a large 40 ounce Klean Kanteen for tennis matches or events where I need a lot of fluids.
Klean Kanteen Sippy Cup
While we don't have kids, someday when we do, they'll be drinking out of these too.
I really appreciate that Klean Kanteen makes sippy cups.
Klean Kanteen Stainless Steel Water Bottle: Wine Karafe
Wow, this has got to be the Greatest Idea Ever!
So great I decided it needed a heading of it's own.
A wine carafe (or Klean Kanteen Karafe if you care for the alteration).
Shatterproof, portable, and drinking wine out of it would lead people to believe you're just drinking water.
Well, except for the fact that it says Wine Karafe on it…
But it's made to perfectly fit a bottle of wine, and the Klean Kanteen Wine Karafe is pretty.
I like the idea of packing a bottle of wine along with my bottle of water for a day hike.
Kimberly pointed out that you could just pour your wine into a water bottle, but having Carafe seems so much cooler.
Klean Kanteen Stainless Steel Water Bottle: What Needs Improvement
Klean Kanteen Sports Bottle Top
The sports water bottle top on the Klean Kanteen does not work well.
It makes a terrible high pitched squealing when you drink from it.
This is pretty embarrassing when you're at the gym and everyone turns to look to see where the noise is coming from.
That said, it appears that the new sports bottle tops are different than the old.
If anyone has a new Klean Kanteen sports bottle top, I'd love to know if it works well.
Also, note that you can buy the tops separately from the main bottle allowing for easy changing depending on your activity.
Klean Kanteen Flavor
At first my Klean Kanteen left a very very slight metallic flavor in the water.
This only lasted for a few weeks and now it's gone.
Perhaps it just needed a few more times in the dishwasher.
However, this is one of the biggest complaints that I've heard from others about their Klean Kanteens.
Klean Kanteen Heat
When it's warm outside the Klean Kanteen gets hot.
Some people use the Built bags around their bottles.
I just throw some in some ice or freeze the water before I go.
Bottom Line Klean Kanteen Stainless Steel Water Bottle Review
The bottom line is that I love my Klean Kanteen.
Despite my short "needs improvements" list, I wouldn't give my Klean Kanteen stainless steel water bottle up for anything.
They seem to be a good company and I appreciate the Klean Kanteen commitment to the environment and my personal health.
Where to Buy Klean Kanteen Stainless Steel Water Bottle
I tend to buy everything on Amazon.com, including my Klean Kanteens Stainless Steel Water Bottles.
The prices there are competitive (and we get free shipping with Amazon Prime.)
While Klean Kanteens Stainless Steel Water Bottles are little pricey – they last forever.
Just refill it 18 and it's paid for itself.
About Klean Kanteen and their Stainless Steel Water Bottle
Here's a bit more about Klean Kanteen (quoted from their website):
Before anybody else was making stainless steel water bottles for personal daily hydration, before the current widespread concern about health and environmental issues in relation to plastics, we were cobbling together the first Klean Kanteen prototype from things we bought at the local hardware store here in Chico, California.
The first Klean Kanteen onto the market because we wanted to give people something better than plastic: a lightweight, re-usable, body-friendly bottle free of bisphenol A (BPA); a bottle durable enough to last a lifetime; an easy-to-clean, easy-to-carry beverage container for people of all ages; a bottle that keeps drinks fresh and clean-tasting no matter how many times you refill it; a simple design engineered for function in every way.
In those early days, we shared Klean Kanteens with folks we met at music festivals, environmental fairs, outdoor recreation events, and other sorts of groovy gatherings.
"Where can I get some more of these?" they'd ask. "I love my Klean Kanteen."
Klean Kanteen has grown over the past five years from a tiny, upstart company to a leader in the stainless beverage bottle industry.
During this time, we've also taken significant steps toward lowering our environmental footprint through consideration and adjustments in every aspect of our facilities and practices.
Ensuring our office paper is 100% post-consumer content, providing hand and dish soaps that are fair trade and eco-friendly, using Energy Star-certified office equipment.
These are just a few of our earth-in-mind internal operations choices.
Our commitment to sustainability also extends to the very beginning of the production process; we've increased oversight and conducted third-party audits of factories making our products in China to ensure they're meeting Klean Kanteen's high environmental and fair labor standards.
In addition to including environmental and fair labor consciousness in our business practices, we partner with local, national, and international organizations to support efforts toward health, clean drinking water, and protecting the environment.
Klean Kanteen became a member of 1% for the Planet, committing to donation of at least 1% of our annual sales to non-profits working to protect and promote the wellness of this one great Earth.
Related Contents: