Updated:
If you fly with a baby or toddler, at some point, you'll wonder what the heck you're supposed to do with your car seat. Check it? Carry it on? Leave it at home? The answer: no, yes, and no. I'll tell you why and how to take a car seat on a plane. Air travel with a baby or toddler is often stressful enough. You don't want to add car seat angst to the equation.
How to Take a Car Seat on a Plane
Why you should not check your car seat
It's tempting to rid yourself of that bulky car seat at the check-in counter. But it's a bad idea. A checked car seat is considered a crashed car seat, which is no wonder, given how airline personnel treats most checked luggage. There's virtually no way of knowing whether your car seat has been internally damaged in the cargo hold of a plane until it fails to perform when needed.
Checking a car seat at the gate is not much better, though it may be treated somewhat more respectfully. How to check a car seat if you do a gate check? Place your car seat in a car seat gate check bag, which has padding and the convenience of straps or wheels.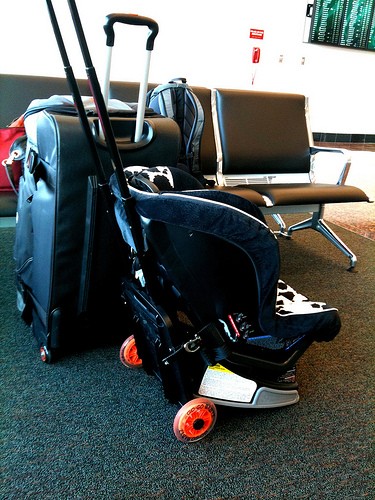 Why you should not leave your car seat at home
I know, you're still trying to unload that car seat somehow. But you can't leave it at home, unless you plan to buy a new one at your destination. Rental car agencies will often rent car seats (in fact, they're required to do so), but again, you cannot be assured of their safety and crash record. The few times I've rented car seats from two different agencies, the seats have been old and worn at best and sketchy on their quality at worst.
You have to bring your car seat. How to take your car seat on the plane…
1. Make sure there will be a seat for your car seat. The easiest way to do this, of course, is to purchase one. Back in the day, meaning, the day my tweens were babies, it was easy to find an empty seat on a plane for a lap child. Now, however, planes usually always full. If you do hope to score an empty seat for your baby and car seat, ask at the gate, not at the check-in counter. They will have the most immediate information. And even if the gate attendant tells you it's a no go, board after others, and take your seat on-board. The worst they can do is gate check it in your gate check bag.
2. Ease the burden of lugging your seat through the airport.
Seasoned travelers advise adjusting the car seat's shoulder straps to their longest length and using them as backpack straps so Mom or Dad can carry the load hands-free. Ever since hearing this car seat tip, I've been kicking myself for allowing car seats to crash into my hip or calves across every airport I've ever visited with a baby. And what I wished I had was a car seat stroller.
3. Bring your car seat's documentation of FAA approval. Make sure your car seat's FAA approval sticker is clearly visible, to avoid problems with flight attendants who may not be well versed in which car seat models are FAA approved (which is almost all of them).
Do you have any tips for how to take a car seat on a plane? It is often a challenge, but with these tips and a sense of humor, you can feel good you are doing the right thing.
Photo credit: izik