Updated:
The face of the eco-lodge resort vacation is changing. No longer accessible only to the most adventurous of travelers, eco-resorts have become more popular as eco-travel has become more accessible. Many resorts make for environmentally-friendly and educational family travel. Wouldn't it be fun and educational to expose your child to kid-friendly eco-resorts?
Any hotel can claim to be 'green,' but the following best eco-lodges for families have all been certified as a green business by an independent third party program or has shown significant initiative toward reducing the property's environmental impact. All provide some type of environmental programming or conservation effort. All of them are located in wilderness or rural areas that add to the overall travel experience.
Kid-Friendly Eco-Resorts to Explore
1. Maho Bay Camps, St. John, US Virgin Islands
Read any listing of family-friendly eco-accommodations, and you'll likely find Maho Bay at the top. I thought about omitting it from this list, just to be unique, but couldn't. It is that great of an eco-resort. Located in the heart of Virgin Islands National Park, Maho Bay Camps was conceived long before anyone had heard of 'going green.' Families choose from two types of accommodations. There are the Maho Tent Cottages or Harmony Studios. The tent cabins are elevated over the white sand beach by extensive walkways, and feature porches and balconies. (Most have shared bathrooms.) There's an on-site restaurant, as well as a store stocked with necessities. The studios are mores similar to hotel rooms, but include bathrooms and full kitchens. This makes it a lot easier to eat green on the road and the way to go if you're traveling with small children. Activities at Maho Bay range from water sports to art classes for kids in their sustainable 'trash to treasure' studio. Nightly stays are really affordable for families, with tent cabins starting at under $100 a night. Where else will you find beach-front accommodations for that price?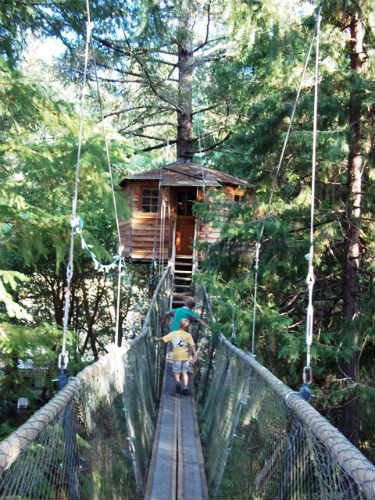 2. Out 'n About Treesort, Cave Junction, OR
For a truly unique eco-tourism experience, spend the night in a tree! Our kids love Out 'n About Treesort, a funky eco-lodge located adjacent to Oregon Caves National Monument in rural Southern Oregon. Despite being located outside a tiny town, travelers come from all over the world to see Out 'n About's amazing treehouse architecture, and stay the night in one of the dozens of treehouse overnight accommodations.
During our stay, we slept in the 'Swiss Family' treehouse, which featured two cabin sheltered nestled into one large tree, connected by ladders, rope bridges, and even a fireman's pole. Treehouses feature beds and blankets and have shared bathrooms and kitchens (on the ground). A large communal fire pit and a cozy breakfast in the main lodge (included) make for a very fun, communal atmosphere.
During the day, kids can explore the many above-ground bridges connecting the treehouses (with adult supervision), swing on tree tires and rope swings, and swim in the completely natural swimming hole. Adventurous families will want to book a horseback ride or a session on one of the many zip lines.
3. Heron Island Resort, Queensland Australia
For diving and snorkeling, Heron Island, located on a natural coral cay off Queensland on the Great Barrier Reef, cannot be beat. Families can swim right off the beach and have immediate access to coral teeming with colorful fish and marine life.
From November through February, wildlife is abundant on the island, with turtles coming ashore to lay their eggs along the beach and thousands of black noddies and mutton birds nesting in the trees. An ecotourism and research station is located on-site.
Plus, Heron Island Resort is relaxed and low on frills: you get lodging in low-rise buildings or family-friendly cabins, with three meals included daily. A Junior Rangers Program is available, too!
4. Tortuga Lodge, Tortuguero, Costa Rica
Set on 50 private acres in Tortuguero, Tortuga is a river-front lodge perfect for wildlife viewing. During summer, thousands of Atlantic Green Sea Turtles come to lay their eggs at night along the beaches of Tortuguero. Turtle watching tours can be booked by families nightly from June to October, making for a very fun adventure.
During the day, kids can see monkeys, macaws, toucans, iguanas, sloths, and a variety of other wildlife on guided boat tours along the rivers and back water ways. The Caribbean Conservation Corporation's center and turtle museum is located in the nearby town.
Here kids can adopt and name their very own sea turtle. There's even a pool. Rooms are simple but comfortable, and meals are kid-friendly.
For an authentic Hawaiian experience in a world removed from the touristy hotels dotting the islands, book a few days at a tropical farm. My east coast editor and her young family enjoyed a recent ecotourism stay at North Country Farms, and declared it perfect for a relaxing vacation with preschoolers and babies.
Families stay in cottages on this working organic farm, where kids get the run of the place, and can eat all the fruit off the trees they desire. Book early, because they only have two cottages available. This means you'll never feel crowded during your stay.
Located on Kauai's North Shore, there is lots of beach-side hiking. Swimming is located within just a few miles. Be sure to visit the Kilauea Point National Wildlife Refuge.
Photo credit: SnorkelingDives