I'll start with a disclosure statement: three days in San Francisco with kids is nowhere near enough.
However, if three days is all you have, as was the case for us last week, you can make the most of your time by organizing things to do in the city and touring with kids by neighborhood.
On our last morning in San Francisco California, my husband and I chatted with a local couple while our kids played in Golden Gate Park.
After giving them an overview of our past 72 hours, they remarked on how much we had seen and done in such a short time.
Read on for our itinerary for San Francisco with kids.
San Francisco with Kids Day 1: Fisherman's Wharf and the Embarcadero
Yes, Fisherman's Wharf is touristy and crowded, but as an introduction to San Francisco, it grabs kids' attention like nothing else.
With its bright flags, colorful street performers, and eye-catching novelties, everyone will be entertained.
And there are genuine cultural and historical attractions to see.
Start your first morning with a tour of Alcatraz Island.
This historical tour departs by boat at Pier 33 and is run by the National Park Service, which means that kids can earn Junior Ranger badges (pick up booklets at the info desk at the boat dock on-island).
School-aged kids will love the inside peek at the superman prison (mine consider it the highlight of their trip) and even young kids will enjoy the boat ride across the bay and tour of the island.
On clear days, the ferry ride offers stunning views of the skyline and bay; even in dreary weather, at least it's short, clocking in at only 10 or so minutes.
The self-guided audio tour is excellent and included in admission.
It kept my kids entertained for the full 45 minutes.
Tickets aren't cheap, but many visitors don't realize they can be included in CityPASS bundles, which makes it very affordable.
The catch: you can only purchase CityPASS booklets that include Alcatraz at the Pier 33 ticketing office, not online.
But if you make Alcatraz your first San Francisco stop, this inconvenience won't matter.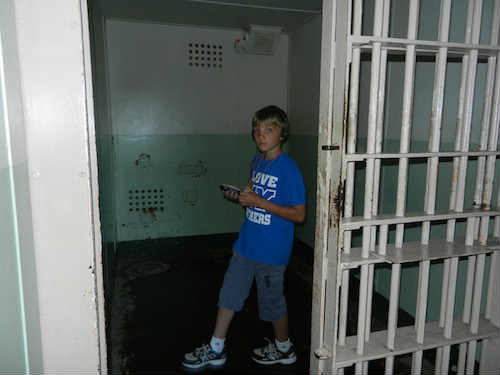 Plan to picnic at the Alcatraz loading dock or do what we did and break all the rules: walk from Pier 33 to Ghiradelli Square (8 blocks) to indulge in hot fudge sundaes for lunch.
Believe me, the experience will be memorable!
After eating, either return to Pier 39 to take in all the crazy touristy fun (though I'd skip the Aquarium of the Bay in favor of the Academy of Sciences later in the trip) or walk from Ghiradelli two blocks to Pier 47 to tour the historic ships at San Francisco Maritime National Monument.
On nice days, the adjacent park is a great place to let them burn off that sugar rush.
End your day with a San Francisco cable car ride.
Hop on at the Hyde Street turn-around by Ghiradelli and ride past famous Lombard Street to the Cable Car Museum and back down Powell-Mason to the Wharf.
Be advised that rides are $6 per person one way unless you've purchased CityPASS booklets, in which case unlimited rides are included.
Eat dinner on Pier 39, sharing sourdough bread bowls of steaming clam chowder or corn dogs.
San Francisco Day 2: Golden Gate Park and the Presidio
On Day 2, advance from cable car riding to MUNI bus commuting, taking San Francisco's easy-to-navigate public transit to Golden Gate Park.
While waiting for the fog to clear, head to the California Academy of Sciences where you'll spend the whole morning amid penguins, anacondas, and planets.
This museum, which is one part planetarium, one part life science museum, and one part aquarium, will captivate everyone.
Be sure to tour the rain forest dome and ride the elevator upstairs to the "living roof."
Picnic outside near the music shell
On nice days (if you're lucky, you'll catch a lunchtime performance) or eat in the museum cafe.
Afterward, take young kids to play at the first kids' playground in the U.S., The Children's Playground near the carousel.
Bonus points if you can find a scrap of cardboard for them to slide down the concrete hill slides on.
An alternative for older kids and teens is the De Young Museum, adjacent to the Academy of Sciences.
If the weather isn't cooperating, skip the playground and opt for the reasonably-priced Conservatory of Flowers instead.
For under $20 for a family of 4-5, you can tour these warm greenhouses and check out exhibits such as "Plant-a-soarus Rex," a study of prehistorical plants.
You could spend the entire day at Golden Gate Park, but then you'd miss the beauty awaiting at the Palace of Fine Arts in the Presidio.
A short bus ride away, including a dramatic view of the Golden Gate Bridge, the Palace's beautiful architecture houses not only fine art, but the Exploratorium.
The other location your kids will beg not to leave.
Note: the Exploratorium is planning a move from the Presidio to the Wharf in late 2012.
Filled with hands-on experiments and exhibits, you'll truly lose track of time in the Exploratorium.
Everyone will have fun, but the best age is around 5-15; little ones will find few places to crawl and sit on the ground safely.
If you still have some steam, take the bus out to City Beach, where kids can play in the sand and (cold!) surf and families can grab a casual bite to eat.
Nob Hill, Chinatown, and North Beach
On Day 3, check out the center of the city with a cable car ride up California Street to Nob Hill.
Peek into beautiful Grace Cathedral and gape at the gorgeous and elegant hotels hugging the hillside.
Hop off at the gates to Chinatown and do some shopping.
Kids will love the stores stuffed with Chinese wares, and many of the restaurants are kid-friendly with family-friendly pricing.
Eat a lunch of dim sum or sushi, then take a bus to North Beach for a dessert of gelato.
If you have book lovers in your family, seek out City of Lights Bookstore, where Jack Kerouac held court.
If you enjoy shopping, ride next to Union Square for all the top-end shops.
If not, your time will be better spent on the other side of Market (SOMA) at Yerba Buena Gardens.
Kids will love the rooftop playground (though it's all very open… keep an eye on little ones!) and older kids will be interested in the avant garde offerings at the Museum of Modern Art.
Eat dinner at a San Francisco food truck along Market, or do as we did and catch a ball game at Candlestick or AT&T Park.
Where to Stay in San Francisco
Since San Francisco is easy to navigate via public transit, almost any area of the city will put families in range of MUNI or BART.
Cheaper accommodations will be found across the bay in Marin (I recommend the Acqua Hotel in Mill Valley) or even Vallejo, but bear in mind: you'll be paying tolls and hassling city parking daily.
In the city, we stayed at both the Radisson Fisherman's Wharf, which is ideally located right on Pier 39 and offers a heated pool for a moderate rate, and Omni San Francisco in the heart of the financial district on California Street, located right on the cable car line but sporting a much higher price tag.
For green hotel option, check out the InterContinental San Francisco and read about how to find a green hotel in San Francisco.
Almost anywhere in the city, you'll pay overnight parking fees, so budget accordingly.
After exploring San Francisco for 3 days with kids, I can guarantee one thing: you'll be ready to come back for a week or more!
San Francisco in Pictures
One of my favorite things to do when planning a vacation is to go to Flickr or Google Images and search for the city I'm visiting.
I use the photos as a guidebook.
Sometimes they'll show the most common tourist sites or sometimes there will be hidden gems.
If you're not already planning a trip to this fabulous West Coast city, you'll probably want to after checking out the photos below.
Golden Gate Bridge
Golden Gate Bridge
photo credit: chadh
Alcatraz
photo credit: derekskey

San Francisco Pier 39
photo credit: John Morgan
San Francisco Cable Cars
photo credit: @Andywithcamera
San Francisco Skyline
photo credit: El Frito
Lombard Street
photo credit: Marit & Toomas Hinnosaar
InterContinental San Francisco LEED Certification and Green Initiatives
Are you looking for a green hotel in San Francisco?
Then check out the InterContinental San Francisco.
This 550 room hotel in downtown San Francisco just received their LEED Gold Certification this year.
Here's a bit more about the certification and their current green initiatives.
LEED Certification
The U.S. Green Building Council awarded InterContinental San Francisco the LEED Gold certification for Existing Buildings: Operations & Maintenance.
LEED is one of the few reliable ratings systems for building energy efficient buildings.
To earn LEED Gold, the hotel was evaluated on efficiency and minimization of environmental impact.
It's the largest hotel property to date to receive LEED EBOM certification in California.
And it's only one of 13 other hotels in the nation to receive this certification.
Green Initiatives
The InterContinental San Francisco has undertaken many initiatives to become greener and receive their LEED Gold award.
Green Microsite
The InterContinental San Francisco has a green microsite that lists some of their green initiatives.
Transportation Microsite
The transportation microsite allows you to plan your visit based on what's within walking distance from the hotel and lists public transportation options from the airport.
Use of Public Transportation
The hotel's concierge assists guests with traveling by public transportation in San Francisco.
And more than 95% of the hotel's staff use public transportation to get to work.
Carbon Offsetting
InterContinental San Francisco is 100% carbon neutral as it purchases renewable energy credits to offset 100% of its electricity and natural gas use.
ENERGY Star
The US EPA awarded the hotel the ENERGY Star rating.
Solar Power and Alternative Energy Use
Solar Power and Alternative Energy Use
The InterContinental San Francisco uses solar panels to power some of their equipment and uses regenerative braking power in the elevators.
Temperature Sensors in Rooms and ecoMode Button
While most of a hotel's green initiatives are behind the scenes, as customers we mostly notice what happens in our rooms.
One particularly cool feature in this hotel is an "ecoMode" button.
When you enter your room you press the ecoMode button which relaxes the room temperature by a degree or two.
Also, the rooms have temperature sensors to adjust the temperature for energy savings when the rooms are unoccupied.
Local Food
What's not to love about fresh, local, organic food?
The InterContinental San Francisco features local and organic options.
Congratulations to the InterContinental San Francisco on achieving the LEED Gold certification!
GGTG hopes that more hotels continue to follow its lead.
InterContinental San Francisco Hotel, which is proudly LEED® EBOM Gold Certified under the U.S Green Building Council (USGBC), and is the largest LEED Gold Recipient of existing buildings in California, and the 3rd largest in the U.S.
Related Contents: