Iceland with kids – We were excited to take our first international trip with our son, who will be 9 months old when we go.
I've scoured the internet to learn about travel to Iceland with kids — what to do, where to stay, and how to get around.
Here's what I've found before going and what I learned after going to Iceland with a baby.
Iceland with Kids: What Should We Do, Eat and Drink?
When we first started talking about going to Iceland, my knowledge of the country was limited to Björk and the fact that Iceland is green while Greenland is icy.
Not a whole lot to get excited about.
But now that we've done our initial planning, I can't wait to visit Iceland.
It's beautiful and, compared to other European countries, quiet.
The population is just over 300,000 — about 8% of the population of Los Angeles.
And there's much wildlife to see (can you say puffin chicks?).
We'll be traveling east from Reykjavík along the southern coast for 10 days, and one of our favorite things to do is eat.
We also like light hiking and we'll be traveling with a baby.
Where we're staying overnight in Iceland:
Reykjavík
Eyrarbakki
Westman Islands
Vík
Vagnsstaðir
Kirkjubæjarklaustur
Be sure to read the entire way through as we have returned from our trip with some great advice for traveling to Iceland with kids.
Some of our research was around these questions:
What should we do in Iceland?
What should we eat?
What should we drink?
What else should we know?
photo credit: Luca Venturi Oslo
We're back from our trip to Iceland with kids!
Here's some things we learned.
Where to Eat in Reykjavik, Iceland: Best Restaurants
Reykjavik is home to some of the best restaurants in Iceland.
And because one of our favorite things to do while traveling is to eat, we managed to squeeze plenty of dining experiences into our short stay in the capital city.
If you're wondering where to eat in Reykjavik, Iceland, we've got you covered — from fancy restaurants to cheap street stands.
Best food in Iceland Grill Market
At Grill Market (Grillmarkadurinn), which features local food and works with local farmers, we had a delicious meal of fried vegetables, lamb, fish, wine, and two fantastic desserts. It was expensive, but absolutely worth it.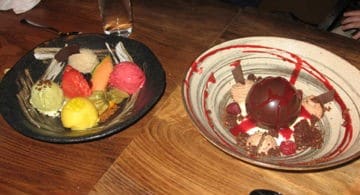 Best Seafood in Iceland: Fish Market
If you want to sample amazing seafood, don't miss Fish Market (Fishmarkadurinn).
We skipped it because of a shellfish allergy, but our friends who went loved it.
You'll find fresh lobster, crab, shrimp, and even puffin on the menu.
Best Bakery in Iceland: Bakari Sandholt
Looking for a good cup of coffee or a sweet treat?
Stop by Bakari Sandholt on Laugavegi 36, one of the main streets in Reykjavik.
We had the most delicious chocolate pastry there.
Note the website is in Icelandic, so you'll need to translate it to read the menu.
Best Take Out in Iceland: Austurlanda Hradlestin
If you're in the mood for Indian, check out Austurlanda Hradlestin (on Hverfisgotu 64a).
We got a ton of fantastic Indian food for a reasonable price — reasonable by Icelandic standards, anyway.
You can dine in or get take out.
Best Hot Dog in Iceland: Baejarins Beztu Pylsur
For a true Icelandic experience, don't miss the best hot dog in the world at Baejarins Beztu Pylsur.
Before you turn up your nose at that suggestion, know that hot dogs in Iceland are far better than American hot dogs.
They're made with real meat – usually a combination of lamb, pork, and beef.
Rather than the processed mystery meat you'll find in hot dogs in the U.S. They are delicious, and cheap.
Although dining out in Iceland is expensive, it's worth the splurge.
There are some fantastic restaurants in Reykjavik, so take advantage of them.
Especially if your Icelandic travels will take you outside of the city.
Once you leave Reykjavik, the pickings are slim for eating out.
Whether you're in the mood for something fancy, take out, or a cheap meal, there are great options in Reykjavik, Iceland.
World's Best Hot Dog ~ We Found It in Iceland!
I enjoy a good hot dog as much as the next person, but "amazing" is not a word I would use to describe most American hot dogs.
Long associated with baseball games and summer cook-outs, hot dogs in the United States are as ubiquitous as cracker jacks, pizza, and hamburgers.
But they're little more than glorified junk food and are often filled with mystery meat.
We weren't looking to find the world's best hot dog, but we found it, in an unlikely place: Iceland.
In Iceland, it's a whole different ballgame. Icelanders are proud of their hot dogs, and rightfully so.
Icelandic hot dogs are made with real meat — usually a combination of lamb, pork, and beef.
And you can definitely taste the difference.
They are nothing short of mouth wateringly delicious.
Order one with everything, and you will get a hot dog with fried onions, raw onions, sweet mustard, and a mayonnaise-based relish served on a lightly toasted bun.
Some places also throw ketchup into the mix.
They were all magnificent!
It took a lot of willpower not to eat a hot dog every day on our recent Iceland trip.
Not only are they tasty, they are one of the only cheap meals you can find in the country.
Here are two of the many hot dog stands in Iceland.
This is where we went to go to find the world's best hot dog.
Bæjarins Beztu Pylsur in Reykjavik, Iceland
Its name translates to "The Best Hot Dog in Town," and while they might be right, we considered them among the world's best hot dog.
Baejarins Beztu Pylsur has fantastic hot dogs that are not expensive.
BBP is a hot dog stand conveniently located near the harbor in Reykjavik, so you don't have to go out of your way to find it.
Icelanders are serious about their hot dogs.
At Bæjarins Beztu Pylsur, there are hot dog holders built into the table.
Pylsuvagninn in Selfoss, Iceland
After a long day of driving, we were starving and on the lookout for cheap eats.
Pylsuvagninn in Selfoss fit the bill.
It's a drive-through hot dog restaurant with tasty dogs.
This was my first Icelandic hot dog tasting experience, and I wasn't disappointed.
The novelty of driving through to order a hot dog, then having it delivered to the car, was fun, too.
I would recommend at a stop (or three) at Pylsuvagninn if you find yourself in Selfoss.
Yes, this is a drive-through hot dog stand
What makes them the world's best hot dog?
It was a surprise to us to learn about the hot dogs in Iceland.
We were expecting a lot of other cuisine such as whale and shark.
We learned that Iceland does not import any live animals.
Also, sheep are very plentiful in Iceland, outnumbering the people there.
So Icelandic hot dogs are made from lamb that is free-range, hormone-free, and grass fed.
You probably won't find that in hot dogs anywhere else.
You will definitely want to try hot dogs in Iceland if you are ever fortunate enough to visit Iceland.
They are everywhere.
See for yourself if they are indeed in the running for the world's best hot dog.
Icelandair Review: What to Know Before You Book
We flew Icelandair direct Reykjavik for our trip to Iceland via Icelandair is considered a discount airline and many people fly it not just from the US to Iceland, but all the way to continental Europe.
If you're planning a trip to continental Europe, I definitely recommend a 3-day stopover in Reykjavik or at least a half-day to visit the Blue Lagoon.
If you're considering taking a trip to Iceland, our Icelandair review will tell you everything you should know before you book a flight.
We're back from our trip so if you want to learn more about Iceland check out Pictures of Puffins, 24 Hours in Vik, Blue Lagoon Iceland Guide, and Where to Find the World's Best Hot Dog.
Overall, I'm a fan of Icelandair.
It's a discount airline so it doesn't have the same perks you get on other international flights.
But Icelandair does have a few perks to offer, notably:
Glacier Water
When you board the plane you get a free bottle of glacier water.
The people ahead of us each took 2 bottles and said they had been looking forward to the water ever since they had flown Icelandair the year before.
It was good water, but I don't think I'll be craving it for the next year.
Free Skyr (Delicious Icelandic Yogurt)
There was no free meal on the flights (more on that below), but on the flight to Iceland we received free skyr first-thing in the morning before we landed.
If you're not familiar with skyr, it's very similar to yogurt, except not as sweet, with a stronger flavor, less caloric, and overall far better.
I think the skyr company provides these to entice you to buy more skyr when you're actually in Iceland as you don't get a free skyr on the plane ride home.
If this hunch is in fact their marketing plan, it worked amazingly well as we consumed at least 1 container of skyr each a day while in Iceland. Even our 9-month-old son loved it.
Movie Consoles
A final perk of Icelandair is that all of the seats had their own movie and game consoles.
The selection of movies is the best I've seen on a plane and I definitely made use of the device being available.
Note, though, that you have to bring your own headphones or buy them onboard.
Things to Know Before Going to Iceland with Kids (The Less-than-Good)
While we enjoyed our Icelandair experience as a whole, there are a few things to know about the airline before you book your flight.
Small Plane
Icelandair uses Boeing 757s, which are six seats across divided into three and three.
There is nothing inherently wrong with this configuration, but it does have a few negative aspects.
If you're used to much larger planes on international trips with multiple aisles to pace for exercise, or less turbulence due to a larger plane, you aren't going to find that on your flight with Icleandair.
No Bassinets
If you're traveling with a baby to Iceland, you might expect to have access to a bassinet as you do on most international flights.
International airlines can't promise that your child will actually sleep, but at least they make bassinets available.
Because Icelandair's planes are small, they aren't configured for the front row/bulkhead bassinet set up other airlines have.
So, plan on holding your baby the entire flight.
This isn't too bad because it's only a 6 hour flight direct from Minneapolis to Reykjavik, but it makes it difficult for you to sleep because you're holding the baby.)
No Free Meals or Drinks
Icelandair doesn't offer free meals or alcoholic beverages on its flights to those seated in the standard economy cabin.
It is a long flight to not eat anything besides the skyr on the flight to Iceland, so be sure to pack yourself a snack.
You can also purchase food inflight.
Overall Icelandair Review
Flying Icelandair is definitely better than flying on domestic flights, but it's a far cry from fancy international airlines.
I would recommend booking with Icelandair if the flight prices are cheaper and if you get a more direct flight because of it.
But if flights are comparably priced and equally convenient and you have the option of airline with all of the perks of international travel, I would choose the other airline.
Iceland with a Baby or Toddler
TripAdvisor Boards: Iceland with a Baby (6-month-old)
Lonely Planet Message Board: Iceland hiking, camping, and hostels with a baby (8-month-old)
Lonely Planet Message Board: Iceland with a toddler (11-month-old)
Simon Seeks Forum: Traveling to Reykjavik Iceland with a Baby (16-month-old)
Fodor's Forum: Six Days in Iceland with a Toddler and Photographer Hubby (2-year-old)
TripAdvisor Boards: 10 Days in Iceland with Toddler (2.5-year-old)
The Guardian: What is there to do in Iceland with Kids? (4-year-old twins)
Outdoor Baby Network: Iceland is very baby-friendly
Travels with Baby: Various posts about one family's trip to Iceland (toddler and big brother)
Iceland with School-Age Kids and Teenagers
Lonely Planet Message Board: Iceland with small children (4-year-old and 6-year-old)
Lonely Planet Message Board: Iceland with kids? (7, 16, and 17 years old)
TripAdvisor Boards: Iceland with children (8, 10, and 12 years old)
Pughville: Iceland with Kids, The Golden Circle with Kids, and Eastern Iceland (school-age)
Amazing Kids! Adventures: My Travel Journal to Iceland
TripAdvisor Boards: Iceland with teenagers (three teenage boys)
What to do in Vik, Iceland
Vík í Mýrdal, more commonly known simply as Vik, is conveniently located on the Ring Road in Iceland.
Vik is known for its stunning black basalt beaches and it's a great place to stop on your way from the Westman Islands to Skaftafell National Park.
It's a small town with under 300 inhabitants, but it's one of the last place to stock up as you head east on the Ring Road.
Here's what to do in 24 hours in Vik, Iceland.
Where to Stay in Vik
Book a night or two at the Nordur-Vik Hostel, where you can get a 6-bed private room for $180 US (including four sets of linens).
They have one of the best breakfast spreads I saw in Iceland: it included waffles and eggs.
Where to Eat in Vik
Be sure to stop in for a meal at Halldorskaffi Restaurant.
It's cozy and reasonably priced, and the food was quite good.
I tasted the char (a fresh, local fish) with a baked potato and veggies, skyr cake, and meringue cake.
The skyr (Icelandic yogurt) cake wasn't as dense or sweet as American cheesecake and was tasty.
Iceland does meringue very well and the meringue cake was delicious.
The char was fresh and delicious.
Skyr cake, Halldorskaffi Restaurant, Vik, Iceland
What to Do in Vik for the day
Stroll along the black basalt beach, where you can watch puffins on the nearby cliffs.
Wander around the town and take in the view of the church on the hill.
Then swing by souvenir shop Icewear / Norwear to pick up wool, clothing, and other souvenirs.
Before you leave Vik, stock up on food and drink at the grocery store Kjarval Vik.
It's the last decent sized grocery store on your way to Skaftafell National Park, unless you stop in for Klaustur.
Black basalt beach, Vik, Iceland Church on the hill, Vik, Iceland
24 Hours in Iceland – Kirkjubaejarklaustur (Klaustur), Iceland
Klaustur, also known as Kirkjubaejarklaustur, is a tiny town in southern Iceland with a population of just over 100.
If you're heading east on the Ring Road, it's the very last place to stop and buy groceries before heading into Skaftafell National Park. Klaustur has quite a religious past.
Originally settled by Irish monks, it is best known as being home to Benedictine nuns in the 12th century.
Today, it makes a scenic stopover off the Ring Road.
Don't plan on staying more than one night, though; there's not much to do in this sleepy town.
What to do in 24 hours in Klaustur, Iceland.
Where to Stay in Klaustur
You can find farmhouse accommodations near Klaustur, but be sure to book ahead.
Accommodations are limited and get booked early in the busy season.
We ended up staying at the Hotel Klaustur IcelandAir Hotel, which felt quite high-end and was quite expensive; we paid $220 for one room.
If you're in the mood to splurge a bit, Hotel Klaustur is a nice place to do it.
If you're on a budget, there's also scenic camping.
Where to Eat in Klaustur
We had a fancy dinner at the Hotel Klaustur restaurant, where two lamb specials and two glasses of wine cost $84.
The breakfast spread there was the best I saw in Iceland.
You can also try Restaurant Geirland, which is just outside of Klaustur and has lamb, fish, and vegetables.
If you're a budget traveler, check out the hot dog stand near the visitor center.
Be sure to stop by the Sveitabragginn farmers' market, located next to tourist info center, which sells big containers of locally made ice cream and crafts.
What to Do in Klaustur
By far the most popular attraction in Klaustur is the basalt columns of Kirkjugolf.
Once thought to be a church floor, these honeycomb basalt columns form a flat surface you can walk on.
To get to them, follow the path through a field (ask around if you can't find it).
You can also check out the Systrastapi (Sisters' Pillar), where nuns were killed for supposedly having relations with the devil.
There are also a number of scenic hikes out of Klaustur.
Basalt columns of Kirkjugolf, Klaustur, Iceland…
Pictures of Puffins: Our Best Puffin Photos from Iceland
One of the things I was most looking forward to about visiting Iceland was seeing puffins.
Our first spotting was on the ferry to the Westman Islands.
But they were flying and far away.
Despite their distance I still tried to capture a few pictures of puffins.
None of those photos made this cut.
When we arrived in the Westman Islands, we drove a short way up a hill to a hike through a field of sheep, where we discovered hundreds of puffins.
And in Vik (at Dyrholaey) we saw even more puffins.
They were even cuter in real life than I thought they would be.
Here are my favorite pictures of puffins.
Best Puffin Photo
Have you ever seen a puffin?
What's your most memorable wildlife viewing experience while traveling?
Blue Lagoon, Iceland Guide
When I saw photos of the Blue Lagoon, Iceland, I was intrigued but wary.
The beautiful, milky blue water looked inviting, but I'd been warned that the Blue Lagoon was a tourist trap.
In the end I decided it was worth the risk to see it and I'm glad I did.
Even though the sky was overcast, visiting the Blue Lagoon was a great experience.
The Blue Lagoon (Bláa lónið) is a man-made geothermal spa located between Reykjavik City and Keflavik International Airport in Iceland.
It came about accidentally when the runoff from a geothermal power plant pooled and formed a temptingly warm pool.
The Blue Lagoon is crowded and a bit expensive, but it's a must-see on your trip to Iceland.
How to Get to the Blue Lagoon
Many people visit the Blue Lagoon geothermal spa on their way to or from the airport since it's about 50 minutes from Reykjavik and 20 minutes from Keflavik airport.
If you have a rental car, it's an easy stop on your way to Reykjavik.
Just follow the signs for Bláa lónið off of Route 41.
We were jet-lagged, though, so we decided to sleep and explore Reykjavik on our first day in Iceland, then return to the Blue Lagoon on our second day.
Since the Blue Lagoon is only 20 minutes from the airport, you can even stop in if you have a long layover on your way to mainland Europe.
Reykjavik Excursions offers round trip bus tickets from the airport, with admission to the Blue Lagoon, for just 8900 ISK (about $75 USD).
For 3200 ISK, you can get a round trip bus ticket to the Blue Lagoon that doesn't include admission.
View of the Blue Lagoon Spa, Iceland
What to Do at the Blue Lagoon
Upon arrival, the first thing to do at the Blue Lagoon is decide which spa package you want to buy.
Basic entrance in the summer months (the "standard" package) is about $45 USD and you'll need to bring your own towel.
For a more extravagant experience, get the Experience for about $95 USD.
The Experience package includes entrance, a towel, a bathrobe, a mask, a drink at the swim-up bar in the Blue Lagoon, and the lunch buffet at LAVA Restaurant.
Once you've paid for your package, you'll be given a bracelet that track your purchases and allow you access to the lockers, then you'll head toward the locker rooms.
At this point, I was annoyed when all of the lockers on the main floor were full; I needn't have been because there are more locker rooms upstairs.
You use your bracelet to open and lock the lockers and the instructions are a bit confusing.
To claim an open locker, close it, then quickly swipe your bracelet in front of the nearest sensor.
Be sure to remove all jewelry, as the sulphuric water can corrode metal.
Hose off in the communal shower (yes, you have to get naked) before suiting up and heading into the Blue Lagoon.
The Blue Lagoon is family-friendly, but note that kids under 7 are required to wear arm floaties (which are provided).
Our 9-month-old son loved splashing around in the water and didn't mind the arm floaties at all.
Once you're in the Blue Lagoon, you'll have no trouble finding your own space to relax.
Hang out by the back wall for maximum heat.
When you want to cool off, head to the swim-up bar and order a cold beer or sparkling wine.
If you need a break from lounging in the water, relax in the sauna or geothermal steam baths.
For a natural massage, stand under the waterfall then apply a mask of white silica mud, which is said to be great for your skin.
Swim-up bar in the Blue Lagoon, Iceland
Where to Eat at the Blue Lagoon
You'll be sure to work up an appetite after all of that lounging, so head to the LAVA Restaurant for an extensive lunch buffet.
The buffet is about 3900 ISK ($32 USD) per person and is included in the Experience and Exclusive Experience packages.
You'll see traditional Icelandic foods like local fish and seafood, meat soup, lamb, and skyr (Icelandic yogurt) on the menu.
For lower-key fare, dine in the cafe, where you'll find sandwiches, salads, paninis, and chips.
A panini is 1350 ISK (about $11 USD) and you have a great view of the Blue Lagoon.
After your meal, you may want to relax even more with a massage, head back into the Blue Lagoon, stop in the gift shop for Icelandic clothing and souvenirs, or call it a day.
The Blue Lagoon and the geothermal power plant that warms it
Is it Worth the Trip?
It may be a bit of a tourist trap, but there's something magical about the Blue Lagoon.
It's crowded, but there's plenty of space to spread out and relax in the geothermal pool.
I would definitely recommend a stop at the Blue Lagoon if you find yourself in Iceland, even just for a short stopover on your way to mainland Europe.
Have just 24 hours in Iceland?
You can fill an entire day with a trip there, but I was content after a solid half-day.
The Blue Lagoon is a conveniently located, family-friendly destination in a beautiful country.
If I'm in Iceland again, I'll be sure to return to the Blue Lagoon.
photo credits: Dan Harrelson and Bill Ward's Brickpile
Have you traveled to Iceland with kids? What advice would you give?
There are so many great resources about traveling in Iceland with kids.
We had a once-in-a-lifetime trip there.
Related Contents: