Least Crowded National Parks, There is much to see and explore in our mighty United States, and visiting national parks tops my list.
My top five picks among the least crowded US national parks are no less worthy of visiting than the big Y's: Yosemite and Yellowstone.
They are simply more remote than the top US national parks, perhaps smaller, or in some cases, vastly larger and often harder to access.
What does this mean for the adventurous traveler?
Jasper National Park ~ A Place to See Incredible Wildlife
Plenty of unspoiled landscape, unmarred views, and lots of room to roam.
The Best of the Least Crowded National Parks
Lake Clark National Park and Preserve, Alaska
Lake Clark National Park is teaming with volcanoes, waterfalls, rivers, and glaciers.
While most visitors come in the summer months when ranger headquarters are staffed, it is open year-round.
Top activities include kayaking the Cook Inlet Coast, where you are almost guaranteed to spot Alaska brown bear.
Nearby towns include Homer and Kenai.
Where to stay at Lake Clark National Park and Preserve, Alaska
While visitors to Lake Clark can certainly go remote, they don't have to.
Lodging is available in Port Alsworth which is near 50-mile-long Lake Clark in the center of the park.
Day hikers can explore the wilderness and return to a bed at night.
This is a fantastic book which includes facts about our 59 National Parks.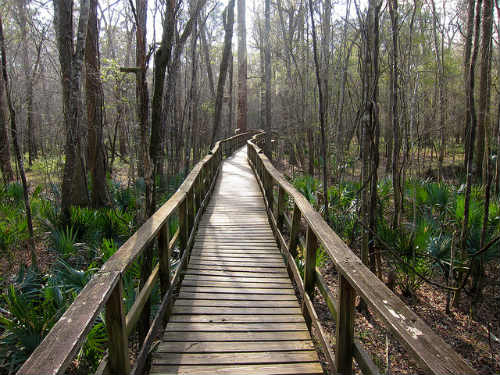 Congaree National Park, South Carolina
Home to the largest intact expanse of old growth bottomland forest remaining in the southeastern U.S.
Congaree National Park is comprised of a network of floodplain and swamp accessible primarily by foot or by canoe.
There are over 25 miles of walking trails, designated by colored marker in the floodplain, and two miles of boardwalk.
Canoes are available to rent in nearby Columbia, or visitors can bring their own.
They are not available to buy or rent within the park.
Free camping permits are offered.
Stop at the visitor's center to get yours along with a map.
Where to stay at Congaree National Park, South Carolina
If you're not camping, there is no lodging within the national park boundaries.
However, Columbia is not far away, and offers everything from budget motels to five-star hotels.
Often the least crowded national park in California, Lassen Volcanic National Park offers far more than its signature bubbling sulfur hydrothermal deposits (though those are fun) and volcano.
Visitors will find crystal clear mountain lakes, streams, and alpine forests, especially in the back-country.
We've backpacked throughout Lassen with our children and without them.
There are plenty of trail options to keep everyone happy.
Plus, it's an easy drive from various small cities such as Mt. Shasta and Redding in Northern California.
Where to stay at Lassen Volcanic National Park in California
There are eight campgrounds within Lassen.
If you opt to find a real bed, our favorite pick is the St. Bernard Lodge, located minutes from the park entrance.
Great Basin National Park, Nevada
Great Basin National Park spans from subterranean Lehman Cave to Wheeler Peak at over 13,000 feet.
Since the park is relatively small, you can experience both in the same day though beware of altitude sickness.
Our three school-aged boys loved the tour of Lehman Cave.
The most spectacular aspect of Great Basin is the clear night sky over the vast Nevadan desert.
Where to stay at Great Basin National Park
Is located in Baker, Nevada, which has precious little to offer in terms of lodging.
We stayed comfortably enough, though certainly not luxuriously, at The Border Inn motel in town.
Campgrounds are available in the park boundaries, though if you're tent camping, don't underestimate the weather.
Campgrounds in the Nevadan desert are located at high elevation.
Isle Royale National Park, Michigan
Accessible only by seaplane or ferry, Isle Royale National Park is an island of rugged and somewhat unexpected wilderness surrounded by Lake Superior.
One of the only parks to close during winter, Isle Royale is a summer paradise for backpackers and boaters who want to get away from it all.
Where to stay Isle Royale National Park, Michigan
When you return from the wilderness, stay a night or two at the Rock Harbor Lodge, accessible by water taxi.
Visitors have been known to see moose and the northern lights.
Bonus for Isle Royale National Park, Michigan
If none of the above least visited national parks in the USA are remote enough for you, you might consider Kobuk Valley National Park, AK.
With no roads, campgrounds, or trails within the park, most visitors are skilled backcountry explorers and locals.
I have a feeling Kobuk is beyond my wilderness capabilities, but it's officially on my bucket list!
Not to overlook Niagara Falls, gotta check that off my bucket list as well.
Places are usually more pleasant when they aren't crowded which is why we enjoy frequenting our list of least crowded US national parks.
But remember, even the most crowded national parks are almost desolate during their off-seasons.
They can be breathtakingly beautiful during the fall, spring, and winter months.
If you'd like to avoid the crowds but still visit the most popular parks, consider Yosemite in winter, Olympic National Park in spring, or Shenandoah National Park in fall.
Hiking Shenandoah National Park in Pictures
To celebrate Labor Day, we went for a hike in Shenandoah National Park near Front Royal, Virginia.
It's an easy day trip from DC — about an hour and a half drive.
It was pretty and peaceful in the summer, and I imagine it's gorgeous in the fall.
View from the road
View from the trail
Pede of some sort (centi? milli?)
Appalachian Trail sign
Giant fallen boulder
Guys hanging out at a viewpoint
Enjoy all you want to do when traveling to one of these least crowded national parks.
The nature abounds and the views are priceless.
Photo credit: MiguelVierira and Northfielder.