Least Crowded National Parks, There is much to see and explore in our mighty United States, and visiting national parks tops my list.
My top five picks among the least crowded US national parks are no less worthy of visiting than the big Y's: Yosemite and Yellowstone.
They are simply more remote than the top US national parks, perhaps smaller, or in some cases, vastly larger and often harder to access.
What does this mean for the adventurous traveler?
Jasper National Park ~ A Place to See Incredible Wildlife
Plenty of unspoiled landscape, unmarred views, and lots of room to roam.
The Best of the Least Crowded National Parks
Lake Clark National Park and Preserve, Alaska
Lake Clark National Park is teaming with volcanoes, waterfalls, rivers, and glaciers.
While most visitors come in the summer months when ranger headquarters are staffed, it is open year-round.
Top activities include kayaking the Cook Inlet Coast, where you are almost guaranteed to spot Alaska brown bear.
Nearby towns include Homer and Kenai.
Where to stay at Lake Clark National Park and Preserve, Alaska
While visitors to Lake Clark can certainly go remote, they don't have to.
Lodging is available in Port Alsworth which is near 50-mile-long Lake Clark in the center of the park.
Day hikers can explore the wilderness and return to a bed at night.
This is a [easyazon_link keywords="National Parks of America: Experience America's 59 National Parks (Lonely Planet) " locale="US" tag="gogreentravel-20″]fantastic book[/easyazon_link] which includes facts about our 59 National Parks.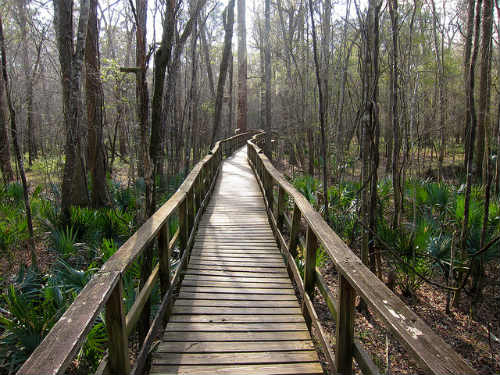 Congaree National Park, South Carolina
Home to the largest intact expanse of old growth bottom land forest remaining in the southeastern U.S.
Congaree National Park is comprised of a network of floodplain and swamp accessible primarily by foot or by canoe.
There are over 25 miles of walking trails, designated by colored marker in the floodplain, and two miles of boardwalk.
Canoes are available to rent in nearby Columbia, or visitors can bring their own.
They are not available to buy or rent within the park.
Free camping permits are offered.
Stop at the visitor's center to get yours along with a map.
Where to stay at Congaree National Park, South Carolina
If you're not camping, there is no lodging within the national park boundaries.
However, Columbia is not far away, and offers everything from budget motels to five-star hotels.
Lassen Volcanic National Park, California
Often the least crowded national park in California, Lassen Volcanic National Park offers far more than its signature bubbling sulfur hydrothermal deposits (though those are fun) and volcano.
Visitors will find crystal clear mountain lakes, streams, and alpine forests, especially in the back-country.
We've backpacked throughout Lassen with our children and without them.
There are plenty of trail options to keep everyone happy.
Plus, it's an easy drive from various small cities such as Mt. Shasta and Redding in Northern California.
Where to stay at Lassen Volcanic National Park in California
There are eight campgrounds within Lassen.
If you opt to find a real bed, our favorite pick is the St. Bernard Lodge, located minutes from the park entrance.
Great Basin National Park, Nevada
Great Basin National Park spans from subterranean Lehman Cave to Wheeler Peak at over 13,000 feet.
Since the park is relatively small, you can experience both in the same day though beware of altitude sickness.
Our three school-aged boys loved the tour of Lehman Cave.
The most spectacular aspect of Great Basin is the clear night sky over the vast Nevadan desert.
Where to stay at Great Basin National Park
Is located in Baker, Nevada, which has precious little to offer in terms of lodging.
We stayed comfortably enough, though certainly not luxuriously, at The Border Inn motel in town.
Campgrounds are available in the park boundaries, though if you're tent camping, don't underestimate the weather.
Campgrounds in the Nevadan desert are located at high elevation.

Isle Royale National Park, Michigan
Accessible only by seaplane or ferry, Isle Royale National Park is an island of rugged and somewhat unexpected wilderness surrounded by Lake Superior.
One of the only parks to close during winter, Isle Royale is a summer paradise for backpackers and boaters who want to get away from it all.
Where to stay Isle Royale National Park, Michigan
When you return from the wilderness, stay a night or two at the Rock Harbor Lodge, accessible by water taxi.
Visitors have been known to see moose and the northern lights.
Bonus for Isle Royale National Park, Michigan
If none of the above least visited national parks in the USA are remote enough for you, you might consider Kobuk Valley National Park, AK.
With no roads, campgrounds, or trails within the park, most visitors are skilled backcountry explorers and locals.
I have a feeling Kobuk is beyond my wilderness capabilities, but it's officially on my bucket list!
Not to overlook Niagara Falls, gotta check that off my bucket list as well with a Niagara Falls Tours.
Places are usually more pleasant when they aren't crowded which is why we enjoy frequenting our list of least crowded US national parks.
But remember, even the most crowded national parks are almost desolate during their off-seasons.
They can be breathtakingly beautiful during the fall, spring, and winter months.
If you'd like to avoid the crowds but still visit the most popular parks, consider Yosemite in winter, Olympic National Park in spring, or Shenandoah National Park in fall.
Hiking Shenandoah National Park in Pictures
To celebrate Labor Day, we went for a hike in Shenandoah National Park near Front Royal, Virginia.
It's an easy day trip from DC.
About an hour and a half drive.
It was pretty and peaceful in the summer, and I imagine it's gorgeous in the fall.


View from the road

View from the trail
Pede of some sort (centi? milli?)

Appalachian Trail sign

Giant fallen boulder


Guys hanging out at a viewpoint
Enjoy all you want to do when traveling to one of these least crowded national parks.
The nature abounds and the views are priceless.
Jasper National Park ~ A Place to See Incredible Wildlife
Jasper National Park ~ Situated in the Canadian province of Alberta, Jasper National Park is one of the world's premier destinations for wildlife lovers.
The park is majestic, covering an area of 4,200 square miles in the Canadian Rockies.
Its spectacular mountain scenery.
Including awe-inspiring glaciers, tranquil mountain lakes, thundering waterfalls and steaming hot springs.
Is home to a wide range of animals, making it the perfect place to experience nature at its most majestic.
In fact, there are no less than 53 mammal species in this National Park, living in the diverse range of the habitats that the park provides.
Image source
Wildlife at Jasper National Park
One of the park's most iconic inhabitants is the moose.
It's often considered the second symbol of Canada, just behind the maple leaf.
The park is home to well over 100 moose.
Your best chance to see them is near the park's many lakes and streams.
You can recognize these enormous animals.
Which tend to be solitary, unlike many other smaller members of the deer family.
By their enormous antlers and a face that in many ways resembles a horse's.
Yellowhead Pass and the Pocahontas Wetlands are two of the best places in the park to see moose.
However, the moose is only one of a number of deer species in the park.
The most common of these is the elk.
Known locally by its Native American name of wapiti.
There are also mule deer.
Look for the distinctive black tipped tail and large ears.
As well as white-tailed deer, although both of these are relatively rare.
You will also find caribou grazing on the grasses and lichens in the park, although these are difficult to spot in the summer since they head to high pastures at this time.
Since deer are relatively shy creatures, you will need to approach them stealthily if you want to take good photographs of them.
In fact, if you are an avid wildlife photographer, you may want to set up a deer blind to provide camouflage.
Smaller mammals at Jasper National Park
The park is also the residence of another Canadian icon – the beaver.
These are the largest rodents in North America, and can be found building their dams and lodges in valleys throughout the national park.
Although these industrious animals were driven to the brink of extinction by trappers in the 19th century, they have now made a strong comeback thanks to the dedicated work of conservationists.
Many other smaller mammals can also be found in the park, including porcupines, marmots, squirrels, weasels and pika – also known as rock rabbits.
Image source
Learning about National Parks
Here is an excellent resource for visiting all 59 National Parks.
It includes example itineraries, depending on how long you will have.
There are gorgeous photos as well.
You are sure to enjoy this [easyazon_link keywords="National Parks of America: Experience America's 59 National Parks (Lonely Planet) " locale="US" tag="gogreentravel-20″]fantastic book[/easyazon_link] long after your trip.
It may well inspire you to plan more trips to National Parks.
Planning a trip to Jasper National Park
Jasper National Park is also home to a number of impressive predators.
There are wolves and coyotes, as well as mountain lions and lynx.
However, these two cats are elusive, so you will be fortunate to see them.
There are also black bears and grizzlies.
These are actually omnivores that eat more vegetation than they do meat.
Exercise great caution if you do see any bears, since they have been known to attack humans.
It is a good idea to stay at least 100 yards away from them.
You will have the trip of a lifetime spending time at Jasper National Park.
The scenery is breathtaking and the wildlife is diverse.
There are 59 National Parks.
You may well be inspired to plan many vacations to National Parks.
Olympic National Park Photos ~ Here's What to See When You Visit
Entering Olympic National Park on Washington's Olympic Peninsula is akin to stepping foot onto the surface of another planet.
The only temperate rain forest in North America, the peninsula's dense terrain and near-constant downpours call to mind a South American tropical jungle.
Only the temperatures and seasonal snow give away its North American location.
Beautiful Olympic National Park
Most of the Olympic National Park rain forest interior is accessible only by foot or bike, but if you didn't come prepared to backpack or cycle, the coastal boundary is easily traversed by car along windy Highway 101.
Multiple days are needed to properly see the whole park, but if you only have 24-48 hours, I suggest touring the lush southern section far removed from the busier visitor centers of Port Angeles and harder-to-access Hurricane Ridge.
Lake Quinault
From Highway 101 past Neilton, you'll first be greeted by the stately Lake Quinault Lodge, where you'll want to stop and book a room for the night.
Not only is this historic lodge an Olympic National Park institution, it participates in the Green Thread Environmental Program (as does its sister lodges in the park).
Be sure to stop and get a National Park Pass!
Get an annual one and visit National Parks around the country.
Side note: There is a special program going on now where 4th graders get a free annual pass.
We took my son to get his at the Saguaro National Park in Tucson, Arizona and were shocked to learn that if he is with us, our entire family gets in free.
What a fantastic new program!
If the weather is nice and you're visiting in the summer season, rent kayaks on the lake, or brave a chilly swim to the floating dock.
If the peninsula is producing its typical drizzle, opt for a seat by the fireplace or swim in the indoor pool instead.
In the afternoon, cross the street to take a hike through the Quinault Rain Forest, where a network of easy to moderate trails wind through maple glades, cedars, and ferns.
Kalaloch
The next morning, drive the 30 miles along Hwy 101 from the lake to the coast at Kalaloch, where, in addition to Kalaloch Lodge, the vast, windswept Olympic National Park beaches yield piles of weather-hewn driftwood and wide vistas.
Kids and kids at heart will also find the most impressive tree climbing you'll likely see anywhere.
Hoh Rain Forest
Further north, take the Hoh Valley Road inland to the Hoh Rain Forest Visitor Center, where the easy mile loop trail of the Hall of Mosses awaits.
Note: visitor center is closed in the off-season, but trails are open year round.
Be careful, or you might just turn into moss yourself:
Forks
Pop culture étiquette dictates I mention the proximity of Forks, Washington and La Push, but if you're not a Twilight fan, I suggest skipping it.
As we drove by, we paused to do our best vampire impressions.
A return to Quinault Lodge or Kalaloch Lodge ensures another night's rest before leaving this enchanted park the following day.
It's always fun to explore and no better place to do it than one of our esteemed national parks.
These Olympic National Park photos will hopefully inspire you to plan a visit.
Jasper National Park ~ A Place to See Incredible Wildlife
It will be worth your time as you explore this wondrous part of our country.
As always in our national parks, bring your camera and leave everything as you find it.
Photo credit: MiguelVierira and Northfielder.
Related Contents:
Travel Guide to Eastern Washington