Using unfamiliar forms of transportation can be incredibly stressful, especially in a foreign country where you don't know the rules or, worse, the language. As many Americans don't have experience with train travel, I found myself giving extremely detailed advice to friends who planned to visit France. Armed with this guide and vocabulary, you will be worry-free when you take the rails.
About the SNCF Train (The French Railway System)
The French railway system, SNCF, is a government-owned network of trains throughout the country. Even small towns have their own railway stations, and the really tiny villages are usually linked to the rail network via SNCF bus.
The high-speed TGV links France's largest cities and will get you to your destination in no time flat—for a price, while the TER provides regional trains linking cities within regions. The French rail system is usually quite punctual. Be aware that national strikes and inclement weather can cause major delays, however.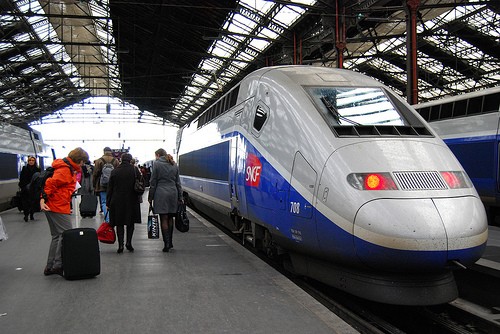 photo credit: Matt Seppings
How to Buy Your Ticket
If you plan on doing a substantial amount of traveling within the country, you may want to consider getting a France Rail Pass.
These are only available to non-European residents before your departure abroad, so be sure to plan ahead. You can get a ticket for 3-9 days of travel within a month.
If you are only going to be taking the regional trains, all you need is your rail pass to board. Any TGV train, however, will require you to buy a seat reservation in addition to your pass. Tip: if you can, buy these reservations within France rather than through the Rail Europe website.
When I had my pass in fall 2010 it cost 3€ to get a seat reservation at a French train station versus $11 to buy it through the website.
If you only plan on taking one or two day trips, you can buy your ticket through many online websites. The TER ticket prices remain stable, but the TGV ticket prices increase the longer you wait. If you book your ticket about a month in advance you'll be privy to "PREM" prices—a significant discount.
Travelers aged 12-25 who plan to be in France for a few months should strongly consider buying the Carte 12-25, which gives discounts of 25-50% on all train travel. The card is good for a year after you buy it, even if you buy it on the eve of your 26th birthday.
What to Do at the Train Station
Plan on getting there 20-30 minutes before your train is due to depart. Unless you're taking the Eurostar or another international train, you won't need to go through any security measures. In the main lobby of any train station there will be a big board that has all the trains by number, hour of departure, the name of the stop at the end of the line, and the platform number. (You'll see a lot of people congregated around it, looking up.)
Oftentimes, the platform number won't appear until a half hour or so before the train is due to depart. So don't fret if you don't see one listed right away. Just watch for it to appear as your departure nears.
If you've chosen an e-ticket option, you'll need to print that out at one of the yellow kiosks using your six-letter e-ticket number and your last name. You can choose to use the kiosks in English.
How to Validate Your Ticket
Before you board the train, you'll need to stamp your ticket you just printed, or "composter le billet" (/com-pos-tay luh bee-yay/). There are yellow machines outside the entrances to the platforms where you must insert your ticket to stamp the date and time on the edge.
This is to ensure you don't try to use the same ticket on multiple journeys. Here is a picture of the machine for stamping the ticket:
photo credit: ChrisJ
How to Board the Train
After you've arrived on your platform you can feel free to board the train. On the right side of your ticket it will say what voiture (car) you're in. This is written next to each door of the train. Your seat number will be under that.
The train cars usually either have a big "1" or "2" on them– this is to demarcate whether it's a first or second class car. There are luggage racks at either end of a car, and sometimes in the middle as well. If you're able to put your bag on the ledge above your seat, do that.
There have been some instances of theft on the trains. If you can't fit it above you, just saunter by nonchalantly every now and then to check on it. Don't be too conspicuous about it or you'll make your bag a target.
What to Expect on the Train
While you're on the train, an employee will come around to check tickets. Present him/her with your composted ticket, along with any other pass or discount card. If everything is up to snuff the employee will punch your ticket and move on.
TGV trains will usually have a food and beverage cart where you can get a snack. Be sure to pay attention for your stop, as not all conductors will announce the name of the town when you arrive.
Train Vocabulary
Gare (/gar/): train station
Voie (/vwah/): platform
Arrete (/a-RET/): stop
Composter (/com-pos-TAY/): to stamp
Billet (/bee-YAY/): ticket
TGV (/tay-zhay-vay/): train à grand vitesse– high speed train
TER (/tay-euh-air/): regional train
Guichet (/GEE-shay/): ticket counter
Voiture (/vwah-TYUR/): train car
Place assise (/plahce a-SEEZ/): seat
Je cherche (/juh sherche/): I'm looking for…
Parlez-vous anglais? (/par-LAY voo an-GLAY/): Do you speak English?
This post is part of a series about France and teaching abroad, written by our dear friend Nina Petersen-Perlman.
Nina Petersen-Perlman has visited Paris on 13 different occasions, eight of which were during the last year when she was an English teaching assistant in a small town in Burgundy.