Updated:
Summer is officially here and it's the perfect time to think about ways to reduce your environmental impact. From food and shopping to traveling and entertainment, we've got you covered with tips for going green this summer. What is going green exactly?
Read on to find all about the benefits of going green and going green facts. The buzz word of late seems to be going green. Everyone from automobile makers to mobile phone makers seem to be flaunting their green credentials.
But what does going green mean for you and me? What are some of the smaller things that we can all incorporate in our lives and encourage others around us to make those choices?
What is 'Going Green' to the average person?
It basically means maximizing your finite resources by utilizing only as much as necessary. Here are some of the things that all of us can do and proudly join the going green wagon.
Get active
This is the simplest thing that all of us can aim for in our lives. Get of that couch! Walk that small distance or ride a bike. It will help cut down on the automobile emissions and get you in shape. Win-win.
Go Paperless
Chances are that all your bills are available online so there really is no sense in having all those bills delivered to you every month. Contact your utility companies, your phone companies and the rest and tell them that an e bill will be sufficient for you.
Save Water
Water conservation is going to be one of the big struggles ahead of us down the line. Using low intensity showers, switching off the faucet while brushing your teeth or shaving are all small but extremely useful things that all of us can incorporate in our daily lives.
Reuse
Reuse what you ask? Reuse everything that you can. Use reusable coffee mugs, reuse the packages and shopping bags, glass water bottles…. You get the idea.
Buy green
It is now mandatory in large parts of the country and the world to have a green rating on all your appliances. Look for the ones that have a good energy rating and try and buy that one please. It may cost a little more but it will pay for itself over its lifetime of use in energy savings. A lot of appliances are available that help you save energy.
The Nest thermostat is one that has attracted attention over the last year or so that is 'intelligent' enough to understand your energy needs to adjust itself accordingly and save energy. This is just one example of the most popular one, however there is no dearth of other companies offering similar advantages.
Eat local
You may ask what is going green in that? Well, it's the transportation cost to the environment of shipping food across the world that needs to be cut down rather than 'organic' food. Take an interest in where your produce is coming from and try and buy local. Shopping at your local farmer's market is a useful way to go green: Traveling Locavore
Recycle
It is old school and not as glamorous as filling your car with vegetable oil but it works. And everyone can do it. Make sure you distinguish between what can be recycled and separate your trash accordingly. Does your recycling make a difference?
All of these things do not require any investment on your part other than an interest in saving the environment. Or, at the very least, not worsening it.
All about the benefits of going green
The benefits of going green lie in the well-being of our planet earth. "Going green" is the new catch phrase that we find in everywhere; be it a TV commercial, or a poster or a book or in our favorite TV shows.
Its existence everywhere has somewhere reduced the very importance of its purpose in our minds. Let's have quick refresher on the benefits of going green.
Commercial Benefits:
Reduce in expense: Any green activity causes reduction in use of energy, money and other resources which in turn helps organizations to reduce on their expenses
Brand Value: Any organization following green measures are looked up as a reliable and responsible brand to go with. Hence it enhances the brand value of the organization.
Energetic Employees: It is observed that workforce in an eco-friendly work place produce better output and reduces absenteeism. 5 Simple Ways to Recycle Your Electronics
Appreciation of building: The value of green workplace has minimum depreciation and in fact it appreciates with time and tenants are also more attracted to get such places for happier and productive workforces
Natural Benefits:
Cleaner environment:  Benefits of going green activities results into betterment of air and water quality that we consume every second. That is a pollution free environment for a healthy society
Reduced Garbage: It helps to reduce the huge waste a society accumulates over time. And promotes recycling of the same to be reused.
Conserved Energy: By using alternative energy sources like solar electricity, hydro electricity, wind tunnel etc and reduce the waste of electricity consumption green initiative helps us conserve precious energy resources.
Conserved resources: Reducing, reusing and recycling; the three pillars of green initiative prompts to reduces the use of all the resources.
Conservation of water & forest eco-system: By cutting less trees to make papers, stopping animal hunting and recycling water we can establish the ecosystem of forests which is currently under threat.
Go-green measures to increase the benefits of going green
Reduce:
Reducing means cutting down on waste by using less in the first place. For example, we could use less packaging. Some food are wrapped in plastic, but instead we could buy them without packaging.
Also, while going for shopping if we carry a shopping bag with us, we would reduce the use of a plastic carry bag for or shopped items. Or for instance, we can reduce a huge load of papers available online by not printing them.
We can always read and share those papers online by email etc which will in turn save a lot of tree to remain alive. Reduce the use of water for bath by just turning the tap off in the right time.
Reuse:
We can use things again instead of throwing them away. We can promote reusing as a practice starting from our homes. There are god examples to get inspired. You can donate your unwanted clothes, books, toys to orphanages or other social centers for under privileged people.
You can start having an exchange program within your friends. If you are done reading a book, you can exchange it for a book that you have not read from your friends. Instead of buying containers for kitchen ingredients, you can reuse the bottles of empty ingredients to store the new ones.
Recycle:
After the consumption or use of the material it can be reformed to be used again. And the Importance of recycling is huge when it comes to the well being of our planet. There are several ways we can do recycling at home.
For example, we can keep our kitchen organic wastes in a pot to reform it to become organic compost for our garden plants. Another way of recycling could be to use hard boxes and colored wrapping sheets to be used as handicraft items.
Benefits of going green is holistic and makes things better and healthier all around us and for generations to come. It surely worth that one extra step to go ahead and do our bit to give it back to the nature.
Going green facts
There is a lot of misinformation that is floating around everywhere when it comes to facts about the changing environment. Everyone seems to have an agenda and a propaganda that they want to further.
So in a situation like this what are the facts that you and me can rely on? Keeping this in mind we have compiled some essential irrefutable going green facts.
Climate Change
Climate Change is the gravest threat to humanity. You know all the movies which show some space rock coming in and destroying the world. Yes it seems scary and it is. But is also highly unlikely that such an even will ever occur.
There is a mathematical chance of course but there is not really much we can do about it. On the other hand there is environment change which is slowly progressing to irretrievable levels every single day.
It is the slow and insidious nature of this threat that has kept it from capturing public imagination till now. All scientists agree on this fact now. Climate change is a reality that we will all have to face, quite possibly within our lifetime.
Every little counts- There is a feeling that what little we can do is probably insufficient to cause any change whatsoever and so probably not worth doing it at all. No, that is definitely not the case.
Small changes that all of us incorporated in our lifestyles will add up to real and significant lessening of strain on our resources. Take that small walk to the convenience store, carpool, take shorter showers and reuse as much as possible.
You are making a difference, and don't let anyone tell you any different.
Environment change
Environment change affects all of us- This is not something that anyone of us can run from. Not the richest or the strongest or the most politically well-connected. Environment change will affect all facets of industry and all levels of society.
It is up to the educated ones among us to make the others aware of the danger. Changing weather patterns have already emerged- Everyday you read something about bizarre weather patterns in some part of the world.
This is not just coincidence and is not something that will go away. Change in temperature, rainfall and other such local weather conditions affect the crops, vegetation and animals of that area. All of these changes directly affect us. These are signs of more significant things to come. The sad part however is that we fail to learn even after repeated warnings. Our ecosystem is unstable right now, and there is no way that it can sustain this level of imbalance over a long period of time.
These are some of the going green facts that no one in the world can argue against. The difficult part is to impress upon people the danger that lies ahead of all of us and our generations to come if drastic and immediate changes are not made.
Future generations will look at us as the ones that failed them if we do not act now. Now that you know what is going green, all about the benefits of going green, and some going green facts, you surely can do your part to help the world.
All About the Benefits of Going Green This Summer
Go to the Farmer's Market
Eat local this summer by getting your produce, meat, eggs, and baked good at your local farmer's market.
That squash from the farm 20 miles away will have a much lower environmental impact than a grocery store-bought squash that was shipped across the country. Plus, fresh, local food tastes better.
Shop at Garage Sales
Tis the season for scavenging for used goods. Garage, rummage, and yard sales abound. Take advantage of them and buy what you need there. Not only will it save you serious money, you'll be able to re-use perfectly good items. Plus, your find will be free of the excessive, wasteful packaging that accompanies new items.
Get Outside and Save Electricity
Spend time away from the TV and computer and wile away the summer gardening, reading outside, and walking around the neighborhood. You'll save electricity by turning off the TV, turning up the A/C, and shutting off the lights. Plus, you'll get to experience summer outdoors.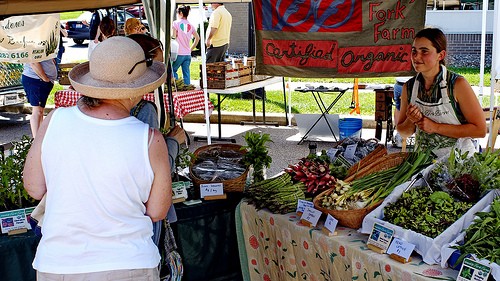 image credit: Ecstatic Mark
Opt for a Staycation Over a Vacation
Avoid airports, congested roads, and crowded resorts. Instead, have a family "staycation" — a vacation without leaving your home. Set some ground rules (no work for the entire weekend, no friends/just family time), plan your itinerary, and get started!
Grow Your Own Food
There's no need to trek to the grocery store when you have lettuce growing in your backyard. Your meals can be made with fresh, organic, local produce — grown by you.
It's easier than you might think to start a home garden. It will save you trips to the store and time. How to Starting a Greenhouse
Stay in the Neighborhood
Instead of driving to the fancy park across town, spend time in your neighborhood park. Opt for restaurants and grocery stores that are close to home. You'll reduce your environmental impact and save time because you won't have to travel as far.
Bike and Walk More
Now that the weather is lovely and sunny, opt to bike or walk to your destination instead of hopping in the car. It might take a little longer, but you'll get excercise, spend time outside, and better experience summer.
Search Out Local Entertainment
You don't need to travel far to find good summertime entertainment. In the warmer months, music festivals, neighborhood art shows, and movies in the park abound. Take advantage of your neighborhood's offerings.
You'll meet new people and have experiences you would otherwise miss out on. Best of all, most of these offerings are free and nearby.