Thanks to yurt camping, the newest camping craze taking off across the U.S., you don't need to own a gas guzzling RV or camping trailer to enjoy state parks and campgrounds all year long. Park systems in nearly every state now feature these fun, functional, and cozy shelters in at least a handful of their state parks. Some states, such as Oregon and Washington, offer yurts in nearly all their coastal state campgrounds.
What Is a Yurt?
The word "yurt" originally referred to the circular tents used by nomadic people in Asia. The yurts you'll find in the U.S. nowadays are strong, semi-permanent structures based on that circular design.
Typical "rustic" yurts are 16 feet in diameter, and offer beds and mattresses for five to six people, table and chairs, electricity, and heating. Deluxe yurts in state parks can include TVs, kitchenettes, and even bathrooms. Yurt camping in the off-season allows travelers experience year-round camping.
Advantages to Yurt Camping
Yurts are a great way to get away from it all without having to completely rough it. With yurt camping in state parks, you can:
Travel Cheaply
Nightly yurt rentals cost approximately $45 per night in summer, and can dip as low at $30 in winter (depending on location and amenities), making them far more cost effective than the hotels or lodges located in rural or wilderness areas. Yurts are ideal for long-term or spontaneous travelers who don't want to pack extensive camping gear: no need for a tent, lantern, or heavy bedding.
Experience Nature in the Off-Season
Winter or spring in your favorite state park may offer a completely different experience than in the summer. For instance, spring is the only time to observe the seal rookeries (baby nurseries) in the caves along Oregon's central coast near Sunset Bay State Park. At other parks, fall may provide the best leaf peeping or winter the only cross-country skiing.
Enjoy Seclusion
We love reserving state park yurts in the off-season because we're nearly alone in the park! Yurt camping in fall or spring is ideal for families: kids can enjoy the run of the park without parents worrying about disturbing fellow campers. And s'mores taste just as good (if not better) in the cold!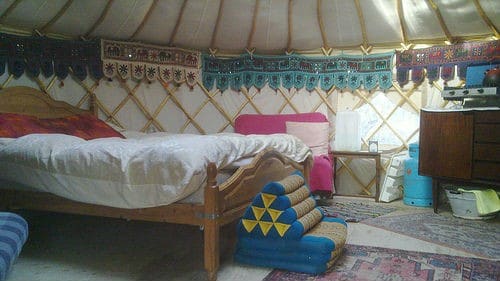 The inside of a yurt
How to Find and Reserve a Yurt
1. Browse available yurts through your state's park system website (as opposed to nation-wide sites such as ReserveAmerica). From the Oregon.gov site, I can click on Yurts and Cabins and see all available units at an array of state parks.
2. Reserve early for May-September yurt vacations. Most state park systems allow campers to book nine months in advance, which may seem extreme for a camping trip, but is absolutely necessary to ensure a yurt reservation in the summer months. On the flip side, yurts are usually available with a week's notice or less during off-season travel!
3. Bring only the essentials. Yurt campers need sleeping bags, cooking supplies and tools, and seasonal clothing. At most state parks, cooking must be done outside the yurt over a fire or using a camp stove. What you can skip: tents, mattresses, lanterns, and camping furniture such as canopies or tables.
A Few Things to Note About Yurt Camping
1. While some yurts are now pet-friendly, be sure to check your state park's policy before bringing dogs.
2. Check your email before departure. Most state park systems will email you your yurt site number and lock code, so that no check-in is required.
3. At the end of your yurt stay, remember to sweep up and pick up after yourself for the next camper! Usually basic cleaning tools are provided.
Photo credits: Fil.Al, uniteddiversity