There are many ways to go about greening your hotel stay. Finding an eco-friendly hotel is the first way to make a big impact.
Large hotels, especially in urban areas, consume a lot of energy.
Between their many guest rooms and common spaces, conference centers and restaurants, they have the potential to leave a heavy carbon footprint.
Many eco-travelers assume they're restricted to eco-lodges and low-impact hostels to travel green, but this is not true.
Thanks to LEED certification, it is possible to find an eco-friendly hotel or resort, or a green hotel.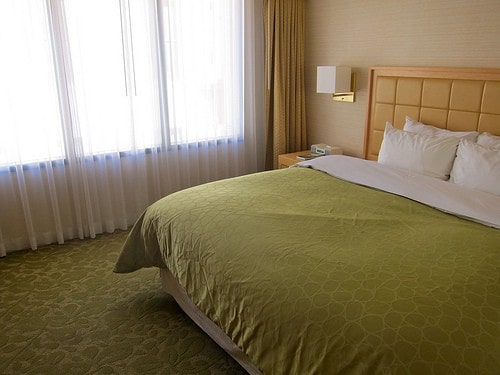 What is a LEED-Certified hotel?
An acronym for Leadership in Energy and Environmental Design, LEED sets a universal eco-standard for hotels, making it easier for travelers to see — even at a glance — whether the hotel they want to book is green.
How does it work?
Resorts striving for LEED hotel certification must assemble a project team dedicated to reducing the property's carbon footprint.
This team makes changes in many hospitality industry categories, including sustainable sites, water efficiency, energy, and indoor environmental quality.
They are then judged on a 100 point system.
Hotels must meet a point minimum of 40 to be considered a LEED property.
50-59 points designates a hotel as 'Silver LEED'
60-79 points designates 'Gold LEED'
80 points or higher equals a 'Platinum LEED' certification
How do I find a LEED hotel?
There are several easy ways for travelers to find LEED certified green hotels.
Use booking sites
If you're using a booking site such as Travelocity, you can browse its Green Hotel Directory.
Additional databases include: istaygreen.org; ecogreenhotel.com and Green Hotels Association.
Many more databases for green hotels exist.
In fact, we first made a list way back in 2008!
Many of these eco-hotel databases are still relevant today.
You can seek green hotels on trusted travel sites
Start right here!
When we stay at a green hotel worth shouting about, we make it a green hotel pick.
You can also browse our favorite eco-lodges for winter, and best eco-lodges for all seasons.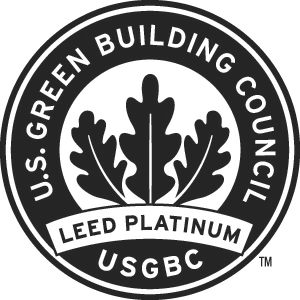 Look for the logo
All LEED certified hotels will display their certification on their website. You can look for its distinctive logo (on right).
You can look for 'Green Hotels' categories on most major hotel chain websites
Hyatt has a large selection of LEED certified hotels, my top pick being the very first in Seattle: Hyatt Olive 8.
Marriott also has a long list of LEED hotels worldwide, as does Omni Hotels.
Are all eco-friendly hotels and green hotels LEED hotels?
No. But seeking out LEED certified hotels is a great place to start, because a trusted environmental agency has already done the work for you.
When you're not able to stay at an eco-friendly or LEED hotel, there are still eco-measures you can take for to make your hotel stay more green.
Reuse your towels.
Bring your own soap.
Unplug what you are not using. Leave the freebies — soap, shampoo, pens, etc. — there.
By being mindful of your impact, small changes can make a big difference in your hotel stay.
We had a green hotel stay on a visit to Carlsbad, CA visiting Legoland.
Look for hotels that are LEED certified
LEED certification, designated by the US Green Building Council, is one of the most reliable (and objective) standards of green hotels.
Think about what matters to you
Is it important that the hotel offers recycling in all rooms?
Does the hotel offer mattresses made from plant based materials?
Has a restaurant that focuses on sustainable food and composts leftovers?
Uses energy efficient light bulbs?
Prioritize your preferences and find a hotel that matches them.
Scour the hotel's website
A hotel's website can be a good starting point in your search and will give you a sense of steps the hotel has taken toward sustainability.
Just remember to look at objective sources of information, too.
Get your facts straight
Know how green hotels are certified in various directories.
And which directories you can trust.
Read our post about finding eco-friendly hotels through green accreditation directories.
Check out customer reviews
Use sites like TripAdvisor to see what other travelers have said about the hotels you're considering.
Are they as green as they say they are?
What have people really enjoyed (or not enjoyed) about the hotel?
Consider location
If your hotel far away from the city center and not accessible by public transportation, it probably isn't the greenest option — even if it's LEED certified and serves certified organic food in its restaurant.
Make sure you'll easily be able to get from your hotel to the areas you'll spend your days in San Francisco.
Sustainable activities, restaurants, and accommodations abound in City by the Bay.
It's easy to be green in San Francisco.
Enjoy your stay!
Not sure where to start?
Check out our list of Top Green Cities: Where to Travel Green.
5 Best Eco Lodges for the Winter Holidays
Eco lodges use fewer resources than large hotels, take visitors off the beaten path, and generally offer a wide array of outdoor activities in all seasons.
What is an eco lodge, you ask?
The word eco lodge can signify a variety of things in an accommodation: affordability, environmental responsibility, or local authenticity.
The best eco lodges comprise all three!
Eco lodges can be a great choice for green travelers who want to:
Vacation like a local
Aid their destination's economy
Help ensure sustainability
Get in touch with the natural environment
We recently listed our top picks for five eco lodges for families with kids, and are back with five more eco travel picks for adult travelers, solo travelers, and families.
If you're planning to get away for the holidays, check out these eco-friendly lodging options in locations ranging from snow-topped peaks to tropical jungles.
Kapawi Eco Lodge, Ecuador
Run in tandem with the local Achuar people, the Kapawi Eco Lodge allows visitors to see the Amazon rain forest in a responsible way, with Achuar guides working alongside naturalists.
The lodge, built in the Achuar style (without a single nail!), sits in one of the most remote sections of the Ecuadorian Amazon, and is accessible only by a four hour car ride followed by a 50 minute flight.
Once there, guests are privy to over 500 species of birds, pink dolphins, giant otters, and more.
Expect an active itinerary at Kapawi, with many morning walks and jungle treks, and daily exploration.
Spending a Christmas Day at Kapawi includes a traditional dinner, dances and ceremony of the Achuar people, and, of course, warm weather!
The Asheston Eco Barns are traditional Welsh stone farm buildings converted into holiday cottage rentals.
These barns have been rebuilt using as much as the original structures as possible, and are highly sustainable.
Located in picturesque Pembrokeshire, there are five barns in total, sleeping from 4-6 people each, which makes them a great pick for extended family trips during the holiday season.
There's a playground on-site for kids, and guests can further their eco-friendly reach by patronizing local farms and markets for the making of meals.
The barns use renewable energy through solar and geo-thermal activity.
Sundance Resort, Utah, United States
Owned by environmentalist actor Robert Redford, the Sundance is listed in the top ten for environmental stewardship by the Ski Area Citizen's Coalition.
Every day is green at the resort: 100% of their energy is generated by wind-generated power, and a car pool program exists for skiers.
Not only does this luxury eco-lodge utilize all its own hydro-electric power, lodge staff produce all their own vegetables in their organic garden, compost all organic waste, and purchase only recycled paper and locally produced hygiene products for guests.
Located within reach of Maya ruins, Blancaneaux Lodge is ideal for travelers wanting to get away from the regular tourist path and explore ceremonial caves and even white-water rivers. With only 20 rooms, guests have an intimate experience.
Kicking Horse River Lodge, British Columbia, Canada
Located deep in the Canadian Rockies, Kicking Horse River Lodge attracts primarily skiers in winter, though all outdoor enthusiasts will feel at home here.
Kicking Horse's geothermally heated log cabin and ski dorm are not luxurious, but offer all the comforts guests could need.
Green travelers will appreciate the eco-themed films screened at the lodge, which benefit local charities.
The Bugaboo Cafe is where all the locals come for breakfast, which means you know you're in the right place!
Photo credit: Ivan Mlinaric and Insufficient Postage.
Eco Learning at the Ritz: Ambassadors of the Environment
If you're looking for a guilt-free reason to book a stay at a luxury oceanfront resort, or even visit one for the day, Ritz Carlton's Ambassadors of the Environment program offers half a dozen.
Ambassadors for the Environment is a great way to incorporate learning and environmental stewardship into your vacation.
These eco programs for kids, youth, and, adults are currently offered at the Ritz Carlton Laguna Niguel (in Southern CA), Ritz Carlton Grand Cayman, and Ritz Carlton Kapalua (Maui).
What is Ambassadors of the Environment?
The Ambassadors of the Environment program, run by local naturalists and marine biologists under the guidance of Jean-Michel Cousteau (son of legendary Jacques Cousteau), is available to Ritz Carlton resort guests and non-guests alike, with sessions ranging from beach and garden tours and scavenger hunts to snorkeling or whale watching expeditions and hotel kitchen cooking classes using sustainable seafood and local produce.
Each resort offers classes and excursions unique to their local environment in both their indoor learning centers and their outdoor environment, and each rotates its offerings by day of the week.
Some are available to all ages, while others are listed especially for children (ages 5-8), youth (9-16), or adults.
The Ambassadors of the Environment 'Forests Under the Sea' Experience
My kids Nate (age 13) and Calvin (age 11) experienced Ambassadors of the Environment's Forests Under the Sea snorkeling program at Ritz Carlton Laguna Niguel last July.
Check out our video of the facility and our experience:
We'd snorkeled in the area before, so we thought we'd know what to expect.
We were wrong: after a Powerpoint presentation by a local biologist, we were far more prepared to understand what we were experiencing underwater.
Better yet, my kids were educated in the reasons why some species have been eradicated from the local Southern California Pacific Coast environment, and why others are thriving.
They learned not only which animals to look for in the kelp forests we'd be visiting, but how to be good stewards of the local environment.
The Ambassadors of the Environment staff outfitted everyone in quality snorkeling gear, and we departed by van to a local beach ideal for viewing kelp forests.
During the 45 minutes underwater, the kids saw everything from sea stars to snails unique to the environment.
We were given plenty of water, which the kids could store in their own eco-friendly metal water bottles (eco souvenirs from the experience).
Back at the Ambassadors of the Environment learning center at the Ritz Carlton, we were presented with a slide show of our excursion, taken by the biologists attending with an underwater camera.
Costs of the Program
The cost of each Ambassadors of the Environment program varies, but all range from $80-110 per person.
Our experience with Forests Under the Sea was $100 per person, and the value was consistent with this price.
The program enhanced our understanding of the area where we were vacationing, which in turn made us better travelers.
Another perk: the cost of the program also goes toward local eco-preservation.
The Laguna Niguel program runs regular beach clean-ups and school educational sessions.
How to Book an Ambassadors of the Environment Session
If you're staying at a participating Ritz Carlton hotel, simply ask for a schedule and booking information with the concierge.
If you're visiting as a non-guest, call the hotel for the week's schedule at least 24 hours prior to the day you hope to participate.
The Ambassadors of the Environment staff at Laguna Niguel reported that they are busy, but not always full, during the summer months.
The Laguna Niguel program runs year-round, though note that the Grand Cayman program does close for some off-season months.
10 Best Eco Hostels:
If you're planning a trip and looking for cheap eco hostels to stay in along the way, it makes sense to pick places with great eco credentials.
As well as being fun, friendly and affordable, plenty of eco hostels now offer environmentally-friendly services like recycling programs and organic cafes, with some offering improvements like solar power as well.
Browse the list of the world's ten best eco hostels below and discover a greener way to stay.
Jemby Rinjah Eco Lodge in the Blue Mountains, New South Wales, Australia
These traditional timbre lodges sit in the heart of Australia's Blue Mountain National Park.
Private cabins and group lodges have energy-efficient lights and heating, plus there's a romantic retreat cabin with a Japanese hot tub that runs on rainwater.
Bellas Artes Guest House Rio de Janeiro, Brazil
Sunny Rio de Janeiro is the perfect setting for this eco hostel that heats water via solar power.
The hostel itself is run by locals, sells Brazilian crafts through an on-site shop and serves up Brazilian coffee as well as regional food like Minas Gerais cheese.
Hostelling International Washington DC USA
The only hostel in the world to be Energy Star certified, Hostelling International Washington DC has a recycling center on every floor, uses energy-efficient fluorescent light-bulbs and only washes linen on request to conserve water.
St Christopher's at the Mosaic House Prague, Czech Republic
St Christopher's at the Mosaic House in Prague is home to the Czech Republic's first grey-water recycling and heat recuperation unit.
This eco hostel's heating system runs on solar power, and rooms are temperature-controlled based on whether they're occupied or not.
Birdwatcher's Paradise Lodge Monteverde, Costa Rica
Birdwatcher's Paradise works with the Monteverde Institute to plant trees to help reforest the former farmland that it sits on.
You can spot tons of indigenous wildlife here, as well as take tours from local guides and sip on organic coffee from the farm next door.
La Casa Verde Banos, Ecuador
With aims to go totally off-grid by running on wind-generated power from the valley, this eco-retreat has banned unsustainable building material like jungle hardwood, has a strong recycling program and gets almost all of its produce from local suppliers.
Deepdale Backpackers in Norfolk, England
Housed in 17th-century barns converted to incorporate green technology (roof insulation, under-floor heating, low-flush toilets, energy drawn from solar panels), Deepdale Backpackers won Enjoy England's Sustainable Tourism award in 2009.
Eco Oasis Mojkovac, Montenegro
The family-run Eco Oasis consists of four traditional log cabins sits close to the River Tara in Montenegro's Black Pine Woods, a protected UNESCO World Heritage Site.
Cabins are TV-free: you're encouraged to hike, bike and tour the stunning surroundings instead.
Loch Ossian Hostel on Rannock Moor near Edinburgh, Scotland
Loch Ossian's electricity is generated by wind turbine and solar panels, and it's only reachable on foot (a mile's walk from the UK's most remote train station Courrour, as featured in Trainspotting).
All water is recycled, and the hostel even uses bat-friendly paint!
Tranquility Island Eco-Tourism and Dive Escape on Moso Island, Vanuatu
Offers beds in a traditional thatch-roof fare on the tiny island's beach; with reef diving and baby turtle and dolphin-spotting on offer too.
Electricity is generated at set times of the day, with no light at all except from your own torch at night.
It's a comfy escape to paradise.
How to Find Green Accommodations and Green Hotels
It's easier than you think to find green accommodations.
There are 5 basic types of accommodations to consider when you are looking to lessen your impact: camping, hotels, eco-lodges, hostels, and what I'm going to call "shared housing."
There's even a bit about green cruises.
First, it's important to be aware of green washing.
What is green washing?
As green washing becomes ever more popular, it's critical that we are cautious when searching for environmentally-friendly lodging.
Basically, green washing is the practice that involves a company — through advertising, public relations and marketing — stating that they have green practices or products when they really do not.
These are the companies who work hard to "talk about" being green and spend more money promoting themselves than they are spending actually being environmentally-friendly.
Camping green accommodations
Camping is generally the greenest and hotels are generally the least green.
When you go camping, always remember and put into practice the following:
Check with the ranger station and signs to know what the fire danger reading system is that day.
If it isn't safe to start a fire, don't!
Follow all rules about fire safety, including setting and putting out fires.
Leave no trace by taking all of your trash out with you or by putting it in the proper receptacles.
Recycle when you can or bring it back home to recycle.
Do not disturb or feed wildlife.
Keep your food in closed, covered containers to ensure animals can't access it.
Stay on marked trails.
The Leave No Trace Center for Outdoor Ethics is an educational, nonprofit organization dedicated to the responsible enjoyment and active stewardship of the outdoors by all people, worldwide.
Ways to Travel Sustainably in an RV
USA
About.com's Find a Campground Just click on a state to get started.
ReserveAmerica /Reservations.NPS.gov / Recreation.gov
These three sites recently merged.
You can search by type of campground, state, park name, and dates.
International:
L.L. Bean's Park Search Thousands of campsites across the world, searchable by country, outdoor activity, or park name.
European:
Europe Camping Guide
European Federation of Campingsite Organisations and Holiday Park Associations
Interhike Book 4,200+ hostels and find information about 19,000+ camping sites in Europe.
Australian:
pgrounds and holiday parks, hotels and resorts, campervan, RV and motorhome rentals.
If you're looking to camp with your furry friend, check out 5 Tips for Camping Green with Your Dog.
Green hotels
Before you make your hotel reservations, consider your preferences.
Do you want the most environmentally-friendly?
The most convenient?
The most centrally located?
How much are you willing to pay?
All of these considerations will factor into your choice of green accommodations.
After you've answered these questions, use these resources to explore your lodging options.
You can make your choice green by selecting a hotel that has received LEED certification or a Green Seal or Green Leaf.
These hotels may be built using recycled materials, have highly developed recycling programs and look for ways to reduce water usage and electricity among other green initiatives.
Supporting these hotels is a great first step toward greener travel.
Once you've checked in to your hotel, you can participate fully in the property's recycling program.
Also, take advantage of the ability to reuse sheets and towels over the course of multiple days.
Keep showers brief, and elect to use your own toiletries rather than the trial sized ones that the hotel might provide.
Before heading out for a day of exploration, turn off the lights, television and heating or air conditioning to conserve energy.
Tips for Surviving Stressful Business Trips
Environmentally friendly hotels Green Accreditation Directories
How does one go about finding an eco friendly hotel? How do you know if a hotel's efforts to "go green" are actually paying off?
Finding environmentally friendly hotels through green accreditation directories can be a way to start.
As I began researching standards for Conscious Travel and green hotels, I became increasingly interested in the newly created "green" accreditation programs and standards that exist.
What I found, as you will see below, was absolutely atrocious.
Many of these "green standards" merely involve a hotel executive filling out a survey and sending in their self-administered questionnaire with their membership fee.
Thus, while these sites are helpful to a certain extent, none are foolproof.
Use your best judgment when looking for an environmentally friendly hotel and green accommodations in general.
Tips to finding environmentally friendly hotels
Using common sense, being proactive and doing your due diligence can lead you to finding environmentally friendly hotels through green accreditation directories. Here are a few places to research.
Sustainable Travel International offers an eco-directory (look under Lodgings).
Generally, I have found STI's information to be excellent.
Responsible Travel specializes in holidays and tours and has an accommodation only section of their site.
The EU has the EU Eco-label and through their search catalog you can search for tourist accommodation.
Energy Star rates American buildings including hotels.
According to their website these facilities "are among the top 25% in the county for energy performance."
Eco-Index Sustainable Tourism focuses on Latin America and the Caribbean.
Green Globe is a consulting and advisory company that allows you to search for accommodation.
International Ecotourism Society members must sign a code of conduct stating that they meet certain requirements.
Audobon offers a "green leaf" rating system.
However, it is based on self-evaluations and a membership program.
Green Hotels Association while it has a nice name, seems to be more of an advertising membership directory where you pay to be listed.
Hostels
HostelBookers No booking fees on all hostel bookings.
HostelWorld
Over 15,000 Hostels in over 168 Countries.
Hostels.com Featuring 22,897 Hostels and other cheap places to stay worldwide.
Shared housing
CouchSurfing Meet locals and stay for free, then host travelers in your home.
It's a worldwide network for making connections between travelers and the local communities they visit.
WWOOF: World Wide Opportunities on Organic Farms – Volunteer on organic farms across the world.
Read about our experience at Chacra Millalen and about what to know before you WWOOF.
Eco Hotel & Lodge Collection:
An association of environmentally and socially responsible hotels, lodges, inns & resorts.
ResponsibleTravel.com A selection of eco lodges that caters to the responsible traveler at all budget levels.
Green cruises can offer green accommodations
While not traditionally thought of as a green travel choice, many cruise lines are making huge strides in offering green cruises.
Green cruise lines are becoming more popular than ever.
The Disney Fantasy and other Disney Cruise Lines are catching the green spirit.
Green travel apps and green travel guide books
What about those tried and true travel guides?
To buy them or not? We like to check them out from our local library.
Another responsible alternative to a green travel guide is to do your research online and print off only exactly what you need.
But our best answer is to travel lighter and save paper by taking advantage in the top eco apps and eco-friendly apps.
If you really want to have the book in your hands, consider looking for travel guides for your exact destination.
There is probably a travel book about it!
Off the Beaten Path is a beautiful book which describes interesting and not-crowded destinations.
Check out 12 Paper Free Guidebooks.
Protect the environment while travelling
Most people work to keep their lifestyle environmentally friendly by reducing, reusing and recycling at home.
So be sure to remember to protect the environment while travelling.
It's easier than you might think, and there's no reason that green travel has to be more expensive than traditional travel.
Another great way to protect the environment while travelling is by making eco-friendly transportation choices.
Instead of renting a big, gas guzzling SUV, choose a hybrid.
Alternatively, look into using the local mass transportation system.
Choosing to walk or bike your way around your destination is a wonderful way to get a bit of exercise while also lessening your impact on the environment.
If any guided tours are on your itinerary, select an eco-friendly operator whenever possible.
Look for tour operators that run hybrid buses or vans, and that tend to book smaller groups since fewer people have less environmental impact.
You can respect the natural environment by staying on marked trails, packing waste out with you and by not disturbing local plant life.
Adventures that take you under the sea can have less environmental impact when you refrain from touching coral and choose a sunscreen that won't harm the delicate reef ecosystem.
With a little research, you will be able to find great green accommodations.
Anyone can protect the environment while travelling by following a few guidelines.
It helps to think local, much like you do at home.
Choose restaurants that feature locally sourced menu items and buy only sustainable souvenirs that are produced locally and don't make use of rare or endangered species.
And remember to be aware of green washing.
How to Find an Environmentally Conscious Hotel in California
Environmentally Conscious Hotel in California, The California hotel industry doesn't have the best reputation for environmental friendliness.
But that doesn't mean that there aren't great examples of environmentally conscious hotels around.
While it may take a little digging, there are certain earmarks that you'll start to notice among green hotels.
Keep your eyes peeled, and an eye open for a great coupon codes, and you'll save on a hotel stay that doesn't make you feel like you're destroying the earth.
Water
If you don't live in California, you may not be well-versed on their ongoing water shortage.
California drought is still a big problem, and not everybody is playing by the conservation rules set up by the California government.
Sadly, some of the worst offences are seen among wealthier communities, where green lawns and landscaping take precedence over neighboring communities' access to water.
If you are looking for a hotel that has its heart (and actions) in the right place, the first place you have to look at is water.
The proof is in the pudding.
Water-conscious hoteliers turn their conservation efforts into marketing opportunities, offering up transparent details about how they are implementing conservation strategies.
Many of them are working closely with their local plumbing industries and plumbers in Los Angeles and the surrounding areas especially seem to be well versed in helping make the switch to a more environmentally conscious system.
Not only will this make them less likely to run afoul of the government, it will make you more likely to use your dollars to patronize their business.
Food Sourcing
Another area of transparency should be how and from where your hotel sources its food and provisions.
Hotels can do wonders for local communities if they use local produce and animals for their menus.
But they can tax local food producing regions if they pass them by, opting instead for national food supply chains that ignore the environmental costs of non-local food production.
Utilities
California hotels do best when they take advantage of California's best resource: sunlight.
Sunny California can produce a tremendous amount of solar power, and the state's most forward thinking hotels employ this technique to keep costs down.
If your hotel boasts passive solar power to heat water or produce electricity, you'll know that these sorts of decisions are standard for their board of directors, speaking well of the sort of environmentally conscious hotel you are dealing with.
Activities
Hotels often associate themselves with outside brands: activities and destination spots where you can spend your time when you are not on hotel grounds.
Keep an eye on the quality of outside activities that your hotel endorses.
If they are associated with destinations which don't conserve energy, resources, and the land on which they are situated, it's likely that the hotel cuts some of the same corners.
You may want to consider camping in California, for a green travel option.
So do a little homework when picking a hotel in California.
California (Legoland California trip) has a lot of environmental difficulties to deal with, and patronizing institutions which don't do the right things in this regard shouldn't be patronized by you.
The best hotels advertise this stuff, so it shouldn't be a guessing game.
In the end, you will find a great lodging spot that you can feel good about when you leave.
Oasis Collections is something of a revolution in accommodations
When it comes to choosing accommodations, most travelers have decided opinions.
Some prefer hotels with their convenient, on-the-spot service while others like the independence that comes from renting a private home.
Now there's a new company, Oasis Collections, that offers travelers the best of both worlds.


It's not an assortment of hotels in exotic locales, nor is it a vacation home service where users get the keys to a property and not much else.
Instead, Oasis Collections makes it possible for travelers to live independently like a local, but to enjoy a level of service that is usually reserved for guests of high end resorts.
How is it possible for Oasis Collections to combine these elements?
Their approach to vacation rental properties is unlike that of any other property management company.
They believe in highly personalized, one-on-one service from the moment a reservation is made until the moment the guest locks the front door on the last day of their vacation.
This means that a single reservation specialist, an actual person rather than a computer, can help users choose the perfect property.
There's little guesswork involved, because reservation specialists are experts on each of Oasis Collections' properties.
This ensures a better overall experience for the traveler who can rest assured that they've chosen the perfect spot in terms of location, price and amenities.
Oasis Collections has contracted with property owners in several beautiful destinations.
Most of these are in Latin America, with places like Buenos Aires, Rio de Janeiro and Cartagena being among the most popular.
The company is now also operating in Miami, so visitors hoping to come north of the border have a spectacular opportunity too.
In each city, Oasis Collections personnel have worked tirelessly to find the perfect properties to suit the needs of their clients.
This means that each home, condominium or apartment (condo rental) has been exhaustively reviewed before it's permitted to join the Oasis Collection.
The company sets incredibly high standards.
Not only must each property be sparkling clean, but they also must be located in a fantastic neighborhood.
Moreover, Oasis Collections looks for homes that have gorgeous design features inside and out.
These properties definitely do not have that well-worn, lived in look that vacation rentals often have.
Instead, guests can expect aesthetically pleasing design elements that surround them with comfort and style.
The high standards employed by Oasis Collections
Means that there is not an endless list of property choices.
Instead, guests are presented with a carefully curated list of available properties, each of which has undergone the same rigorous screening process.
Rather than have to sift through hundreds of possibilities, most of which are unacceptable, Oasis Collections has already done all the hard work.
Every single property this company represents is an absolute gem.
Guests simply have to choose the one that suits them best.
It's hard to choose from among so many fabulous properties, but Oasis Collections makes it a bit easier by providing personalized service during the reservation process.
Some properties can be booked directly online, but speaking with a helpful representative can be vastly informative.
In fact, Oasis Collections believes in providing a personal experience for every guest from beginning to end.
Guests can always call or email to ask questions, and they are certainly not left to their own devices once they arrive at their destination.
An Oasis Collections representative always greets guests on their front doorstep upon arrival.
They're ready to hand over the keys, but that's not all.
Oasis specializes in offering concierge level service.
Accordingly, the representative can provide a wealth of information about the property, the neighborhood and the city.
Getting oriented in a foreign place has never been so easy and convenient.
Oasis Collections Concierge Service
The included concierge service is really what sets this company apart from other vacation rental companies.
Just like the concierges in the world's finest hotels, Oasis' concierge service handles many of the details so guests can enjoy a carefree stay.
An Oasis concierge can book a table in the city's hottest restaurants or arrange for a guided tour of the must see sights.
If there's a special event going on, the concierge makes certain that the guest has access.
People who want to take a day trip outside the city need only ask.
The concierge can arrange all the details.
The best news is that concierge service is included in every stay.
There is no extra cost, although guests are of course responsible for the price of admission, tickets and meals booked through the concierge.
Even better, concierge service is available 24/7 so someone is always available whenever a question or a concern arises.
Oasis Collections really has improved on the traditional vacation rental business.
Their combination of distinctive properties and unparalleled service should make them the accommodation of choice wherever they are located.
Bardessono Hotel ~ What Makes it a Green Hotel
The Bardessono Hotel is located in Yountville, California.
Guests can enjoy their stay on six beautiful, sprawling acres in the heart of California's wine country.
The boutique hotel offers 62 luxurious rooms, a rooftop lap pool, a relaxing spa, and the Lucy Restaurant and Bar.
The hotel is also known as being one of the best "green" hotels in the United States.
Bardessono is LEED Platinum Certified, which means it has been rated by the Leadership in Energy and Environmental Design system.
This rating system takes the design, construction, operation, and maintenance into account when rating an establishment.
First, let's talk about what this gorgeous facility has to offer and then we will cover how it is a leader in protecting our environment.
The guest rooms at Bardessono are suites ranging in size from 550 square feet to 780 square feet.
Guests also have the option of a spa suite that includes a bathroom that is a private spa with massage table, a soaking tub, and a separate shower.
Most of the room rates include valet parking, high speed internet, turn down service, a daybed that can fold into a twin bed, and a bicycle for touring the town.
Amenities at the hotel include a rooftop pool that is open all year, a fitness center, laundry and dry cleaning service, culinary gardens, yoga classes, and wine tasting.
Being that the hotel is in the heart of wine country, the staff is happy to provide guests with information and transportation arrangements to the local wineries.
Before a visit to the Bardessono, you can do some research on the following local wineries:
Hestan Vineyards (located just two blocks from the hotel), Somerston (within walking distance from the hotel), Girard Winery, Cornerstone Cellars (just two blocks away), Jessup Cellars, Hill Family Estate, and so many more.
Truly a dream for wine lovers!
Lucy Restaurant and Bar is located in the hotel and offers foods made from local producers, including Napa Valley lamb farmers and organic dairy farmers.
The menu varies depending on the season and guests can choose from an extensive list of wines, including local producers and others from sustainable and biodynamic vinters from around the world.
Eco-friendly best practices at Bardessono Hotel
If that's not enough to entice you, let's look at the environmental aspects of the hotel.
The Bardessono prides itself in being a leader in sustainable practices beginning with the construction to its everyday practices.
What is a green hotel?
Here are just a few of the ways the hotel is making green strides:
The construction of the hotel was done with salvaged stone and reclaimed wood
An underground geothermal system was installed during construction for heating and cooling purposes
The structure of the hotel includes 900 solar panels which is the main source for most of the hotel's energy use
Lucy Restaurant and Bar serves food from fresh farms and locally-grown organic foods
The guest rooms include organic cotton bed linens and bath products that are hand crafted
Organic cleaning supplies are used in the guest rooms and throughout the hotel
A lot of glass was used when constructing the building to attract the natural daylight and eliminate the use of electrical lighting during the day
LED, halogen, or fluorescent bulbs are used throughout the building
The beautiful landscaping was designed with native and drought tolerant plants to lower the outdoor water demands
Even cruise lines are going green.
It's so great when you can center your vacation around a green facility.
This is just a small list of the measures the hotel took to making their facility the most eco-friendly that it can be.
The Bardessono Hotel is committed to making green choices whenever they can.
Check it out when you are in Yountville, CA.
Residence Inn Vancouver Downtown Review: An Excellent Hotel
If your travels bring you to Vancouver, BC, be sure to check out the Residence Inn Vancouver Downtown.
The hotel opened in July 2012 after an extensive 10-month renovation.
It's a centrally located hotel with lots of updates, plenty of amenities, and a focus on sustainability.
Here's why it's a great accommodation option.
Residence Inn Vancouver Central Location
The hotel is walking distance to dozens of great restaurants, the shops on Robson (if high-end shopping is your thing), and even a park with a playground if you're traveling with kids.
It's an easy walk to Yaletown, Downtown, the West End, and Davie Village, and a slightly longer walk to Stanley Park and Gastown.
On a nice day, you could even walk to Granville Island, home to shops, an awesome market, and a fun brewery.
Great for Families or Business Travelers
When we were there, most of the guests were business travelers, but the hotel's amenities make it a great place for families to stay.
There's an indoor pool (great for rainy day entertainment), a hot tub, and one of the best breakfast buffets I've seen in a hotel (free for guests).
Another perk is that the hotel hosts complementary events for guests like barbecues on the terrace and wine and appetizer receptions in the attached restaurant.
The Residence Inn Downtown Vancouver has an amazing, free breakfast buffet.
Sustainable Choice
Travelers concerned about their environmental impact can rest easy: the Residence Inn Downtown Vancouver is a sustainable choice.
The hotel is one of only four Vancouver hotels that has been awarded a 5 Green Keys rating by Green Key Global.
It has a zero waste system, in-room recycling and composting, and uses reusable silverware and plates at its breakfast buffet.
The Residence Inn Vancouver Downtown is the only hotel I've stayed at that offers in-room composting — a very cool, green feature.
The hotel also donates its used toiletries to the nonprofit Mission Possible, which cleans the soaps and shampoos to help prevent disease in developing countries.
Whether you're a business traveler in town for a quick trip or a family exploring Vancouver for the first time, the Residence Inn Vancouver Downtown is an excellent accommodation option.
Pacific Palisades Hotel in Vancouver (a Kimpton Hotel)
Editor's Note: Sadly, the Pacific Palisades Hotel no longer exists. Fortunately, you can still find dozens of excellent Kimpton Hotels across the US.
Frequently listed as one of the greenest of hotel chains, Kimpton is our hotel of choice when we opt for the cushy hotel life over a hostel or camping.
Recently, we spent 4 nights at Kimpton's Pacific Palisades Hotel in Vancouver.
Since Vancouver is an extra green city, it's fitting that the Pacific Palisades was an extra green Kimpton Hotel.
In fact, the Hotel Association of Canada gave it a 4 Green Key ECOmmodation rating for its commitment to protecting the environment.
Kimpton strives for environmentally-friendly options in all of their hotels.
Kimpton EarthCare's Sustainable Efforts:
Cleaning Supplies: All rooms cleaned with environmentally-friendly cleaning products.
Soy Inks: All corporate collateral is printed on recycled paper using soy based ink.
Recycled Paper: Property-wide printing on recycled paper.
Organic Beverages: All complimentary lobby coffee is organic, shade grown and/or fair trade.
Towel/Linen Reuse: Guests have the opportunity to do their part to reduce energy and detergents required for daily washings.
Recycling: Back of house recycling programs address glass, bottles, paper, cardboard, etc.
Energy Conservation: Back of house lighting is retrofitted and audited to ensure energy efficient bulbs are in place.
Water Conservation: Implementation and auditing of low flow systems for faucets, toilets, and showers.
Best Practices: At any hotel you may find environmental activities such as recycling of coat hangers, elimination of Styrofoam cups, paperless check-ins/outs, organic flowers, and more.
In-room designer recycling bins: Guests are encouraged to participate in reducing our environmental impact.
Honor bar with organic food and beverage options: Honor bars include organic snacks and beverages.
Donation programs: Instead of being thrown away, unused amenity bottles are donated and used by local charities.
So, what did we find during our stay at the Pacific Palisades?
Besides being a hotel with a lot of character, comfortable beds, friendly staff, a nice workout room, and everything else you would want from a place where you lay your head and plan your next adventure.
Pacific Palisades had several excellent green features:
Recycling bins in room- I wish every hotel had these!
Aveda toiletries
Zin Restaurant & Lounge, the restaurant on the first floor of the hotel, has a cool vibe and uses local ingredients and sustainably fished fish (the resturant food and catering was also excellent)
Another plus to the Pacific Palisades is that it's located downtown on Robson Street- which means your stay can be even greener since you won't need no need to take cabs or drive.
Stanley Park is super close so you can jog or take a leisurely bike ride, and there are lots of bus lines within walking distance.
Pacific Palisades provided a nice touch by leaving a Stanley Park jogging map in the room.
And if you like to take your dog along on your green adventures, you're in luck – Pacific Palisades is a pet-friendly hotel. Of course, there were a few ways I thought the hotel up their level of eco-consciousness:
The bottles of Aveda toiletries were quite large. Perfect for 2 people on a 5 day stay, but any shorter and a lot would go to waste.
Housekeeping took the hung towels (despite the sign saying they wouldn't). I guess next time I'll need my trusty green hotel don't change my towels sign!
Like almost all hotels, the stairs were dingy and closed off. I can't wait for the hotel with a staircase that invites me to walk up or down countless flights.
Some of the rooms also have full-size fridges, which are great for storing leftovers, but waste electricity if you're not using them.
We used them, though, so I can't complain.
Overall, we definitely enjoyed our stay at the Pacific Palisades and would stay there again next time we're in Vancouver.
They strive to be a green hotel and in my opinion, succeed.
Best Hotel Rewards Programs: Get the Most Travel Perks
Between family vacations, children's sports tournaments, and my job as a travel writer, I spend a lot of nights in hotel rooms.
Friends and family often ask me what booking sites I use to save money on nightly hotel stays.
While comparison sites can be useful, my answer is always that hotel loyalty programs consistently save me more money.
I'm by no means loyal to only one hotel brand, but by having a handful of hotel loyalty cards in my wallet (all of the below), I have both options and perks that help me save on the overall cost of my trip.
The best hotel rewards programs offer money-saving perks that go beyond earning free stays.
Below are some of the best hotel rewards programs for US travel.
Kimpton In-Touch Guest Rewards:
The Kimpton In-Touch Guest Rewards loyalty program is one of my favorites for several reasons.
First of all, it's no hardship staying at a Kimpton Hotel.
This brand takes great care when choosing their hotels' locations, often renovating old buildings in downtown districts instead of building new ones, and is dedicated to going green.
But a Kimpton hotel stay can be costly, so what do you get for your loyalty?
Kimpton In-Touch is free to join, and includes a free night stays earned after seven, free in-room wifi (normally a charge), and a $10 'Raid the MiniBar' credit, which I always find convenient.
At some Kimptons, membership also earns you reduced valet parking, and member or not, most Kimpton hotels host evening wine receptions to sweeten a stay.
Starwood Preferred Guest:
As a Starwood Preferred Guest (or SPG), you save time by gaining access to their absolute best rates on the SPG website.
And many travelers don't realize that Starwood includes nine hotel brands, including Westin, Regis, Sheraton, and more.
You're never limited.
You receive 2 Starwood points for every dollar spent, which can then be redeemed for a free room.
There are no blackout dates.
Because Starwood includes so many brands, I like that I'm always reminded of a hotel's Starwood status upon check-in.
I've never not been reminded to use my card to redeem my points.
Marriott Rewards Program:
I like the Marriott Rewards Program because there are multiple ways to earn points.
You earn via stays, of course, but travelers can also earn extra points by booking travel services through their partners, who include Hertz, Travelling Connect, and CruisesOnly.
You can earn additional points through booking airfare with many airlines.
If you spend often on airfare and rental cars, a Marriott reward card may be the way to go.
Like Starwood, Marriott encompasses many hotel brands, ranging from economy brands such as Courtyard by Marriott, great team hotels like Residence Inn Marriott, and Ritz Carlton for luxury travel.
You could earn points during the kids' soccer games, then spend them on your summer vacation.
Hyatt Gold Passport:
I love Hyatt hotels, but travelers don't even have to be staying at one to earn Hyatt Gold Passport points.
Just dining in one of their restaurants or opting for a service in a Hyatt spa will allow you to earn points.
You get five points for every dollar spent (more than most loyalty programs), can convert points to miles, and there are no blackout dates for standard rooms.
After five Hyatt stays, you unlock free wifi and a 15% point bonus.
Traveling green
We always try to stay in green hotels and LEED hotels too.
It's worth your research to see which are working toward being more eco-friendly.
Best hotel rewards program for you
There are great rewards programs out there.
We believe these are five of the best hotel rewards programs for every traveler.
You can save money, earn points, and get free stays.
I recommend signing up for a number of loyalty programs so that for each trip you take, you can choose the hotel that best fits your travel needs.
Photo credit: Holidayextras
Best treehouse hotels
Are you looking for a new adventure? Like the idea of sleeping out in nature?
Over the last few years, treehouses have become a popular option for adventurous travelers who want a Swiss Family Robinson experience.
Many are also built sustainably and provide eco-friendly accommodations.
But, like hotels, not all treehouses are created equal. Here are 5 of the best treehouse hotels around the world.
Treehouses offer a unique experience for people who aren't afraid of heights and are bored with traditional accommodations.
Here's our top picks.
Tree House Lodge, Costa Rica
Chances are, this is nothing like your childhood backyard treehouse.
The treehouse at the Tree House Lodge in Costa Rica is built on tall stilts and has a wooden suspension bridge that leads to the front door. The inside is equally impressive.
There are two levels, and upstairs there is a king size bed and small bathroom.
Downstairs there's another bedroom and a kitchen.
As a bonus, the location can't be beat — the Tree House Lodge is set on 10-acres and near the Punta Uva beach in Limon.
Playa Viva, Mexico
Take advantage of guilt-free luxury at Playa Viva, the eco-friendly resort that opened in 2008.
The three treehouse casitas were all built with sustainable materials.
If you're traveling with people who prefer to stay closer to the ground, Playa Viva also offers a boutique hotel.
Playa Viva is located in Juluchuca on the Pacific Coast of Mexico.
TreeHouse Point, Washington, USA
TreeHouse Point offers five unique treehouses for guests to choose from.
You can take advantage of the unique, relaxing location just 25 miles east of Seattle.
Priding itself on unique touches, TreeHouse Point offers handmade beds and vintage furnishings. The scenic location is popular for weddings and other events.
If you're inspired by the tree houses at TreeHouse Point, you can attend a tree house building workshop.
In 3-5 days you can learn everything you need to know about how to build your own tree house.
Mahinui Na Lani, Hawaii
Designed by treehouse builder Roderick Romero, this treehouse was made to look like it has always been part of this ancient rainforest in Hawaii.
This treehouse is anchored to roots that are wrapped in a lava tube.
When a volcano exploded hundreds of years ago, a giant bubble rose up and hardened.
Sourced from local materials, Mahinui Na Lani offers a unique rain forest experience.
To get to the treehouse, guests walk up a series of lava boulders and then climb up a ladder that was recycled from a parking structure.
Because you need both hands to climb the ladder, Mahinui Na Lani has day packs for you to bring things into the treehouse.
Disney's Saratoga Springs Resort & Spa, Florida, USA
If you have kids and the idea of climbing up a ladder to get to your room worries you, you can get the treehouse experience at Walt Disney World.
The Treehouse Villas at Saratoga Springs are 10 feet off the ground and nestled next to the Sassagoula River.
Offering privacy and some of the comforts of home, like flat screen TVs, these treehouses offer the best of both worlds.
Would you stay in a treehouse hotel?
Which would be your top choice?
photo credit: ryankozie, SarahC73, mbinde, mahinui, BestofWDW
We love new and interesting experiences. Staying in one of these best treehouse hotels — or any treehouse hotels for that matter — will be a fun time for sure and a memorable one for your family.
Green Hotel Pick: Kimpton Hotels (in 23 cities across the US)
If you're looking for a top green hotel pick deserving of your loyalty, Kimpton Hotels delivers on style, convenience, and eco-responsibility.
Ever since being introduced to the brand at Portland's Hotel Monaco, I've loved staying at their hip (sometimes downright quirky) properties for their stellar guest service and extra touches.
After our latest visit, I wasn't surprised to learn that Kimpton exerts the same zeal toward eco hotel management as they do to guest relations.
Green hotel pick
This innovative program, which applies not only to the individual hotels but to the corporate offices, outlines and implements new ways to reduce the impact of Kimpton hotels on the environment.
Company-wide examples include printing all hotel and restaurant collateral on post-consumer recycled content paper with soy-based ink, storing and viewing corporate documents online instead of on paper, and installing energy-efficient and water-efficient amenities in all hotels.
There's more — much more — including detailed recycling, organic product, and energy use policies.
In fact, Kimpton even recycles its buildings: many of its properties, including the Hotel Monaco Portland, are restored from previous lives as banking buildings, post offices, and even a railroad headquarters.
My favorite green hotel practice (which was made brand-wide along with the entire EarthCare program in 2005) is Kimpton's practice of leaving only one light and one alarm clock plugged in at check-in.
Opening the door to my room, I didn't feel that anything was 'lacking' (quite the contrary!) and felt just as welcomed with one light rather than 2-3.
Ditto to being more than happy to hang up my towels and go light with the soap, just two of our 11 tips for greening your hotel room.
Individual Kimpton properties adopt their own eco-measures.
At the Hotel Monaco Portland (which is only one of several styles of luxury boutique hotels within the Kimpton family), guests driving hybrid or electric cars enjoy 50% off parking and complimentary electronic charging stations.
Additionally, guests are free to check out complimentary bicycles to ride around the city.
We had a blast riding throughout downtown Portland while our Prius received a much deserved break.
The Hotel Monaco front desk staff was also eager to help us understand Portland's MAX public transit, so we could explore even farther afield without using the car.
Of course, Portland's Hotel Monaco is not the only Kimpton hotel adapting extra green measures.
Additional Kimpton hotels I can personally recommend include:
San Diego's Hotel Solamar with its rooftop terrace and Gaslamp Quarter location
San Francisco's Hotel Triton with its walkable location to almost anything in town
Boston's Hotel Marlowe in the heart of the historical district
They are located in 23 US cities which is convenient.
It's so important to stay in a LEED hotel whenever possible and when going on a cruise, to look for eco-friendly cruise lines as well.
There are many cruise lines going green, even ones to Alaska.
Kimpton partners with eco-organizations worldwide.
The Kimpton brand raises funds for the Trust for Public Land, which conserves land for parks, gardens, and other natural spaces, and supports the Nature Conservancy's campaign to Plant a Billion Trees and restore the Atlantic Rainforest.
For each of these partnerships, a portion of the daily room rate goes back to the charity.
If you're looking to treat yourself to a luxury boutique stay and feel good about it, Kimpton's your go to green hotel pick.
No corners are cut here.
You'll receive incredible service in unique, beautiful green hotel spaces, and while the rack rate will certainly reflect this, your splurge will do some good in the world.
And how often can we say that?
Home Swapping – Top 3 Benefits, Tips and Myths
A farmhouse nestled among the maples of Vermont, a villa in in the heart of Tuscany, a ski cabin buried under snow in Switzerland.
All for as low as $9.95 a month on some home exchange sites.
It sounds too good to be true, but travelers all over the world are stretching their vacation dollar and expanding their cultural horizons by home swapping.
What is home swapping?
Home swapping is the practice of exchanging — or trading — homes with another family or home owner at a time convenient to both parties.
Home swaps take place all over the world, in all seasons, for all types and lengths of vacations.
Home swapping is cost-effective, adventurous, and always in the spirit of widening cultural boundaries.
You'll save travel money — and lots of it.
It's obvious: by engaging in a home exchange, you'll pocket the cost of accommodations.
This savings is often the determining factor that allows travelers, especially family travelers with multiple plane tickets to buy, to vacation abroad.
Often, travelers find themselves places they never imagined they'd go.
Home exchangers also save money on food, entertainment, and transportation: all exchanges naturally include the use of a kitchen and pantry, and many include the exchange of a family car.
You'll experience a better cultural connection to the area you're visiting.
Home exchangers benefit from staying in local neighborhoods rather than touristy hotel zones.
And what many travelers overlook are the smaller cultural touches an exchange provides.
In preparation for an exchange family, most swap site members print out lists for local restaurants and even leave contact information for local babysitters, maid services, and tour guides, giving visitors additional people to meet and learn from while experiencing a different culture.
If you swap with travelers with similar interests or family structure, this cultural connection can go even further to include shared toys, play groups at the local park, and membership cards to local attractions.
You'll be able to practice slow travel and eco-responsible travel.
Instead of driving or flying from destination to destination, home swappers tend to stay put, immersing themselves in a single city or region.
This type of slow travel is not only good for the soul but good for the local economy and environment.
Homes are often near city centers or next to desired attractions, reducing the need to drive.
Of course, home exchanges involve an element of risk.
You may be more comfortable easing into home swapping waters by setting up initial exchanges with friends or family, or friends of friends.
Doing so not only saves money on a home exchange listing service but adds peace of mind.
If you dig for them, the horror stories are out there, but for the vast majority of home swappers, the myths surrounding the practice really are just that.
You need a gorgeous home in a touristy area to be eligible for an exchange.
I won't lie: it helps! But owning a perfect home in a very desirable area is not crucial to home swapping.
Though you'll probably need to do some spring cleaning!
For a year, I was a member of a home swap service where I listed my (quite humble) home in our beautiful (but somewhat off-the-beaten-path) rural area of Oregon.
Though an exchange didn't work out for us, we did get some bites.
You never know when a family living in your dream location may need to come to your corner of the world for a family reunion, wedding, or conference.
You need to time your exchange to match both parties' travel dates.
I thought this myth was true, until I read about someone's experience with two non-simultaneous home exchanges.
Because coordinating your vacation dates and desired destination with another family's can be as difficult as orchestrating a trip to the moon, the author was able to offer her home to the swapping family when they were out of town for another commitment, and stay in her swappers' home the following year, while they stayed locally with family members.
You're setting yourself up to get ripped off or scammed by home swapping.
Home swapping requires a degree of trust, but as both parties are sharing their homes, it's a mutual one.
Can things go wrong?
Absolutely.
Check the service you use to see if they have standard contracts or draw up your own with a local attorney.
Writing up a contract, even when exchanging among friends, eliminates problems before they can start.
And common sense says to lock away irreplaceable or breakable items and treasures.
You can travel to many destinations at a fraction of the cost by using a home swapping service such as HomeExchange.com.
Investigate a few of them, register, and start exploring.
Have you swapped homes?
If so, what are your top tips?
If not, would you consider sharing your home and community with a traveling family?
Searching Green Hotels How to be Greener Hotel Guest
Do you work for an eco-lodge, green hotel, or are otherwise associated with the travel industry?
See information in Green Your Business.
Are you a traveler searching for green hotels or information about how to be a greener hotel guest?
Check out the following information we have about green hotels.
Click through each post title to read the complete post about green hotels.
Finding Environmentally Friendly (Green) Hotels through Green Accreditation Directories
How does one go about finding an eco friendly hotel?
How do you know if a hotels efforts to go green are actually paying off?
As I began researching standards for green hotels, I became increasingly interested in the newly created green accreditation programs and standards that exist.
As I began researching standards for green hotels, I became increasingly interested in the newly created "green" accreditation programs and standards that exist.
What I found, as you will see below, was absolutely atrocious.
Many of these "green standards" merely involve a hotel executive filling out a survey and sending in their self-administered questionnaire with their membership fee.
I don't know about you, but to me this is unacceptable
How to Find Green Accommodations and Green Hotels: 25 Days to Green Travel
As greenwashing becomes ever more popular, it's critical that we are cautious when searching for environmentally-friendly lodging.
There are 5 basic types of green accommodations to consider when you are looking to find green hotels: hotels, eco-lodges, hostels, camping, and what I'm going to call "shared housing."
Or serviced apartments are another good green way to go.
Camping is generally the greenest and hotels (even green hotels) are generally the least green [read more]…
11 Tips and Tricks for Greening your Hotel Stay: 25 Days to Green Travel
Let's face it, as much as we love camping, hostels, and eco-lodges sometimes a green hotel is the most reasonable option.
Luckily, even when staying at the least environmentally-friendly green hotel you have a lot of control over your environmental impact.
Here are 11 of our favorite tips and tricks for being a little friendlier to Mother Earth during your next hotel stay.
Shades of Green Travel: Accommodations
If you already make efforts to be a green traveler, what does it take to be even greener?
This week we will explore various ways to step up your green travel efforts using our shades of green travel spectrum.
If you're not familiar with the spectrum, it ranges from "pea green" travelers who are least likely to make extreme efforts to travel green;
"Kelly Green" travelers who make moderate efforts to be eco-conscious while traveling; to "forest green" travelers who will go to almost any length to leave no impact while traveling.
This post is about green hotels and green accommodations.
When Hotels Practice What We Preach
After a 5.5 hour turbulent plane ride and waiting 25 minutes for a taxi (I got an eco-cab!) in the 101 degree F heat, I finally stumble into my hotel room.
I open the door and a heat wave hits me. I don't know the last time I was inside and it felt this hot.
The thermostat in my hotel room is off.
When I turn it on the it tells me it's 86 degrees F in the room.
It takes a full hour for the room to get to a manageable temperature.
I climb into bed a little later and go to turn on the bedside lamp.
It doesn't turn on. I check for a light bulb — that's not the problem.
I reach around the back and the cord isn't plugged in.
I have to blindly grope behind the bed to find the outlet.
"What's the deal with this hotel?" I ask myself.
"Don't they know I expect things to work?"
Then it occurs to me — the hotel is making an effort to save electricity.
It's trying to be a green hotel.
Pacific Palisades Hotel in Vancouver (a Kimpton Hotel): Review
Frequently listed as one of the greenest of green hotel chains, Kimpton is our hotel of choice when we opt for the cushy green hotel life over a hostel or camping.
Recently, we spent 4 nights at Kimpton Pacific Palisades Hotel in Vancouver.
Since Vancouver is an extra green city, it's fitting that the Pacific Palisades was an extra green hotel.
In fact, the Hotel Association of Canada gave it a 4 Green Key ECOmmodation rating for its commitment to protecting the environment.
Dear Housekeeping: Please Don't Change My Towel
Dear Housekeeping: Your green hotel, like nearly every single green hotel I stay at, has a little sign in the bathroom that says "in an effort to conserve water, if you hang your towel, we will not replace it.
Leave it on the floor and we will exchange it for a fresh one."
4 Ways Hotel Toiletries are Toxic to the Environment
With the 3 ounce bottle restrictions TSA has placed on carry-on liquids, more and more people are using hotel toiletries and leaving their own at home.
Here are 4 reasons to reconsider.
Hotel toiletries use a lot of packaging for a small amount of product.
Very Un-Green Hotel Amenities: 3 items, 4 pieces of packaging
Hotel amenities (soap, shampoo, conditioner, etc.) can be extremely wasteful and one of the biggest wastes comes from packaging.
For instance, at a recent Sheraton stay I found this Bliss Shine Vanity Kit waiting for me in the bathroom along with the usual soaps and shampoo.
Last but not least, remember to be a green traveler at home.
Check out our green home series including our posts about Stainless Steel Cookware and shades of green travel at home for more information.
Photo credit: Schristia and James Thompson.
Choosing a green hotel
Needless to say, the hotel is committed to protecting the earth by using recycled products, reducing waste, conserving energy, and giving preference to vendors and suppliers that have the same environmental or green philosophies of Rocky Mountain Park Inn.
Other ways to appreciate the environment we preserve are taking in some of the outdoor activities that can be found in the area.
Guests can enjoy hiking, fly fishing, rock climbing, and mountain biking.
That's not to say, you can't just make the two mile trek to the park for a relaxing picnic–that works too and what better way to spend an afternoon; relaxing and surrounded by beauty.
The inn offers various specials throughout the year, especially during off peak seasons.
Regardless of specials being offered, the Rocky Mountain Park Inn is a great place to stay for a weekend getaway or for a week long family trip.
Visitors won't be disappointed with the many things to see and do.
Besides the national park nearby, the town of Estes Park has things to do and see as well.
Of course, the ladies will want to check out Trendz At The Park for some boutique shopping.
I have to give an honorable mention for How to Take a Family Vacation to Cuba.
With this long list of family-friendly places to visit, you will have the time of your life.