There are many ways to go about greening your hotel stay. Finding an eco-friendly hotel is the first way to make a big impact. Large hotels, especially in urban areas, consume a lot of energy. Between their many guest rooms and common spaces, conference centers and restaurants, they have the potential to leave a heavy carbon footprint.
Many eco-travelers assume they're restricted to eco-lodges and low-impact hostels to travel green, but this is not true. Thanks to LEED certification, it is possible to find an eco-friendly hotel or resort, or a green hotel.
11 Tips to Greening Your Hotel Stay
How to Find Green Accommodations and Green Hotels
What is a Green Hotel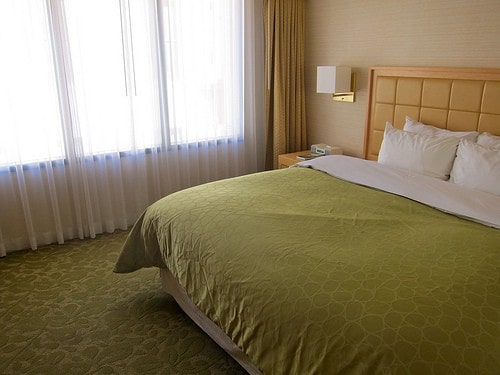 What is a LEED-Certified hotel?
An acronym for Leadership in Energy and Environmental Design, LEED sets a universal eco-standard for hotels, making it easier for travelers to see — even at a glance — whether the hotel they want to book is green.
How does it work?
Resorts striving for LEED hotel certification must assemble a project team dedicated to reducing the property's carbon footprint.
This team makes changes in many hospitality industry categories, including sustainable sites, water efficiency, energy, and indoor environmental quality.
They are then judged on a 100 point system. Hotels must meet a point minimum of 40 to be considered a LEED property.
50-59 points designates a hotel as 'Silver LEED'
60-79 points designates 'Gold LEED'
80 points or higher equals a 'Platinum LEED' certification
How do I find a LEED hotel?
There are several easy ways for travelers to find LEED certified green hotels.
Use booking sites
If you're using a booking site such as Travelocity, you can browse its Green Hotel Directory. Additional databases include: istaygreen.org; ecogreenhotel.com and Green Hotels Association.
Many more databases for green hotels exist. In fact, we first made a list way back in 2008! Many of these eco-hotel databases are still relevant today.
You can seek green hotels on trusted travel sites
Start right here! When we stay at a green hotel worth shouting about, we make it a green hotel pick. You can also browse our favorite eco-lodges for winter, and best eco-lodges for all seasons.
Look for the logo
All LEED certified hotels will display their certification on their website. You can look for its distinctive logo (on right).
You can look for 'Green Hotels' categories on most major hotel chain websites
Hyatt has a large selection of LEED certified hotels, my top pick being the very first in Seattle: Hyatt Olive 8. Marriott also has a long list of LEED hotels worldwide, as does Omni Hotels.
Are all eco-friendly hotels and green hotels LEED hotels?
No. But seeking out LEED certified hotels is a great place to start, because a trusted environmental agency has already done the work for you.
When you're not able to stay at an eco-friendly or LEED hotel, there are still eco-measures you can take for to make your hotel stay more green. Reuse your towels. Bring your own soap.
Unplug what you are not using. Leave the freebies — soap, shampoo, pens, etc. — there. By being mindful of your impact, small changes can make a big difference in your hotel stay.
We had a green hotel stay on a visit to Carlsbad, CA visiting Legoland.
5 Best Eco Lodges for the Winter Holidays
Eco lodges use fewer resources than large hotels, take visitors off the beaten path, and generally offer a wide array of outdoor activities in all seasons. What is an eco lodge, you ask?
The word eco lodge can signify a variety of things in an accommodation: affordability, environmental responsibility, or local authenticity. The best eco lodges comprise all three! Eco lodges can be a great choice for green travelers who want to:
Vacation like a local
Aid their destination's economy
Help ensure sustainability
Get in touch with the natural environment
We recently listed our top picks for five eco lodges for families with kids, and are back with five more eco travel picks for adult travelers, solo travelers, and families. If you're planning to get away for the holidays, check out these eco-friendly lodging options in locations ranging from snow-topped peaks to tropical jungles.
Kapawi Eco Lodge, Ecuador
Run in tandem with the local Achuar people, the Kapawi Eco Lodge allows visitors to see the Amazon rain forest in a responsible way, with Achuar guides working alongside naturalists. The lodge, built in the Achuar style (without a single nail!), sits in one of the most remote sections of the Ecuadorian Amazon, and is accessible only by a four hour car ride followed by a 50 minute flight.
Once there, guests are privy to over 500 species of birds, pink dolphins, giant otters, and more. Expect an active itinerary at Kapawi, with many morning walks and jungle treks, and daily exploration. Spending a Christmas Day at Kapawi includes a traditional dinner, dances and ceremony of the Achuar people, and, of course, warm weather!
The Asheston Eco Barns are traditional Welsh stone farm buildings converted into holiday cottage rentals. These barns have been rebuilt using as much as the original structures as possible, and are highly sustainable.
Located in picturesque Pembrokeshire, there are five barns in total, sleeping from 4-6 people each, which makes them a great pick for extended family trips during the holiday season.
There's a playground on-site for kids, and guests can further their eco-friendly reach by patronizing local farms and markets for the making of meals. The barns use renewable energy through solar and geo-thermal activity.
Sundance Resort, Utah, United States
Owned by environmentalist actor Robert Redford, the Sundance is listed in the top ten for environmental stewardship by the Ski Area Citizen's Coalition. Every day is green at the resort: 100% of their energy is generated by wind-generated power, and a car pool program exists for skiers.
Not only does this luxury eco-lodge utilize all its own hydro-electric power, lodge staff produce all their own vegetables in their organic garden, compost all organic waste, and purchase only recycled paper and locally produced hygiene products for guests.
Located within reach of Maya ruins, Blancaneaux Lodge is ideal for travelers wanting to get away from the regular tourist path and explore ceremonial caves and even white-water rivers. With only 20 rooms, guests have an intimate experience.
Kicking Horse River Lodge, British Columbia, Canada
Located deep in the Canadian Rockies, Kicking Horse River Lodge attracts primarily skiers in winter, though all outdoor enthusiasts will feel at home here.
Kicking Horse's geothermally heated log cabin and ski dorm are not luxurious, but offer all the comforts guests could need. Green travelers will appreciate the eco-themed films screened at the lodge, which benefit local charities. The Bugaboo Cafe is where all the locals come for breakfast, which means you know you're in the right place!
Photo credit: Ivan Mlinaric and Insufficient Postage.
Eco Learning at the Ritz: Ambassadors of the Environment
If you're looking for a guilt-free reason to book a stay at a luxury oceanfront resort, or even visit one for the day, Ritz Carlton's Ambassadors of the Environment program offers half a dozen. Ambassadors for the Environment is a great way to incorporate learning and environmental stewardship into your vacation.
These eco programs for kids, youth, and, adults are currently offered at the Ritz Carlton Laguna Niguel (in Southern CA), Ritz Carlton Grand Cayman, and Ritz Carlton Kapalua (Maui).
What is Ambassadors of the Environment?
The Ambassadors of the Environment program, run by local naturalists and marine biologists under the guidance of Jean-Michel Cousteau (son of legendary Jacques Cousteau), is available to Ritz Carlton resort guests and non-guests alike, with sessions ranging from beach and garden tours and scavenger hunts to snorkeling or whale watching expeditions and hotel kitchen cooking classes using sustainable seafood and local produce.
Each resort offers classes and excursions unique to their local environment in both their indoor learning centers and their outdoor environment, and each rotates its offerings by day of the week.
Some are available to all ages, while others are listed especially for children (ages 5-8), youth (9-16), or adults.
The Ambassadors of the Environment 'Forests Under the Sea' Experience
My kids Nate (age 13) and Calvin (age 11) experienced Ambassadors of the Environment's Forests Under the Sea snorkeling program at Ritz Carlton Laguna Niguel last July.
Check out our video of the facility and our experience:
We'd snorkeled in the area before, so we thought we'd know what to expect. We were wrong: after a Powerpoint presentation by a local biologist, we were far more prepared to understand what we were experiencing underwater.
Better yet, my kids were educated in the reasons why some species have been eradicated from the local Southern California Pacific Coast environment, and why others are thriving. They learned not only which animals to look for in the kelp forests we'd be visiting, but how to be good stewards of the local environment.
The Ambassadors of the Environment staff outfitted everyone in quality snorkeling gear, and we departed by van to a local beach ideal for viewing kelp forests.
During the 45 minutes underwater, the kids saw everything from sea stars to snails unique to the environment. We were given plenty of water, which the kids could store in their own eco-friendly metal water bottles (eco souvenirs from the experience).
Back at the Ambassadors of the Environment learning center at the Ritz Carlton, we were presented with a slide show of our excursion, taken by the biologists attending with an underwater camera.
Costs of the Program
The cost of each Ambassadors of the Environment program varies, but all range from $80-110 per person. Our experience with Forests Under the Sea was $100 per person, and the value was consistent with this price.
The program enhanced our understanding of the area where we were vacationing, which in turn made us better travelers. Another perk: the cost of the program also goes toward local eco-preservation.
The Laguna Niguel program runs regular beach clean-ups and school educational sessions.
How to Book an Ambassadors of the Environment Session
If you're staying at a participating Ritz Carlton hotel, simply ask for a schedule and booking information with the concierge. If you're visiting as a non-guest, call the hotel for the week's schedule at least 24 hours prior to the day you hope to participate.
The Ambassadors of the Environment staff at Laguna Niguel reported that they are busy, but not always full, during the summer months. The Laguna Niguel program runs year-round, though note that the Grand Cayman program does close for some off-season months.
The 10 Best Eco Hostels:
If you're planning a trip and looking for cheap eco hostels to stay in along the way, it makes sense to pick places with great eco credentials. As well as being fun, friendly and affordable, plenty of eco hostels now offer environmentally-friendly services like recycling programs and organic cafes, with some offering improvements like solar power as well. Browse the list of the world's ten best eco hostels below and discover a greener way to stay.
Jemby Rinjah Eco Lodge in the Blue Mountains, New South Wales, Australia
These traditional timbre lodges sit in the heart of Australia's Blue Mountain National Park. Private cabins and group lodges have energy-efficient lights and heating, plus there's a romantic retreat cabin with a Japanese hot tub that runs on rainwater.
Sunny Rio de Janeiro is the perfect setting for this eco hostel that heats water via solar power. The hostel itself is run by locals, sells Brazilian crafts through an on-site shop and serves up Brazilian coffee as well as regional food like Minas Gerais cheese.
The only hostel in the world to be Energy Star certified, Hostelling International Washington DC has a recycling centre on every floor, uses energy-efficient fluorescent light-bulbs and only washes linen on request to conserve water.
St Christopher's at the Mosaic House in Prague is home to the Czech Republic's first grey-water recycling and heat recuperation unit. This eco hostel's heating system runs on solar power, and rooms are temperature-controlled based on whether they're occupied or not.
Birdwatcher's Paradise works with the Monteverde Institute to plant trees to help reforest the former farmland that it sits on. You can spot tons of indigenous wildlife here, as well as take tours from local guides and sip on organic coffee from the farm next door.
With aims to go totally off-grid by running on wind-generated power from the valley, this eco-retreat has banned unsustainable building material like jungle hardwood, has a strong recycling program and gets almost all of its produce from local suppliers.
Housed in 17th-century barns converted to incorporate green technology (roof insulation, under-floor heating, low-flush toilets, energy drawn from solar panels), Deepdale Backpackers won Enjoy England's Sustainable Tourism award in 2009.
Eco Oasis Mojkovac, Montenegro
The family-run Eco Oasis consists of four traditional log cabins sits close to the River Tara in Montenegro's Black Pine Woods, a protected UNESCO World Heritage Site.
Cabins are TV-free: you're encouraged to hike, bike and tour the stunning surroundings instead.
Loch Ossian Hostel on Rannock Moor near Edinburgh, Scotland
Loch Ossian's electricity is generated by wind turbine and solar panels, and it's only reachable on foot (a mile's walk from the UK's most remote train station Courrour, as featured in Trainspotting). All water is recycled, and the hostel even uses bat-friendly paint!
Offers beds in a traditional thatch-roof fare on the tiny island's beach; with reef diving and baby turtle and dolphin-spotting on offer too. Electricity is generated at set times of the day, with no light at all except from your own torch at night. It's a comfy escape to paradise.