Earth Day Resolutions – It's great more people than ever are looking for ways to be more environmental, if even only for a day.
Earth Day is upon us, and it's a great way for increasing environmental awareness and making some more permanent Earth Day resolutions.
There would be a profound impact if people adopted the philosophy that almost "every day is Earth Day."
It should symbolize more than just a day.
If Earth Day were celebrated more like New Year's Day, just imagine the difference.
Rather than being the one day a year when everyone does something to reduce their impact, then forgets about it until next year, Earth Day should be a time for resolutions and new beginnings.
It should be about reflecting on the past year and seeing what we can do better this year.
From now on, make strides to adopt a minimum of five Earth Day resolutions every year.
5 Earth Day Resolutions
Let's make positive resolutions in April.
We've either continued with the commitments we made in January, and they have become habits, or have forsaken them.
This is a great chance to start anew.
Think how many of us are inspired by spring with spring cleaning, planting, home projects, and fresh starts.
Every April, let's make eco-focused Earth Day resolutions for making the world a greener place.
This is what I had on my list last year and what I have accomplished.
Hopefully, it will get you thinking about some things to try.
Learn to compost
Check! My house came with a somewhat shoddily built compost bin in the backyard.
I made it sturdier and started composting last spring.
It's amazing how much less trash I produced when I started composting.
I highly recommend it.
Next year, one of my goals is to make a rain garden.
Conquer the (Twin Cities) public transportation system
Half-check. Taking public transportation is the resolution I've fallen somewhat short of.
Yes, I've taken the Light Rail, the Twin Cities train, a number of times.
But I'm sad to say I've only ridden a bus once.
I blame part of this on the fact that I've been working from home most of the time.
However, I started a new job, so I might take the bus to work when possible.
I plan to continue working toward this resolution this year.
There are many hidden perks of public transportation too.
Try it!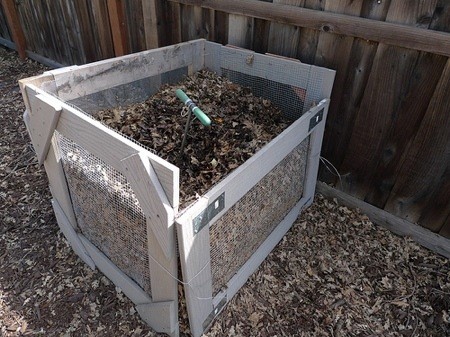 Learn how to repair my bike
Check! Peddles freshly installed and tube replaced, my bike was ready to ride last spring.
I missed it during the winter and am so excited the weather's nice enough for bike riding again.
It's a wonderful alternative to driving.
Fresh air, exercise, and reducing emissions.
Does it get better than this?
Recycle and compost more than I throw away
Check!
Are you like many people where you have more recycling than actual garbage?
Bravo!
For weeks, my recycling has been five fold over my garbage.
One unforeseen challenge — there will always be some things you can't recycle or re-purpose — is home restoration garbage.
We've been working to restore our home to its 1925 splendor, and while we try to reuse as much as possible, there are some things that aren't worth saving, which means they end up in the trash.
I can call this one 4.5.
I've started plogging.
This is the green fitness trend which combines jogging with picking up trash.
Get my parents to start recycling
Check!
This is the resolution I'm most proud of achieving because it was the furthest from my control.
My parents live in a smallish city where recycling is not made easy.
They have to load up the car with recycling and drive to the parking lot of the local Walmart, where there are giant recycling dumpsters set up.
Seriously.
But, after some strategic nagging on my part over the holidays in January, they've started to do just that!
I'm very proud of them.
It's definitely less convenient for them to recycle than it is for me to do the same.
It can be difficult to change people's ways.
However, even being proactive can make a difference.
I've taken home trash that was about to be thrown in the garbage for recycling from my children's school and from their Cub Scouts' camp out.
Consider ways to make a difference for the next time.
Every bit helps!
photo credit: greenbk
What do you think — should we make Earth Day more like New Years Day?
What are some of your Earth Day resolutions?
10 Things to Do on Earth Day
Here are some more great things to do on Earth Day and any day.
Pick Up Trash in Your Community
Every neighborhood has that one street where plastic bags, bottles, and fast food trash piles up.
It's an eyesore and it's bad for the environment.
Be proactive and get a neighbor to help you pick up trash.
pick up trash
Tune Up Your Bike
It's spring, which means the snow has melted and it's a wonderful time of year to bike.
Or, if you don't have a bike, buy on used on Craigslist or your local bike co-op.
Start Composting
Put your food waste to good use by making it into compost.
It's easier than you think to get started.
Grow Your Own Food
Start a garden and grow fresh, organic fruit and vegetables in your own backyard.
Nothing beats a fresh-off-the-vine tomato in the summer.
Opt for Public Transportation
Riding the bus or hopping on the train can be intimidating if you haven't done it often, but it's easy to get comfortable.
Get to know your city's public transit options and start taking advantage of them.
Make Your Own Cleaning Products
Companies aren't required to disclose the ingredients in cleaning products and many contain toxic chemicals.
Don't put your health or the environment at risk — make your own cleaners instead.
Make Your Own Cosmetics
There are a lot of chemicals in store-bought cosmetics, but make up doesn't have to be toxic.
Check out these makeup recipes from the Campaign for Safe Cosmetics.
Spread the Recycling Love
Get a friend or family member to start recycling.
I convinced my parents to start recycling last year and it's made a huge difference in their garbage output.
Attend an Earth Day Event in Your Community
Find an Earth Day event near you or start your own event.
Events are a great way to meet like-minded people and be more engaged in your community.
When you consider making Earth Day resolutions, think about which new habits you are interested in and will be able to complete and turn into a habit.
In the meantime, even looking for small ways whenever you can will make a big difference.
Earth Day Activities and Other Easy Ways to Green Your Town
We environmentalists tend to take ourselves pretty seriously most of the year, Earth Day is no exception.
Earth Day activities should be reflective, fun and easy to do.
It could and maybe should also be educational.
If you're looking for a unique way to commemorate Earth Day, or to go green any day, you've come to the right place.
Here are 10 Earth Day activities — some conventional, some unorthodox — to make this Earth Day one to remember.
We also included our list of additional ways to help green your community, no matter what the day.
Fun Earth Day Activities – Plant a Tree Earth Day
his is something you can do in so many places.
Graft your own or buy sapling from your local garden center.
Hug a Tree Earth Day
Love the nature you see around you!
It is easy to take for granted.
Pay extra close attention today.
High 5 Woodsy for His Stellar Advice ("Give a hoot — don't pollute!")
He's been around since 1971 and his message still rings true today.
Learn more conservation efforts about "Give a hoot, don't pollute" today.
photo credit: U.S. Army Environmental Command
Recycle and Compost
Try to recycle whenever you can, wherever you are.
If there aren't recycling facilities available where you are, try to bring the refuse with you for recycling at home.
Leave a special bin in your car for this purpose.
New to composting?
Take today to learn more about it.
Remember to repurpose too!
Get Tips from Smokey Bear ("Only you can prevent wildfires!")
Take this chance to review Smokey Bear's site for fire safety tips.
With forest fires every year, these tips still reign true today as well.
smokey bear Earth Day Activities
Photo credit: USFS Region 5
Garden with Your Family
You can plant a fruit, vegetable, flower, or even a plant in your yard today.
No yard?
Dry out a seed, and plant it in a cup in your kitchen.
Play at the Park
Whether it be a nature preserve or a park with playground equipment, find one, and enjoy it.
Go to an Earth Day Event
Try to find a local Earth Day event in your town.
Photo credit: Josh Parrish
It may be at a local garden center or the library.
No Earth Day event?
Plan one for your neighbors!
Pick Up Trash
Don't wait to enjoy Earth Day activities!
Picking up trash is really something that can be done anywhere, anytime.
Need even more motivation?
Have you heard of plogging?
This combines the healthy activity of jogging with the earth-friendly activity of picking up litter.
It's the ultimate in green fitness and can be done any day of the year.
And you are making a positive contribution with each and every piece of garbage you pick up.
And if you can recycle it, even better!
If you have little helpers in tow, have them wear gloves, and make sure they only pick up safe objects.
Supervise them so they do not pick up crushed or rusted aluminum or broken glass.
Spread the Word – Tell a Friend About Earth Day
Why celebrate this day alone?
Involve your family, your neighbors, a club you belong to, or your community.
Enjoy a pot luck at the park, and pick up trash while you are there!
Happy Earth Day from Go Green Travel Green!
Remember, you don't have to wait until Earth Day to partake in earth-friendly, Earth Day activities.
Here are even more ways to go green, wherever you live.
When we all work together, we can save the planet.
Too dramatic for you?
Maybe, but it's true when you think about it.
We are all about realistic ways you can reduce your impact.
If we each reduce our environmental impact a little bit, collectively we can make a significant change.
Elect Candidates with Stellar Environmental Records
Use the League of Conservation Voters' Environmental Scorecard to see where your senators and representative stand on environmental issues.
Do your research on your local elected officials and the presidential candidates, too.
Volunteer in Your Community
Websites like VolunteerMatch and Idealist.org make it easy for you to find volunteer opportunities in your community that match your passion.
When you come together with other volunteers, you'll make a huge impact for your chosen organization — and your community.
Talk to Friends
Tell your friends and family why environmentalism matters to you.
More than facts and statistics, in-person conversations are powerful tools for changing the people's lifestyles.
Photo credit: Missoula Public Library
Organize a Green Event
Take advantage of days like Earth Day to organize a green event in your community.
You can put together a trash pick-up, an organic food tasting, or an Open Streets gathering.
Donate to an Environmental Nonprofit
To make sure your money is well spent, do your research with tools like Charity Navigator, which rates nonprofits based on criteria like financial health and transparency.
Shop Sustainable
When you're shopping, choose the greener option. Shop at small, local stores that stock locally grown produce and eco-friendly personal care products.
Co-ops and farmers' markets are great options.
Take Public Transit, Walk, or Bike
Taking public transportation is exponentially greener than driving everywhere.
It can be a great way to experience your city and see it from a completely different perspective.
Biking is another great option — you can get in shape and reduce your environmental impact at the same time!
There are so many easy and fun ways to be more green.
Don't wait for a special occasion to celebrate these great Earth Day activities.
Make a difference today!
Related Content: