World's Most Bike Friendly Cities – If you're an avid cyclist who's just purchased one of the new homes in Indianapolis, you should know that this city has made great strides to become a more bike-friendly city, and was even named the most improved when it comes to bikeability, according to a recent study conducted by RewardExpert.com.
The World's Most Bike-Friendly Cities
But for those who are thinking about planning a trip around some of the world's most bike friendly cities and destinations, these are the best of the best.
Copenhagen, Denmark
Often named as the most bike friendly city in the world, in Copenhagen it seems nearly everyone rides a bike.
In fact, nearly half of the locals here commute to work by bike, taking advantage of Greater Copenhagen's "Cycle Super Highway" and over 240 miles of designated bike lanes.
Along the bike highway there are all sorts of amenities like air pumps and traffic lights that are timed to average cycling speeds to minimize the need to stop.
The city itself is compact and easy to explore on two wheels, with bicycles available for rent by the hour, day or week.
Portland, Oregon
Portland may be the most bike friendly cities in the U.S.
It's part of the culture here, with over 17,000 workers commuting by bicycle every day or about 6 percent of the working population.
In the Portland Cycling community, many cyclist consider cycling as therapeutic.
I have found using a resource like BetterHelp.com, helped me as well.
While not as high a number as Copenhagen to be sure, it's much higher than the national average of 0.5 percent.
Visitors can take advantage of the public bike system and many other amenities from bike maps and etiquette guides to cycling classes and bike lockers.
Boulder, Colorado
Boulder is well-known as a home for outdoor adventure enthusiasts, so it's no surprise that many residents here like to bike, on the mountain trails nearby and on paved paths.
The city hosts 300 miles of bikeways, from designated bike routes and multi-use paths to on-street bike lanes.
Amsterdam, Netherlands
Amsterdam is right up there with Copenhagen when it comes to being bike friendly, with about 40 percent of the city's traffic made up of bicycle traffic and nearly three-quarters of the population owning a bike.
Train commuters can borrow one of the thousands of bikes at the Amsterdam Bike Ramp to get to work, and there are plenty of designated street lanes for cyclists too.
Berlin, Germany
One of Germany's most interesting cities is also big on biking.
Biking in Berlin has become nearly as popular as driving a car, thanks to the hundreds of miles of biking lanes and paths as well as off-road bike routes.
About 13% of all trips in the city are made on a bicycle, nearly twice the rate of 20 years ago.
In addition to numerous bike rental shops there are automated bike renting machines with convenient, flexible pick-up and drop-off stations – not to mention all the fascinating sites and green spaces to explore throughout the city.
Discover a City on a Bike: the Booming of Cycling Tourism
So often when traveling, there never seems to be enough time.
People tend to have an itinerary which includes sightseeing from morning to night.
It's natural to feel the pressure.
You're only going to be there a short time so you want to see as many sites as you can.
Often this leaves you feeling rushed and stressed.
You weren't able to take time to enjoy anything.
Whenever possible, we've made it a goal to travel green and to immerse ourselves in the cities we visit.
This includes seeing sites in an eco-friendly manner and frequenting locally owned eateries.
We have found an easy and enjoyable way to travel green is is by exploring cities on a bicycle.
But we always had the same questions.
What were some interesting places to go and things to see that the people who live there enjoy?
They're not spending all their free time at the popular museums and monuments.
So where do they go?
And what would be the safest route to get there?
Where are the best places to eat?
What types of cuisine is the area known for?
Learn more about the places you visit while cycling though town.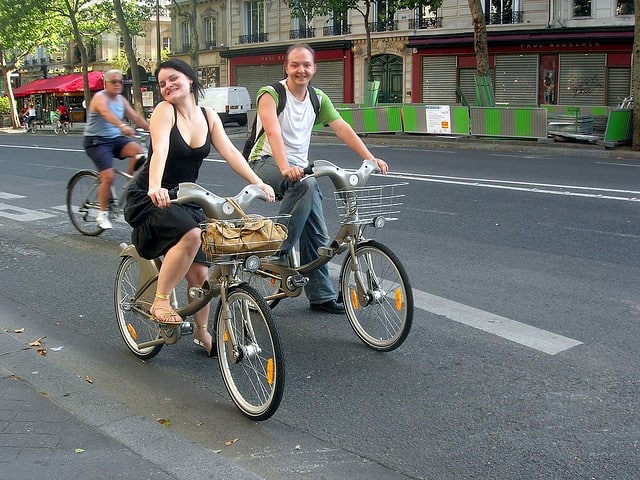 Cycling tourism
We've enjoyed biking through many bike friendly cities in Europe and Asia.
We've rented bikes at a local shop and then armed with maps, navigated our way throughout several destinations, feeling good we were traveling green and supporting the local economy.
Bike shop employees are great for recommendations and can help you decide where to go and what to do.
We like biking and walking around towns to get more of the true local perspective.
We can take our time much more so than if we were on an organized tour.
Bicycle tours when on vacation
Cycling tours can be a great way to explore a new city, and they are definitely eco-friendly.
And you can learn a lot.
However, we when we went on bike tours organized by tour operators and agencies, we didn't feel like we were immersed in the local culture.
It certainly was more authentic than touring on a bus or trolley, and of course, you get the benefit of exercise.
Biking is a much more fun and active way of visiting places.
It is much more affordable as well.
It's important for you to decide if you are more comfortable on your own or if you feel better with an organized bike tour.
Be it a group tour or the tour guide and only your group.
More cities are creating a cycling infrastructure with safer and more bike lanes and laws.
Learn about our vacation bicycling in Vienna.
They are continuing to expand their reach as cycling tourism becomes more popular.
Many countries already have a cycling culture and have built safe cycling infrastructure into their road systems.
And the great thing is there are plenty of locals there who are passionate about cycling.
Feeling a part of the town you are visiting
No one wants to look like a tourist when traveling.
It's important to always be aware of your surroundings and to be safe when traveling.
Cycling gives you a new perspective.
You may be inspired to buy a bike or use your bike more when you get home.
Popularity of cycling tours
Using a bike to get around town is an earth-friendly way to truly experience a new area.
Enjoy cycling the streets while interacting with locals and dining on the city's not-to-miss cuisine.
Cycling tourism is a unique way to explore which may well become your favorite way to explore.
Biking from Alaska to Argentina: Ultimate Green Travel Experience
Can any travel be greener than traveling by bike?
We hear a lot about various methods of "green" travel – eco-resorts working to preserve the environment or companies who strive to reduce their carbon footprint.
But we don't hear much about Green Travel Experience in such a way as to nearly eliminate that footprint altogether.
Traveling on bicycle is one of the few methods of travel that allows a deep relationship with Mother Nature while, at the same time, treading lightly on our precious earth.
Our bicycles use no fuel (other than the food we consume), and are easy on the ground we pass over.
But the best part of traveling on bicycle is the opportunity to get to know the earth and her people in a much more intimate manner than any vehicle can allow.
Learn About Selecting the Right Hybrid Bike for You
Ultimate Green Travel Experience
As my family and I have traveled southward from Alaska, we've had the opportunity to see – really, truly see – our world.
We've ground up mountains and plummeted back down the other side, we've sailed through valleys with tailwinds pushing us on, and we've woken up to snow blanketing our tent and the surrounding countryside.
We've pedaled through deserts, along coasts, and through rain forests.
Our children have climbed trees of every imaginable variety, swung on vines like Tarzan, and tasted exotic fruits they had never heard of.
In short – the four of us have had to opportunity to get to know our world.
But we've also had the opportunity to get to know the world's people.
There is something about the bikes that draws people toward us; that encourages people to reach out to us in ways they never would if we were in our own car.
It might be something simple like handing us a bag of apples or tomatoes, or it could be as complex as hiding caches of Gatorade along the highway, but people of all walks of life have reached out and added magic to our lives.
I can tell story after story about the people we've met.
About the woman in Oregon who handed us the keys to her house and said, "Go on in and make yourselves at home.
I'll be there in a few hours."
And she didn't even know our names.
Or the ER doctor in California who pulled up alongside us and asked, "Would you like to stay at my house tonight?"
Or the man who cycled up to where we were eating crackers and cheese in a park in Texas and invited us to his home for a warm dinner and soft bed for the night.
One day in Mexico we ended up in a migrant workers' camp and our boys played with some of the poorest kids in the country.
Another day, we were invited to stay with an incredibly wealthy family where Davy and Daryl played video games while sitting on posh, luxurious furniture.
Young couples and old.
Rich and poor.
White, black, and brown.
All have reached out to add magic where none was expected, but was greatly appreciated.
I'm convinced traveling on bike is best way to see the world, and a truly Green Travel Experience.
On bikes, we live the world.
We experience the mountains by grinding up and plunging down.
We understand the idea of valleys and coastlines.
We see how life varies depending on altitude and longitude.
In short – traveling on bike allows us to gain a much deeper respect for Mother Nature and the earth's peoples than we could ever gain in any other manner.
Nancy Sathre-Vogel is a modern-day nomad and vagabond who is currently traveling the length of the Americas with her husband and twin 11-year-old sons.
The family left Prudhoe Bay, Alaska – at the northernmost terminus of the Pan American Highway – and have pedaled over 10,000 miles so far to Ecuador for the Ultimate Green Travel Experience.
They plan to continue southward until they reach the southern terminus of the road in Ushuaia, Argentina near Tierra del Fuego.
When they reach their destination, the boys will have earned the Guinness World Record as the youngest people to cycle the Pan American Highway.
Photo credit: Nancy Sathre-Vogel.
Related Articles: