Updated:
Traveling as a woman can have its ups and downs.
Depending on what part of the world you will be visiting, it's important to be prepared for everything you will experience on your travels.
These travel accessories for women will make your journey a little easier and a lot more fun.
Best Travel Skirts for Women
Best Travel Pants for Women
FitnessWalker Walking Stick by Brazos Walking Sticks
If you haven't discovered the joys of walking for fitness yet, then it's time that you do.
After years of leading a sedentary lifestyle, I'd had enough.
My doctor wanted me to drop some weight, and I wanted to feel better and have more energy so that I could keep up with my kids.
Does that sound familiar to you?
You're not alone if it does.
Most of us could stand to get some more exercise, but we don't always know where to start.
Too often, we think that getting in shape means joining an expensive gym, signing up for complicated classes or enduring sessions with a too-enthusiastic trainer.
Your fitness journey might include some or all of those things at some point, but I'm here to tell you that all you really need is the ability to put one foot in front of the other.
Walking is fantastic exercise, and if you've spent a long time being sedentary, then it's the single best way to start getting active again.
No memberships are required.
Neither is any expensive equipment.
All you really need is a good pair of shoes.
Actually, I've come to feel like there is one other piece of equipment that is essential to any fitness walking regimen.
FitnessWalker Walking Stick
It's the FitnessWalker Walking Stick by Brazos Walking Sticks.
Maybe you're like I was and think that walking sticks are only for people who truly need them.
However, I've discovered that that is simply not the truth.
I love my FitnessWalker Walking Stick!
It has helped me to cover more miles in less time than I ever thought possible.
When I first began walking to get into shape a few months ago, it was tough.
Just getting around the neighborhood was pretty challenging.
I stuck to it because my doctor had made it clear to me how essential it was that I start getting active.
Even more importantly, I recognized my own need to feel better, have more energy and to really participate in my kids' lives.
I also made my efforts a family affair.
When I went for a walk, the kids went with me.
That really did away with the whole "I don't have time to exercise" or "my kids keep me too busy to exercise" excuses.
Before long, the kids expected to go for a daily walk.
They loved it, and they helped to hold me accountable to my goal.
Still, even with the encouragement of my kids, the going could get pretty rough.
If it wasn't for a new friend that I made at the park, I might have been tempted to give up.
My new friend is about the same age as me, and we kept meeting up at the neighborhood park.
I noticed that she always had a stick for walking with her.
Additionally, she had a smile on her face, like there was nothing she'd rather be doing.
I finally asked her about her stick one day.
She told me that it was the FitnessWalker Walking Stick and that it had helped her to get into the best shape of her life.
Mentioning things like stability and going up and down hills, she shared why she believed that her walking stick was an essential part of her healthy lifestyle.
Perhaps most importantly, she let me take her walking stick for a spin around the park.
That was all it took to convert me.
I went home that day and ordered one for myself.
My FitnessWalker is absolutely beautiful, and it's sized exactly to fit me.
I chose to personalize my FitnessWalker with my initial, but the only accessory I ordered was a nylon case that I can store it in.
The whole thing was crafted by Brazos Walking Sticks in Brazos, Texas.
I couldn't believe that this was an actual made-in-the-USA product.
What's more, my walking stick is a one-of-a-kind work of art.
I get tons of compliments whenever I'm out and about with it.
When I tell people what I paid, they're always surprised by how affordable my purchase was.
This single purchase has genuinely changed my life.
Once restricted to level streets, sidewalks and parks, I now have the confidence that I needed to tackle hills.
It's still challenging, but my stick really takes the pressure off of my knees.
I'm even planning to go on a hiking adventure pretty soon.
My stick will definitely come in handy on that trip, just like it will for all of my future wanderings.
Here are the Most Useful Travel Accessories for Women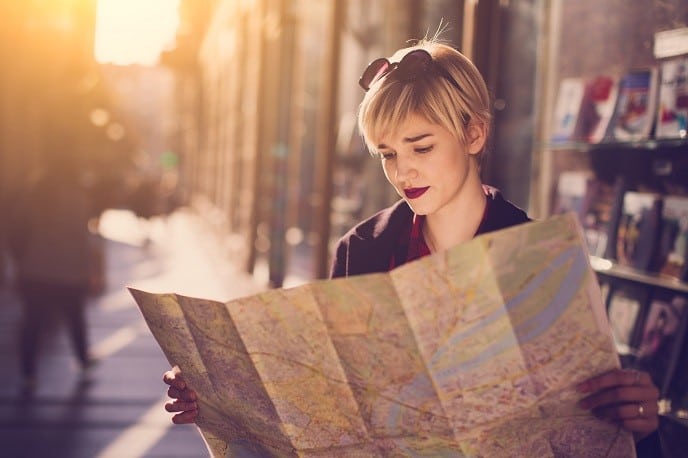 A Comfortable Sweater
Every woman should pack a sweater for their travels.
The climate varies depending on where you will be going, but it is always better to pack layers.
Even warm regions can get cool at night, and you want to be prepared.
Plus, a sweater can serve as something to rest your head on during a long flight, bus trip, or train ride.
A sweater can also be useful if you need to cover up in more conservative regions of the world.
First Aid Kit
Pack a first aid kit with the necessary medicines and bandages in case of emergency.
It is not easy to get medical aid in some parts of the world, and even minor ailments need caring for.
A first aid kit is a convenient way to ensure that any minor injuries can be taken care of quickly, so you aren't held back during your travels.
You should make sure that your kit contains pain relievers, antacids, anti-bacterial ointments, and bandages.
Travel Adapters
Adapters are essential travel accessories for women if they want to stay connected.
Coming prepared with a travel adapter is the best way to ensure that all your electronics will be charged and ready for use.
Each region has different plug point configurations, so it is better to purchase an all-in-one adapter if you can.
If you have to purchase a separate adapter for the region you will be traveling to, make sure it is made to handle the amount of voltage you will be utilizing.
Some electronics or appliances require a high voltage adapter, and they may not work if you do not take this into consideration.
Carrying Case
A sturdy, versatile carrying case is essential for any traveling woman.
The best carrying cases will have multiple pockets that can be zipped closed. You can even purchase locks for more security.
Designed to fit in a suitcase, your carrying case can be used for important documents such as passports, driver's licenses, or permits.
You can also use it to hold electronics or cash.
High-Quality Camera
It is essential that you document your travel experiences with high-quality photos.
Many people just opt to take photos with their phones, but a lot of phones have mediocre cameras.
Unless your phone camera is especially sophisticated, you should consider investing in a camera that takes more professional looking photos.
After all, you don't want the best moments of your life to be blurry.
Travel Mug
Bring a travel mug that is suitable for both hot and cold drinks.
These mugs or insulated water bottles (for hot and cold) can be especially useful if you will be undertaking any outdoor excursions.
It is always important to stay hydrated while you are traveling.
Packing your own travel mug can also be a great way to save money and keep your trip under budget.
If you are in an area with safe drinking water, check out public spaces with water fountains and get hydrated for free.
Go-to Outfit
If you are going on a long trip, it will be difficult for you to pack a lot of clothes.
Because of this, you want to be prepared with an outfit you look good in, feel good in, and can wear for a variety of different social settings.
Along with active wear and casual wear, try to pack a dress that is as appropriate for a classy dinner as it is for a night out on the town.
Being prepared with the right outfit ensures that you'll be able to look your best without having to pack a variety of different types of clothing.
Smart Watch
Smart watches are a must-have for travelers, especially those who travel frequently.
A smart watch allows you to track weather reports, make purchases, get emergency information, and better plan your travel schedule.
A smart watch can also be a safer, more discreet alternative than using a cell phone, especially in crowded urban areas or when taking public transit.
E-Reader
Having a good book to accompany your travels is a fantastic idea.
You may face long periods of transit where you don't have access to any charging outlets or the internet.
However, traveling with bulky books is definitely not recommended.
And if you are an avid reader, you will likely get through a single book quickly.
E-readers solve this problem in a sleek, stylish way.
Depending on which model you purchase, your e-reader may be able to hold hundreds of books.
Most of them also come with backlights for nighttime reading.
Packing an e-reader is a great way to ensure that you can entertain yourself in between adventures during your trip.
The Right Shoes
Taking the right pair of shoes with you while traveling is absolutely necessary to ensure that you have a good trip.
Good shoes are perhaps the most important travel accessory for women, but choosing the right ones comes down to where you will be traveling.
If you are going to be relaxing on the beach, make sure you pack a pair of sandals for maximum comfort in the hot weather.
If you will be taking a trek through the mountains, it's imperative that you pack a sturdy pair of boots.
Above all, you should wear shoes that are comfortable and conducive to long walks.
But that doesn't mean they can't look good!
Best travel accessories for women
Whether you are visiting an exotic city or hiking through nature, traveling can be extremely exciting.
But you want to make sure that you are prepared for any surprises.
These travel accessories for women will ensure that you stay safe and healthy during the course of your travels.
Do you have any questions or concerns about traveling as a woman or any general inquiries?
Please contact us for more information!