Are you ready for your first trip abroad?
Have you packed your bags?
If so, then make sure that you have a money belt, where you can safely put your credit cards, travel documents, room keys, etc.
Read our money belt reviews to determine which one suits you best.
Why do I need a money belt?
Even if you are going to stay within your own country, depending on where you are traveling and what you will be doing — say, milling around a big metropolis — you may want to consider getting one.
And the good news is that when you are back home, you will probably find many other uses for it too, like wearing it to museums, fests, concerts, and sporting events.
What to consider when buying a money belt
The most important thing is that it's comfortable for you so that you'll want to use it everyday while traveling.
Other factors to consider are:
Where are you going?
Usually, you are buying a money belt because you are going somewhere and want to feel safe.
If you are traveling abroad and will want one to carry your travel papers with you, you will want more of the fanny pack style (though the pouch is in front).
If you are going to a crowded venue and want a way to carry your money safely, a different style — more of a traditional belt — will work.
What do you want to carry?
Consider the size of the money belt to be sure it will fit everything you want it to.
What is your size?
Check the length of the belt to ensure it will fit your waist.
Do you want compartments?
This may or may not matter to you, but some people like to have a zippered area for their money and a separate spot for credit cards and IDs.
Do you want RFID protection?
RFID stands for radio frequency identification.
This is a blocking material that can prevent unauthorized use of credit cards and ATM cards in your belt.
Money belt reviews
These high quality money belts come in many styles.
Your goal is to choose one you will want to wear as your essential travel companion.
Here are our top pics in our money belt review:
Eagle Creek has a full line of money belts, and they will be well-made, sturdy, functional and have superior zippers.
Our favorite is [easyazon_link keywords="money belts by Eagle Creek" locale="US" tag="gogreentravel-20″]money belts manufactured by Eagle Creek[/easyazon_link].
It is roomy and measures 11.4 inches in width and 5.1 inches high.
You can fit an iPhone in it which is great, but it's not made for that purpose.
It has two pockets so you can keep your credit card and passport separate from your cash.
The RFID blocking technology gives you even more security.
It's made from nylon and has moisture-wicking material on the back to keep you cool.
[easyazon_link identifier="B0723GMT2M" locale="US" tag="gogreentravel-20″]This one[/easyazon_link] is a true money belt in that when you wear it, it looks just like a regular belt.
You won't be able to fit a passport and travel documents in it, but this is a top pick when you will be carrying cash with you and need to do so safely and discreetly.
It's perfect for keeping money safe while traveling, and at fests, concerts, amusement parks and other areas where you will be among crowds of people.
Truly, no one will know you are wearing a money belt.
This belt measures 46 inches in length (117 cm).
The belt is 1.5 inches in width and should fit through standard loops in jeans and pants.
Travel Gear money belt
Its [easyazon_link identifier="B0054IH5PQ" locale="US" tag="gogreentravel-20″]Travel Gear Undercover Money Belt Dlx[/easyazon_link] is a premium quality travel accessory.
This belt has the features you need from a good quality money belt.
This money belt is lightweight, just what you want from a travel companion.
It measures 11.4 inches in height, 5.1 inches in width, and 0.1 inch in depth.
It weighs just two ounces.
There are two compartments in this money belt.
The larger compartment is at the back and has enough room for a passport and large bills.
The other pocket which is found up front could accommodate smaller bills, jewelry, and other miscellaneous items.
You can store your valuables such as cash, hotel room keys, passport, USB thumb drive, coins and even an iPhone.
Its elastic belt is fully adjustable and easy to fit.
The maximum size of the belt is 42 inches.
Travelwey money belt
If you are looking for a more inexpensive option, then the [easyazon_link identifier="B00NEWTAUC" locale="US" tag="gogreentravel-20″]Travelwey Money belt[/easyazon_link] is one you should consider getting.
It's half the price of the Travel Gear Money Belt Dlx.
This money belt is particularly designed for the big guys—with a maximum waist size of 55 inches.
It has enough storage for bills, passport, credit cards, and identification cards.
Like the Eagle Creek money belt, the Travelwey money belt has a breathable mesh rear that makes it comfortable to wear even for hours.
It is compact and lightweight, measuring 10.2 inches in length, 0.2 inches in depth and 5.9 inches in width.
Travelwey also offers a 1 year money back guarantee on this money belt.
Landing Gear money belt
Lastly, there's the [easyazon_link identifier="B00NT7H5NQ" locale="US" tag="gogreentravel-20″]Landing Gear undercover money belt[/easyazon_link].
This modern money belt is made of Ripstop nylon and is double stitched for extra strength.
It also features RFID protection.
And the backing is made of moisture-absorbing material so you can wear this all day long.
The Landing Gear undercover money belt is also designed for big people, with an adjustable belt that can fit up to a 56 inch waist.
It also has enough space for bulky items.
The first compartment up front is large and has two sections—one for a wallet, and another for passports and maps.
Then there's a second zippered compartment which can hold bills and coins.
You would be hard pressed to find something to dislike about this Landing Gear money belt.
Perhaps the only thing you may not like about it is the logo placed in front of it.
Money Belt Reviews ~ Money Belts for Travel
A money belt is more secure than your travel wallet, giving you peace of mind as you navigate through a crowded street in India, or find your way in downtown Tokyo.
Some crafty and experienced travelers also bring a money belt and a travel wallet together.
The travel wallet is where they put the things they would need for the day – cash, one credit card, and an identification card like driver's license.
They then put all the other essentials in the money belt like credit cards, debit cards, copy of passport pages, travel insurance information, visas, room key, and emergency contact list.
The money belt is also where you can put your emergency cash, or spare money that you can use in the event that you lose your wallet.
Of course, you can do away with the travel wallet and just use a money belt.
It's really up to you.
But no matter how you wear it, your money belt should be kept away from prying eyes.
As much as possible, don't let other people know that you have a money belt tucked under your shirt.
Be mindful when opening your money belt and be discreet.
Your goal is that no one even knows you are carrying secret storage for your valuables.
Guard your money belt as if your life depended on it.
Don't leave your money belt on the beach as you swim.
Leave it (hidden well) in your room.
When you are travelling at night, wear it even as you sleep.
Keep a close eye on your money belt even when you take a shower.
Where to buy money belts
For the biggest selection, the best place to buy money belts would be over the Internet.
You can find a good variety of money belts online, as many of the top companies specializing in luggage and travel accessories have their online stores where you can order the same money belts that you can find in brick and mortar stores.
For the best fit, the best place to buy money belts is in a store that sells travel accessories.
Usually, larger department stores, in their luggage department, will carry them.
Sports stores may have a few as well in their travel accessories section.
While most of the money belts made today are made from comfortable and durable materials, some people may need to experience them in person.
Money belt reviews
As you would learn from most money belt reviews, you can get good quality money belt.
Deciding what you will want to carry in advance — passport and multiple credit cards or just cash and an ID, etc. — will help determine which to choose.
Many have separate pouches for credit card, passport, and paper currencies.
If you are planning a big trip, you might want to read about choosing the right travel backpack and lightweight luggage reviews.
More on money belts
Yesterday I was driving along, when suddenly I panicked, "Oh no! I'm not wearing my money belt."
Of course, my terror only lasted a split second before reason took over.
But, this lack of money belt panic has hit me numerous times since I've been back in the States.
It's as though some part of me is missing and my body panics when it's not there.
I call these spells "phantom money belt."
It happens every time I return from an extended trip.
There's a little bit of panicking, and then I realize all is well.
What is a money belt?
In case you don't know, a money belt is a compact and zippered pouch that you can fasten around your waist, and hide under your shirt or jacket.
Some people wear it around their waist while others wear it more like a necklace under their shirts.
But no matter how you intend to wear it, a money belt provides you a secure and covert way of storing your valuables.
Understanding the difference between a regular wallet and a money belt is simple.
Once you have one, you will wonder how you ever traveled without a money belt.
Pros of wearing a money belt
See, I wore my money belt everyday while traveling.
Even when it was ridiculously hot; even in a skirt.
There was security in knowing exactly where my passport, extra cash, and credit cards were at all times.
When I stayed in a hotel with a safe, I left my extra currency, passport, and other valuables there.
We probably didn't need to wear them everyday as most places we visited were far safer than the U.S., but it was that extra feeling of security that mentally helps you when traveling.
Plus, it would have been a huge hassle had our passports been lost or stolen.
It is nice to have everything in one place, being able to see it, and not worry about pickpockets.
Cons of wearing a money belt
While I did not worry about getting my wallet stolen from my pocket or it falling out of my jacket pocket, etc., I did have to be mindful of it at all times.
A money belt is visible, so one must be careful that it isn't stolen as well.
Someone who is skilled and on the lookout for them can easily cut the belt and be on his/her way.
But I found myself often holding onto the money belt, especially if we were in a line for something or if there were lots of people around. Being aware and cautious is key.
[easyazon_link identifier="B0054IH5PQ" locale="US" tag="gogreentravel-20″]Eagle Creek Travel Gear Undercover Money Belt Dlx (Khaki)[/easyazon_link]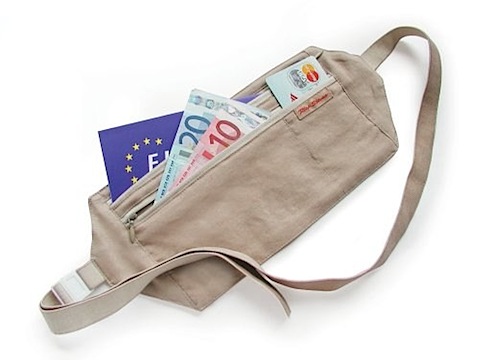 Using money belts locally
My trusty money belt has been everywhere with me: Belize, Guatemala, and Argentina.
I even use it when I'm at busy attractions when I am local, for example if I go to a city festival, outdoor concert, zoo, or sometimes a crowded museum.
As you can see, you have a lot of choices when it comes to money belts.
You don't need to look far to find a good quality yet affordable money belt.
So what are you waiting for?
These money belt reviews will help you find one that can help you secure your valuables while on the road.
A money belt is so useful and practical.
After awhile, it will feel like it is a part of you.
You can find a great one with these awesome 5 money belts.
You will love using it to keep your valuables protected, wherever you are.