It's one of the most visited destinations in the whole world. Millions of visitors from all over the world come to take advantage of its pre-eminent landmarks, famed cuisine and captivating cultural attractions. But the unfortunate thing for Paris is that this hive of activity undoubtedly increases its carbon footprint.
After all, there are 19,500 taxis in circulation and 30,000 rubbish bins situated across the city. Thankfully, eco-conscious travelers can still experience the boons and benefits of Paris breaks without contributing too much to the city's emission levels or waste output. Green Earth Guide
You might be surprised at just how green the capital of France really is.
Tips to Protect the Environment while Travelling
20 Sustainable Study Abroad Steps for an Experience
Travel Green On Your Next Vacation to Reduce Impact
Eco Friendly Places to Visit in Paris
Jardin du Luxembourg
Paris is the most densely wooded capital of Europe and features 400 green spaces. In fact over the past 15 years, the city government has been revamping and revitalizing vacant land into parks.
Although it's difficult to pick just one to visit, a stroll around the Jardin du Luxembourg makes for a delightful afternoon activity. Immaculate lawns are complemented by bright flowers, leafy trees and the majestic Luxembourg Palace.
BioArt
With an all-organic menu, where dishes are cooked using locally grown produce according to seasonal availability, BioArt is one of the city's leading eco-eateries.
Having said that, some traditional French fare featuring ingredients like truffles and scallops can also be found. Vegetarians and vegans are well catered for too, with options closely resembling the vibrant red and green walls.
While salivating over your sustainable specialty, you can enjoy a superb panoramic view of the Seine River out of the unobstructed windows.
Ekobo
Despite holding the post of marketing executive for L'Oreal, Bruno Louis shunned mainstream design in favor of sustainable style. The London School of Economics graduate founded Ekobo as an 'eco-citizen company' after travelling the world, in particular Vietnam.
He now works with artisans from the country and imports handmade housewares made of fast-growing bamboo. These unique objects, which range from fruit bowls to flower vases, are ecologically responsible but still boast aesthetic qualities.
Honoré des Prés
When it comes to souvenir shopping, you really are spoilt for choice in Paris. You'll be tempted to buy a miniature model of the Eiffel Tower, but more quintessential ideas include foodstuffs like macaroons and chocolate or clothing accessories such as jewelry and perfume.
But if you have concerns about how your perfume is made, head to Honoré des Prés, as this boutique has a range of organic, phthalate- and chemical-free scents on offer. You can also go about your holiday sustainably by using public transport and avoiding the use of your own vehicle, as well as generally observing green practices. Here are a few suggestions:
Paris Museum Scene: An Insider's Guide
Paris In a Day: How to See Paris in 25 Hours
Take the Paris Metro
With 16 lines and 300 stations, the Paris Métro is arguably the best way to navigate the city. It covers a huge area and is quite efficient too. The Tramway network and Suburban Rail are also other options.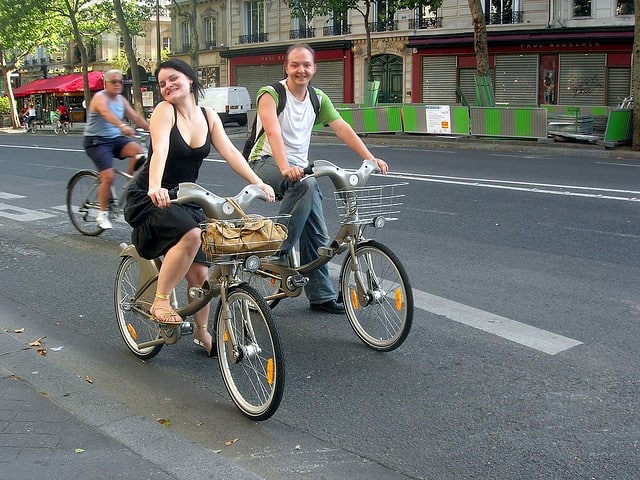 Rent a bike and Paris Bike Sharing
The city's Vélib scheme, which allows you to hire a bike from thousands of rental stations across the city, is great if you don't want to take the metro everywhere.
It's not very expensive and you can rub shoulders with locals doing exactly the same thing on their daily commute.
Look for the green label
When booking your accommodation, look for hotels with the title of La Clef Verte (Green Key) or the European Eco-Label.
This shows they adopt an environmentally friendly approach to water, energy and waste.
Understand the litter system
Don't just dump your trash in any old bin. Paris has a color-coded garbage system to improve recycling efforts.
Yellow bins are for recyclable materials, such as paper, plastic, and aluminum cans, but grey bins are reserved for regular rubbish.
Paris may well be a busy, bustling city, which doesn't exactly help its environmental footprint, but visitors to the capital of France can have an eco-friendly time by visiting the right places and keeping the right principles in mind.
Image by malias, used under Creative Commons license