Argentina Money Hacks – We learned so much about Argentina money while on our extended vacation there.
Everything from the limited amount of Argentina money you can withdraw from an ATM.
How inexpensively we could live for the day?
When to expect to need exact change?
The coin shortage in some parts of the country.
We experienced some interesting "trades" and how to manage our money traveling abroad as well.
What to know about Argentina money
We spent several months in Argentina, going everywhere from Buenos Aires to Peninsula Valdes to Bariloche as well as many more cities.
If you're ever planning on visiting Argentina, there are two key things to note, and they are so important I wanted to discuss them.
Cash is king In Argentina
You need cash.
Some places accept credit cards, but frequently these shops will tack on an extra fee for using them.
So, while Visa may be everywhere you want to be, it's everywhere you want to be with lots and lots of fees.
Cash is hard to get
At some point during our journey, the Argentine banks had some sort of crackdown and starting imposing 300 peso withdrawal limits which is about $86 US.
At first we thought it was just the banks in the small town we were in.
But even when we were in Buenos Aires this happened.
What was worse was that the ATM informed me I had "insufficient funds."
Another time it stated I had reached my daily limit.
This caused a bit of a panic the first time it flashed across the ATM screen.
I contacted my bank, and they told me that neither of these situations was the case.
After doing some online research, I found a number of forums indicating that there was a $300 (Argentine) limit on withdrawals.
Luckily this didn't happen until the end of our trip.
Bottom line: it's not fun to hop around from ATM to ATM each day, especially when your bank charges you ATM fees.


When you head to Argentina, make sure you either plan to visit the ATM frequently, bring US dollars to exchange, or (and I hate to suggest this) bring Travelers Cheques.
And if you're lucky enough to find an ATM that doesn't limit you, withdraw enough cash to last you awhile.
Argentina money won't go as far as it used to
Argentina is not as cheap as it used to be.
When the economy crashed in the early 2000's, Argentina was an amazing bargain.
Now, it's a good, but not an amazing, deal.
We are pretty frugal people, but we enjoy a good meal and a comfortable bed occasionally.
So, before I list our average daily costs, realize that you could shoestring it and spend less, but you could also spend a lot more.
On average, we spent about $50 person/day in US dollars while in Argentina.
There were days we spent a good amount less and days where we spent a bit more.
This includes all in-country costs: transportation, souvenirs, food, lodging, and excursions.
(Round trip plane tickets from Minneapolis to Buenos Aires were not factored into this.)

photo credit: alex-s
It would be easy to spend a lot more if you stayed solely in private rooms, at a hotel, and ate all of your meals out in fancier restaurants.
You could spend less by sleeping in only dorm beds and getting by on $1 empanadas for your meals and not ever traveling around the country.
Here are some average costs in US dollars.
Lodging in Argentina
Dorm bed: $10-$15 bed /night
Double room: $30-$50 room / night
Apartment: $35+ / night
Food in Argentina
Empanada: $0.75-$1
Argentina Parrilla (steak): $8-$10
Salad: $3-$6
Ice cream cone: $3-$4 (Surprisingly expensive when compared to other food)
Bottle of wine in a restaurant: $7 and up
Pizza: $7-$15
Coffee: $1-3
Transportation (getting around Argentina)
Local bus: $0.30-$1.50
Taxi: varies immensely (see note below)
City-to-city bus: $40-$75
Plane, city-to-city: $175 and up
Activities in Argentina
Park Entrance fees (for Iguazu Falls, Punta Tombo, Peninsula Valdes, etc) $12-$15
Museums: $5-$15
Day trips and guided tours: $40-$60
Note: Prices are significantly more expensive in touristy towns — especially those in the South.
For instance, in Buenos Aires we paid less than $3 US for a Lomito (steak sandwich).
In El Chalten, the cheapest Lomito was $10 US.
Similarly, we paid about $5 US for a 15 minute taxi ride in Buenos Aires.
In El Calafate, Patagonia a 20 minute taxi ride was $20 US.
Lack of coins in Argentina
The lack of monedas (coins) was at times frustrating since no shop owners seemed to have them.
Exact change was a necessity for taking public transportation.
We often wondered why the government didn't just produce more coins.
But Argentines seemed used to the change shortage and soon we were too.
Shopkeepers being innovative about lack of coins
I browsed the internet and came across an article from Clarin.com, an Argentine news agency, about the "ingenious" plan hatched by Chinese supermarket owners.
Apparently the Chinese store owners have decided to create a system where, instead of giving change, they give tickets equivalent to that amount of change.
And when customers come return to the store for their next purchase, the tickets are worth 10% more.
Thus, customers have incentive to be regular shoppers at these stores.
It turns out there's a huge black market for coins in Argentina, which I was blissfully unaware of during my travels, that store owners are currently forced to turn to in order to have adequate change.
And to top it all off, the government and the banks don't seem to have a better solution.
Problem for green travelers who favor public transportation
You need exact change for public transportation.
The one green traveler problem I foresee if this tickets-in-lieu-of-coins system really takes off?
Supermarkets are some of the few places travelers can easily obtain change.
There was one day we went to four different supermarkets and small shops, trying to spend just the right amount on small items to get back the exact change we needed to take the bus across town.
Eventually, we succeeded, but we were turned away by at least two stores saying they didn't have any change.
If all of the markets start issuing paper tickets instead of monedas, how will travelers get the change they need to take public transportation?
Interesting trades for Argentina money
One of our more interesting experiences was when we bought cold medicine and received aspirin back in lieu of the pesos that we were owed.
It happened when I went to the local pharmacy.
The dictionary we brought didn't translate "cold" as in sick, so instead I tentatively asked the pharmacist "Tiene Sudafed o pseudoephedrine? ("Do you have Sudafed?") while gesturing to my nose and head.
The pharmacists said "Oh, para fria" and handed me some cold medicine.
Turns out "cold" translates directly.
I went to pay the $18.84 AR bill with a $20 AR note (the Argentina money equals about $7 US).
The pharmacy didn't have any Argentine peso — at this point not entirely surprising — so instead of my $1.16 in change, the pharmacist gave me four aspirin.


I read that if a store doesn't have coins they might give you candies to make up the difference.
I have to say, as someone who's slightly addicted to sweets, I was disappointed to get aspirin instead of candy.
I shared my story with a local who worked at our hostel in Rosario.
He laughed then told us about a shop he visited everyday to buy cigarettes.
The owner always gave him change in candy because she didn't have coins.
He saved the candy for months and when he had a bag full, he presented it to the shop owner to pay for his cigarettes.
The shop owner resisted at first (apparently no one had thought to do this before) but made the exchange.
From that point forward she always managed to find coins to give our friend change for his cigarettes.
Choosing the Right Travel Backpack for You
Green Travel Friendly Travel Gear
Ultimate Packing List for Round-the-World Trip
Wherever you travel, remember to bring and wear your money belt.
Do you have any Argentina money stories to share?
Below are links to some of our articles about our experiences in South America:
Buenos Aires ~ What to See and Do in Buenos Aires
It's our dream coming true… we get to go to Buenos Aires.
We've always said when we move from Washington, DC we'll travel for a few months before settling somewhere else.
We actually did it. We went on an extended vacation to Argentina in early October and stayed through mid-December, and then traveled around Central America through January.
We were excited to experience the culture and the people, the Argentine cuisine, and see the sights.
Our first stop was going to be Buenos Aires, the capital of Argentina.
We were blessed with the opportunity to be in Argentina for months.
This is how we spent our time in Buenos Aires.
Buenos Aires here we come
We booked our flights into Buenos Aires and loosely planned our itinerary.
We ultimately planned for our first week at a hostel there.
Being Argentina's largest city, it was definitely a place we wanted to explore.
Known for its European architecture and vibrant culture, we learned it is sometimes referred to as the Paris of South America.
The Porteños, the "people of the port" in the Buenos Aires region, were very friendly and encouraged us as we used our steadily-improving Spanish vocabulary.
What's a typical Argentine breakfast?
Will we love Argentina parrilla?
What will we see and do?
After our long flight, we got pesos from a bank, and found our way to the bus stop for Colectivo 86, the bus to Hostel Arrabal, all in just 30 minutes.
Pretty impressive, I think.
The hostel's website told us the 50 cent USD bus ride (per person) would be 40 minutes.
We read elsewhere it could take 2 hours.
It took 2 hours and 15 minutes.
We must have hopped on just as rush hour began — there were kids busing to school and adults commuting to work.
In our sleep-deprived state, we were eager to find our accommodations and a bed, but the long bus ride wasn't all bad.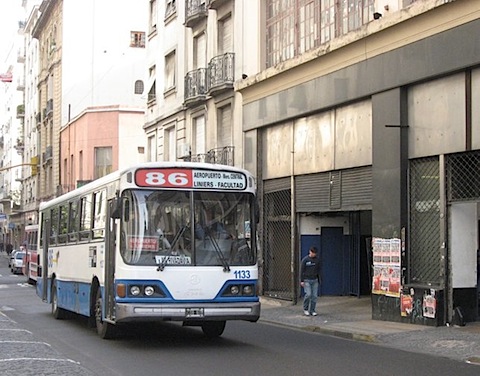 We saw parts of Buenos Aires we wouldn't have otherwise seen, like the shanty town barrios where houses were haphazardly constructed of cinder block and cement.
And it gave us insight into the culture.
How people interact, protocol on public transportation, and a chance to reacquaint ourselves with the language.
But like the bus drivers in our ex-hometown of Washington, DC, Argentine drivers are aggressive.
Our driver didn't completely stop at intersections, started driving away as people were still climbing on, and kept the doors open until he accelerated to full speed.
We had near-collisions at least a dozen times.
I sat by the window, and had it been open, I could have easily reached out and touched the people in the bus next to us.
Fortunately, I was too exhausted to be afraid.
At any rate, the US $0.50 bus ride plus free cultural insight beats the alternative, a US $25 cab ride.
Plus, public transportation is easier on the environment.
I would definitely do it again.
Buenos Aires Ecological Reserve: A respite from the city
We made our way to explore Puerto Madero, a lively port lined with interesting restaurants and some shops.
We had lunch, enjoyed the view and the people-watching, but only stayed about two hours.
From there, we made our way to the Reserva Ecológica de Buenos Aires, also known as Reserva Ecológica Costanera Sur.
Being green travelers, we always look for ways to walk, explore, and appreciate our surroundings.
There could be no better place than an ecological reserve.
There are three different trails which are well-groomed (though not paved) where people run, bike, and roller blade.
The Buenos Aires Ecological Reserve is home to over 250 species of birds including flamingos at certain times of year.
While we didn't see anything particularly exotic while we visited, lyrical chirping provided the soundtrack for our trek.
The reserve provided fantastic views looking back at the city and overall was an excellent getaway after a sightseeing filled week.
Another great perk: the food stands aligning the park.
Parrillas and Parrillónes with names like Que Parrilla, La Parrilla, El Parrillón, Su Parrillón, Mi Parrillón, and Scooby Parrillón provide cheap eats of choripan and lomitos.
For less than $4 U.S. we had sausage and steak sandwiches which are best eaten with chimichanga sauce.
Not only are they cheap but there is almost no waste since they serve the meat-juice-dripping sandwiches with a single napkin.
In Buenos Aires, I had the best steak ever, maybe of my entire life.
Along the southern edge at Ave Bordega, there is a market where you can buy everything from Barbie doll clothes to antiques and shoes.
We decided to stick with cotton candy.
We visited the Jardín Japonés in the Palermo neighborhood. It was a beautiful day.
We walked around, ate lunch at the restaurant on-site, and saw lots of koi fish.
We would definitely recommend visiting it.
We even saw this lovely parakeet there.
We learned it was a monk parakeet.
Tierra Santa Theme Park in Buenos Aires
I am not sure if I should recommend this place or not.
I would highly suggest considering the pictures below so you know what kind of experience to anticipate.
Some might be offended; others will find it kitschy and fun.
There are a lot of different scenes with detailed statues.
Keep in mind the price, the cost to get there if you are taking a taxi, etc., and how much time you will be in Buenos Aires.
It is considered a "theme park," though there aren't any rides.
His gigantic head was the first glimpse I caught.
Then, out of the plastic mountain, came His outstretched arms and 60 foot tall body.
Once Jesus was about halfway out BAM! the Hallelujah Chorus blasted from the surrounding speakers.
Had I not experienced and seen this place with my own eyes, I would not have believed it existed.
After buying tickets, we were ushered into a skit portraying the birth of Christ.
Only it wasn't a skit so much a light show with robotic biblical characters, performed to music.
It was the perfect introduction to a day that would only get more bizarre.
After the light-show-skit ended, we were released into Tierra Santa, free to roam about the life of Jesus, as portrayed by life-size statues.
First stop: Adam and Eve.
From there we "saw" Moses.
Then He turned water to wine and multiplied loaves of bread.
I guess the food was so realistic-looking that people were tempted to touch it, so the theme park authorities added a "don't touch" sign to ward off offenders.
We took a break at this point to watch (real) women dance in "period" costume as some men played the drums.
We bought a snack from a food vendor, also in costume and also a real person.
Then we witnessed the Resurrection — the clincher of any trip to Tierra Santa.
Technical difficulties prevented me from capturing the resurrection of a 60 foot tall Jesus on camera, but dozens of YouTube users have me covered.
Overall, Tierra Santa in Buenos Aires, Argentina was a bizarre experience.
There were elderly people and families there who were obviously having religious experiences.
Then there were teenagers giggling as they posed with the statues.
I'm still not quite sure what to make of this supposed "Holy Land," but it was worth the trip for me.
Where else can you pose with a life-size statues from biblical times, dine on falafel, watch a dance show, and see a gigantic Jesus rise out of a mountain to the soundtrack of Handel's Hallelujah Chorus?
Buenos Aires Dog Walkers
Sometimes I wonder what in Buenos Aires I missed by spending so much time looking at the ground.
Trying to avoid loose tiles, potholes, and lots and lots of doggie doo-doo.
I know that picking up after your dog isn't the norm in many international cities, but I'm still astounded by the sheer amount of dog poop in Buenos Aires.
Luckily, there are plenty of cute dogs and puppies and seeing them makes up for having to watch my step.
In the residential neighborhoods of Buenos Aires, and specifically in the better off areas like Recoleta, people hire dog walkers to let their beloved animals out during the day.
These dog walkers don't walk 1 or 2 or even 4 little dogs, I've seen one dog walker that probably had about 12-15 large dogs with him.
Recoleta Cemetery in Buenos Aires
We strolled through Cementerio de la Recoleta (Recoleta Cemetery) where thousands of famous — including Evita Perón — and not-so-famous Argentineans are buried
The cemetery is massive, and the tombs are beautiful.
Some of the tombs are well cared for while others are falling apart.
There's a striking life and death contrast about the place.
Don't Cry for Me, Argentina: Evita Homeland
On the bus into Buenos Aires from the airport, I spotted a billboard announcing Eva: el gran musical argentino.
I loved Evita and decided we must see this musical.
We headed to Teatro Lola Membrives in Buenos Aires for a performance.
Although the play we bought tickets for had a slightly different title, I was secretly hoping to see Andrew Lloyd Webber's Evita in Spanish.
After the curtain rose, though, it quickly became apparent that this was indeed a different musical.
I pushed aside the tinge of disappointment as I struggled to understand Eva Perón's life story as told in operatic Spanish.
Having seen Evita the movie and the play years ago definitely helped, but it still wasn't easy to follow the plot.
Here's what I understood: Eva leaves small town Junín for Buenos Aires because she wants to become an actress.
An agent laughs in her face and kicks her out, but she gets a small part later, then is on a radio show, and eventually gets her own show.
At some point Eva meets Juan Perón, who later gets arrested, and Eva demands of the guard that he be released.
She leads protests to the affect.
Apparently historians say this never happened, but it makes for a better story so playwrights keep it in.
Perón is released, and he and Eva get married.
He's president, and she's running for an office (vice president, my later research revealed).
Eva gives money to the poor, chats it up with commoners, and scoffs in the faces of traditional women who tell her she can't hold an office because she's a woman and too young.
Eva is very busy, always meeting with people, and gets tired.
She becomes sick, gives a dramatic speech from the balcony (apparently dropping out of the running for VP, though I missed that during the play), and dies shortly thereafter.
It was quite an experience seeing a musical about Evita in Argentina.
I imagine it would be like watching a play about John F. Kennedy in the US.
Some members of the audience remembered when Evita was alive, and most revered her.
It was an excellent musical, and I thoroughly enjoyed it.
I followed most of it, I think, though I'm sure I missed some important details.
It definitely put my Spanish to the test.
And from what I remember of Andrew Lloyd Webber's story, this version is pretty similar.
After the play, we decided to do some Google and Wikipedia research to see if we missed anything major.
We learned that after Eva died, Juan Perón was overthrown as president and Eva's body was hidden away by the government for the next 16 years.
For a decade and half, no one knew what happened to the body of the beloved Eva Perón.
The government forbade anyone to even mention the Peróns' names.
It wasn't until 1971 the government revealed her body was hidden in a Milan crypt under a pseudonym.
Now returned to Argentina, Eva rests in a crypt we visited in Recoleta Cemetery (see above).
The government is afraid someone will try to steal her body so the tomb is booby trapped.
A dramatic end to a dramatic life.
San Telmo Market: Rain or Shine
It was a cold, rainy morning, but the sun came out in the afternoon and the crowds rushed to the trendy San Telmo Market in Buenos Aires.
Here you can buy everything from antique keys and original paintings to hand-knit scarves and glass necklaces.
Some vendors were out in the morning, but many more came to enjoy the sun — and the tourists it brought with it.
Check out the difference.
San Telmo on a rainy morning – less people
San Telmo on a sunny afternoon
Quick trip to Uruguay
The weather wasn't great, but we only had two more days in Buenos Aires, and we wanted to see Uruguay before we left.
So we hopped on a Buquebus ferry near Puerto Madero in BA for the one hour journey to Colonia, a small town on the Rio de la Plata in Uruguay.
There's not a lot to do in Colonia but enjoy the view and wander the cobbled streets, so that's just what we did.
It's a nice day trip from Buenos Aires and I imagine it's amazing on a sunny day.
It was a bit chilly, but the rain held out until an hour before we left so we managed to snap a few photos.
Here are some of our favorites.
Our trip in Argentina
We had an amazing time in Buenos Aires hanging out in the restaurants and walking whenever we could to get a real sense of the culture and people.
After our week here, we visited the middle part of the country, including the Lakes Region of Patagonia.
Then we visited the Atlantic Coast, including visiting Peninsula Valdes.
We were fortunate to see Perito Moreno Glacier as well as Iguazu Falls.
We also volunteered while we were in Argentina.
It was difficult to plan online and was a lot easier once we arrived. We spent time volunteering at Chacra Millalen, an organic dairy farm.
It was an amazing experience.
We also spent time in Guatemala, including a history and nature-oriented trip to Tikal National Park.
This was the trip of a lifetime.
If we ever go again, we would visit some of our favorite spots and look for new things to experience.
What to know about Argentina Parrilla
After spending months in Argentina, we started logging our Argentina parrilla experiences.
We didn't have steak or meat every day; sometimes we were just tired of it.
However, it is served often here with some amazing flavors and combinations.
We traveled from the United States to Buenos Aires, then all over Argentina, and compiled our top list for the best steak ever.
Argentine steak is renowned. After traveling around the country, it was easy to see why the beef is so good.
There is plenty of grass for the cattle to graze on and space for them to wander.
You eat the beef at a parrilla (steakhouse).
Parrilla can also refer to the type of grill it's cooked on.
Before arriving in Argentina, I heard about the wonderful steaks.
But I was a little skeptical.
How good can a steak really be?
You won't know until you've been to Argentina, but I'll do my best to recap our top four Argentina parrilla experiences.
Parrilla 1: Buenos Aires
Our first week in Buenos Aires we visited an Argentina parrilla recommended by a fellow hosteler.
We arrived at the parrilla at 9 pm. Despite it being early for Argentines to eat, the place was already packed, and when we left a few hours later there was a line out the door.
At this parrilla we had a bife de chorizo (sirloin steak), a chorizo (sausage), fried provolone cheese, and a bottle of wine.
We spent about $25 US. At the time, this was the best steak I had ever tasted.
Parrilla 2: Rosario
With some fellow hostelers and staff in Rosario, we bought meat at a market and cooked it on the parrilla grill on the roof.
It was 1am by the time we ate.
It's a little hard for me to enjoy dinner after midnight but the food was amazing, and the experience was fun.
The cost for all the beef, potato salad ingredients, bread, and drinks was about $5 US per person.
Parrilla 3: Mendoza
At nondescript parrilla in Mendoza, we gorged on our the largest Argentina parrilla yet.
We split a "mixed grill for 2" — an entire grill full of steaks, sausages, blood sausages, intestines, and sweetbreads for about $14 US per person.
Once he had cooked the meat on the large parrilla, the owner brought a small grill table side to keep the food warm.
Yes, all of that meat was for us.
Parrilla 4: Bariloche
In Bariloche, we experienced our best tasting (and most expensive) parrilla.
We consumed a half bottle of wine, a huge portion of fried provalone, a chorizo sausage, a bife de chorizo (sirloin), and a bife de lomo (tenderloin).
The bife de chorizo and lomo were both considered half portions even though one half portion alone could have fed 3 people.
The beef was cooked perfectly — medium rare and just a little bit bloody in the middle.
The chorizo, provolone, and bife de chorizo were all excellent.
But the bife de lomo was the most amazing piece of meat I've ever tasted.
Words can't describe it.
It was incredibly tender.
This meal cost a whopping $36 US.
We went back a second time.
Because this Argentina parrilla was so amazing we went back a second time, this time limiting ourselves to a half portion of bife de lomo, a beef empanada, and some delicious thin cut french fries.
Good thing we've been enjoying our Argentina parrilla.
When we volunteer on the farm later this week at Chacra Millalen, it will be all vegetarian meals!
Enjoy more articles like this one with Argentine cuisine – top 17 foods & 1 drink you've got to try, and learn about a typical Argentine breakfast.
We thoroughly enjoyed eating our way through Argentina.
Bariloche Argentina chocolate taste test results
"Bariloche is the chocolate capital of Argentina," were the magical words that enticed me to visit to Bariloche Argentina.
It turns out Bariloche has plenty of other sights to offer, but their chocolate is what initially sparked my interest.
We were on an extended stay in Argentina, and after visiting Buenos Aires and Peninsula Valdes, among many other cities, we enjoyed some time in Bariloche Argentina.
I devised a great scheme to eat as much chocolate as possible. I would buy chocolate from each shop and conduct a taste test.
However, once I actually arrived in Bariloche Argentina, all I had to do was walk down a few blocks to see that with the sheer number of shops, I would get either sick or go broke (probably both) if I sampled from each one.
So, we bought chocolate from four shops — Mamuschka, Benroth, Turista, and Reyes — and conducted our very own double blind taste test.

Milk Chocolate
Mamuschka won hands down for best milk chocolate.
Tourista was second best followed by Benroth and Reyes tying for third.
We bought some Mamuschka milk chocolate as unique Valentine's Day gifts for our loved ones at home.
Dark Chocolate
In the quest for "Best Dark Chocolate in Bariloche," we had completely opposite opinions.
I liked Mamuschka and Tourista a lot and didn't like Benroth at all.
Kimberly favored Benroth followed by Tourista and Mamuska.
Other Flavors
At Reyes, we enjoyed the peppermint in white chocolate.
Benroth had an amazing coconut cream.
From Mamuschka a flavor with honey and almond was delightful.
If you enjoy citrus, Mamuschka also had an excellent orange and lemon cream.


Here are our complete tasting notes:
Milk chocolate reviews in Bariloche
Elizabeth: Smooth and creamy.
Less sweet than Turista.
Very milky.
It tastes like what milk chocolate should taste like.
The most creamy of them all.
Kimberly: The best of the three.
Good flavor and very smooth.
Not too sweet.
Much better texture.
Benroth
E: Tastes a little old.
Crumbly texture.
More milky and less sweet than the others.
K: Texture is pretty good, though not amazing.
It's smoother than cheap chocolate.
The flavor is interesting — there's something fruity in it.
It's good, but not amazing.
Turista
E: Very smooth and creamy.
Extra sweet.
Good for sugar lovers.
K: Sweet, but not too sweet.
Better flavor than Benroth.
Still not an amazing texture.
Dark chocolate reviews
Mamuschka
E: Richest I've tasted.
More like what I'm used to dark chocolate tasting like.
Very sweet.
K: Tastes like black licorice.
I can't get past it.
Benroth
E: Very crumbly.
Dark and rich.
Hints of alcohol burns a little but not in sugary sort of way.
K: Very dark, but not too bitter.
Good flavor.
Interesting but kind of weird texture; not really creamy or smooth.
Overall, pretty good.
Turista
E: Very smooth.
Not super dark, but rich.
Hints of peanut or vanilla?
Extra smooth but strange flavor.
The most creamy of them all.
K: Creamier texture, very cocoa-y.
Kind of a weird flavor somewhere in there.
In the end very good, though.
When traveling to Bariloche Argentina, all of these delectable chocolate shops can be found on Mitre Street.
It is absolutely stunning here.
Check out these views from the window of our in Bariloche, with no zoom.
Bariloche view at sunset

We took too many pictures to post but here are some of our favorites of the area.


Cows have the right of way in Argentina, and there are plenty of cow crossing signs to prove it.


In Bariloche Argentina, we enjoyed hiking, relaxing, and eating the delicious chocolate for which the region is known.
This is definitely a must-visit destination.