We sure love food so were looking forward to learning what an Argentine breakfast would be like.
After reading about the generous lunches of pizza and pasta and hearty dinners filled with Argentina parrilla, I thought breakfasts in Argentina would follow suit.
Before we got here, I pictured heaping portions of sausage, eggs, and bread — maybe even some potatoes or ham.
There is lots tasty Argentine cuisine for sure.
Here's what we thought of Argentine breakfast.
What's a typical Argentine breakfast?
Alas, to my disappointment, typical Argentine breakfast foods consist of a cup of coffee with milk (café con leche), a few croissants (medialunas), and a shot glass of carbonated water.
Not exactly gut-busting, or even filling.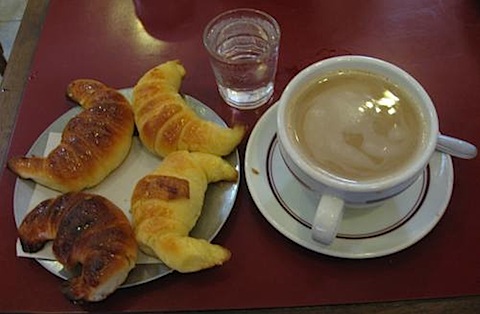 After two months in Argentina, I've gotten used to supplementing my hostel breakfast with fruit or yogurt to satiate my American desire for something more substantial.
It's not just in cafes where I've found the Argentine breakfast a bit lacking.
We've eaten at enough breakfast-included Argentine accommodations to know it's universal.
In hostels you're lucky if the pastries or rolls are somewhat fresh, and you've really struck the jackpot if there's cereal and milk, too.
Even in a nice bed and breakfast we were just served fresh rolls, jam, and coffee.
It's completely different from breakfast in Europe or the United States; breakfast just isn't a big deal here.
Maybe it is because dinners in Argentina are eaten so late….
Argentine Food
But with only 4 days left in Argentina, we decided to hit a cafe for one more typical Argentine breakfast.
We went La Puerto Rico, a famous Buenos Aires cafe that's been around since 1887 and is just a block away from the president's offices (Casa Rosada).
The medialunas were amazing — soft and fresh with just a hint of sweetness.
The coffee was quite good, too, and the shot glass of water was slightly larger usually.
The breakfast ended up costing about $10 US, which is twice as much as it would have been around the corner.
But for the quality of the food, it was worth it.
Although it was far from well-rounded, my last Argentine food breakfast was satisfyingly delicious.
Thanksgiving in Argentina Food: Chicken, Mashed Potatoes, and Ricotta Tartlets
In addition to daily breakfasts in Argentina, something else we were lucky to experience was Thanksgiving in Argentina.
As foodies, we love the American holiday that gives you an excuse stuff yourself full of all sorts of delicious foods — Thanksgiving.
Several years ago we spent Thanksgiving in a small town in Egypt where we couldn't eat many fresh foods because of contaminated water.
Therefore, for Thanksgiving we ate fried eggs and rice.
It was by far the least authentic (though memorable) Thanksgiving ever.
We are trying to enjoy our Thanksgiving planning when holiday ads abound and kids and adults alike are already thinking up their must haves this holiday season.
This year in Argentina we planned to do it differently.
But, we had to move the holiday up a few days to make sure we'd have access to a kitchen so that we could cook our own nearly-authentic Thanksgiving meal.
Two days early, we cooked mashed potatoes, sweet potatoes, and asparagus.
We bought some bread from the local panaderia (bread shop) and Portuguese chicken (couldn't find turkey anywhere) from the rotiseria (take-away restaurant).
I'm not sure what made it "Portuguese," but it came with a side of fried potatoes and red peppers.
We even had some raspberries from our time volunteering at Chacra Millalen, outside of El Bolson.
It was delicious!
And we even had leftovers for Thanksgiving sandwiches. For dessert we had ice cream with mini pies — apple, strawberry, and ricotta — from the confiteria (sweet shop).
For anyone else traveling who is looking to have a taste of home today, try these recipes for mashed potatoes and sweet potatoes.
They require very few ingredients, making shopping a bit easier.
Traditional Argentine Mashed Potatoes Recipe
Potatoes – Russet or Yukon Gold
Butter
Milk
Salt
Peel and quarter the potatoes.
Boil until tender.
Drain and mash with butter, milk, and salt to taste.
For 3 potatoes we used a good bit of butter (maybe 3-4 tablespoons) and about a quarter cup of milk.
Sweet Potatoes with Orange Juice Recipe
Sweet potatoes or yams
Butter
Brown sugar (white sugar or honey could also work)
Orange juice (we used juice fresh from an orange)
Bake sweet potatoes in oven until very tender.
Remove from oven, peel, and mash with butter, sugar, and orange juice to taste.
For 2 large sweet potatoes we used 3-4 tablespoons of butter, 1-2 tablespoons of "black sugar" (which happens to be just white sugar with coloring, but we didn't know this until after we came home from the market), and juice from 1 orange.
You will be sure to enjoy trying new foods while traveling in Argentina.
From Buenos Aires to Bariloche to Peninsula Valdes and beyond, we enjoyed the traditional, typical Argentine breakfast as well as making most of our own Thanksgiving mini-feast.
Tips for eating healthy while traveling
For the budget traveler, cheap junk food is tempting: You can get so much deliciousness for so little money.
But too many greasy, sugary meals will leave you feeling weighed down.
You've invested time and money into your trip, so it's important to eat well so you'll feel good and be able to fully enjoy your travels.
These 5 tips for eating healthy while traveling will help you enjoy the local cuisine without overdoing it.
Plan Ahead
Whether I'm traveling or at home, I often make poor food choices when I don't plan ahead.
Spend a few minutes at the beginning of the day looking at your itinerary and thinking about where you can find quality food.
If you don't think you'll have many options during the day, stop and pick up something healthy on the way — a sandwich and fruit doesn't take up much room in your bag.
Not only will it ensure you have a healthy meal, it can help you save money, especially in touristy areas where restaurants are expensive.
Bring Healthy Snacks
You never know when you'll get stuck in an airport or a train terminal and have few or no options for a healthy snack.
By carrying granola bars, instant oatmeal, and other healthy snacks, you can make sure you have something to hold you over if your trip gets unexpectedly stalled.
Add healthy snacks to your packing list.
During my first trip overseas, my best friend and I got stuck on a train for over 24 hours and the canteen was closed.
The only food we had was pretzels and Nutella, which is great for a snack but terrible for three meals in a row.
We learned our lesson.
It's always a good idea to have a few snacks on hand in case the unexpected happens.
Shop at Grocery Stores
Grocery stores are great places to get food while traveling.
You can stock up on healthy snacks or ingredients to make quick and easy meals in your hotel room.
Plus, they offer great insight into the local culture and eating habits.
You can also hit up the deli in the store for healthy meal options.
They'll often sell pre-made sandwiches and wraps that are cheaper, and usually a little healthier, than what you would find at a fast food restaurant.
Eat a Hearty and Healthy Argentine Breakfast
Even if you're not a huge breakfast eater at home, eating a healthy breakfast while traveling will ensure you have enough energy to get through the day.
Pick up some essentials at the grocery store.
Most hostels have a communal fridge where you can store yogurt, cheese, and other perishable breakfast foods.
Even if you don't have a fridge, you can keep fruit in your room.
Peanut butter offers protein and is great on bread or crackers for a quick breakfast (though it's hard to find abroad, so you might want to bring some from home).
Making breakfast in your room is a great way to make healthier dining choices and to save money.
Plus, you'll save some calories for splurging later in the day.
If you're staying somewhere that offers continental breakfast, steer clear of the sweets and stick to whole grains, yogurt, and fruit that will give you energy for the day.
It's fun experiencing the cuisine in other countries.
We loved breakfast in Argentina.
Remember Moderation is Key
Splurging is allowed when traveling (it's your vacation, after all), but make sure you splurge in moderation.
A tarte tatin in France or a gorgonzola empanada in Argentina is fine, so long as you balance that with healthy foods.
If you know you'll be having a big dinner, opt to make breakfast in your room and have a sandwich and fruit for lunch.
If you indulged in french toast and cinnamon rolls at your bed and breakfast, grab a salad at lunch.
You can have a fantastic culinary experience without overindulging.
Eating healthy on the road has its challenges, especially with fast food beckoning… it's tried, it's true and it's often cheap.
But take some steps to eat local and learn more about the culture where you are visiting.
Eating healthy while traveling can definitely be a challenge.
See what works best for you as the best tip is something you will actually do to stay healthy.
What are some ways you eat healthy while traveling?
Vacation Food Budget – How to Eat on the Cheap
With three growing kids, food is always one of the most expensive categories on our family trips.
But it's also an important part of the experience: We don't want to miss out on local cuisine!
In order to save money and eat healthier, we create a vacation food budget.
We avoid unhealthy fast food, but still enjoy the cultural and eco-benefits of eating in local or sustainable restaurants — without breaking the bank. Here's how we do it.
Stick to one meal out per day.
It doesn't matter which meal you eat out, but it will need to make sense or you won't stick to it.
It doesn't have to be the same mean each day.
If you'll be sight-seeing in Argentina all day, perhaps lunch out for a well-timed break is best.
If you'll be relaxing instead, maybe you skip lunch and enjoy dinner out as a treat.
If you're in a region where restaurant dining is very expensive, opt for breakfast out.
Lastly, plan stops at city artisan or farmer's markets while sightseeing, and make a meal of trying their wares.
Think Seattle's Pike Place Market or Portland's Saturday Market.
Shop for groceries and snacks before you go, or just after you arrive.
If you're traveling by plane, pack whatever snacks you can for en-route, and bring your reusable water bottle.
If you're traveling by car, you'll need a quality cooler and ice packs, and plenty of organization to take food on the go.
We bring three reusable grocery bags: one for breakfast foods, one for lunch foods, and one for snacks.
This way, we only need to carry the appropriate bag into our hotel for the night.
We also bring two resealable, easy-to-clean containers for fruits and vegetables.
For mid-trip restocks, it can be a fun cultural experience to shop in a local grocery store (assuming you're outside the US… otherwise it's just business as usual).
Think about longevity.
Don't pack snacks that will melt in the car, and buy breads and cheeses that will last longest without spoiling, such as bagels instead of sliced bread and Babel cheese wrapped in wax instead of singles.
Depending on your cooler space, you can buy fruit that doesn't need to be kept cold, like bananas.
You can buy small amounts of vegetables to keep in your cooler.
Buying smaller quantities more frequently will be fresher, eliminate waste, and save money.
Take advantage of hotel room amenities.
You may think you can't make many meals in your standard hotel room, but you can!
Luckily, almost all rooms now include mini-fridge. In-room coffee makers can double as hot water heaters for oatmeal, hot chocolate, instant lunches and noodles, and tea.
You can use your microwave to reheat leftovers.
While it's nice to have a condo or house with a kitchen, it's not crucial for eating healthy meals on vacation.
Remember cutlery, bowls, and plates.
You'll need something to pour that cereal into!
While reusable bowls and spoons are best, they're sometimes impractical.
We like to use eco-friendly biodegradable plates and cutlery.
Store them in the meal bag they're needed for.
Having the right supplies on hand will make it much easier to stick with your vacation food budget.
Issue everyone a reusable water bottle, and a selection of drink mixes.
Water bottles, soda, and juice can really add up when on the go, so we give each of our kids their own stainless steel water bottle, and refill it with sugar-free single serving drink mixes they don't enjoy at home.
This makes water fun, so they don't ask for expensive drinks when at rest stops or during layovers.
Buy fun and 'treat' foods.
When shopping for our breakfasts and lunches for a trip, I try to purchase healthy but fun foods we don't normally enjoy at home, such as artisan rolls, gourmet spreads, and kid-friendly crackers and candy.
This makes eating lunch 'in' a treat instead of a punishment.
No one will mind passing up the McDonald's in favor of the park picnic.
Splurge on dessert.
No one in my family minds eating two packed meals because we often have money in the travel budget for fun desserts out.
We can say yes to street-side crepes or ice cream parlor sundaes because we've had healthy and cheaper sandwiches for lunch.
Seek out parks and local recreation areas.
We like skipping the crowds at fast food stops and finding local parks and visitors centers where we can spread out our picnics.
In winter weather, we search for indoor play spaces or museums with our car's GPS, or ask locals where the indoor fun is.
Make snacks portable.
Having healthy snacks readily available in the car helps keep you on track with your vacation food budget.
A simple tip to make it easy: bring reusable plastic cups — one for each member of the family.
With them, we refill everyone's snack portions: fill the cups with pretzels, dried fruit, crackers, M&Ms, or all of the above.
Bring packaged snacks like fruit leather or granola bars to put in everyone's pocket before setting out to city tour or hit a museum.
How do you save money while eating on vacation food budget?
Argentina breakfast
Enjoying Argentinian breakfast foods will start off your day in an authentic way. You can immerse yourself in the full experience of Argentina.
What's also great about Argentine breakfast is there is enough variety so even if there is something you don't like, you can choose from other things.
Photo credit: Natapics and empracht. chad_k
Related Posts: