Updated:
We love Milwaukee. Having grown up in Chicago, I wish I took more advantage of it. It's clean, easy to get around, affordable, and fun for kids. We had a short visit there — just two days — and wanted to explore the best of the city.
Upon some recommendations from locals, found great things to do in Milwaukee with kids in two days.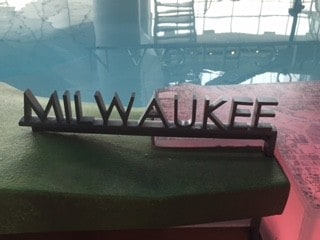 Top 5 things to do Milwaukee with kids in 2 days
We arrived in Milwaukee around noon and made our way to Discovery World.
Discovery World in Milwaukee
Even during the summer, the Discovery World in Milwaukee was not terribly crowded. Milwaukee's Summerfest was going on but we easily found parking in the garage.
With so many hands-on activities, kids will enjoy themselves, whether they are "into" science and technology or not.
Their large exhibits accommodate crowds well. While we were there, several camp groups and a Boy Scout den were there. Even with the other families in attendance, there was enough to see and do for everyone.
Discovery World hours
We spent almost four hours there until they closed at 4pm.
We definitely could have used more time as when we left we realized we never made it to the third floor.
They are open weekdays from 9am – 4pm and weekends from 10am – 5pm.
Here's what we enjoyed at the Discovery World in Milwaukee.
There are many more things than what I've listed but these are the things we actually did.
First level in science center
One of my boys' favorite things to do was the Flight Simulator on the first level.
Toward the end of the afternoon, they were able to do this multiple times, without a line.
There are many levers, pulleys, gears, contraptions and simple machines to explore.
Adults and kids will have fun seeing what happens when you push, pull, lift or lower.
Kids will learn more here through trial and error and by experiencing things hands-on than they will ever learn from a textbook.
Another favorite and interesting exhibit was playing tic-tac-toe with a robot arm.
Second floor
The entire museum has high ceilings. They really are magnificent in this section with large artwork hanging from the ceiling.
Bed of nails
My son and I each took turns lying on a bed of nails… literally!
Race car simulator
On this floor, my older son enjoyed the race car simulator. There is a height requirement for this attraction that many 7 – 8 year olds may not meet.
There were large, easy-to-follow displays about minimizing our impact by walking and driving lighter cars, etc.
Music
There is an extensive music section with a lot of guitars and stations to make music.
We didn't stay in this section because my kids were hungry.
We went back to the main level and didn't make time to return.
Third floor
Unfortunately, when we left the second floor and made our way to eat, we then saw there was an Aquatarium, and spent time there. We never made it back to check out the third level.
Café / Museum Store / Hallway
We went down to the main level and enjoyed the gorgeous view of Lake Michigan.
There is a long and wide promenade with several tables.
You can bring lunch/snacks or buy some from the small shop but know that it is only open weekdays from 10:30am – 2:30pm; longer on the weekends.
You can buy drinks, nachos, hot dogs, cheese pizza, chips, and more. Prices were reasonable.
We brought a few snacks and bought a slice of pizza which my son deemed "one of the top three in his life."
Next to the cafe is the museum store.
They sold interesting toys and miscellaneous items.
Outside this store is one of my families' favorite things: the flat penny machine.
Bring your two quarters and a penny and buy a souvenir that's easy to tote around, fun to collect and easy to store.
As if three floors of science and technology isn't enough, we saw there was an entire section down the long hallway with water features and an aquarium.
Discovery World Aquatarium
Included in your admission price to Discovery World is the opportunity to visit the aquarium, what they call the Aquatarium.
Also very large, it boasts land and sea creatures, a huge sailboat, and a tremendous display of the Great Lakes.
Great Lakes display
One of the best things about this for older kids especially is the display of the Great Lakes.
All done to scale, it shows the all of the Great Lakes as well as the larger towns and the states which surround the lakes.
It was also interesting to see the fish and snakes living in the tanks in this area.
Floor two
We didn't see everything in this section either but we enjoyed everything we did see.
The kids had fun exploring the huge sailboat, and loved going down the stairs below the deck.
There were interesting fish, including piranha, seahorses and many more.
We had fun exploring in the Humans Underwater Lab.
There are interesting displays about water purification, harvesting rain and rain gardens, and being earth-friendly.
Ending the day at Discovery World
When we finished in the Aquatarium, we made our way back to the first floor to do the flight simulator again and again.
I enjoyed seeing the college-aged volunteers reading books (!) and not using their smartphones during slow periods.
Parking at Discovery World
It was very convenient to park in the garage. Get your ticket marked when you re-enter the garage.
Visiting the Discovery World should be one of the top things to do in Milwaukee with kids. It's great for children and adults too.
Everyone will be engaged in all there is to do at this fantastic science center.
Having done so many things in Chicago for many years, including many trips to Legoland Chicago, it was a refreshing change to not have to deal with the crowds in Milwaukee.
After leaving the Discovery World, we made a quick dash to the Bronze Fonz.
2. Bronze Fonz
Okay, so your kids probably won't ever have seen Happy Days or even heard of The Fonz but you did, and you loved him. Happy parents make happy kids, so relive your Happy Days and take a few minutes to pose in front of the Fonz for all of your Facebook friends to Like away.
Bronze Fonz is located on Milwaukee's scenic RiverWalk. It would be fun to walk around and look at the sculptures by local and national artists.
We didn't have time to do this but it seems like it would be something fun to do with kids: Who can spot the art first? It's really a lovely area.
After leaving Fonzie, we made our way to dinner. Our children are quite picky, so finding something other than fast food is difficult. We were thrilled with our choice.
3. Great restaurant in Milwaukee for kids
We went to AJ Bombers at 1247 N. Water Street in Milwaukee.
We found street parking easily and only needed to feed the meter until 6pm.
Usually, the meters are only good for two hours before needing to put more coins in.
There are huge chairs outside AJ Bombers that are great photo opportunities as well as ultra-fun to sit on.
It was raining when we were there but we lucked out the next day when we went to Miller Park to see the Milwaukee Brewers play, and we walked past a AJ Bombers restaurant in the park, complete with a huge chair.
AJ Bombers is great for kids
This is a great restaurant in Milwaukee for kids and adults.
When my sons walked in, they looked around with concern.
Our nine year old was very concerned with the "messy floor." Ha!
There were peanut shells everywhere which when he realized what they were, was thrilled as peanuts are one of his favorite foods.
Your kids will have fun filling bowls of peanuts from the contraption on the ceiling.
They can toss the shells on the ground, which is always fun.
Something kids will also enjoy is being able to write on the walls.
This is like Gino's East in Chicago but because it is a newer restaurant, there wasn't writing everywhere.
Bring a marker if you think of it for extra entertainment. We just used a pen and wrote our names.
Kids will enjoy ordering their food
It was fun to order our food. Each place had a pen and a paper menu. Simply write your name and check off what you want.
Most kids will love the choices. Mine also loved drinking Sprecher Root Beer, especially since we were taking the tour the next day.
The adults will enjoy it too. We enjoyed some local beers along with our Colonel Mustard burgers and fries. All the while, we chomped on peanuts.
AJ Bombers has a fun atmosphere and tasty food at reasonable prices. It's a great family restaurant in Milwaukee.
Just be sure one in your group is allergic to peanuts, as they are everywhere. The next day, we headed to Sprecher Brewery.
4. Sprecher Brewery tour
If you're like us, when you think of Wisconsin, you think of cheese, the Green Bay Packers, and beer.
We wanted a kid-friendly brewery tour are so glad we chose Sprecher Brewery.
Not being from the region, we never heard of this brewery, but it has become one of our favorites.
Unlimited soda? 32 ounces in beer samples? Yes, please!
We visited the brewery on a Friday during Milwaukee's Summerfest.
Several locals recommended it to as as the most kid-friendly brewery in Milwaukee. We loved it.
A trip here should top your list of things to do in Milwaukee with kids. Everyone will enjoy it!
Update: We loved Sprecher Brewery so much we returned for a second visit the next year. Our tour guide was great once again.
The tour lasted 33 minutes, and it was lively enough for the eight kids in attendance.
What we liked this time was that before the tour started, adults were able to have a few ounces of their beer, and the kids (or anyone) were able to enjoy unlimited cherry cola. It was delicious.
Also this time, my kids brought their fidget cube and some cards to play with while the adults were enjoying the beer samples.
I would like if Sprecher would have a shelf of games to keep the kids entertained.
However, I imagine they don't want people lingering there too long as the next tours come to enjoy their samples.
Tips before you go to the Sprecher Brewery
Be sure to look online on advance so you can think about what types of beers you might want to sample or buy. While the store is organized well and fairly small, it may be overwhelming while you are there. I left forgetting to buy their limited edition BoDeans beer, one of my favorite bands!
Come with a full stomach or plan on buying food while you drink their beers.
If you think your kids would enjoy entertainment while they are there, bring cards, Rubik's Cube, a game or something if you think you will stay longer than a half hour. My kids did fine staying long there but others may not, and it would be a shame to have to leave such a great place early.
Make reservations
You must reserve in advance, especially in the summer, as tours most likely won't be available if you walk up.
We called the day before when we were driving and lucked out they still had a few openings left. You can also reserve online.
There is a cost for adults and children over age 2. With admission, adults receive a souvenir glass and four, eight ounce samples.
Children will receive a Sprecher's sturdy plastic-type cup.
You carry the glasses and cups through the tour and sample at the end.
Everyone can drink as much soda as they would like to.
Length of brewery tour
Our tour was 25 minutes long. Our tour guide did not offer to answer questions though I'm sure he would have answered them if anyone asked. (I asked a few as I was redeeming my beer tabs at the bar.)
The tour was the perfect length of time. All of the children in attendance, mine included, did very well.
Everyone was able to see well. There may have been 30 people in the tour.
It was interesting to be able to see the equipment and the ingredients.
Know that you will be standing the entire time. You will take a short walk through the fermentation room which is 28 degrees.
What you see on tour
We walked through four rooms and our guide talked with us in three of them.
The last room was the production room where they bottle up to 400 sodas per minute.
They use the same line for bottling their beers as well. Their production line runs Monday through Thursday.
If we were there during their run, our guide said we would have just walked through and not stopped for his talk there. So in a way, it was good we saw it on a Friday.
We learned they bottle 400 sodas a minute and 7,000 cases a day.
When you leave the bottling line room you enter Sprecher Brewery's indoor beer garden.
There are enough seats — mostly long tables which makes it fun to meet other visitors — without being crowded.
There are a few separate tables with seating for four. In the back is a small room to handle overflow.
The bar runs almost the width of the room.
The kids were able to walk right up on the right side to get their choice of soda.
It was great for the kids to be independent enough to do this themselves, in a safe environment, not having to worry about money, etc.
Soda flavors at Sprecher Brewery
Root Beer
Cream Soda
Cherry Cola
Grape
Puma Kola
Orange Dream
Ginger Ale
Cherry-Cran
Low-Cal Root Beer
Honey Root Beer (not available to sample)
There may be additional seasonal sodas as well. We purchased a few of the Honey Root Beers to go.
Kids love it
My kids thought this was a dream come true:
They could have as much soda as they wanted.
Many of the kids drank a cup or two quickly, and then drank subsequent cups much slower.
Mine enjoyed sitting on the floor watching TV, talking, and drinking the Root Beer and Puma Kola. Bring some cards or a game to prolong their enjoyment.
Everyone can enjoy as much soda as they want to. It was delicious.
We stayed in the beer garden for an hour and a half.
With a paid admission, adults receive the 8 ounce glass and a wristband with four tabs for four, eight ounce samples.
Our tour guide recommended a few to try. He said to sample the Sweet Amber and the Black Bavarian. Both were excellent.
He also suggested sampling their "12" which was very strong with 12% alcohol.
He said they will give a smaller taste of 12, and so it wouldn't count toward the four samples. It was at least 4 ounces though which was a lot.
We also sampled the hard sodas as part of our free samples.
I enjoyed the hard root beer so much I ordered a second. It was delicious and not too sweet.
Food at Sprecher Brewery
You can purchase whole pizzas, hot soft pretzels (better than the usual ones at fairs and carnivals), cheese curds, and bagged beer chips.
Depending on how many beers you have, it might be a good idea to plan on buying some food. Definitely eat before you arrive. We ordered the soft pretzels.
Sprecher's gift shop
You can browse the Sprecher Brewery gift shop while you are waiting for the tour to start.
When you leave the beer/soda garden, you can load up on these fine beverages to enjoy at home.
We bought a case of their root beer and made additional four packs with other sodas.
You can also buy any of their beer by the case or bottle.
Sprecher's is a great tour
We have been to many factory tours, including Hammond Candies in Denver, CO and Jelly Belly in Pleasant Prairie, WI.
We also went to Hershey, PA, Legoland Discovery Center in Schaumburg, IL, the Spam Museum in Minnesota, and Kellogg's in Battle Creek, MI.
This tour at Sprecher Brewery is the ONLY one that took us into the actual plant.
The other tours were great and we saw into the plant (like at Hammond Candies) but most of the others were rides through the facilities showing simulations of how their products are made.
These are also very fun and educational but it was so interesting to be in the actual plant and to see the supplies used to make the beers and sodas.
We love when companies employ local people and use locally-sourced ingredients and materials.
Factory tours are great for kids
We love factory tours and buying local. We also love kid-friendly destinations.
Taking a tour at Sprecher Brewery checks all these boxes.
It is sure to be a fun and educational time for everyone who visits.
It was a great atmosphere and a wonderful day out for kids and adults to enjoy themselves.
After we left the tour, we headed to Miller Park for the Milwaukee Brewer's evening game.
5. Milwaukee Brewers game at Miller Park
We arrived at 4:30pm for a 7:10pm game thinking we would eat at TGI Friday's at the stadium.
We paid for parking and saw rows of people tailgating by their cars.
This would have been great fun to do, even if we just brought food from a fast food place and drank our Sprecher's sodas.
Miller Park is a family-friendly stadium so be sure to come early to enjoy all of the free activities.
Tips before you see the Brewers
Plan to tailgate to save money by not having to pay for dinner and snacks inside Miller Park.
Bring an empty water bottle or two so you can fill it up at the drinking fountain for free. Bottled water is expensive and wasteful.
If you have kids, get their early so they can enjoy the fun, free activities.
We walked to the stadium and were stunned the line to get into TGI Friday's was at least 100-people deep, maybe longer.
So instead we decided to get in line to get into the stadium, which didn't open until 5:45pm, and eat inside.
Upon entering, we all received a free Milwaukee Brewers' tee shirt which was very cool.
We went outside the Brewers' souvenir shop to get flat pennies and then enjoyed all the pre-game activities for kids.
They had a blast enjoying all the free attractions and games.
Pregame activities for kids at Miller Park
At the U.S. Cellular Power Playground, there were many baseball-oriented activities the kids enjoyed.
These games were some of the highlights of things in do in Milwaukee with kids.
Remember to get to Miller Park early to enjoy all of these free activities for kids.
Race to First
There was an area which timed how fast kids could run a base. An electronic monitor displayed the time.
Big catcher's mitt and a slide
There was another section where kids and adults could sit in a big catcher's mitt. There is a slide as well.
Timed pitching
Next to the slide were two cages which timed the kids throwing a pitch against a wall painted with a catcher and a mitt.
My kids' favorite spot was an area with these three activities.
Batter Up
This section gave kids the chance to swing a bat and hit a ball on a tee to try to hit targets. Each child received three chances before going back in line.
Mow 'Em Down
Kids had three balls to throw at targets which lit up when hit.
Strike Zone
Kids had three balls to throw in cutout holes in the display.
There were barely any lines. It was all for fun and all for free.
It was great to use up time before getting food and sitting down for the (awesome) game.
Food at the park
Everything is fairly expensive and not that healthy so plan accordingly.
We enjoyed caramel corn, cheese pizza, nachos, Dippin Dots, and soda.
We refilled our soda cups with water from the fountain because we didn't know we could bring our stainless steel water bottles.
Exciting game at Miller Park
The Milwaukee Brewers game was tied until bottom of the 9th inning with runners on first and second, two outs and a full count.
The batter hit a line drive down left field and the player on second scored. It was so exciting!
Sometimes baseball games are long and kids lose interest but this game kept moving.
There were several home runs with fireworks and the huge screen kept the game entertaining and fun.
Best 5 things to do in Milwaukee with kids in 2 days
We enjoyed our time at the Pabst Mansion on an earlier visit to Milwaukee as well.
It might not be as appropriate or interesting for your child as the above activities, but many will find being in the mansion fascinating.
This time, we wanted some more kid-oriented things to do in Milwaukee.
Because there are so many attractions, it can be difficult to choose things to do in Milwaukee with kids, especially for a quick trip.
We loved what we did because our kids were engaged, interested, and the adults had fun too.
If you head to Wisconsin, be sure to visit Milwaukee and enjoy all this city offers.
trip to Milwaukee and Chicago, we headed to Iowa, Nebraska, Wyoming and Utah for even more adventures.