Nothing says summer like a great outdoor festival: sunshine, great company, and amazing food or entertainment. Whether you're looking for a foodie extravaganza or a legendary music festival, check out our summer festival guide for the best summer ever. You will have a great time all across the US.
Summer Festival Guide for the Best Summer Ever
1. Rose Festival – Portland, OR
Even if you are not normally into flower festivals, you will love the Rose Festival in Oregon. Part of Portland's culture for over 100 years, the Rose Festival was started by the city to help put Portland on the map. Kids and adults alike love the four parades held over three summer weekends. Over half a million people turn out for the Grand Floral Parade, which makes this the largest single-day spectator event in the state of Oregon. This urban fair is known for great food and entertainment.
2. Atlanta Jazz Festival – Atlanta, GA
If you're looking for a great way to bring in the summer season, the Atlanta Jazz Festival is a great place to start. As one of the largest free jazz festivals in the United States, it features jazz legends, as well as up and comers on the jazz music scene. Each weekend in May, you can find jazz concerts all over the city. But the big events are Memorial Day weekend, where all of the free performances take place at Piedmont Park.
3. Bonnaroo Music and Arts Festival – Manchester, TN
Every year, nearly 100,000 people gather in Tennessee for the legendary Bonnaroo Music and Arts Festival, which has performances on 10 stages. Festival ticket prices include camping, which is set up like a mini-city. Each section is named so you can find your way "home." While Bonnaroo is not known as the most kid-friendly festival, they do have a special family camping area for families with small children.
4. Summerfest – Milwaukee, WI
700 bands take the stage for Summerfest, an 11-day music festival in Milwaukee. For 45 years, local Milwaukee talent has played alongside headliners in a venue that overlooks Lake Michigan and downtown Milwaukee. Known as the World's Largest Music Festival, Summerfest is famous for providing great entertainment for fans from all over the world. There are some great things to do in Milwaukee with kids as well.
5. Taste of Chicago – Chicago, IL
Over 3 million people flock to Chicago's annual Taste of Chicago food extravaganza. This kid-friendly foodie festival is the largest yearly event in the Windy City. Each year, Taste of Chicago has the Race to Taste 5K Run/2-Mile Walk for adults and kids can participate in the Kids' Dash. The five-day festival features great performers each year, as well.  Entrance to the festival is free, but concert tickets are a fee.
6. SF Chefs Food and Wine – San Francisco, CA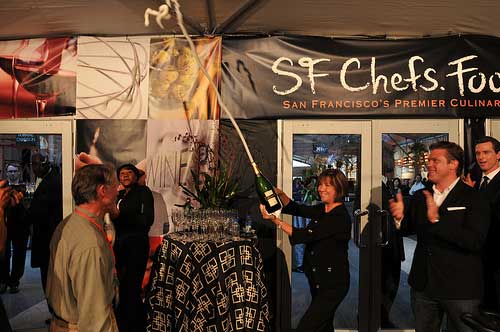 For hardcore foodies, SF Chefs Food and Wine is the summer festival not to be missed. A great way to bid farewell to summer, this September festival offers the opportunity to mingle with culinary superstars in San Francisco's Union Square. You can rub shoulders with master chefs and taste culinary creations from some of San Francisco's favorite restaurants.
photo credits: SF CHEFS, allisonkpark, thepipe26, chris friese, TJOwens, jstuppy
Whether you're looking for great food or amazing music, this summer festival guide for the best summer ever has the perfect festival for you.