One of the easiest ways to be a greener traveler is to opt for a reusable water bottle instead of bottled water. However, one crucial concern of using reusable water bottles is the fact that some contain BPA and phthalates. If you don't know what BPA and phthalates are, just know they are toxic chemicals found in plastics.
Most reputable companies are eliminating them from their products. It is important for you to remove them from your home by tossing them into your recycle bin. We recently tried the CamelBak BPA Free bottle.
CamelBak BPA Free
CamelBak
has recently committed to making all of its products BPA and phthalate free and they were kind enough to send us a bottle to test out. Here are my thoughts:
I tested a 750ml bottle. (The Classic Cap is currently BPA and phthalate free and the bottle with a straw, Better Bottle with Bite Valve, will be BPA and phthalate free next month in May 2008).
Here's what I subjected by bottle to over the course of the weekend:
Initial dishwashing
Two days at the office
Health club workout
Afternoon walk around DC's Tidal Basin to see the Cherry Blossoms and the festivities for the Cherry Blossom Festival
Other touristy DC activities throughout the weekend (Air and Space Museum, National Gallery of Art, Botanical Gardens)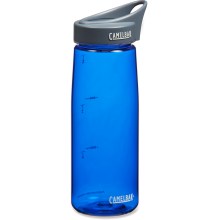 After participating in these rigorous activities here's how the new CamelBak
 BPA free scored on a scale of 1-5 with 1 as the worst and 5 as the best. *Please note that these ratings are completely subjective.*
Weight (without water): 4 It feels like a lightweight plastic bottle. It's technically made out of Tritan, a copolyester. (The company that makes this material is US manufacturer Eastman.)
Ease of Transport: 5 I love the loop on the cap; it's incredibly easy to attach the loop to my bag via a carabiner.
Looks: 4 It's a fairly attractive water bottle.
Ease of drinking: 2 For some reason the opening was not a good diameter for me. Whenever I drank out of it it hit the top of my nose– it's skinnier than a traditional Nalgene and wider than a Klean Kanteen.
Durability: NA Since I only used it for a weekend I don't feel that this I can adequately judge
Taste of Water after two days: 3 This is the true water bottle test- if you let the water sit in it for a few days does it absorb a weird taste? In the case of the CamelBak Better Bottle, it has a slight plastic-y taste to it.
Smell of Water in Bottle: 1 Almost as important as the taste of the water, smell can make or break a food or drink experience. This was the real downside of the bottle; every time I took a sip I smelled a very plastic-y scent in the bottle. It was just kind of icky.
Overall: 3 I commend CamelBak's commitment to manufacturing BPA and phthalate free products; however, I just don't think the CamelBak Better Bottle is for me. I like it more than a Nalgene, but less than a Klean Kanteen.
If you currently use and like the Better Bottle then I recommend that you look further into purchasing a new BPA-free
one. Here's more to engage you: Are BPA Water Bottles Dead? and Eco Vessel Surf Recycled Glass Water Bottle vs Zulu Glass Water Bottle and BPA-Free Water Bottles. Then you can be sure that you're drinking to your health!
Do you own a CamelBak BPA Free water bottle? Please leave your thoughts about it in the Comments below.