We were excited to visit Belize with its diverse ecosystems. While we love immersing ourselves into different cultures and especially the local culture of wherever we travel, we were intrigued how the people and history of Belize consist of many cultures and languages. We did use some of our Spanish, after practicing and refreshing our vocabulary for months. However, it was by choice and not essential as Belize's official language is English.
My first time in Belize, in 2006, I came with my family, and we spent a week in Placencia. In 2009, I returned and stayed in Hopkins, Belize where my parents had just finished building a beach house. At that time, Hopkins was still a bit off the beaten path. Not so today. Condo timeshares are being built up the road. And while there's no ATM yet, word has it that there will be in the near future. More restaurants are established as well. There is so much to do and experience in Belize.
Interesting things to note in Belize
Located on the Caribbean coast of northern Central America, Belize offers many things to enjoy. We learned it is the birthplace of chewing gum and that Guinness Book of World Record's named Main Street in Placencia, Belize the "World's Narrowest Street." It's really more of a sidewalk, but since all the shops and restaurants line it and people walk or bike through town, it's called a "street."
Belize by moonlight
We captured this moonlit photo with our DSLR camera in Hopkins, Belize. The moon was full so we knew it would be bright in the photo, but we were both surprised that the picture practically looked like daylight.
Bugs and insects in Belize
My only complaint about Belize is that there are tons and tons of sand fleas and mosquitoes. They don't get inside the house, but outside they are everywhere. Anytime you step outside, even if it's just to walk down to the pier, you need to put on bug spray. You probably won't notice the sand fleas biting you, as with a nickname of "no-see-ums" they're practically invisible. But the next morning you'll have 10's, if not 100's of little red bites that itch like crazy. However, the bugs are a small price to pay for the beauty and adventure that is Belize. Tip: When you first arrive in Belize and do your grocery shopping, buy your bug guard/lotion/spray so you will have it to use right away.
Volunteering in Belize
After three months of traveling, Hopkins was the first place I visited that I really did not want to leave. I felt like I could have sat on the pier each day reading a book, biking through the jungle, and fishing. And there were plenty of volunteer opportunities. Many of the expats who end up in Hopkins use their skills their services to help out the community — one couple are veterinarians who spay and neuter dogs. Barbara is a nurse who opened a clinic. Many people help out at the local school. There are so many resources for volunteering abroad.
Transportation in Belize
Unfortunately, Belize doesn't have the an amazing public transportation system. There are buses, and many people hitchhike. But if you're only in the country for a short time and want to see and do everything, you may want to consider renting a car. In our quest to save money and be green travelers, we stayed a week without a car. We rode our bikes everywhere in and around town. We also had the added benefit of the people we stayed with were willing to give us a ride if we needed one. Resorts will also take you on excursions (for a price.) By no means do you need to rent a car, but it adds a convenience factor.
Fun in Hopkins, Belize
Sometimes you're looking to get away. You need a spot with a bit of adventure, a bit or relaxation, and plenty of sunshine. Hopkins, Belize is the place to go. Hopkins is a small town of approximately 1,500 people, located south of Belize City. With an amazing beach on the Caribbean and a freshwater river, it's become a popular spot for expats and tourists. We were fortunate enough to share a beach house there with a large group of people, at my parents' beach house.
A shared house is an environmentally friendly and economic choice. By staying with a group of people you're having less of an impact on the environment than you would by staying at a resort. You're sharing resources (electricity, gas, water) and meals, leaving less waste overall. You can minimize your impact even further by buying groceries instead of going out every day for meals. We rode bikes everywhere. Being toward the southern end of Hopkins, we were within a 15 minute bike ride of "downtown" and a 5 minute bike ride to the Sittee River Marina — perfect for when we took boating and fishing trips.
On the ocean or river you can kayak, canoe, and fish. Guides take you out fresh- or salt-water fishing. You can also get snorkeling tours, diving tours, or all day fishing, snorkeling and sea cruising catamaran tours. In the jungle, not far from Hopkins, you can find waterfalls, Mayan ruins, caving, tubing, and plenty of wildlife. There's everything you could want to do, or if you'd prefer, sit on the beach and do nothing at all.
Photo tour of Hopkins, Belize
On bike, I road through the gravelly road in Hopkins, Belize and snapped a few photos of to give you a sense of what the town is like.
Library (with school in the background)
Hopkins Police Station (It never looked "open")

Fruits and Vegetables Store

Dong Lee's Supermarket, lower level only (Notice they have beach front property)

David's Woodcarvings (He has amazing sculptures, bowls, and other carvings)

Hopkins Barbershop. While the lighting in the photo is poor, if you look carefully you'll notice that the barbershop is actually only about 6 feet by 6 feet. There's another building behind it that makes it look larger in this photo.

As you can see from the photos, Hopkins (and Belize in general) is an incredibly humble place. But the people couldn't be happier, and their friendliness is contagious.
Best restaurants in Hopkins, Belize
Restaurants in Hopkins range from $2.50 US for hamburgers at the Octopus's Garden to $100 US lobster meals at Beaches and Dreams Resort. For the most part, you get what you pay for at Hopkins restaurants. The more expensive food tends to be better, but there are a few great cheap eats. Here are some of our favorites:
Taste of India in Belize
We heard about this restaurant from my parents, who told us that Taste of India was only open on weekends and you had to buy drinks at the bar down the beach because they didn't' have an alcohol permit. Turns out that now business is so great, they're open every night and serve drinks. The first night we went every table was full. And when we tasted the food we understood why. It was the best Indian food I'd ever eaten. Now, I'm not exactly a connoisseur of Indian cuisine, but some people at a table next to us said that it was the best Indian they eaten too. (And they live in New York and are from London.) We went to Taste of India twice and tried the curry, tikka masala, paneer, and an eggplant dish. (Can't remember the name of the eggplant.) Their veggie samaos were incredible as well. If you like Indian food and are in Hopkins, you must visit Taste of India. Dishes are about $7-8 US each.
Innies
We stopped at Innies for lunch, and lucky for us, she let us order off the dinner menu. We had a local Garifuna dish made with plantains, red snapper, and coconut milk. It's called Hudutu. If you every see this dish on a menu you must try it. It was probably the best dish we had in Belize. A similar dish was served with bananas, red snapper, and a gravy and almost as good; but we liked the hudutu more.
Beaches and Dreams Barracuda Grill
The only place in Hopkins worth spending a lot of money on (there are a few other "nice" restaurants at resorts, but the ones we tried weren't worth the money). Their seafood is wonderful, and any of the fish of the day options will be caught that day. We were particularly fond of their barbecue pizza. If you go out fishing, they will cook what you've caught. For dessert, the Italian Wedding Cake is a must.
King Cassava
King Cassava makes the best flour tortillas. Anything you get with a flour tortilla will be good. They also had a great looking breakfast menu with egg and cheese stuffed fry jacks (like a sopapilla). We tried to stop by for breakfast but it turns out they are closed on Mondays. King Cassava's is also a great place to enjoy a beer.
Windschief Bar and Internet Cafe
While not technically a restaurant, Windschief Bar is a fun place to drink. It's a huge hangout for locals, expats, and tourists, and they have movie nights on Saturdays.
Watering Hole
Normally we don't recommend places we didn't visit, but we heard such wonderful things about the Watering Hole Restaurant that I decided to add it to this list. (With the caveat that we didn't get a chance to try it.) It's pretty much a dive, but they are said to have amazingly fresh fish at extremely low prices.
Bug spray note
When going to any restaurants in Hopkins, Belize, be sure to bring some bug spray. You will almost always be eating outside, and if you don't remember to put on bug spray, let's just say that the mosquitos and sand-fleas will also be having some dinner.
Belikin Beer, The Beer of Belize
When in Belize you drink Belikin beer. There's regular Belikin, Lighthouse Lager, and Belikin Stout. Sometimes restaurants will have all three, sometimes they'll just have regular. Other than rum and Coke, Belikin is about all there is to drink in Belize. Considering the exorbitant amounts of Belikin that towns must go through, it's only sold in 12 ounce bottles, I always wondered how it was exactly that Belikin got delivered. On a bike ride in Hopkins, Belize, I got the answer I was looking for.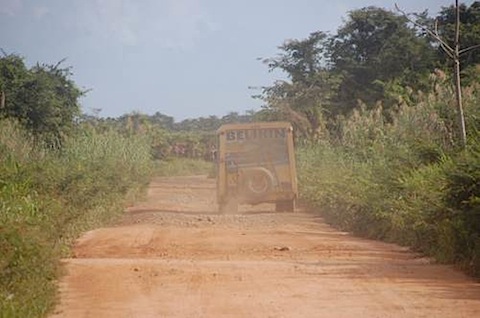 Don't Teach Your Trash to Swim: Litter Signs in Belize
Oh how we love environmentally friendly signs. Unlike in Argentina, where we encountered very few signs about trash, pollution, and recycling, in Belize we saw quite a few. Perhaps this is because Belizeans are much more dependent on the sea for their well-being than Argentineans are. In Belize, the Caribbean provides money from tourism and fishing. There may also be more "do not litter" signs in Belize because many of the signs are homemade. Check out a few of our favorites:
Exploring Belize is an exciting and relaxing adventure. There are so many things to enjoy. We are already planning on what to do the next time we are there. Have you traveled to Belize? What did you enjoy? How did you enjoy trying to be a green traveler while you were there?