Traveling to New Zealand – It's one of the cleanest and most beautiful places on earth.
From New Zealand's capital city of Wellington to the "hobbit holes" just outside of Matamata, New Zealand has everything a world traveler could ever desire.
With its vast lands and low population density, this beautiful country truly calls to travelers to explore its wonders.
If the country's verdant landscape and serene waters are calling to you, here's everything you need to know about traveling to New Zealand.
Traveling to New Zealand
As an island country, there are few modes for getting there, depending on where you're coming from.
The most notable options to choose from include:
Plane
Passenger boat or cruise
Special travel offers
Air Travel to New Zealand
The fastest way to begin your New Zealand adventure is to travel by plane.
While picking the best flight can be a gamble, there are numerous airlines to choose from.
Due to the plethora of online travel sites, air travel is an excellent choice in the modern age.
Countless sites like CheapOair, Travelocity, Trivago, and many more are there to help frequent travelers like you find the best flight at a low price.
New Zealand Passenger Ships and Cruises
While air travel is the faster and cheapest option, traveling by boat is a very popular mode of transportation.
There are many ports around the entire country.
For those who enjoy the scenic route, cruises or passenger ships are perfect for you.
With the convenience of the modern world, cruises to New Zealand are luxurious and tailored to your every need.
For either of these options, travelers can experience the simplicity of New Zealand's first and only mode of transportation, by boat.
However, while sea travel is thrilling, those who lack the proper sea legs should stick to plane travel.
Money-Saving and Eco-Friendly New Zealand Travel Tips
The most important thing to do before embarking on your quest is to research travel deals.
While this is not new to seasoned travelers, it is best to evaluate the pros and cons of special travel packages.
These often offer great savings.
But more than that, they can be a great way to reduce your carbon footprint.
Travel tours and packages are a very eco friendly option for your vacation.
Commuting with other explorers to and fro saves a great deal of money overall and helps cut down on the emissions from your travels.
There are also packages made for those who wish to travel largely by foot.
New Zealand is a country with an abundance of rural land and clean beaches, making it an ideal option for the traveler looking to get back to nature!
International Guidelines
As with traveling to any country, it is imperative that you check and comply with the local rules and customs.
New Zealand's strict customs process is one of the key tools used to maintain the purity and beauty of the country.
Items such as weapons, fresh food of any kind, and even Christmas decorations are banned.
The bottom line: be sure to see what you can and cannot pack to avoid packing illegal baggage.
Last-Minute Tips Before You Leave on Your Trip to New Zealand
When traveling abroad, be sure to check the currency exchange rates to ensure you bring everything you need.
Now, if you should fall in love with the country and want to move, companies like MovingtoNewZealand.com allow you to pay your expenses in New Zealand's currency.
However, most travel mediums require that you pay in your home currency.
But, when abroad, it is to your benefit to have the country's currency.
To avoid getting cheated, be sure to exchange your money in a place of reputability.
Changing currency at banks, airports, or hotels are the best options while abroad.
Many currency exchange offices abroad target tourists and often charge exchange fees that come out of your returned amount.
So pay attention to avoid getting cheated.
Places to See in New Zealand's North Island
Places to See in New Zealand's North Island: To help speed the recovery from the recent devastating earthquake in Christchurch, travel bloggers from across the globe have teamed up to remind people of New Zealand's highlights.
As part of Blog4NZ we bring you this post and encourage you to make the trek to these phenomenal islands.
Most Friendliest Places For Tourists in New Zealand
Tourism is one of the best ways to help the recovery effort – who'd have thought that taking the trip of a lifetime would be more beneficial than donating to charity?
It was nearly a year ago when we visited New Zealand.
When we returned we wrote about some of New Zealand's highlights and even included a New Zealand Trip: Best Of.
But hindsight sometimes allows you to see more clearly the highlights of a trip.
Our time on the North Island fell into two categories
The non-touristy places we saw.
The touristy places we visited.
Both were amazing in their own ways.
If you're planning a trip to the North Island (and you should) here are some of our highlights:
We had a wonderful New Zealand trip.
Seven nights in a decked-out KEA campervan and one night in incredible eco bed and breakfast, the Great Ponsonby, (full reviews of both later) resulted in a very memorable vacation.
The sights were fantastic, but because of what friends and readers had told me, I went into the trip knowing the scenery would be beautiful.
So some of the best parts of our New Zealand trip were the small surprises.
Here are a few of them.
Free Coffee and Tea at the Airport
I had already heard so many good things about other people's experiences when flying into Auckland that I was actually anticipating us landing on time.
New Zealand is known around the world as one of the most friendliest places for tourists and nomads to visit.
We arrived at the Auckland Airport at 6 a.m. local time, tired and dazed from a 16 hour journey.
A friendly hospitality booth near the baggage claim provided us and our fellow passengers with free coffee and tea.
The caffeine and smiling faces were a great way to start our trip.
To say I was thrilled would be an understatement.
New Zealand Trip Friendliness
Minnesota, where we currently live, is well known for "Minnesota nice."
People are generally friendly.
New Zealand Friendliness topped Minnesota Nice by a long shot.
Everywhere we went people took time to engage us in conversation.
Even while checking out at the Pak-N-Save supermarket, the cashier went beyond mundane small talk and instead asked us questions about where we were from and where we were going in New Zealand.
New Zealanders were always happy to provide advice and suggestions.
New Zealand Public Restrooms
Unlike most other places in the world, where a public restroom is hard to come by (especially a free one), New Zealand had free public restrooms almost every few blocks.
New Zealand Trip Restrooms
Pavlova
My friend Alison, who currently lives in New Zealand, told me that New Zealanders love their Pavlova.
So of course I immediately found some to try.
Pavlova is a type of meringue – but unlike many US meringues it's not crunchy all the way through.
Pavlova has a light crispy crust and a soft, melt-in-your mouth middle.
It reminded me of a cross between meringue and angel food cake.
Now I just need to find a good pavlova recipe to make at home.
Gold Kiwi
All the kiwis I remember having in my life have a green middle.
But in New Zealand we consumed at least 5 kilograms of gold kiwi.
Gold kiwi are a little sweeter than green kiwi and they are delicious.
Kea Birds
Alison (the friend who lives in New Zealand) also told us stories about how Kea birds are known for stealing items (like shoes) from campsites.
Then we visited Rainbow Springs where we met Jenny, a Kea bird that loves people and cries when you leave her.
Qualmark Rankings
Qualmark is the country's national ranking agency.
It's similar to AAA rankings, except it's an official partnership between the New Zealand Automobile Association and Tourism New Zealand.
Their ratings were reliable and they even have a comprehensive environmental rating system.
Honestly it's the best and most universal environmental rating system I've seen.
Auckland Bed and Breakfast Great Ponsonby Review
The Great Ponsonby Art Hotel is one of Auckland's best bed and breakfasts.
It's a medium sized bed and breakfast located in the Ponsonby neighborhood.
When looking for a place to stay in Auckland we found them because they are the first Auckland hotel to be listed in Lonely Planet's Greendex.
Since it was the off season Gerry and Sally were kind enough to treat us to a night in the Great Ponsonby's penthouse suite.
About the Great Ponsonby
The friendliness of bed and breakfast owners never ceases to amaze me and Gerry was no exception.
We didn't get a chance to meet Sally – she was coming from the airport as we were headed to it.
Gerry met with us on arrival and provided excellent suggestions for activities, restaurants, bars, nightclubs in the area.
Unfortunately it was raining, otherwise he was going to give us a walking tour.
Instead Gerry gave us a huge stack of movies, books, and cds – all about local events or people.
We watched two of the movies and loved them.
Gerry also offered excellent wine recommendations and the Great Ponsonby keeps a fully stocked honor bar.
With almost no markup.
The Great Ponsonby is situated just a short walk from the central part of the Ponsonby neighborhood, a wonderful area of the city.
The downtown of the Ponsonby neighborhood consists primarily of two streets lined with small boutique and higher end shops and restaurants and cafes.
It's about a 20 minute bus ride from Auckland city center.
If you're looking to go without a car and only participate in activities near the wharf or city center, you may prefer to stay in the central area of Auckland.
Environmentally Friendliness
The Great Ponsonby is rated Eviro-Gold by Qualmark – the highest environmental standard given.
In fact, Gerry consults with Qualmark on how to ensure that hotels are green.
More important than ratings, however, is the Great Ponsonby's commitment to being an environmentally friendly bed and breakfast.
Gerry and Sally take every effort to make the Great Ponsonby the greenest of accommodations, without skimping on amenities.
Well, there isn't air conditioning – but with the size of the windows it's really not needed.
When rooms aren't in use they put them in "hibernation" – unplugging items that won't be used.
One thing that I especially appreciated was the reuse of various items around the house.
For example:
"The suitcase rack has been constructed out of the wooden kauri bathtub from our house. We bought the house from a descendent of the original owner and she was still using it. The room also has a chest of drawers from the "Shanandoa", a luxury yacht which was refitted in the shipyards next to the Kaiser's yacht so has the same brass fittings."
And even the amazing breakfasts are green.
The eggs are free range and organic.
The coffee is fair trade and organic.
They make their own jelly and jam from fruits in their garden.
And they compost.
Finally, both Sally and Gerry are active in the community and encourage you to participate in volunteering excursions during your stay in New Zealand.
If you enjoy the coziness of bed and breakfasts, are looking to stay in an Auckland neighborhood at the greenest Auckland bed and breakfast – stay at the Great Ponsonby.
Our New Zealand (North Island) Itinerary.
Day 1: Arrive Auckland, Pickup Kea Campervan
Drive to Coromandel Peninsula
Spend night near Coromandel Town, hiked around area
Day 2: Drive to Hahei Beach on Coromandel Peninsula
Visit Hot Water Beach, Hike Cathedral Cove
Day 3: Drive to Taranga/Mt Maunganui
Hike around Mt. Maunganui
Spend day visiting friends
Day 4: Drive to Rotorua
See Rotorua Museum and Maori church where Jesus "walks on water" (Stained glass window image)
Day 5: Rotorua
Visit: Rainbow Springs and Kiwi Bird and Te Puia
Day 6: Rotorua
Visit Hells Gate and Wai-O-Tapu
Day 7: Visit to Waimangu Volcanic Valley
Drive back to Auckland at night
Day 8: Returned Campervan, planned on whale watching or sailing tour, but both were rained out
Spent night at Auckland Bed and Breakfast: The Great Ponsonby
Day 9: Wander Auckland City Center, leave for home that night
Here was our New Zealand Trip: Best Of
We spent a lot of time stopping in various towns or scenic spots along our drive, sampling foods, and drinking wine.
There were plenty of places we didn't get to visit, and I look forward to a future trip to New Zealand where we can spend time on the South Island in warmer weather with more beautiful scenery.
Getting Off the Beaten Track
The beginning of our North Island adventure was off the beaten track for most tourists.
We spent a few days on the Coromandel Peninsula then went down to Taranga/Mt. Maunganui where a friend was living.
Mt. Mauganui has some wonderful walking trails and a killer fish and chips restaurant.
Coromandel was amazing and our favorite spots included Hahei Beach, Cathedral Cove, and the Hot Water Beach.
And Then Back on The Beaten Track
After leaving Taranga we returned to the tourist path with a vengeance.
In Rotorua we visited nearly every geothermal park such as Hells Gate, saw the museums, visited Kiwi birds, even bought jade jewelry.
We were Tourists. And it was awesome.
After Rotorua we returned to Auckland for a few days.
One night spent at an awesome beachside holiday park and the next at the greenest bed and breakfast in Auckland (with the most fantastic breakfast food too!)
Our sailing excursion got cancelled due to weather, so we saw the Sky Tower instead.
The North Island has some spectacular sights.
And next time we'll spend our entire trip on the South Island.
It's always good to have something to look forward to.
Hiking Aoraki ~ Mt. Cook, New Zealand National Park
New Zealand offers some of the best hiking in the world, both in terms of beautiful scenery and well-kept trails.
With thousands of kilometers of tracks, their nine Great Walks garner much of the attention.
But what if, like me, you don't have the time, energy, or want to spend three to five days tramping?
You can still get a taste of what hiking is like in New Zealand.
The first glimpse of Lake Pukaki and Aoraki/Mt. Cook is a vision you will never forget.
Whether it's the picturesque turquoise waters of the lake or the enormity of Mt. Cook, the sight will be seared into your memory.
Driving north toward Mt. Cook Village on Highway 80, you'll hug 20 miles of the lake's coastline, while Aoraki/Mt. Cook looms due north. Aoraki/Mt. Cook, standing 12,316 feet, along with 27 other mountains, makes up the Southern Alps and is also part of the Te Wahipounanu UNESCO World Heritage site.
It's easy to see why Sir Edmund Hillary, perhaps the world's most famous mountain climber, trained on Aoraki/Mt. Cook for his Mt. Everest climb.
Aoraki ~ Mt. Cook, New Zealand National Park
While the majority of us aren't ready to take on Mt. Everest, Aoraki/Mt. Cook, or Mt. Fuji, it doesn't mean that we can't experience a bit of Aoraki/Mt. Cook.
One of the most popular walks in Aoraki/Mount Cook National Park cuts up the Hooker Valley towards Aoraki/Mount Cook.
If starting at the Sir Edmund Hillary Visitor Centre, located in the Hermitage Hotel, the Hooker Valley Track is a four-hour return.
However, there is also an option to begin at the White Horse Hill camping area, which will shave 45 minutes off of the walk.
A well-formed gravel track, complete with stretches of boardwalks, the five-mile (8 km) Hooker Valley Track is suitable for even the most novice hikers.
The incline along the walk isn't much to speak of at 450 feet (150 m), but easy doesn't equate to boring.
There are also some short, rocky sections and two well-constructed swing bridges that cross over the Hooker River.
While walking the Hooker Valley Track you are surrounded by some of New Zealand's most spectacular and revered sights.
Mountains, glaciers, rivers, vegetation, and wildlife all make this World Heritage Area worth exploring.
The track first passes near the Alpine Memorial.
This pyramid-shaped rock memorial includes plaques with the names of various climbers who have died in the national park.
Just beyond the memorial is the first of the two swing bridges.
At this point it's an hour and a half return.
Walking another thirty minutes brings you to the second swing bridge.
Shortly thereafter lies the Stocking Stream Shelter, which offers toilets, a place to rest, and protection from the elements.
The track concludes at the shores of the Hooker Glacial Lake.
Here you're rewarded with great views of the Hooker Glacier, Aoraki/Mount Cook, and depending on the time of the year, possibly icebergs.
Because of the low skill level needed combined with beautiful landscape along the way, the Hooker Valley Track is one of New Zealand's most popular day hikes.
It is certainly not to be missed on any visit to Aoraki/Mount Cook National Park.
New Zealand Geothermal Parks:
Rotorua Hot Springs
Rotorua, New Zealand is the place to be for geothermal activity.
There are more hot springs, thermal pools, sulfur spas, mud pools, and volcanic valleys than you can count.
We managed to squeeze trips to four of Rotorua's most well known geothermal parks into our three day stop in the city.
Thanks, in part, to our press pass that allowed us free entry into each.
Most people won't have the time or money to see more than one or two geothermal parks.
So how do you choose which to visit?
Here's a break-down of what we liked best about each park:
Thermal Pools at Te Puia
Te Puia is the closest park to Rotorua.
It's only about 5 minutes outside of the city-center (compared to 20-30 minutes for the other parks).
The geysers are a main attraction and erupt every 30 minutes or so.
There is also a good mix of boiling mud pools and thermal pools.
All of them are interesting, but none spectacular.
I would say that Te Puia has the best mix of Maori culture and geothermal activities.
While it has good breadth in activities it lacks some of the more magnificent beauty of the other parks.
To be honest, it feels a little touristy.
But if you're looking for the one stop highlights of Rotorua in an easy to get to location, Te Puia is the geothermal park you should visit.
Wai-O-Tapu
Wai-O-Tapu is the best Rotorua geothermal park for natural beauty.
The colors and textures were stunning.
There are a few touristy feeling parts of the park – namely the geyser.
The Lady Knox geyser erupts at 10:15 every morning.
How can a natural geyser be so precise?
With a little help from the park guides.
The story of how it was discovered that laundry soap helps the geyser erupt is slightly far-fetched, but the rest of the park is worth a trip.
Waimangu Volcanic Valley
Waimangu is the least touristy of all the Rotorua geothermal parks we visited.
I enjoyed the longer hiking trails filled with fewer people.
The full walk would be a 6 mile round trip hike (with a steeper, intense, optional trail) or 3 miles to the lake where a bus would will take you back to the park entrance.
If you're looking for a combination of hiking and thermal pool activity, check out Waimangu.
New Zealand Geothermal Park and Mud Baths
Hells Gate
We wrote a full post about Hells Gate, so check that out for greater detail.
But I found Hells Gate to be best for a combination of thermal pools, hot springs, and mud baths.
Hells Gate not only has a walkable geothermal park area but also a spa where you can take a mud bath and sulphur spa.
I also liked that their park's paths were not overly constructed.
There weren't railings or paved paths – so you had to watch your step to keep from falling in.
If you get a chance to visit Rotura, New Zealand, make sure you visit at least one of the geothermal parks.
Hells Gate Rotorua Wai Ora Spa
After experiencing the bizarre dig-your-own-spa at Hot Water Beach New Zealand, we became increasingly intrigued with New Zealand's geothermal activity.
Many of the best geothermal parks are located in Rotorua, a city where we spent several days.
Each of the geothermal parks is a little different.
We went to four and found that Hells Gate provided the best mix of Maori culture, geothermal activity, and relaxation (thanks to their mud baths and sulphur pools).
To imagine what a place called "Hells Gate" looks like, consider this quote from George Bernard Shaw which lead to the name "Hells Gate"
"It reminds me too vividly of the fate theologians have promised me."
We received a spectacular guided tour of the grounds which began with some amazing Maori carvings at the park entrance.
For visitor reference: there is no extra cost for the guided tours, but the tour only leaves at certain times.
I would highly recommend a guided tour; it enhances the overall experience and you learn fascinating facts you would have no other way of knowing.)
Maori Art at Hells Gate Entrance
Hot Pools
These hot pools can literally be boiling temperature.
Mud Pool
The local hospital uses mud from the Hells Gate mud pools for medical conditions from arthritis to acne.
Kimberly tasting mud at Sulphur Lake.
This is one of the few pools in the park you can touch (without worrying that your hand will melt off.)
Our guide told us that the mud in the lake has great mineral properties and that eating it is like a vitamin – so we gave it a try.
White Mud
Because of the layers of water and mud, when you rub the mud together it becomes liquid like – like cornstarch.
While it's great for mud masks it can actually be quite dangerous as if you step on it acts like quick sand.
The Kakahi Falls and Sulphur colored trees.
The Kakahi Falls is the largest hot water waterfall in the Southern Hemisphere.
Maori warriors used to bathe in the waterfall for it's medicinal properties.
The full name of the falls is "O Te Mimi O Te Kakahi" which is means "the urine of Kakahi".
It's named this because the Maori warriors would use the waterfalls in place of the salving properties of urine that they would sometimes use if they weren't near the falls.
Steam coming from hot pools in the park
Fire Spot
See the black spot in the forefront of the picture?
They're caused by spontaneous sulfur fires, which can burn for 2-3 days at 360 degrees Celsius.
The rocks get so hot they become magma and flow underground.
Wai Ora Spa
Besides enjoying the magnificent landscape of park, the Wai Ora Spa made Hells Gate one of my favorite experiences in New Zealand.
The Wai Ora/Hells Gate Spa includes a mud bath and sulfur pool experience.
First, the mud bath is about 20 minutes long and makes your skin feel exceptionally smooth.
It's difficult to describe what sitting in a large pool of mud feels like, but it's both relaxing and extremely fun.
Because your core body temperature heats up slightly in the mud bath you then are required to rinse off in a terrifyingly cold shower for just a moment to help bring your core temperature back down.
Lastly, you get to relax in the hot sulfur pool for as long as you want.
It wasn't very crowded at the spa since we visited in the off season, so the spa was a pleasant way to end the day at Hells Gate.
I would highly recommend getting a combination spa and park package if you get a chance to visit Hells Gate.
Hells Gate is a little expensive for a day excursion, but I would say that of all the tours we went on it was one of my favorites.
If you're in Rotorua, Hells Gate is a wonderful place to gain a broad perspective of the the Moari culture, geothermal activity, and mud baths/spa activities.
Kiwi Bird Sanctuary
One of my favorite parts of our New Zealand Trip was visiting Rainbow Springs Kiwi Wildlife Park in Rotorua, New Zealand.
Rainbow Springs houses a Kiwi Sanctuary where they hatch North Island Kiwi bird eggs as part of an effort to save the species.
Land mammals aren't native to New Zealand and when Europeans first arrived they brought with them mammals like ferrets, dogs, cats and weasels.
These land mammals eat the flightless Kiwi birds and their eggs.
Now, only 5% of kiwi birds hatched in the wild survive to be adults.
So, in 1995 Rainbow Springs started hatching Kiwi bird eggs in a protected environment.
When the eggs have hatched and the chicks are mature enough to survive on their own they are released back into the wild.
The Kiwi Bird Encounter allows visitors to watch the egg hatching process.
A fascinating fact about the Kiwi bird is that it has the largest egg-to-body ratio of any animal in the world.
Go November to March to see the little chicks being born.
But, even if you go during none peak months you can see three Kiwi Birds that are permanently part of the Rainbow Springs family.
These three birds that can't survive on their own in the wild.
Since Kiwis are nocturnal, the park set up a special artificial "moonlight" to allow visitors to see the birds during our day but at "night" when the birds are the most active.
We weren't allowed to take pictures of the real Kiwi birds (to avoid disturbing them), but here are some pictures from the exhibit:

Rainbow Springs Birds and Animals
Besides the Kiwi Bird Sanctuary, Rainbow Springs also houses many other New Zealand birds and animals.
Wallaby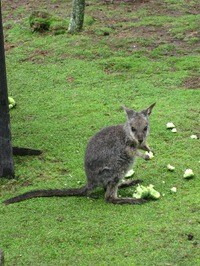 Coromandel Peninsula in Pictures
View from the road on Coromandel Peninsula
During the first three days of our New Zealand trip, we explored the Coromandel Peninsula, a small peninsula east of Auckland on the North Island.
Ocean view from roadside stop near Coromandel Town
The weather was perfect and the sights were amazing.
But the beautiful mountains came with a price.
Driving the campervan — around the twists and turns, up-shifting and downshifting from 100-45-80-25 kph, trying to avoid falling over cliffs or running into cars — was more than a tad stressful.
Cows lounging in beautiful New Zealand countryside
Despite the harrowing drive, we explored Coromandel Town, Hahei Beach, Hot Water Beach, Cathedral Cove, and several small towns and beaches along the way.
Kea Campers and Camper vans Review
Interested in renting a camper?
Don't know what to expect?
Learn from our experience with our Kea Campers and Campervans review.
When we first started planning our New Zealand Trip I had no idea how we were going to get around.
We considered a tour group, busing, and renting a car – all of which had their pluses and minuses.
But, when we received our press kit from Tourism New Zealand and I saw the countless ads for campervans I knew I had found our mode of transportation.
It seemed from the press kit that everyone in New Zealand traveled by camper.
And, after traveling in New Zealand we found that many people do.
Now all we had to do was choose a company.
Pretty much all of the companies were offering 50% off to media (lucky for us!), so we started looking at the campervan designs, reviews, and environmentally friendliness.
Kea Campers was the company that stood our among the companies as excelling in all the categories we were looking for.
Most notably, they are certified by Qualmark as Enviro-Gold.
We later found out they also sponsor the educational Kiwi Bird and Kea Birds exhibits at Rainbow Springs.
Kea manufactures all their own campers locally in New Zealand and had great campervan design options.
We settled on a 2 berth shower and toilet deluxe campervan.
No hidden costs
Thankfully, unlike many car rental companies, all the costs were included in their pricing, with no hidden costs.
The off season fee was only $80 NZ (about $60 US)/ day before our discount, so it was an extremely economical mode of both transport and accommodation).
Having never even set foot in a motorhome or campervan before we arrived at Kea, I honestly had no idea what to expect.
The pictures on their site looked amazing, but to be honest, I was worried what we would end up with.
High-quality, clean camper
Without a doubt the Kea campervan exceeded my expectations by a long shot.
The camper was brand new and was fully equipped with absolutely everything we needed for sleeping, driving, and cooking in our camper.
The interior was well decorated and most importantly the van was well organized.
We could fit our luggage easily in the van and it was pretty easy to set up each night and take down each morning.
I truly enjoyed the campervan experience in good part because of the quality of our Kea Camper.
Benefits of camping
In addition to usually being greener than staying in a hotel, there is the convenience factor.
One of my favorite memories of our trip was pulling up to the Hahei Beach in Coromandel Peninsula, opening up the back of the campervan to overlook the water, cooking an amazing meal to overlook the ocean, and then just relaxing at the campsite.
We wouldn't have experienced this without our camper.
Friendly, helpful staff
I also greatly appreciated the friendliness of the Kea Campers staff.
They served us coffee and tea, chatted with us, and answered all of our questions.
They didn't seem to be in any rush.
A stark comparison to US car rental staff.
They helped us plan our route and showed us all of the maps and information that was included with our van packet.
The Kea representative also provided stellar wine recommendations.
Things I would know for next time
Unpack and leave your suitcase at the rental site
When we were getting ready to leave Kea, the representative said we could unpack our suitcases and leave them at the rental site.
We only had 1 backpack and 1 carry-on sized rolling suitcase and so declined her offer.
Luckily we were able to fit our suitcase in one of the compartments.
But next time I would unpack and leave my suitcase behind to free up a little more room in the campervan.
It takes about an hour to get an overview of the van.
I had thought we would pick up the van and quickly be on our way.
In fact, it took an hour or so to get a full overview of the van with all of it's accessories and fill out paperwork.
Not including transport time from the airport to Kea.
So, don't expect to be somewhere by lunch as it may take awhile to get going.
You probably don't need a shower, but a toilet is nice.
We didn't free camp (parking anywhere and setting up camp) in New Zealand as none of the areas we were in allowed free camping.
Because we always stayed at holiday parks, which had full bathroom facilities, we didn't really need the shower in the campervan.
That said, it was convenient to have a toilet on board so we didn't have to run outside to the bathroom in the middle of the night.
Camper vans are 6-speed stick shift (manual transmission).
Growing up, my first car was a stick shift.
Unfortunately, Kimberly's was not.
So, I did all the driving around New Zealand.
I don't love to drive and appreciate rotating now and then, so the fact that the camper was manual got old at times.
Further, it was a 6-speed.
Having only ever driven 5-speeds, the different shifting pattern took some time getting used to.
New Zealand is hilly with narrow, windy roads.
Our first destination on the North Island was the Coromandel Peninsula.
Part of the reason this area is so stunning is because it's sandwiched between mountains and the ocean – thus making for a lot of windy, narrow, hilly roads.
Lets just say that upshifting and downshifting from 25 to 40 to 100 to 30 kph around these roads was – tense – at times.
Kea Campers charges the insurance deductible to your insurance card and then reverses it at the end of the rental.
Luckily, I had known about this ahead of time and so we were prepared to put the large (up to $5,000) deductible on our card.
Our primary travel card, a Capital One card, doesn't charge any conversion fees for traveling abroad.
However, if your company does charge a conversion fee, you could end up paying a good amount in conversion fees.
Of course, our entire deductible was refunded when we returned the camper, but having this much on your credit card is something worth knowing about ahead of time.
Kea Campers and Campervans review to help make your decision
I would rent from Kea again in a heartbeat.
I wouldn't have a second thoughts recommending Kea Campers to anyone traveling to New Zealand (or anywhere else they serve – which I believe to be Australia and South Africa.)
They even sell their vans – and if I was considering retiring in New Zealand I might just buy one and drive around for my entire retirement.
My Takeaway from New Zealand Trip
New Zealand is a beautiful country that is ideal for all travelers alike.
Whether you stay in the cities or venture into the unknown land, be kind to the beautiful country you are visiting.
Now, double check that you have your passport in hand and enjoy your adventure!
Related Contents: