If you read my review of the Scottevest Molly Jacket, you know that I love pockets.
Luckily for me, the Chloe Hoodie has an abundance of pockets.
While the Molly Jacket is the best regular travel jacket for women, the Scottevest Chloe Hoodie is the best travel fleece jacket.
Scottevest was kind enough to send me one to try out for my recent trip to Iceland.
Best travel fleece jacket review
The Chloe Hoodie is warm and cute, it has great pockets, and I'm a big fan of the hood.
Overall, it's an awesome travel fleece.
Here's what I love about it.
It's Warm
The Chloe hoodie is a thick fleece that will keep you warm year-round in most places.
I wore this travel fleece throughout Iceland (even by the glaciers) and was warm.
I was even comfortable in the Chloe Hoodie when it was in the 30's Fahrenheit.
It's Cute with Great Colors
My Chloe hoodie is the "Kiss" color scheme, and I love its colors.
Dark grey on the outside with hot pink details in the hood and at the bottom of the sleeves.
The "Dare" hoodie is a dark purple on the outside with black accents, and the "Magic" is black on black with a silver zipper.
All of the color combinations are attractive and fun.
It's Soft
I live in Minnesota so I'm the proud owner of many fleeces in numerous styles (full zipper, half zipper, no zipper — you name it), and the Chloe Hoodie is by far the softest fleece I own.
It's super comfy and cozy, perfect for curling up by the fireplace with a cup of hot chocolate or heading outdoors for a long hike.
It has Fantastic Pockets
I could go on for paragraphs about the pockets, but I'll try to be concise.
I'll tell you that this fleece has 14 (!) pockets, including pockets for chapstick/lipstick, pens, sunglasses, your cell phone, travel documents, your e-reader, your camera, and your keys.
I especially like the built-in lens cleaner cloth for my sunglasses, which doubled as a lens cloth for my DSLR camera.
It Makes a Good Pillow
On those flights when you just need a little nap, there's nothing like a soft pillow.
Sadly, plush pillows are few and far between on today's airlines.
Plus, who knows how often those communal plane pillows are cleaned?
Instead, I used my Chloe travel fleece because it was just so soft.
It created just the right size pillow for bunching up next to the window.
Chloe has a Great Hood
In my opinion, hoods are underrated in outwear.
A hood means you can enjoy your travels, even in the midst of a rainstorm or snow flurries.
The Chloe's hood is amazing because it zips all the way around, which keeps your neck warm even on chilly, rainy, windy days.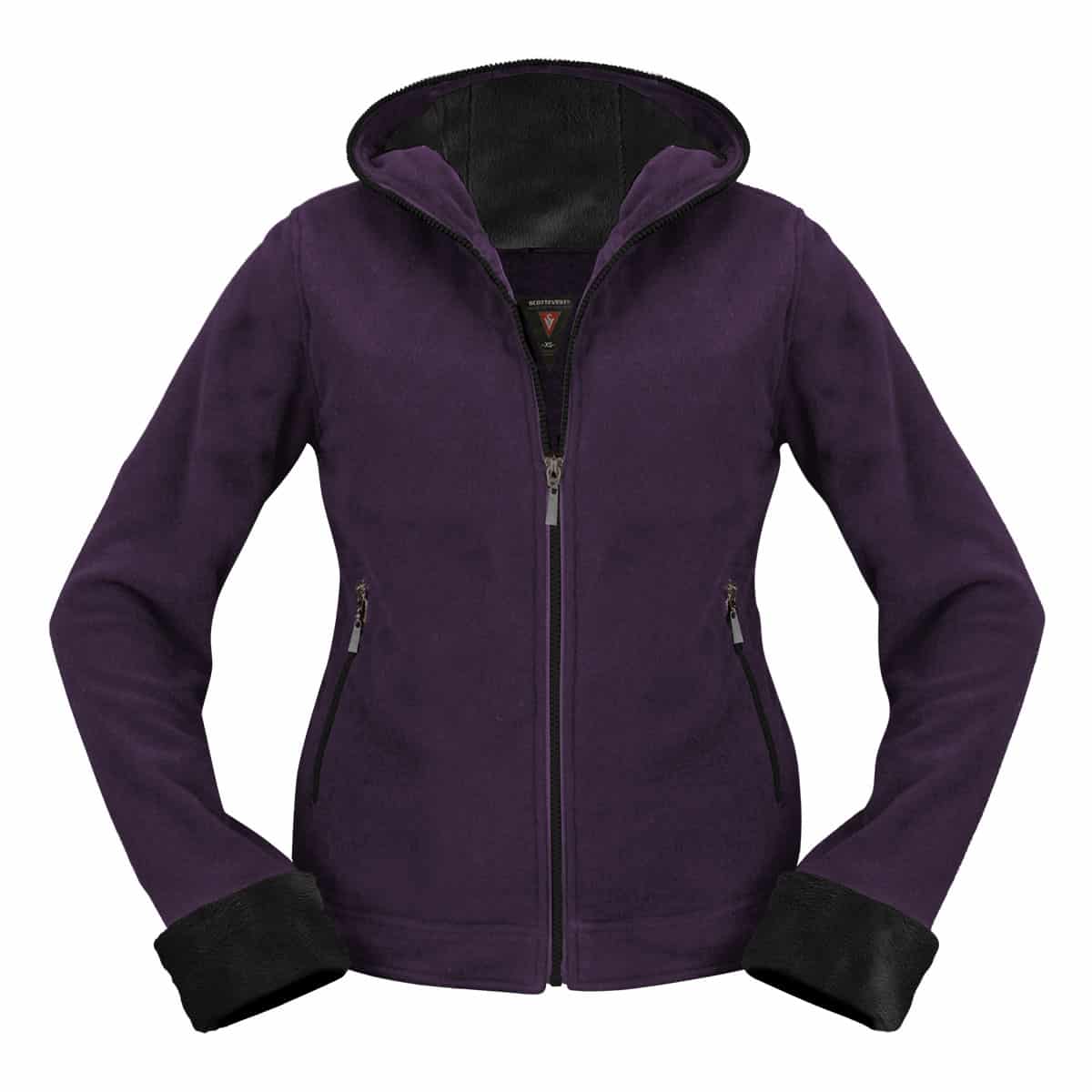 Room for Improvement
Despite all it's great features, there are two things that could be improved on the Chloe Hoodie.
First, if you own multiple Scottevest items (like the Molly Jacket or Travel Vest, you'll find that the pockets on the hoodie are on the opposite side.
So, I had gotten used to where the travel documents pocket was on my vest, but on the hoodie it's on the right side rather than the left; the camera and sunglasses pockets are on the left and not right.
A minor flaw, really.
Also, this is not a super fitted hoodie.
It's a little straight lined so if you have a tiny waist and larger hips, it doesn't define your waist as well as it could.
That said, it fit me very well.
The Bottom Line
Overall, I love the Chloe Hoodie.
It's warm, cute, soft, has a fantastic hood, comes in great colors, and it's perfect for colder destinations.
I think the Scottevest Chloe Hoodie is the best travel fleece jacket on the market, and I would highly recommend it for your travels.