If you're looking for a BPA-free water bottle that's great for toddlers and older kids, the CamelBak Eddy Kids is one to consider.
It's easy for kids of all ages to use, spill-proof, BPA- and phthalate-free, and it comes in fun designs.
In short, your kid will love it and so will you.
Learn all about the best kids water bottle.
I first thought of letting my son try my CamelBak Eddy bottle when I saw a friend's 12-month-old happily gulping water from her mom's bottle.
It had never occurred to me that a toddler so young would be able to figure out the bite valve on a CamelBak water bottle, but it turns out, it's intuitive.
Over the years, I bought my children several of these bottles.
They established healthy drinking habits.
These bottles kept them hydrated with a healthy choice (water) instead of sugary drinks and juice boxes that are so easy and convenient to toss into a bag.
Why not give them water instead?
If you are looking for the best kids water bottle, the CamelBak Eddy Kids is what you're looking for.
So what makes the best kids water bottle the best?
Here's what we love about it.
CamelBak Best Kids Water Bottle Spill-Proof
One of the best features of the CamelBak Eddy Kids is that it's spill-proof.
I can let my son carry it around or leave it next to his bed, knowing that if (or when!) it gets knocked over, there won't be water everywhere.
Because of this, it's the perfect water bottle to take to school, to the park, on play dates, on errands, and in the car.
Perfect for Chubby Fingers
This bottle is easy for little, not-so-coordinated fingers to operate.
When your toddler pushes the button on the back side of the cap, the bite valve will pop up.
Your preschooler and elementary-aged children will be able to easily use it too.
Great for Kids of All Ages
The bright colors, fun designs, and ease of use will make this bottle a hit with any child.
It even fits in most lunch boxes.
Buy it for your little one and use it for years to come.
Note: This bottle is intended for kids ages 3 and older.
CamelBak Eddy Fun Designs
I'm a little bit jealous that one my child's water bottles features space robots and mine doesn't.
Although I would probably choose the T-Rex design for my own bottle.
The Eddy Kids water bottle comes in so many fun designs, ranging from skunks acting as DJs playing records, raccoons flying airplanes, puppies, sea turtles, cats, holiday, jungle animals, butterflies, and so many other creative and colorful designs.
You'll have a great time choosing.
BPA-Free
This bottle is also BPA-free, which is a requirement for all water bottles in our house.
BPA, which is found in some plastics, is a synthetic estrogen and endocrine disruptor that's been linked to cancer, infertility, obesity, and a number of other serious health risks.
Needless to say, BPA is definitely not something I want my children ingesting.
Phthalate-Free
The bite valve on the Eddy Kids is made from medical-grade silicone, which is does not contain phthalates.
Phthalates are plasticizes found in soft, rubber-like toys; household products; and even bottle nipples.
They've been linked to reproductive system harm, infertility, and asthma.
We avoid them.
Downside: Not for Kids Under 3
The one downside is that the CamelBak Kids water bottle is not meant for children under 3 years old.
The bite valve could dislodge and pose a choking hazard.
Keep this in mind, but know the Eddy Kids bite valve is constructed differently than its adult Eddy counterpart.
The kid's version is longer and actually goes down into the bottle and connects directly to the straw.
So while not impossible, it seems highly unlikely that even a persistent toddler would be able to dislodge it.
Where to Buy a CamelBak Eddy Kids
You can get the CamelBak Eddy Kids online.
Considering the water bottle will last for years to come, it's an investment worth making.
The CamelBak Eddy Kids water bottle is the best water bottle for kids and toddlers.
It's BPA- and phthalate-free, comes in fun designs, and is spill-proof.
It's an all-around great bottle.
Whether or not you have tried CamelBak products, the CamelBak Eddy Kids is a great choice.
It will fit in your child's backpack easily.
It also fits in car drink holders.
They make cute stocking stuffers and can be a nice Easter basket idea or other gift.
Best kids water bottle
Encouraging your child to use reusable water bottles from a young age will encourage a lifelong habit of healthy living.
It's just as easy to fill up a water bottle as it is to give your child a sugar-filled juice box or Gatorade.
Save their teeth, and get them enjoying water early on with these fun kid's water bottles.
CamelBak BPA Free Better Bottle Water Bottle Review
One of the easiest ways to be a greener traveler is to opt for a reusable water bottle instead of bottled water.
However, one crucial concern of using reusable water bottles is the fact that some contain BPA and phthalates.
If you don't know what BPA and phthalates are, just know they are toxic chemicals found in plastics.
Most reputable companies are eliminating them from their products.
It is important for you to remove them from your home by tossing them into your recycle bin.
We recently tried the CamelBak BPA Free bottle.
CamelBak BPA Free
CamelBak has recently committed to making all of its products BPA and phthalate free and they were kind enough to send us a bottle to test out.
Here are my thoughts:
I tested a 750ml bottle.
The Classic Cap is currently BPA and phthalate free and the bottle with a straw, Better Bottle with Bite Valve, will be BPA and phthalate free.
Here's what I subjected by bottle to over the course of the weekend:
Initial dish washing
Two days at the office
Health club workout
Afternoon walk around DC's Tidal Basin to see the Cherry Blossoms and the festivities for the Cherry Blossom Festival
Other touristy DC activities throughout the weekend (Air and Space Museum, National Gallery of Art, Botanical Gardens)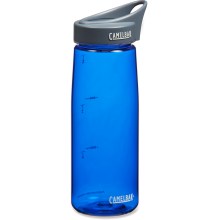 After participating in these rigorous activities here's how the new CamelBak BPA free scored on a scale of 1-5 with 1 as the worst and 5 as the best.
*Please note that these ratings are completely subjective.*
Weight (without water): 4
It feels like a lightweight plastic bottle. It's technically made out of Tritan, a copolyester.
The company that makes this material is US manufacturer Eastman.
Ease of Transport: 5
I love the loop on the cap; it's incredibly easy to attach the loop to my bag via a carabiner.
Looks: 4
It's a fairly attractive water bottle.
Ease of drinking: 2
For some reason the opening was not a good diameter for me.
Whenever I drank out of it it hit the top of my nose.
It's skinnier than a traditional Nalgene and wider than a Klean Kanteen.
Durability: NA
Since I only used it for a weekend I don't feel that this I can adequately judge
Taste of Water after two days: 3
This is the true water bottle test.
If you let the water sit in it for a few days does it absorb a weird taste?
In the case of the CamelBak Better Bottle, it has a slight plastic-y taste to it.
Smell of Water in Bottle: 1
Almost as important as the taste of the water, smell can make or break a food or drink experience.
This was the real downside of the bottle; every time I took a sip I smelled a very plastic-y scent in the bottle.
It was just kind of icky.
Overall: 3
I commend CamelBak's commitment to manufacturing BPA and phthalate free products; however, I just don't think the CamelBak Better Bottle is for me.
I like it more than a Nalgene, but less than a Klean Kanteen.
If you currently use and like the Better Bottle then I recommend that you look further into purchasing a new BPA-free one.
Here's more to engage you:
Are BPA Water Bottles Dead?
Eco Vessel Surf Recycled Glass Water Bottle vs Zulu Glass Water Bottle and BPA-Free Water Bottles.
Then you can be sure that you're drinking to your health!
Do you own a CamelBak BPA Free water bottle?
Please leave your thoughts about it in the Comments below.
CamelBak Stainless Steel Better Bottle Review
Just a few week after pouring my heart out about Klean Kanteen stainless steel water bottles, CamelBak emailed me to let me know about their brand new line of stainless steel water bottles.
They offered to send me one to try out and another to give away.
I accepted.
I'm the first to admit my bias towards Klean Kanteen and my initial thought was, 'What can CamelBak's bottle have that Klean Kanteen doesn't?'
Well, turns out that the CamelBak Stainless Steel Better Bottle (BPA Free) has a upped the Klean Kanteen on several fronts.
First, they offer an insulated water bottle.
The CamelBak Stainless Steel Water Bottle is pretty amazing.
It's been my water bottle of choice for the past few weeks.
The insulation does two things:
1) It keeps the water cool and
2) it prevents "sweating" or condensation build up on the bottle.
While my Klean Kanteen gets hot in the sun, the CamelBak does not.
I had my CamelBak insulated bottle filled with water while gardening in the sun for several hours and the water didn't get warm.
Or if I fill it with ice water and set it on my nifty roll top desk, I don't have to worry about water marks from condensation.
Second, the Bite Valve is a nice addition to the water bottle.
At first I was wary of the CamelBak bite valve — the water bottle acts more like a glass with a straw than a traditional water bottle.
But, it turns out the Bite Valve is handy because while driving, working out, or sitting at your desk, you don't have to turn the bottle upside down and awkwardly tilt your head (dribbling water down your shirt).
CamelBak Stainless Steel Better Bottle: What's Not to Love
While the new addition to stainless steel water bottles is pretty amazing, the CamelBak Water Bottle falls short in a few ways:
Not 100% Stainless Steel
The straw and cap of the CamelBak is BPA free and Phthalates free, but they are still made out of plastic and silicone.
If you're looking to get rid of plastic in your life, then you'll have to look elsewhere.
Here's what CamelBak says about what's in the cap:
"The CamelBak Better Bottle caps used on our stainless steel bottles are made primarily from polypropylene, with other plastics that are all BPA- and Phthalates-free.
The bite valve is medical-grade silicone for long life and taste-free performance.
The straw is made of polyethylene, the same material used in milk jugs."
Not Dishwasher Safe – In our new house we don't (yet) have a dishwasher, but for folks who do – know that the CamelBak Stainless Steel Better Bottle is not dishwasher safe.
The cap is, but the bottle itself isn't.
Only holds a .5 Liters
Unfortunately the insulated bottle only holds .5 liters of water.
This is good enough for short treks, but not for longer ones.
The .5 liter insulated bottle is actually the same size as the .75 liter non-insulated stainless steel bottle.
But because of the vacuum insulation the insulated bottle weighs more and holds less.
CamelBak Overall Review
My dislikes aside, I think the CamelBak Stainless Steel water bottles are a great addition to the stainless steel water bottle market.
If you're already a CamelBak user and like the bite valve, I highly recommend either the insulated version or the regular version.
If you don't currently have a CamelBak water bottle and are looking for an insulated bottle, the insulated version is definitely worth purchasing.
You'll no longer have to worry about BPA.
CamelBak Frequently Asked Questions
On the CamelBak website they have a great question answer set about their water bottles.
What are CamelBak® Stainless Steel Bottles made of?
All materials in CamelBak bottles are selected for their safety, durability, and cleanability.
All materials are BPA-free, phthalate-free and safe for use in a hydration bottle.
The new CamelBak Better BottleTM Stainless Insulated .5L, Better BottleTM Stainless .75L, and CamelBak Kids BottleTM Stainless .4L are made with medical-grade stainless steel.
Stainless steel is a special type of steel that is naturally stain-resistant, corrosion-resistant and taste free.
Because of these unique benefits, stainless steel is used in a variety of products from cookware and mugs to medical and surgical devices and food processing equipment.
Stainless steel is strong, scratch-resistant and provides a naturally bright, clean finish without coatings or paints.
The CamelBak Better Bottle™ caps used on our stainless steel bottles are made primarily from polypropylene, with other plastics that are all BPA- and phthalate-free.
The bite valve is medical-grade silicone for long life and taste-free performance.
The straw is made of polyethylene, the same material used in milk jugs.
Why stainless steel and not aluminum?
When we design a product we look for the best material to satisfy customer requirements.
For metal bottles, consumers tell us they prefer the durability and purity of stainless steel.
Aluminum bottles have to be made with an inner coating or liners—often with undisclosed ingredients—to protect the metal, which isn't required on a stainless steel bottle.
Stainless steel is also stronger, harder and more scratch resistant than aluminum, making a more durable long-lasting bottle for all your adventures.
What is BPA? Are the CamelBak stainless steel bottles BPA-Free?
Bisphenol-A is an ingredient used to make polycarbonate and certain other plastics.
In recent months, there has been increasing consumer demand for a bottles made without Bisphenol-A (BPA).
CamelBak is proud to offer all of its bottles in BPA-free materials, including the Better Bottle, the Classic Bottle, the Podium Bottle and the Performance Bottle.
The new Stainless Steel bottles are also all BPA-Free.
All of our bottle products receive rigorous 3rd party testing to ensure that no harmful chemicals have been detected to come in contact with, or leach into food/beverage surfaces.
Testing is completed to demonstrate compliance with the following US and international standards:
U.S. FDA (Food and Drug Administration) food safety standards
European Community food safety standards
Japanese Ministry of Health and Welfare
California Prop 65
What are phthalates (pronounced Thal-ates)?
Phthalates are a component added to some plastics to make them soft and pliable.
None of CamelBak's bottles have ever contained phthalates.
Some other bottles talk about "extruded" construction.
How are your stainless steel bottles constructed?
Metal extrusion is a process by which a single piece of metal is compressed under extremely high pressures to stretch it into a new shape, like a bottle.
Extrusion processes place a lot of stress on the material and also consume a lot of energy.
Our stainless steel bottles are made with a welded construction.
At the start, a precision-rolled sheet of steel is cut and formed under low pressure into the shape of the bottle, then welded.
Finally the bottle is ground and brushed to provide a finished appearance.
Welded construction gives more freedom and control over product shape and design, and also enables us to create a lightweight double-wall vacuum bottle for our .5L insulated Better Bottle.
What is vacuum insulation and how is it made?
To make our Insulated .5L bottle we first construct an inner and outer bottle which are sealed together and welded shut to be completely air-tight.
Then the bottle is connected to a high-power vacuum pump which removes all the air from the gap in between the inner and outer bottle.
Since there's nothing to conduct heat across the gap, vacuum insulation is more effective than foam or other common insulating materials.
Vacuum insulation works so well, it is the technology of choice for cryogenic storage tanks and other high-performance insulating vessels.
Our vacuum insulated bottle can keep your beverages cool for hours.
The Better Bottle Stainless Insulated .5L and Better Bottle Stainless .75L are the same size and shape.
Why the volume difference?
Both the .75L and Insulated .5L bottles feature the iconic shape and design of the award-winning original Better Bottle.
The double-wall construction of the Insulated .5L occupies some of the internal volume of the bottle, resulting in the reduced water capacity.
I prefer the Stainless .75L bottle but still want insulation.
What other options do I have?
One option we can recommend is the CamelBak Insulated Bottle Sleeve.
This neoprene sleeve fits the bottle like a glove, insulates the bottle in hot and cold weather, and comes in three color options.
Do I need to clean the bottle before first use?
The stainless steel bottle is easily cleaned by hand with a bottle brush, using warm water and mild soap if desired.
The cap assembly can be cleaned in the top rack of a household dishwasher.
The straw and bite valve may be removed from the cap to help provide better cleaning of the inside passages of the cap.
It's a good idea to place small parts in a top-rack basket, if available.
What's the clear thing (or pink or green or blue) on top of the bottle for? Do I remove it or cut it to drink?
The silicone 'cap' is the CamelBak Big Bite™ Valve.
This patented feature provides easy drinking and spill-proof safety.
Do NOT remove or cut this piece to drink.
Simply bite it slightly and sip as you would out of a straw.
What happens if I put sports drinks/juice in the Better Bottle?
Use of any of these drinks in the bottle is fine, but thorough cleaning after each use is recommended.
Can I use carbonated beverages?
We do not recommend the use of carbonated beverages in the bottle.
Because of the spill-proof sealed construction of the bottle, carbonated beverages can cause pressure build-up in the bottle.
This is not at all dangerous but can result in an experience like opening a shaken-up can of soda!
If you want to use carbonated beverages with the Better Bottle, we recommend that you remove the straw and drink via "tip and sip."
Can I put hot liquids in it?
We do not recommend using hot beverages in the stainless steel bottles.
The experience will be similar to drinking hot liquid through a straw, with similar risk of burns.
Additionally, the single-wall metal bottle (.75L and .4L sizes) does not insulate your hand from the heat of the contents.
Is the CamelBak Better Bottle microwave safe?
Like any metal product, the stainless steel bottles should not be used in a microwave oven.
Can I freeze the CamelBak Better Bottle with Bite Valve?
You can freeze the bottle but make sure:
The bottle is not completely full when you do this (we recommend only 3/4 full to allow for expansion of the water as it freezes to ice).
The bottle is right side up
We also recommend that the bite valve stem NOT be flipped up or down if there is any frozen water in the tube.
Wait until thawed.
Does the CamelBak Better Bottle work with filters?
The CamelBak Better Bottle is compatible with filters that adapt to a 63 mm screw top opening.
In other words, it's compatible with most filters on the market.
What happens if I take the straw off?
Removal of the straw allows a "tip and sip" mode of drinking.
Can I use the CamelBak Better Bottle in high-altitude/ low-pressure environments? (i.e. airplanes, mountain altitudes, etc)
Yes, but with special care.
Keep the bottle right side up with the bite valve in the closed position.
Remove the straw for additional protection.
Expect a bit of "spurt" during the first sip.
How do I clean the CamelBak stainless steel bottles?
The stainless steel bottle is easily cleaned by hand with a bottle brush, using warm water and mild soap if desired.
The cap assembly can be cleaned in the top rack of a household dishwasher.
The straw and bite valve may be removed from the cap to help provide better cleaning of the inside passages of the cap.
It's a good idea to place small parts in a top-rack basket, if available.
We only recommend products we've tried out and liked.
We do link through affiliate links when they are available.
We are not compensated to provide opinion on products, services, websites, or other topics.
We will only recommend products or services that we believe, based on our experience, are worthy of endorsement.
Any product claim, statistic, quote or other representation about a product or service should be verified with the manufacturer or provider.
CamelBak Eddy Glass Water Bottle Review
I consider myself a bit of a water bottle connoisseur, we've reviewed a lot of bottles, but most of my bottles are made out of BPA-free plastic or stainless steel.
I'm a big fan of stainless steel water bottles, but I know some people don't like the way the water tastes when they're drinking from a metal water bottle.
That's where glass water bottles come in.
My BPA-free plastic CamelBak Eddy is one of my favorite water bottles, so I was thrilled to try out CamelBak's new glass water bottle.
If you want an excellent glass water bottle, CamelBak's glass Eddy bottle is for you.
And with the holidays just around the corner, the glass Eddy is the perfect gift.
Here's my review of what I love about the CamelBak glass Eddy.
Glass Water Bottle Review
The Glass Bottle Feels Sturdy
There is something about how the Eddy glass bottles feels in your hand that helps you realize you probably won't break it.
In fact, I have dropped the bottle numerous times without any cracks or even scuff marks.
The silicone sleeve offers good protection for the bottle and keeps it from slipping out of your hand.
Plus, the bottle is just made of thicker glass than I've seen on other (non-reusable) glass water bottles.
It's sort of like the difference between a wine glass and a glass jar.
The only downside to the bottle's sturdiness is that it's a little heavy.
I wouldn't take this on long trips with me, but I would highly recommend it for around the home or office.
The Water Tastes Better
I've heard the complaint about stainless bottles all the time: "the water tastes funny."
I personally don't taste any difference drinking from a stainless or plastic bottle, but if you lined up all three — a stainless, plastic, and glass.
I'm certain that most people would prefer the taste of water from the glass water bottle.
It tastes like delicious regular water, without anything extra.
The Glass Water Bottle is Attractive
The silicone sleeve protects the bottle and adds a splash of color and style.
Each of the four color choices (purple, charcoal, aqua, and lime) is vibrant and fun.
A glass water bottle is something you'd rather have sitting out on your desk at work than a stainless bottle.
The CamelBak Eddy is Toxin-Free
The CamelBak Eddy doesn't contain any BPA.
The container, lid, straw, and bite valve are all BPA-free.
The glass bottle is toxin-free, so you don't have to worry about what is ending up in your body.
The Bottle is Easy to Drink From
One of my least favorite things about most stainless steel water bottles is that they're noisy to drink out of.
If you have a sport cap on a stainless bottle, it makes a strange squeaky noise.
Certainly not something you'd want others to hear if you're at the office or in a quiet coffee shop.
And, if you opt for a regular top, you'll spill water down your shirt (especially while driving).
The great thing about CamelBak bottles is their bite valve system.
You just bite down on the bottle and suck from the straw.
Right side up.
This means no funny noises from a sports cap, no spills down the front of your shirt, and no spills on the floor.
The valve keeps it from spilling even when it's on it's side.
If you've previously owned a CamelBak you may have found the bite valve a little difficult to clean.
But you'll be glad to know that this bite valve is a little bigger and therefore much easier to clean.
Who I Recommend This Bottle For
The Eddy Glass Bottle is the perfect bottle for anyone looking for a reusable bottle for work, home, or the car.
It's great for anyone who doesn't like stainless bottles because of their taste, or are worried about other ingredients in BPA-Free plastic bottles.
You can buy the bottle here. As you can see from reading this glass water bottle review, I'm a big fan of the Eddy Glass Bottle.
I know you will be, too.
This post contains affiliate links, which allow us to provide high-quality content for free.
Thanks for your support!
CamelBak was kind enough to send us a water bottle to try out for this post.
See Related Articles: