Updated:
Small ship cruise to Alaska ~ In mid-July, my family and I embarked on our Alaska Dream Trip and set sail aboard the 49 passenger Baranof Dream from Sitka to Ketchikan Alaska with Alaskan Dream cruise line.
For ten days, we'll experience their family cruise itinerary through SE Alaska, which promises to keep us busy from sun-up to sun-down (though I hear you have to be quite the night owl to see the sunset during an Alaskan summer).
Because small ship cruising is inherently different than the traditional 'mega' cruise ship experience most are familiar with, I sat down with Alaskan Dream VP of Sales and Marketing Mike Wien to find out why small ship cruising makes sense for eco-conscious families.
Read on to learn about our small ship cruise to Alaska.

5 reasons for families to book a small-ship cruise
Eco-conservation begins with education
As outdoor enthusiasts who have done all, we can to pass on our love of the wilderness to our kids, we know that nothing makes children respect and value the planet more than a personal relationship with the natural world.
On small ship cruises, the emphasis is outward (on the world outside the ship), instead of inward (deck parties and swimming pools).
When kids see, hear, and touch the wildlife around them (whether that be in Alaska or the Galapagos), they are changed.
"I can't imagine a better opportunity for young adults to learn how to be stewards of the environment," Wien says, explaining that the eco-conscious attitude that prevails aboard an Alaskan Dream ship teaches basic ecological lessons that carry over.
For example, on wild beaches, cruise leaders pick up trash when they see it, regardless of who left it, a practice kids notice.
The kids will sleep well every night
A common concern of parents considering a small ship cruise is that there won't be 'enough to do' onboard.
According to Wien, Alaskan Dream daily itineraries start at 7 am with breakfast and go strong until bedtime, with the goal of making each vessel 'a moving summer camp.'
The small ship may lack a game room and a climbing wall, but kids are always active, both on and off the ship.
Because small ship cruise pricing is inclusive, parents can say 'yes' to kids all day long: yes, you can join that kayak tour, yes, explore the marine conservation center, and yes, have another cookie.
Small ship cruises have a smaller environmental impact
Due to their significantly smaller size, impacts of on-board consumption and off-vessel discharge for small ships can be limited to population areas which can handle this additional infrastructure (think 30 passengers instead of 3000).
Limited on-board space forces small ship crews to reduce, reuse, and recycle as much as possible, a practice Alaskan Dream and other small ship companies have mastered by necessity.
Small ship cruising allows for a local experience aiding a local economy
In addition to gaining access to smaller, less populated ports of call, small cruise ships such as Alaskan Dream nurture positive working relationships with local tourism departments, attractions, and groups.
In the case of Alaskan Dream, owners Bob and Betty Allen are members of the Tlingit Alaska tribe, a relationship that is fostered in their hiring practices, their cultural presentations, and their ports of call.
"Native culture is strong in Alaska," explains Wien.
The Allens are highly involved in local communities, helping local causes and assisting to provide tourism dollars.
Small ships foster multi-generational bonding
While many cruise experiences will prompt families to leave their cell phones and electronic devices at home (or at least stowed in their bags), small ships take inclusiveness a step further.
General gathering areas for all passengers encourage multi-generational mingling, and activities that may be out of the comfort zone of both father and son, mother and grandmother encourage familial bonding.
Kids and parents absorb new information together, and then experience nature together in an unforgettable way.
Great eco-cruise providers around the world:
Our small ship cruise to Alaska
And We're Off: Alaska Dream Trip, Vancouver, Banff and Beyond
Here's what we're planning to explore on our Alaska Dream Trip:
Whether cruises can truly be green
Efforts Holland America is making to green their cruise line
Tips for making your cruise more environmentally-friendly
Green recreation in Alaska
Low-impact activities in Vancouver
Drinking and dining out in Vancouver
Things to do and where to stay in Banff National Park and Lake Louise
If you have a recommended activity or favorite restaurant in any of those places, please pass it along!
Photos from the Road: Banff National Park, Canada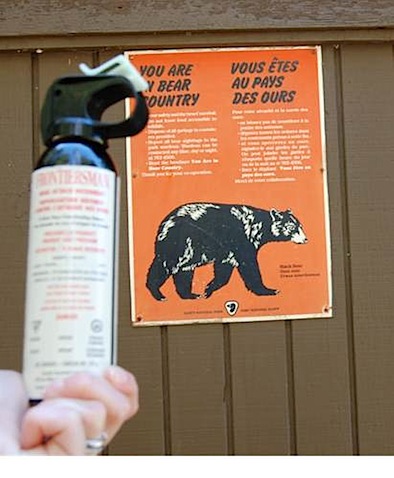 White Pass Train and Biking in Skagway
If you've ever been on a cruise, like our Ryndam Holland America Inside Passage Cruise, you know that there are countless cruise excursion options for each stop and they all cost a fortune.
After scouring the excursion offerings for Alaska, we decided on the White Pass Train and Bike excursion as the one cruise excursion we would take.
Some of the other Alaska cruise excursions that we considered were whale watching and glacier trekking.
Whale watching sounded appealing, but we could do that elsewhere.
And we were very torn about taking a helicopter ride and glacier trekking excursion — but decided that the $400+ per person was too much money.
So the only excursion we took was the White Pass Train and Biking excursion.
The White Pass and Yukon Railroad was built in 1898 during the Klondike Gold Rush.
It's a narrow gage train now serves tourists with gorgeous views and a history of Skagway, Alaska.
White Pass Train Alaska
We took the train one-way and from there continued on our biking excursion.
Alaska White Pass bike
We weren't sure what to expect from the biking excursion.
But it was pretty much entirely downhill.
There were several stops for scenic outlooks.
We stopped at one point to see the White Pass Train go back down to Skagway
Alaska White Pass Train
We stopped again for freshly melted glacier water.
The water was incredibly refreshing.
If you're looking for an Alaska cruise excursion that is a little less touristy than some of the bus tours, I would recommend seeing if your cruise ship offers a White Pass Train and Biking excursion.

Ryndam Entering Glacier Bay National Park Cruise
Last summer, as you may recall from a few posts Tall Tale Taxidermy/USPS, Vancouver:
First Impressions, Banff National Park Photos, we took a family cruise on the Ryndam Holland America ship.
Specifically we took the Alaska Inside Passage Cruise which started and ended in Vancouver and stopped in Juneau, Skagway, Ketchikan, and Glacier Bay National Park.
Overall, it was a phenomenal trip.
The highlights of the Ryndam Holland America ship (which, from what I've been told, are true of all Holland America ships) included:
Staff: The ship staff were incredibly friendly.
They were always smiling and willing to answer any questions we had.
They seemed to genuinely care that we had a good cruise, and because of them, we did.
Food: I was expecting mediocre food based on what I had previously heard about cruises.
Luckily, the food was amazing.
Had it not been for our wedding immediately following the cruise, I would have likely eaten enough to gain 10 pounds in a week.
On-Ship Activities: I brought several books on our Alaska cruise.
Expecting to be bored during the days at-sea.
However, there were so many on-board activities that I didn't even get one of my books finished.
Plus, it turned out I didn't need to bring books because the on-ship library stocked more bestsellers than my local library.
Some of the best activities included a tour of the ships kitchen and a mixology class.
My only suggestion when it comes to booking a Holland America cruise is that if it's not too much more money, to book a room with a window (or even a veranda if you find a good price).
I didn't spend much time in my room, but had I wanted to, it would have been a little claustrophobic.
Alaska Cruise Ship
Environmental Officer
Before we took our Alaska Inside Passage cruise, we contacted a Holland America PR rep who arranged for us to get a behind the scenes tour with the ship's Environmental Officer.
On each of Holland America's ships, there is an Environmental Officer who is responsible for ensuring that the ship follows all applicable environmental laws as well as promoting overall environmental stewardship.
We met with the Ryndam Holland America Environmental Officer for about an hour and learned about what cruise ships are doing to be more environmentally friendly.
Alaskan Tour Pictures
Staff Bulletin Board with Environmental Goals (Including reducing waste conserving fuel) Recycling containers for passengers on Alaska Cruise Trash room where all trash is stored until it can be off-loaded
Something else I discovered on this trip: taking a taxi can be greener than riding public transportation.
Disagree?
Hear me out.
In Juneau, we intended on taking the public bus to the Mendenhall Glacier (a glacier in Tongass National Forest).
All the guidebooks indicate that you can take the public bus to the glacier for a nominal fee each way.
We asked the local tourist information center where to catch the bus and a woman informed us that the bus would drop us a mile and a half from the glacier.
Considering the limited amount of time we had, walking 3 miles just to get from the bus stop to the glacier wasn't an option.
The information booth employee gave another option: we could take a charter bus for $7.00 per person each way.
Or we could take a taxi cab for about $32 total.
As there were 4 of us, the taxi cab was only about $1 more per person; so we took the cab.
That clearly operates solely for tourists: Mendenhall Glacier Cab Company.
Why taking a cab was greener than the bus:
Support Local Business.
We supported a small local taxi company and the cab driver (whom are often considered sole proprietors).
Get a Local's Perspective.
The cab driver gave us his perspective not just on Juneau, but also politics and the economy.
Learn Insider Tips and Tricks.
Our cab driver provided a wealth of information about local wildlife including where to spot black bears (in trees).
When we got to the glacier, he even got out of the cab and walked around with us for 10 minutes and pointed out spots where you can see salmon (during spawning season) and black bears (usually eating the salmon).
Plus, he had some great stories.
Enjoy the Local Environment Longer Than Everyone Else.
Because we took a cab, we also beat out the buses full of tourists by nearly 30 minutes.
This gave us more time to explore the park and glacier – and gets some photos without someone else's head as the backdrop.
For me, the local experience of the cab was worth not only the extra dollar, but the extra carbon output.
It's definitely not always the case, and our regular readers know we're huge fans of public transportation.
But sometimes riding in a cab makes your trip a little greener.
We thoroughly enjoyed our time on the small cruise ship to Alaska and was pleasantly surprised to experience how environmentally friendly it was.
Do you have any stories to share about a small ship cruise to Alaska?
Related Posts: