Green Rental Car Hybrid – Visiting new places is exciting.
There's so much to see and do, and so many memories to be made.
Travel also involves planning.
With itineraries to create and hotel reservations to make, it's easy to overlook the environment.
However, many companies are making it easier to be eco-friendly while on the go.
Resorts are catering to a green conscious public, and people can be even more environmentally responsible by renting a green car.
If you are looking where to rent a hybrid rental car in the United States, it might pose a bit of a challenge.
Though it is getting easier with each year, it is not as easy as one would expect in this day and age.
An environmentally-friendly rental car isn't a given unless you seek one out.
But most of the big car rental companies are currently working on stocking hybrids, but there are still few that do.
Travel Green On Your Next Vacation to Reduce Impact
10 Tips for Using Priceline for Car Rentals to Save Money
Rent a Green Rental Car Hybrid for an Eco-Friendly Getaway
Chance to try a different type of car
The majority of drivers still stick with the gas-powered car for their everyday transportation.
Vacation provides an opportunity to try out a car that's powered by a different source.
Whether it's bio-diesel, hybrid or electric, these cars take advantage of the latest technological developments to deliver performance that is efficient while also helping to preserve the environment.
Think of an eco-friendly car rental as a chance to enjoy an extended test drive.
Many people have chosen a green car after experiencing how wonderful it is to avoid frequent, expensive trips to the gas station.
It's getting easier and more convenient to rent green cars.
Many of the major rental car companies in the U.S. now offer green options.
Independent rental car companies are springing up that boast fleets that are exclusively powered by alternative fuel.
Searching for Green Rental Car Hybrid rentals online
Perhaps the simplest way to begin the search for a green car rental is to look online.
Big rental car companies that have an environmental initiative in place are usually vocal about their practices.
Travelers wanting even more variety might consider conducting an Internet search for their destination that specifically references environmentally friendly car rentals.
Many of these smaller, independent companies are a bit more difficult to find, but their personalized services and expanded fleets of environmentally responsible vehicles makes them worth seeking out.

Read the fine print of your Rental Agreement
The larger car rental companies have recognized a definite trend as far as consumer demand for green cars.
That's why they've shown themselves willing to add eco-friendly choices to their automobile lineup.
However, consumers should read the fine print and proceed with caution when renting a car.
Many automobiles that are part of a green car rental initiative do rely on alternative fuels, while others are merely recognized for providing excellent fuel efficiency.
Either vehicle is a good option, but the traveler who is determined to be as green as possible may want to double check that they have chosen a true electric or biodiesel vehicle instead of one that's just more efficient.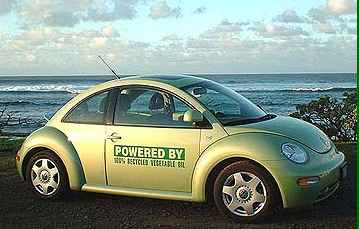 Benefits of renting a green rental car hybrid
Some travelers haven't quite gotten on the green rental car hybrid bandwagon yet.
It's not unusual for a tourist to choose a high powered sports car or an SUV when they are far from home.
While these cars certainly are fun to drive, they can have a significant environmental impact, especially if travelers plan to do quite a bit of driving during their stay.
Vehicles like these emit a lot of greenhouse gases and contribute to the amount of atmospheric pollution.
When it comes to deciding whether or not to go with a green car, drivers might consider that some cities that have a significant smog problem might ask people to restrict driving at certain times.
Choosing a green rental car hybrid allows the tourist to continue their sightseeing without worrying about contributing to a particularly smoggy day.
Renting a green car can also help travelers save money. Some rental car companies do charge a bit more for choosing an environmentally friendly car.
However, most people who go this route discover that they more than make up for the extra cost in fuel savings.
In addition to saving gas money, alternative fuel cars can also provide peace of mind.
While driving through unfamiliar territory where gas stations may be few and far between, the driver of the alternative fuel vehicle doesn't have to worry.
They usually have more than enough "fuel" to get them where they are going.
People traveling for business may also derive benefits from choosing a green rental car.
When trying to impress a client or other new business associate, being perceived as environmentally responsible may be particularly desirable.
Some companies only like to do business with organizations that are trying to make a difference in the world.
Demonstrating concern for the environment through a green car rental is a wonderful, real world way for a company to show where their heart is.
SmartWay vehicles
Many cars that are included in green car rental initiatives are certified SmartWay vehicles.
SmartWay is a U.S. Environmental Protection Agency (EPA) program that is aimed at improving fuel efficiency in all vehicles and reducing air pollution and greenhouse gas emissions at the same time.
Since the program's inception in 2004, many vehicles have received the SmartWay certification.
Some of these are true hybrids or rely solely on some kind of alternative fuel source.
However, SmartWay cars may also be gas powered vehicles that are more fuel efficient and environmentally friendly than other cars.
Each year the EPA establishes new guidelines and reviews the latest models from all major auto manufacturers.
A traveler who is having difficulty finding a car rental company at their destination that has a green car initiative might consider renting one of the models that has received the SmartWay certification.
This way, the tourist can still travel as green as possible.
Eco-tourism destinations are ideal places to rent a green rental cars
Environmentally friendly car rentals are becoming a hot trend in places where eco-tourism is popular.
Diverse destinations like Costa Rica, Kenya and the Norwegian Fjords attract thousands of visitors each year.
These travelers long to see pristine natural beauty, and to do so in as responsible a way as possible.
Choosing green transportation options is just one way to make eco-tourism more planet-conscious than ever.
To make their trip even more environmentally responsible, many tourists are choosing to rent a car for only a portion of their trip while relying on public transit, bicycles and their feet for the duration of their stay.
Compare rental car companies' other green practices
Travelers might also want to take a look at their car rental company's practices before choosing which one to go with.
From the smallest electrically powered car to the largest gas guzzling SUV, car rental agencies have a huge fleet to maintain.
That means endless rounds of repairs and cleaning to keep each vehicle operating at top efficiency.
Many rental companies have completely revolutionized the way they do business on a day-to-day basis, opting for biodegradable, non-toxic cleaners and using recycled materials whenever possible.
They've updated how they maintain their vehicles, making their practices far more environmentally friendly than they were before.
That commitment to the environment also reaches into the office at some rental car companies.
Administration might have decided to go paperless, and they may have an extensive recycling program in place.
Maybe they encourage employees to carpool, take public transit or opt for reusable shopping bags.
Renting from companies like these shows an even greater commitment to keeping the earth healthy.
More advantages of renting green rental car hybrids
Whether traveling for business or pleasure, anyone can make choices that contribute to sustainability or could be detrimental to the environment.
Travelers can feel good about renting a green car, knowing that they are taking active steps to improve the planet.
They are making a choice that's better for them and their family.
They are also choosing to reduce the world's dependence on fossil fuels and actively trying to reduce their carbon footprint.
Tips for driving smarter and more green
No matter what kind of car is rented, travelers can also take steps to ensure that their driving habits are as green as possible.
Believe it or not, simply being a patient driver can seriously reduce pollution rates.
Driving aggressively and stomping on the gas pedal emit far more carbon monoxide than slow and steady driving.
Some experts recommend using cruise control whenever possible, as this helps even out the demands on the car's systems.
Additionally, sticking to the speed limit can significantly improve fuel economy.
Even using a GPS can unit can make a difference.
GPS helps drivers find the quickest route to their destination.
Moreover, it can provide drivers with alternate routes to help them avoid congestion that only promotes bad air quality.
It may even be beneficial to try opening some windows instead of using the air conditioner.
Air conditioning units tend to hurt fuel efficiency and emit harmful nitrogen oxide.
Limiting idling time and choosing not to warm up a car on cold mornings can also prevent greenhouse gas emissions.
Green Rental Car Hybrid rentals are becoming more widely available in all corners of the world.
It's not unusual for U.S. car rental agencies to offer energy efficient cars, many of which run on alternative fuel sources.
However, agencies tend to only have a limited number of alternative fuel cars available.
This makes it imperative for drivers to make reservations well in advance of their travel dates.
If an alternative fuel car is unavailable, drivers can still be environmentally conscious by choosing a car model that has received SmartWay certification or selecting a rental company that follows certain green operating practices.
Choosing eco-friendly cars
Let's face it. It pays to be green these days. Climate change issues aside, the cost of fuel alone makes you want to choke at the pump.
Sure it's nice to be there humming and saving in your electric car you just unplugged, but what if you want to be able to unleash 6.2 litres of V8 and 550 plus horsepower?
Maybe there's a bit of ego involved, but some people really enjoy driving and appreciate the experience a well engineered machine provides to its pilot.
Is there a middle ground here?
You love eco-friendly cars but you love speed too.
Green or mean… or both?
In the Green Corner: Hybrid Roadsters
Even though we might not like to think about it, environmental concerns are real.
Cars use up fossil fuels and spit out carbon monoxide which accelerates global warming.
Being a car enthusiast doesn't mean that you don't care.
Some shout that we should go for the best fuel efficiency possible, and the automakers have not turned a deaf ear.
On the contrary, some of these green models have taken a place among the centerpieces of many automotive lines.
Green Car Journal's Green Car of the Year contender, the Toyota Prius V Hybrid, for example, is a petrol-electric hybrid.
Nearly single handedly, this baby catapulted Toyota to the top spot among car makers and made a big difference in the company weathering the economic storm of 2008-2009.
There is huge consumer interest in this car so Toyota puts a big chunk of R&D resources here all for under family car money.
We are talking 45-mpg.
It's what the environmentally minded driver demands.
Save cash at the pump and save the planet?
Sure, with these cars you can do both.
In the Mean Corner: The Muscle Car
Despite surging fuel prices, the car lover lives – and, therefore, so does the muscle car.
Maybe you prefer to drive well into triple digits.
Digits like 200-mph and 650-bhp, that is, as offered by the impressive Ford Shelby GT500.
There is no mistaking what's going on under the bonnet here.
This beast is for the driver who just wants to drive.
This isn't about commuting or heading out to buy groceries, but it is about the throaty roar and the pull you feel from all those horses pushing you toward the horizon.
Then, in perhaps the ultimate expression of indulgence you could slide into the Aston Martin One-77.
Let's let the numbers do the talking: only 77 to be made, 750-bhp, 7.3 litre, V12 and a cool £1.2 million (or $1.5-2 million) sticker.
Running costs are likely to be high; to just replace a tyre may cost the same as many economical small estates.
And the Winner is…
There are convincing arguments on both sides.
The green camp would cite that the environmental concerns alone are reason enough for eco friendliness to drive design and choice.
The enthusiast would counter that with stricter emissions regulations and high fuel prices the performance car is also making strides in environmental consciousness.
Take the new Mustang which has a 305-bhp V6. It maintains the muscle car feel, and it gets a respectable 31 mpg thanks to better valve operation and timing adjustments.
There are many science and technology centers as well as national parks, etc. that are displaying information about eco-friendly cars so even kids can learn about how important they are.
Even though green technology can be found trickling down to many conventional models, very few drivers want to go puttering along at a snail's pace.
Performance matters to everyone. But where do you draw the line?
For the time being it appears that there are still choices, especially as more companies come on board with eco-friendly cars.
Hopefully the technological advancements will reach the point where someday we can grip the wheel of a muscular machine that goes fast and far on only a few drops of fuel.
We can certainly dream.
Pros and Cons of Buying Electric Cars What You Should Know
Cars using electricity instead of petroleum is definitely an attractive invention.
Though the presence of electric cars has been there since many years now, people are still concerned about deciding whether they should go for it and buying electric cars or a conventional one.
If you are having a similar confusion, then knowing the pros and cons of electric cars can help you finalize your decision.
Here is what you should know about electric cars:
Quick and Quite
Even if you are riding an electric car for the first time, you will feel the difference:
It provides you a much smoother, quick, and quite ride as compared to the car using engine powered by petroleum.
The most surprising factor of an electric car is its high torque.
The higher the torque is, the better is its axle twisting power.
You Can Recharge Your Electric Car At Home
Who likes going to the gas station repeatedly?
And if you have an electric car, then set your fueling worries aside! Since you can recharge this vehicle at home, you can save a lot of time.
Recharging your electric car in a driveway or your garage means that you can drive it to eighty to one-hundred miles.
This is a lot for everyone, except those who need to commute long distances.
It Is a Cheaper Option
In various regions, electricity is said to be cheap and ubiquitous.
This gives the dwellers a huge advantage in terms of cost.
So, in countries where the petroleum prices are very high, electric cars can be the best alternate.
Secondly, electric cars do not require oil changes, which keep maintenance costs away.
Electric Cars Have a Good Future
Still, not all vehicle manufacturers have tapped into the market of electric cars.
However, within a couple of years, it is predicted that an increasing number of automobile companies will show serious interest in producing electric cars.
This is great news for electric car lovers!
Cons of Buying Electric Cars
Electric Cars Have Limited Range
Those driving electric cars often complain about their range anxiety.
So, when it comes to driving through long miles, these cars will not deliver you more than 100 miles.
However, the cost as well as range of batteries used within electric cars is said to be improving.
Refueling Takes Longer Electric Cars
The limited range issue is linked with the refueling concern of electric cars.
Since refueling an electric car takes a lot of time, many people prefer taking their petroleum car to the gas station.
Expensive Buying Electric Cars
For some people, initial costs matter a lot.
Having high cost of purchase, electric cars are said to be more expensive.
Consumer's Choice Is Limited for Electric Cars
No matter how luxurious an electric car from a popular automobile company is, the designs and styles of electric cars are rare.
This makes many people out of choice.
So, these were the pros and cons of electric cars.
Since the industry of these eco-friendly vehicles is seeing growth in terms of consumer preference as well as technology, there are high chances that the newer models of electric cars will contribute positively in terms of increasing the market share of companies producing and selling them.