As airline fares and fees continue to rise, travelers are looking for lower-cost ways to get from Point A to Point B. Trains are scenic, but they're often more expensive than planes. If you're in the market for an economical way to travel, the often-overlooked bus might be just what you're looking for. A bonus: traveling by bus is more environmentally friendly than road tripping in a car. Here's what you need to know about bus travel in the US.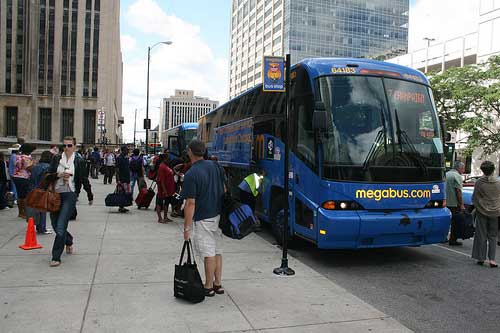 Bus travel in the US
Learn everything you need to know to get around by bus with our quick guide to bus travel in the US.
Book Early
Sometimes you can get great last-minute deals on airfare through websites like Priceline, but bus tickets are different. Companies like MegaBus and BoltBus offer dollar fares; if you book far enough ahead, you can travel round-trip for.
If you wait until the last minute, however, tickets can be upwards of $40 depending on how full the bus is.
Booking early is a great way to save money, but remember that most bus companies do not offer refunds so it's best to book once your plans are solidified. If you do need to switch dates, you may be able to change your reservations and pay the difference in fare.
Travel Regionally
While it's true that you can travel across the country on a bus, I suggest using them regionally. For example, a bus trip from Boston to New York is about 4 hours. That definitely beats waiting in the security line at the airport, then waiting for your flight (with possible delays).
On the other hand, a bus from New York to San Francisco takes about three days. In that case, flying is the more efficient option. Unless you have unlimited time for travel, sticking to regional bus trips is the way to go.
Pack Light
With increased baggage fees on many airlines, many frequent travelers are accustomed to traveling light. Most bus lines will allow just one 50-pound bag, so you'll want to do your best to pack light. It's also a good idea to try to put your bag in last, so you don't have to wait for all of the luggage to be unloaded before you're on your way.
Consider Safety
Most bus stations don't have the extensive security processes that are in place at airports. While this saves considerable time and headache, it's a good idea to be cautious on the bus and in the bus stations. Beware of pickpockets and make sure you keep your valuables put away unless you are using them.
Also, do a little research on the bus station neighborhood before booking tickets. Bus tickets for late night and early morning departures are often cheaper, but make sure that you feel comfortable being at the bus station at that time of day.
Another potential safety issue to be aware of is the bus lines themselves, especially so-called "Chinatown buses." The cheap fares are tempting, but the Federal government shut down a number of Chinatown bus lines for safety violations, so be sure to do your research.
Get a Good Seat & Charge Up
These days many bus companies offer free WiFi. This is a great way to pass the time, but if your electronic devices are dead it won't be much help. Pick a seat near a power strip, or at least make sure that you're all charged up before you board.
Be Flexible
Just as flights run late or get cancelled, buses may be behind schedule or breakdown. Rather than waiting in a classy airport bar, you may be in a sketchy bus terminal, so make sure you're comfortable with that possibility. All of that said, many people find that the cost and ease of bus travel is worth the occasional inconvenience.
If you're traveling with young children or have to be somewhere at a specific time, you may want to consider other modes of transportation. But if you're flexbile and are looking for a cost-effective, eco-friendly way to travel, buses are a great option.
Have you traveled by bus in the United States?  Is there anything you would add to our quick guide to bus travel in the US?
Photo credit: compujeramey