Plan a trip to the Kemmerer, Wyoming area for the experience of a lifetime. On a long road trip across the country, we did a lot. But the absolute highlight of our trip — and maybe the best outing we've ever had — was our time fossil hunting at Fossil Safari at Warfield Fossil Quarries.
A science teacher friend had recommended going to the Kemmerer area in southwestern Wyoming and explained how you can hunt fish fossils and keep what you find. We never heard of such a place. After spending a day exploring and learning about the area at Fossil Butte National Monument, we decided to visit Fossil Safari at Warfield Fossil Quarries later that week. We are so glad we did.
Why we loved Fossil Safari
We found so many fish fossils! The staff was patient and helpful. They want to help you be successful in finding fossils.
My family of four, including two children ages 9 and 10, all found fossils. My nine year old was the first to find a fossil — a full fish fossil — in about 10 minutes.
It was a great value for the number of fossils we found and for the overall experience. We chose Fossil Safari because of several positive local reviews. They seemed have the best prices and value of all the competition.
It wasn't crowded. We also loved that we didn't have to reserve a time to be there.
What to expect when you arrive at Fossil Safari
Just show up! You don't have to make a reservation. George, the manager, or another employee will meet you in the office to answer questions, collect payment, and to have you sign a simple waiver. There are fossils and other things for sale but we hardly looked as we were so excited to get started and forgot to stop back on our way out.
They will give you a card with the types of fish fossils you might find so that you could identify them later. We each took a hammer and a chisel then walked out to the quarry for a quick lesson in how to find fossils.
George or another staff member will show you the safe and correct way to split open the rocks so that you can have many layers or "sheets" to look at. Most of the time, the sedimentary limestone will break in nice sheets. They will explain how your best chance of finding fossils is by staying in one place and splitting the rocks in one area at a time.
After a few minutes of instruction, you are free to choose rocks and start splitting them open. We all found fossils within the first half hour.
How long to stay
You decide in advance if you would like to stay for one hour, four hours, or eight hours (all day), and pay accordingly. Whichever rate you choose, know that you are getting a great value for the experience. Children 12 and under are half price. You will most likely find several fish fossils in just an hour but you will want to stay longer. It's very addicting! It's not crowded so you will be able to have a nice family experience.
We couldn't believe how time went so quickly. We stayed approximately three hours but could have stayed all day. It flew by and was very fun. It was as fun to look for the fossils as it was finding them.
Why choose Fossil Safari to find fossils
Besides the absolutely incredible experience of being able to find 50 million year old fossils, we loved several things about Fossil Safari.
Great staff
George, the manager, was working alongside the customers at the quarry and was always available to assist. He walked around to check on people and helped everyone who asked him. He was approachable and available and also left us to do our own exploring without hovering. We asked him for help and advice a few times, and he was always patient, helpful and good-natured. Another employee helped us identify a larger fish fossil we found.
George helped us split rocks properly, including taking time to sit with my son, and helped break down some of our larger pieces into just the area around the fish fossil.
He also had a lot of respect for the area. Later in the day, George said he thought of each rock as opening a 50 million year old book and not knowing what he will discover.
Keep all the common fish fossils you find
There may be some who worry about not being able to keep any rare fossils you might find. To us, finding any fossils, much less 50 million year old fossils, was going to be exciting. If we happened to find a rare specimen, we knew we had to give it to the quarry. We were fine with this. We explained this to our kids in advance, and they understood the rules as well. How cool would that have been to have found one! As we were leaving the office, George joked with us saying to "only find fish" because he "would feel badly taking other types of fossils from us."  We all laughed about it. Again, this was not an issue at all.
Pricing
They offer the most competitive pricing and value in the area. Kids 12 and under are half price.
Hours
They are open every day, from Memorial Day weekend through September, from 8am – 4pm. What is different about Fossil Safari from most of the other commercial quarries is that you can show up when you want to, without a reservation.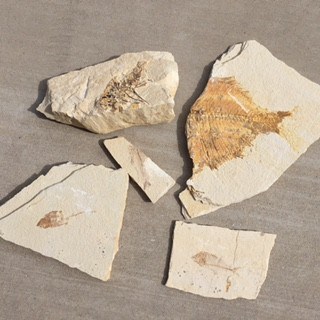 Not crowded
We were there longer than we expected, about three hours. At any given time, and we were there on a Saturday afternoon in mid-July, there were only up to 15 other people in the huge quarry.
Finding fossil fish in the Green River Formation
Come prepared and be patient. You will find fish fossils, lots of them. It's incredible to believe that on our family vacation we were able to find, touch, explore, and keep fossils from the Eocene Epoch, 56 – 33.9 million years ago.
What to bring with you
What to wear to Fossil Safari
Hat: Everyone should wear a hat. If you have one that protects your neck, wear it.
Pants: At a minimum, you will be bending down. Kids will most likely sit and kneel in the quarry. Jeans would be a great choice.
Covered shoes: Don't wear flip flops or sandals.
Work gloves: We did fine without them but they would have been great to use, especially for the kids.
Wear only what you won't mind getting dirty. We were absolutely covered in dust. Know that you will be at 7,000+ feet in elevation. It will most likely be very hot and dry.
Thoughts on pants: While it seemed most adults were in a crouching position– not sitting down or kneeling unless they had kneepads — the kids were kneeling and sitting. While the hammer might be light for an adult, and adults can manage their balance, the kids needed to concentrate more on using the tools from a sitting and kneeling position. Be sure to wear pants you will be okay with getting very dusty.
What to bring to Fossil Safari
Map: Print out the map for how to get to Fossil Safari. Even if you have a GPS, bring the map. I did have internet access from my smart phone along the way, but don't rely on it.
Sunscreen: Apply sunscreen and bring more with you.
Reusable water bottle:  Bring more water than you think you will need.
Bring sunglasses or other protective eyewear: We were glad we brought sunglasses with the sun, and they helped to protect our eyes from dust, etc. Make sure everyone has sunglasses. If it's not sunny, make sure everyone wears protective lens. It was windy and dust was blowing a lot. Protect your eyes.
Smartphone/Camera: Put it in a resealable bag so it's protected from the dust.
Colored bag/backpack: We put our phones and snacks in our bag but it also served as a great place to mark as a "home base" for our ever-growing fossil collection.
Snacks: Depending on how long you will be at the quarry, it might be wise to bring snacks to leave in the car or put in your bag. You will not want to leave and drive to get food. Warfield Fossil Quarries / Fossil Safari in a remote area, so bring something easy to eat, like granola bars.
Bubble wrap & newspaper: You want to be sure you can safely bring your fossils home. We didn't come prepared but luckily had beach towels and blankets to protect the fossils until we could buy bubble wrap on the drive home.
Optional things to bring:
Kneepads or garden pad to kneel on
Long shirt for extra sun protection
Change of clothes. You may well be covered in dust like we were. Just go with it as part of the experience. I had our kids change into shorts and flip flips before getting in the car.
You will get dusty
Maybe the day we were there was particularly windy but we were covered in dust. It was all part of the fun. Know to only bring what you need to the site. You can always walk back to your car which will be very close by. We brought a bag that was easy to wash to store a few snacks, our water bottles, and smartphone (to take pictures) wrapped in its own Zip-loc bag.
Tips for finding fossils
Watch George, other employees and experienced fossil finders
Stay in one place and cut through the rock that is there before moving to another place
Once you select a piece of rock, be sure to cut through the entire rock before discarding it
Have patience, follow directions, be thorough, and have fun
It's so important to stay in one area, as the staff will suggest. We saw a group there at first moving from place to place because they always thought the rock was "better" somewhere else. Once they stayed in one place, they started finding several fossils. There are rows and rows of rocks to choose from.
How to find fossils
George was incredibly helpful and patient and provided excellent instructions. One of the biggest reasons for our success was that we listened to his advice: Stay in the same spot and look through the rocks where you are.
We saw some people walking all over only to be discouraged they weren't finding any. Even though there were fresh piles on the ground, there were customers wanting to search the quarry walls. It was fine to go there but it's important first to take time with the rocks that Fossil Safari already has put down.
Visit Fossil Butte National Monument
On Fossil Safari's website they recommend a visit to Fossil Butte National Monument. I read this after we already went there but let me tell you, you absolutely should go to the monument first. Learn all you can about Fossil Lake and about all the fossils that were found in this fossil-rich area. You will learn a lot which will help you as you enjoy your own fossil dig.
If you go to Fossil Butte National Monument, try the hike up on a Friday or Saturday in the summer when they have staff finding and marking the fossils in the rock. They also have a Visitor's Center with an extensive fossil collection, a Junior Ranger Program and several interactive displays. Their timeline outside is incredible.
You can easily plan a trip around visiting Fossil Butte National Monument and Fossil Safari. Plan for a minimum of two days in the Kemmerer, Wyoming area.
What to do with all the fossils?
When we first checked in, George gave us a paper with directions about how to seal the fossils at home. He was also very helpful explaining how to mount a large piece on our wall later in the day.
What kind of fossils will you find
While we were there, we and other people found these fish fossils:
Knightia alta
Diplomystus dentatus
Priscacara liops
Mioplosus labracoides
Priscacara serrata
Getting to Fossil Safari
Know that you will be going to a remote area. Check Fossil Safari's website for the map and for precautions when driving on the road. It's about seven miles from the main road. The first road we were on was a rural dirt road. Later on we were driving on a gravel unimproved road. You will pass four cattle guards total.
What are the recommended ages for Fossil Safari?
Going on a fossil hunt and finding fossils are incredible experiences. Children can participate and learn a lot. If they take direction well, and you can trust them with tools, you might want your five or six year old try it. They have to be able to hold the hammer and chisel or have an adult help them. Will he/she be safe with tools? If they are patient, they will enjoy it. It really depends on your child.
It was wonderful seeing the kids there being patient and doing things the right way. All the kids were well behaved and seemed to be following directions well.
Educational experience for kids
This was a phenomenal experience for kids to learn history and learn about fossils. They can learn to identify the fossils you will find. It's also a great chance to teach them about how the earth formed into layers after millions of years and opens their minds to the work of paleontologists and geologists. Adults will learn a lot about fossils as well.
How much time do you need at Fossil Safari?
Most people seemed to purchase the four hour rate. Time flies out there even with the sun. It is just so fun for kids and adults. The full day is also an option but mostly likely after 1.5 – 2.5 you will find enough fossils. If you decide to stay for just an hour instead of longer, be sure to trim your fossils after your time expires so that you aren't using your fossil-finding time.
Patience with the fish fossils
The hardest part wasn't having patience to find the fish fossils, it was being patient when we did find them. We found several full fish specimens that we tried to reduce down because they were surrounded by excess rock. Tip: Ask one of the helpful staff members to help you so you can see how to do it. Sometimes even when you do everything right they still split. It just depends on the makeup of the rock it is in. So before you try to make it smaller, think how you will feel if by trying to reduce it you split it.
Even if you do break the fish fossil and don't have the entire fish, it's still really amazing. Just think if you were out and found even a portion of a fossil somewhere. How thrilled you would be! It is important to remember how these are 30 – 50 million years old.
Best place to find fossils in Wyoming
If you are looking for a great quarry to hunt for fossils, Fossil Safari at Warfield Fossil Quarries near Kemmerer in southwestern WY is the place.
Fossil Safari address
NW of Kemmerer off Wyoming Highway 233. Phone: 307-883-2445 or 307-851-0987. You don't need to call in advance; just show up.
Remember to print out a map or take a picture of it on your phone to access their exact location.
Again, there is a 7 mile road to their site. The first stretch of road is easier on your tires than the second portion but take it slow and you should be fine.
Restrooms at Fossil Safari
We weren't sure what to expect about restrooms given this was a quarry. We were pleasantly surprised to find a decent port-a-potty with plenty of toilet paper rolls and hand sanitizer. There isn't running water here so come prepared.
Quotes from the kids
None of us really knew what to expect as we've never heard of hunting fossils. We all thought it would be a small section to choose from and that the staff would tell us what pieces to cut into. It wasn't like that at all. My children loved that they could sit in one place and choose the pieces they wanted. One of my sons favored the large slabs and patiently took the time to hammer and chisel down to the last layer.
When we got into the car and were driving out, I asked what my kids what they thought about finding fossils. My 10 year old said, "Let's do a rating (of the experience) from 1 to 20," and my nine year old yelled: "25!"
And then, "That was fun fun fun fun fun fun!"
Hours later, at dinner, "It was like going on a 50 million year old treasure hunt."
Both boys thought there would be small slabs that they would assign us and didn't think there would be thousands of rocks to choose from in each row.
Other "hunting" experiences
We love exploring. Some of our more recent vacations have included going to Crater of Diamonds State Park to look for diamonds and to Florida to hunt for shark teeth. But we'd never heard of fossil hunting and fossil digging until this trip. It was our favorite of the three, and we can't wait to go again.
Best commercial fossil quarry for fish fossils in Wyoming
We were thrilled we went fossil hunting on our trip from Milwaukee and Chicago and then to Iowa, Nebraska and Wyoming.
Hands down, Wartime Fossil Quarries, Fossil Safari, is the place to go to find fossils. We have taken our kids across the country to museums, Legoland California, Legoland Chicago and to amusement parks which are fun but this is a real experience. My one son learned about fossils in school so it was a true gift to be able have him experience this in real life. The fun is in the hunting and searching for the fish fossils, not only finding them. Fossil hunting is an amazing opportunity you will always remember.