Peninsula Valdes in Argentina is the only place on the planet where Orcas beach themselves to catch seals. Of course, that only happens at certain times of year, and even then, it's rare. We were blessed with the opportunity to travel to Peninsula Valdes and enjoyed every minute of this magnificent place.
This nature reserve is a sanctuary for wildlife. After much research and meeting with other green travelers on past excursions, we knew if we ever went to Argentina, we wanted to visit Peninsula Valdes, so that we could experience the amazing fauna and see the southern right whales on the whale watching tour. We were also excited at the prospect of seeing penguins. What could be cooler than penguins on a beach?
We arranged our whale watching tour for later in the week. In the meantime, we debated going on an arranged tour of Peninsula Valdes, but we'd heard they can be a bit rushed. We really wanted to take our time. So we paid a bit extra, and the owner of our hostel gave us a private tour of Peninsula Valdes. The desert-like landscape was fascinating and so unlike other parts of the country, including our time enjoying volunteering at Chacra Millalen, an organic farm in Argentina.
Diverse fauna in Peninsula Valdes
We didn't see any Orca whales, but the elephant seals, penguins, ostrich-like rheas, llama-esque guanacos, seals, and seal lions more than made up for it. Please note, wherever we go, we never, ever touch, feed, purposely come close to, or disturb wildlife in any way. This peninsula is a sacred habitat for so many species and also has a huge tourism population. It is so important to be respectful of the surroundings here.
Rheas & Guanacos
We were less than 10 minutes into our tour when we spotted a rhea (similar to an ostrich) with 11 chicks on the side of the road. Our guide told us they usually have 10-12 babies in a litter.
Next we were fortunate enough to see some guanacos, llama-like animals that are abundant on the peninsula. They often travel in groups of five or more, but we found these two alone.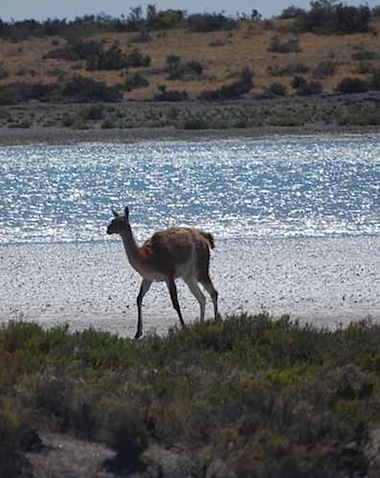 Penguins
Then we stopped at my favorite point where we saw penguins. When we first walked toward the rope that keeps people off the beach, we were disappointed because we didn't see any penguins in the distance. Then we looked down, and there they were, just a few feet away. This penguin greeted us with a wave and stayed posed for lots of photos.
This cutie was standing close to us.
This penguin and many others on the beach were nesting. We didn't see any hatched chicks.
This penguin decided to take a dip in the ocean right before we left. It's interesting how much penguins look like ducks when they swim.
Elephant Seals, Sea Lions & Baby Seals
There were signs on the beach with sketches of male, female, and baby versions of these seal types, but from 200 feet away it was virtually impossible to distinguish one from the other.
The females are nearly identical, at least to my untrained eye. But I'll do my best labeling them.
One of the most fascinating parts of this experience was listening to the noises the animals make while they splash around in the water.
We weren't sure which animal we were photographing when we took the picture, but based on its ginormous size (males can weigh up to 7,700 lbs), we were guessing an elephant seal. Looks like we were right — see its trunk-like nose?
This little fellow was sleeping by himself on the beach sunning himself. For the most part, all of the seals and sea lions looked like this — inactive to the point of being lifeless. But no worries. That's just how they roll.
One of my favorite parts was seeing the sea lions walk out of the water using their feet-like fins. See the trail of footprints this one left behind him? These two are male sea lions, which you can tell by their thick necks.
Birds & Lizards
We saw so many interesting species on our visit to Peninsula Valdes. We caught a glimpse of this pretty red bird off of a hiking trail near the beach.
There were also so many lizards on the beach trails near the sea lions and penguins.
The Salt Lake
Our guide pulled over on the way back to show us this expansive salt lake. He said it was almost entirely salt, with very little water, and that they don't take salt from it to eat. It was difficult to capture its size in a photo. It remains one of the most interesting things I've ever seen.
Whale watching off Peninsula Valdes
Whale watching off Peninsula Valdes is a big business here, and it was on our list of things we were going to be sure to do. We were hoping to see whales called southern right whales. We learned from our guide that usually southern right whales spend summer in the Southern Ocean which surrounds Antarctica. They migrate north in the winter for breeding and are often found on the coasts of Argentina. Our small boat rounded the corner into a bay of the Gulfo Nuevo in the Atlantic Ocean. Immediately we saw three small whale tails and the mother whale's head behind them.
During our two-hour whale watching excursion, near Puerto Madryn and Puerto Piramides, Argentina, we floated in the ocean and watched as the southern right whales nursed, played, and swam under our boat.
Southern right whales average about 40 ft long and weigh 27 tons. It is reported there are only about 8,000 of them left in the world, 400 near Peninsula Valdes, because they were hunted to near extinction. Hunters favored them because they are slow and float on the water's surface when killed.
Southern right whales also float when they're nursing. We learned that of the three babies (ages 4-6 months) we saw, only one was this mother's. The guides recognized a second as an orphan who has been nursing from other mothers in the area (although not all mothers will nurse an orphan).
They didn't know where the third baby came from. While this whale let him nurse on this particular day, we learned it was unlikely she would continue to do so as each baby eats over 200 liters of milk a day. Another interesting fact: Southern right whales have hair in many of the same places humans do, like eyebrows above their eyes.
Sadly, even with the ban on hunting, these whales are still not safe from predators. The seagull population has expanded rapidly, and one seagull colony has started eating off live whales' skin.
The southern right whale has incredibly sensitive skin, and the seagulls bring infections.
Despite this depressing fact, I couldn't be anything but awestruck at these majestic creatures. They swam close to the boat and made magical whale noises. The tour operators stressed the importance of being quiet.
It was a magnificent two hours and money well spent.
A visit to Peninsula Valdes affords one an up-close experience of the wildlife and beauty that abounds here. It is an important nature reserve that is very important to our ecosphere. Later in our travels we saw the majestic Magellanic penguins at Punta Tombo, which was also incredible.
Argentine Breakfast – Typical foods and enjoying Thanksgiving
Argentine Cuisine – Top 17 Argentine Foods & 1 Drink You've Got to Try
Argentina Money Tips: Costs, ATMs, Coin Shortage & More
Argentina Parrilla Experience ~ The Best Steak Ever
Backpacking South America – 5 Green Backpacker Activities
Bariloche Argentina – Chocolate Taste Test and More
Buenos Aires ~ What to See and Do in Buenos Aires
Iguazu Falls National Park in Argentina: Falls, Wildlife, Trails
Long Term Travel – Too Much Time to Think?
Perito Moreno Glacier Argentina – Great Glacier Pictures
Tikal National Park, Guatemala – Hidden Ruins, Animals & More
Travel Burnout – To go or not to go to Tierra del Fuego
11 Things to Know Before You WWOOF