Updated:
We're going to be looking at the Diamondback Insight Hybrid Bike.
Learn About Selecting the Right Hybrid Bike for You
There is a lot to consider when learning about hybrid bikes.
There are many different styles, models and brands.
You can read our review of Diamondback Insight Hybrid Bike.
I have done a tremendous amount of urban/city commuting on a bike, and hybrids are great for Going Green Go Cycling.
I've had road bikes, cruisers and mountain bikes, but I truly recommend a hybrid bike.
Hybrid bikes are the Swiss Army knife of bicycles.
They are 'ok/good' at every type of riding but not great.
If a majority of your riding is casual, get a cruiser.
If it is long distance on paved roads, get a road bike.
If you are off terrain, definitely a mountain bike.
A hybrid bike can do all of these within reason and for a short duration.
Hybrid Bike
Another attribute I really liked about my different hybrid bike, is that they are beefier than road bikes for the curbs and potholes, and faster/easier to ride on pavement than mountain bikes.
hybrid bike don't really fall into the category of road or mountain bikes.
They're kind of a hybrid bike.
They're in between and the reason you might want to get one of these bikes is if you are someone who does some riding on the street, maybe some light off-road riding, like hike and bike trails and that sort of thing.
You want a bike that's going to be able to do a little bit of all of that.
So a hybrid bike is a good option for that.
If you want information about A Bicycle Built of Bamboo
Selecting the Right Hybrid Bike for You
Some of the characteristics of a hybrid bike is that they will have tires that are wider than what you would find on a road bike but generally narrower than what you would find on a mountain bike.
They may have some tread on them to give you some traction and some mulch or loose soil.
They may or may not have suspension.
Some hybrid bike have a suspension fork in front to soak up some bumps.
Some have a suspension seat post to soak up some bumps coming from the rear wheel. But again that may not be the case with every hybrid bike out there.
They're generally a little wider than a mountain bike and a little heavier than a road bike and again they're not going to be the best at anything, but they're sort of a jack-of-all-trades type bike.
Renting a bike
If you have the opportunity to rent a bike on your vacation or while at home, you will get a better idea of what you are looking for.
Test out a few models to see what you like.
Budget for your bike
First thing you might want to consider is your budget. When you go out, just have something in mind of what you can afford. So you even know where to start looking in and what section of the bike shop should I even start looking.
How will you ride your hybrid bike
The second thing you might want to think on is how do I plan on riding my hybrid bike.
Am I going to put a lot of miles on it, a lot of road miles?
Will I use it around town as a city commuter?
Will I want to use my bike to grocery shop and/or to commute to work?
Am I going to be a road rider/maybe light MTB trails, mountain bike trails, bike paths, etc.?
A lot of that is going to determine what style hybrid bike that you want to get.
So the style would probably be one of the next things you would want to think of.
Bike fit
The other is hybrid bike fit.
You got to find out what hybrid bike fits you.
If it doesn't fit you, you're not going to like riding it.
The other is if you like riding the bike, so test ride as many as possible.
I can't stress that enough.
Go to as many bike shops as you can, borrow hybrid bike, whatever you got to do; but ride as many of them as you can.
You can find one that you really, really like riding because if you like riding it, you're going to ride it a whole lot more and that's a pretty key factor.
Then you can start going in the other details about the hybrid bike.
Suspension or no suspension
A big thing to consider is whether they have suspension or not suspension.
Of course it's going to lighten up the bike some if you do not have a suspension.
If you live in a really rough area and you have a lot of potholes, curve hopping, things like that or if you're going to be off roading.
I prefer a suspension type that you can lock out for road rides and one that you can set a pre-load adjuster on too so that when you're riding, you're not always just putting all your energy into those front forks but when you hit that pothole, it's not hard.
But a lot of bikes don't need it.
Brakes
The braking is pretty important. An older style are called V brakes, like modulated linear pull.
Now the big thing is – and I agree – are disk brakes.
Of course this tendency if you get in the mud or you ride in the snow or anything like that, dirt and debris can build up.
It's closer to the road. They get wetter.
I hear a lot of people say how much better just stopping in the rain but I don't find any trouble with the linear pull brakes in the rain and they might squeak but you still get great stopping power.
But disk brakes will build up with a snowy mud that's for sure where V-brakes brakes don't.
Tire size
Tire size can be a huge factor on how fast you want to go and how they perform in various conditions.
Most hybrids nowadays are going to come with 700 cc series.
Some are as a city commuter which I think is an ideal city commuter.
Hybrids are great bikes to be a city commuter.
Usually they are equipped with 26 inch by 1.6 tire on it, semi slick so you get some speed on the road and some grip doing some bike paths and stuff like that.
Drive terrain
Drive terrain is also going to be really important thing to consider.
The crank, front chain rings, rear derailleur, front derailleur and rear cog set.
Hybrid bike are not designed to be fast bikes, they aren't meant to be.
Typically you will have three front chain ring with two rear gears.
And a decent front and rear derailleur.
Gears
Your brake levers are pretty standard.
The gear shifts are called twist grip shifters or you got index shift.
There are so many variables out there now in the hybrid world.
You really got to factor in what your riding style is going to be and start going from there and start looking at bikes that are going to fit your riding style and how much you enjoy it.
Then in budget too, you also got to factor in extras which a lot of people tend to leave out and probably even other things like suspension seat post.
I love a suspension seat post and I've had bikes that don't have them and they are ok but I prefer a suspension seat post.
Bike light
Are you going to want a Speedometer?
I particularly don't care for one.
For me, lights are more important so I allocate more money to great bicycle lights.
Bike accessories
Probably going to want a saddle bag, basket or some kind of storage to carry certain items.
You may want a rack.
You may want a pump.
Carry your spare tube, lock.
Highly recommend a Awesome Bike Lock or you probably won't have your bike too long especially if you get a nice one.
Water bottle, water bottle cage, you got to buy a helmet and all these accessories start adding up pretty quick too.
So if you just buy a new bike, you don't have any accessories but you want to upgrade your bicycle, you got to kind of factor those into your budget or just do without until you can afford them
Hybrid bike summary
This is has been an overview.
It's a really quick one on what you might look for in going out for a new hybrid.
I would recommend:
First, your budget, and not just for the bike but also factor in component upgrades and accessories.
What is your predicted riding style you know that you're going to be using your hybrid for.
Next, "Does it fit you?" and are you comfortable RIDING it (gotta test ride them).
If you are not comfortable you will not ride it as much, and definitely not enjoy it when you are riding.
Last, "Do you like it?" It can be the best bike in the world and if you don't like it, you're just not going to want to ride it as much.
So I know some people probably have better ideas and things that you could probably add to this.
This is not promoting any particular brand or model.
Just trying to throw some tips out there for buying a new hybrid and so hopefully you've learned a little bit about hybrid bikes and it helps you pick out a good hybrid bike for you.
A great option, and one we recommend, are the Diamondback Bicycles Insight 1, and Diamondback Bicycles Insight 2.
There are two recommended options, and this review will cover for both the Diamondback Insight 1 and Diamondback Insight 2 of the Diamondback Insight Hybrid Bike line.
They are both hybrid bikes, ideal for commuting and coming in with a pretty competitive price point PRICE, like some of the other hybrid bikes that are out there from Rockhopper or Giant or possibly Trek.
So, each manufacturer has a bike that comes in around this price point.
These are pretty stable hybrid bikes.
They have some nice features that I'm going to point out and also show you some of the modifications that I've made to my Diamondback Insight Hybrid Bike that I think make it a little bit more user-friendly and better for the commuting environment, Go Green Go Cycling.
We have nice article about Learn About Selecting the Right Hybrid Bike for You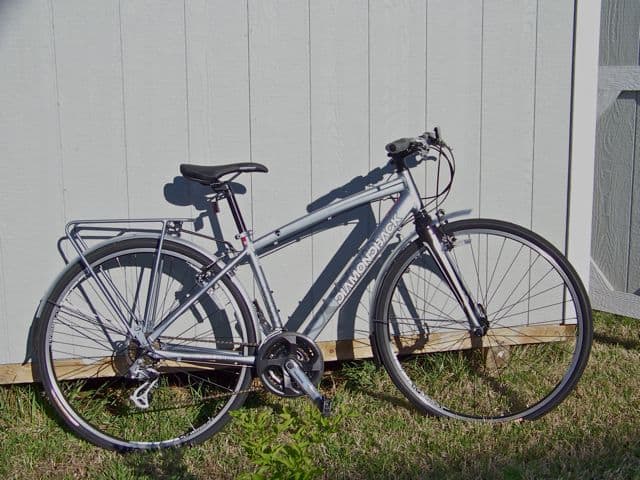 Diamonback Insight Hybrid Bike Review and Accessories
Beginning with the handle bars, the handle bars are a little bit on the thick side on the Diamondback Insight Hybrid Bike.
So that means you're not going to be able to get a standard mounting for let's say a BV Bicycle Super Bright 5 LED Headlight and 3 LED Taillight, or the speedometer, odometer.
You'll have to rig up something kind of special because the Diamondback Insight Hybrid Bike has a really thick handle bar stem.
But it is a strong hybrid bike that can withstand the harsh rode pothole curb environment of an everyday commuting hybrid.
Regarding the handle bar grips I use are not the stock grips that came with the Diamondback Insight Hybrid Bike.
Instead of having a round grip, I prefer kind of a flat surface and it's ideal for resting the palms so that your tendons and nerves in the hand don't get pinched.
So that's real key, I think that's a good investment to go and upgrade to the nicer grips.
The shifting is really quite nice on the Diamondback Insight Hybrid Bike.
It has a lever action.
You push in too shift up and then pull this level back here to shift down.
Very simple for the beginning or advanced user.
Breaking is pretty good.
I did notice some squeaking but they work very well when the rims and tires are a little wet or even like a little bit of oil on them. So they are definitely a plus.
And I've discovered that that squeaking noise has become kind of a safety feature.
Often people are wearing headphones and listening music in their own world.
So you need more than just a bike bell to alert people that you're coming up behind them.
And the squeaking is perfect.
It's there when you need it when you start braking as you're approaching.
The valve stems that come with the Diamondback Insight Hybrid Bike are Presta valves.
And so they are narrower.
They don't work if you go to a gas station or use a standard air pump.
You just can't pump up the tires.
So I added a little adapter which allows you to go to pretty much any air pump and fill up the tires, which is really convenient for a commuting bike because you're going to be riding around town and maybe you're not going to have a specialized bike shop or carrying around special pump with you to pump up the tires.
And at about 50 cents to a dollar, it's definitely worth it to have for convenience.
I do find that the Presta valves that come with the bike, for whatever reason, maybe it's just me but it seems that they tend to hold air better.
I've actually noticed it over the years.
It seems like a Presta valves on bikes tend to keep the air.
And maybe it's just the tighter seal with the rubber gaskets in there or whatever.
Diamondback Insight Hybrid Bike
Another item that I almost always add to my commuting hybrids bikes are fenders.
If I'm replacing a bike with a new one I'll just remove and move the fenders from the old hybrid bike to the new hybrid bicycle.
I added the fenders from Planet Bike.
There are bunch of brands out there.
These are just the ones that were available.
But I found that they work well.
It's good to have a plastic lip thing on the back to help catch the extra road dirt.
These are pretty basic fenders.
They mount to the forks and cover most of the rear part of the tire.
And that's going to prevent road dirt, grit, sand, all that kind of stuff from getting up in the bottom bracket of those front gears that are really susceptible to picking up road debris.
Definitely a worthwhile item and fenders aren't that expensive.
Depending on what kind of bike you have, if you have wider tires, you'll need wider fenders.
Almost ALL hybrid bikes DO NOT come with a kick stand, it's a $10 item.
I had that added on afterwards. Definitely worth it.
You probably want to stand the Diamondback Insight Hybrid Bike up on its own sometime.
I also like to add a bike rack.
This one is from a previous bicycle.
It's a Ventura Universal Bicycle Rack.
I like this rack, I mean it works like a normal rack but it also works with TOMTOP Cycling Bike Bicycle Rack Pack that you can get. Definitely worth it.
Having a bag on top the rack is kind of nice.
You can hold the Kryptonite U-Lock with 4-Foot Flex Cable in here pretty easily.
Another feature that I like, is it does expand so you can really get a lot of extra, maybe a rain suit in or extra gear or whatever you want for a day trip or weekend trip on the bike, or just going from home to work.
For whatever won't fit in a rear bike bag or if you really have more to carry with your Diamondback Insight Hybrid Bike on your commute , you may want to go ahead and get a bike trailer.
I use the one from BicycleR Evolution, their trailers are starting at about $250 and up from there.
I like theirs because you can order just the metal frame structure and put your own tub on the back.
And because it's using a rubber tub, it's relatively waterproof which is a good thing.
The connection is similar to that of a high pressure air hose like air tools that are found in a garage or workshop. And so it just clips on and clips off.
Really quick, really easy, you don't have to fiddle around the straps or whatever, just clip it on.
There is a u-bolt there you can see. And that u-bolt is useful for locking the trailer down if you want to lock it to a bike rack.
One thing I want to point out also is that they do have accessories.
So the same trailer can be used for two or three bikes.
You can buy an adapter and easily hook it in.
I ended up replacing the seat and seat post that came on the bike with a bike suspension Comfort Seat that's very cushy, very comfortable.
If you're putting a lot of miles on, which I do, you want a more comfortable seat.
I went ahead and got a heavier duty seat post because I wanted to make sure I had plenty of leg room.
Diamondback Insight Hybrid Bike typically don't come with a water bottle cage, so you want to go ahead and use one from a previous bicycle or pick out one that fits the kind of bottle that you're going to be using.
I usually go with a basic aluminum black one.
And that works just fine for me.
One thing I found was that the pedals on most bikes are kind of small and plastic and slippery.
And in the rain, or year-round biking, you're going to want something a little more stable than that.
So Diamondback has something they call the "Diamondback Bigfoot Pedals".
And you're going to get a better grip with your shoe to the pedal.
Less likely to slip off and have an accident which is a good thing.
And basically, other than those modifications, the bike itself I think has performed pretty well.
It's a stiff frame bike and there is no suspension to it.
But the Diamondback Insight Hybrid Bike I would say is definitely worth the money.
But is you are interested in Bamboo Bikes