Best Water Bottles for Kids – Even before I became a parent I was concerned about BPA in water bottles.
So after my baby was born I insisted that every bottle he used was BPA free.
When my son was a baby, he drank milk from glass baby bottles. But as he became a toddler, I needed to look for an alternative to glass (since he tends to throw a lot of things on the floor).
I sought out a variety of stainless steel water bottles for kids and BPA-free plastic water bottles for kids and the manufacturers were kind enough to send us the bottles to test.
Here's a round up of what I liked best.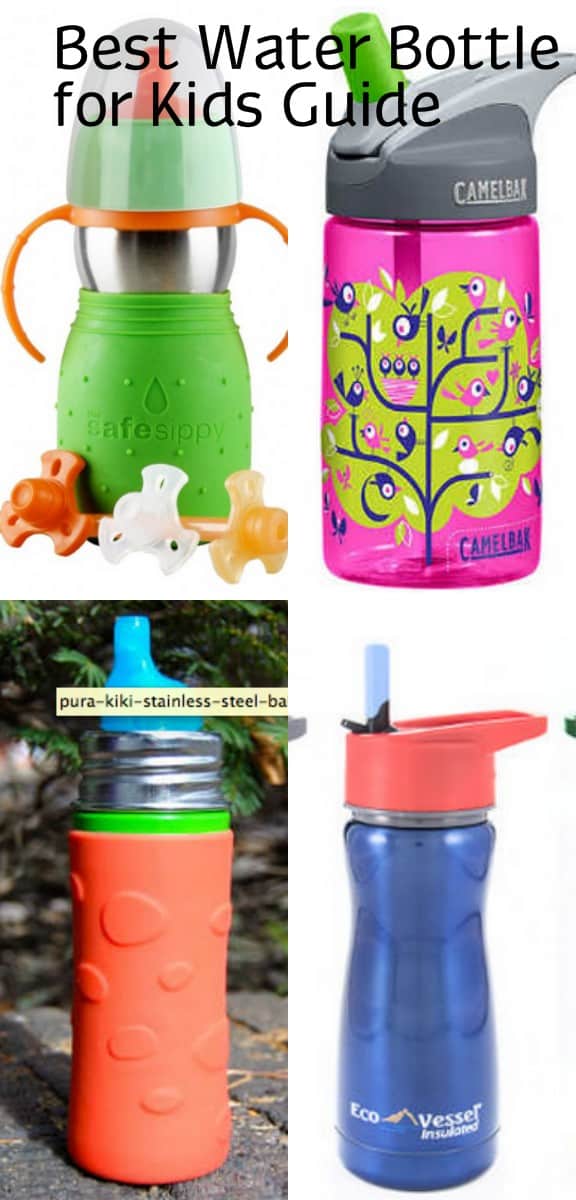 BPA-Free Water Bottles for Kids
It's a great idea to get children from a young age to use reusable water bottles. This will introduce them to the concept right from the start. They will consider it a habit to use them. This is a way to teach them to be environmentally aware by getting in the habit of using reusable water bottles instead of one-time use plastic bottles.
All of the water bottles listed in this post are BPA-free.
Some of the bottles are plastic, and some are stainless, some contain silicone, some contain other materials.
Most of them have straws.
Best Water Bottles for (by Category)
Camelbak Eddy
The Camelbak is made of BPA-free plastic.
This makes it good choice for a lightweight bottle.
The only downside is that it's made of plastic and not stainless steel, which we prefer because I feel that stainless is a safer choice than plastic.
Note that the water bottle is only supposed to be for kids 3 years old and older, but we supervise our son (18 months) when using it and have not had any problems with parts that he could potentially break off.
If you compare it to any other Camelbak bottles you'll realize that the bite valve on the kid's bottle is actually constructed differently so that kids can't easily remove the bite valve the way you can on adult bottles.
This bottle holds 13.5 ounces (.4L) and is on Amazon.
You can read a full review of the Camelbak Eddy for Kids here.
Eco Vessel
The Eco Vessel is an awesome water bottle because it's made of stainless steel.
One thing I really like about the bottle is that it's a little bit skinnier than the Camelbak which means it's easier for my son to hold it and it fits a little better in the side water bottle pocket on a backpack backpack.
We take this bottle in the car because it's insulated and keeps water cool in warmer weather.
The flip-cap straw is hard plastic which my son likes just as much as soft plastic bottle caps/valves.
The bottle is labeled for kids 4 years and older but we supervise our son (18 months) when using it and have not had any problems with parts that he could potentially break off.
This bottle holds about 13 ounces of water.
You can read a full Eco Vessel Insulated Bottle for Kids Review here.
Healthy Human Water Bottles
Healthy Human Water Bottles are a great option for kids. They are completely BPA-free.
They come in many vivid colors which your child will enjoy. The colors are unique which will make it easier for your child to find once he/she starts bringing a water bottle to school.
Oftentimes in school, kids have to put their water bottles together on the counter in the classroom. Other times, when they bring them out to recess, water bottles can be difficult to spot. These from Healthy Human are bright. They also offer interesting marble patterns and other artsy designs.
Sizes of Healthy Human Steins
Healthy Human water bottles are ideal for many ages and activities. They come in many sizes: 16 oz and 21 oz which are perfect for school. They also have them available in 32 oz and 40 oz ideal for activities such as road trips, camping, and sports.
Healthy Human sent us a Healthy Human Stein water bottle and a Healthy Human Cruiser Tumbler.
Drinks stay cold
These amazing and state-of-the-art water bottles are uniquely engineered to stay cold for an entire day.
That means that even if the bottle is resting in a hot car, sitting out at recess, or in a backpack, the contents will still be ice-cold 24-hours later.
Kids, especially after playing at recess and other activities, want to drink cold water — not warm or even tepid water on a warm day — so they are perfect to fill in the morning. Their water will still be cold hours later.
They also keep fluid warm for up to twelve hours, which makes them perfect for just about any season.
Highly rated water bottle for kids
Healthy Human Water Bottles have been around since 2015, and have amassed a following, which is why I wanted to give them a try in the first place.
I was so happy that I did because, in addition to their excellent insulation and guarantee of being completely BPA-free, these bottles are also made out of durable stainless steel so they are hardy enough to go just about anywhere without getting damaged, dented or cracked.
Lids
Another great thing about these bottles is they are leak-proof.
When you purchase a Healthy Human water bottle, it comes with a screw on/off lid.
You also have the option to purchase a flip lid. This is the lid my children like to use. The lid locks in place. It's easy for kids to manage.
They will not leak or spill, no matter how much they are shaken up. you can carry them in your diaper bag all day long and you'll never find stains or leaks on the rest of the items in your bag.
It's completely fool-proof and kid-friendly.
You will also not have to worry about heat or cold affecting any other items in your bag.
The standard screw on lid and this flip lid both fit our 32 oz and 21 oz bottles.
Insulation
Even though these bottles are guaranteed to trap heat or cold inside for hours on end, they are still totally insulated so you will never have to worry about reaching inside of your bag and feeling like you just opened up the freezer.
The insulation is great for little hands too. You'll never need to be concerned your child's hands will be too cold or too hot.
Money-back guarantee
These bottles also come with a complete money-back guarantee. This is something that I found personally really comforting about the bottles. Many companies will make wild claims, but very few of them will actually back up what they are saying with a money-back guarantee. When a company does that, it makes me think that they are totally on top of their game and that I can trust them completely.
It made me more inclined to take a chance on these bottles, and I am very glad that I did.
If you have little ones and have been searching for a great way to transport their drinks, these bottles are an excellent option.
They keep beverages at the temperature that you want them, are safe and free of chemicals and come in really fun designs that will delight your children.
No BPA
Mine love the colorful and whimsical designs on these bottles. In addition, the water bottles are good for kids because they are durable and easy to open/close and to drink from.
They are made using 18/8 food grade, high quality stainless steel.
Their caps and lids are also free from Bisphenol A, also known as BPA. This is a chemical that leeches from plastic, especially over time as it breaks down. These caps are made using polypropylene.
It's very unique for a water bottle lid to have stainless steel on the part that touches the water. Most lids contain all plastic. The standard lid that comes with Healthy Human water bottles has this food-grade standard steel. This makes it an exceptional water bottle lid for children.
We love that they offer a warranty on their lids and caps. This is huge! So often, the lids on other water bottles we've used have cracked or broken over time. Then we have to purchase a new lid. We learned that Healthy Human replaces them for free.
Easy to clean
They also sent us a cleaning brush which is sturdy and easy to use.
Like all water bottles, you need to wash these by hand. However, this cleaning brush will help ensure the lids and interior of the bottles get clean.
Pura Kiki Stainless Steel Bottle
The Pura Kiki is a bit different from the other kids bottles on this list because while it's a stainless bottle with a silicone sleeve, it uses soft silicone spouts or nipples instead of straws or traditional hard plastic spouts.
It comes with a silicone spout or is compatible with most major brands like Dr. Browns and Nuk.
This makes it a good transition water bottle for kids who are switching from a milk bottle or sippy cup to a sports style water bottle.
Or if you're looking for a bottle that doesn't contain plastics/rubber this is a good choice because there is no plastic straw.
They are available in 5 ounces and 11 ounces.
This one holds 11 ounces.
A full review of the Pura Kiki is here.
Safe Sippy 2
The Safe Sippy Bottle is also made from stainless steel.
It holds less liquid than the Eco-Vessel and the Camelbak which is good for when you don't have a long trip ahead of you and you don't want to carry extra water weight.
The bottle also has handles which my son likes (and they are removable for if you're child isn't a fan.)
The Safe Sippy 2 comes with a travel valve to prevent spills while traveling and a straw-less sippy top we always use the straw top though.
It holds 11 ounces of water.
Best Water Bottles for Kids with Straws
My son was never very good at drinking out of sippy cups without straws.
He didn't understand that he needed to tilt the bottle up; so bottles with straws have been best in our family.
There are actually only a few options available for BPA water bottles with straws for kids.
We tried the Camelbak Eddy, the Safe Sippy, and the Eco Vessel.
If you're looking for a water bottle with a straw for your child, any of these would be great choices.
They are each a little different, so consider what other features are important to you.
Looking for handles or a bottle that is approved for toddlers?
Opt for the Safe Sippy 2.
Want an insulated bottle with straw?
The Eco Vessel is the best bet.
Want a bottle that doesn't leak when turned upside down?
The Camelbak is the one for you.
Determine what additional features are important for your kid's water bottle and read below.
Insulated Kids Water Bottle
The best insulated water bottle for kids is the Eco Vessel insulated bottle.
It is vacuum sealed and actually stays cold for several hours after being filled.
Small Water Bottle for Kids
All of the bottles we tested are smaller than typical adult water bottles.
Pura Kiki comes in a 5 ounce size.
Eco Vessel has an insulated sippy cup (no straw) that is 10 ounces.
Safe Sippy and larger Pura Kiki are both 11 ounces.
Camelbak and the Eco Vessel kids size both hold about 13 ounces.
Water Bottle for the Car Seat
My favorite water bottle to bring along with us in the car and in the diaper bag is the Eco-Vessel bottle.
Because it doesn't have an outer silicone wrap like other bottles, it slides smoothly into the side bottle pocket of the diaper bag.
Because it has a straw, my son can easily drink it while riding in his car seat.
And finally, it keeps water cool for longer periods of time on hot days.
However, if you're child likes to make a mess, the Camelbak may be the best fit for you.
Lately, my son William has started turning over his water bottle in his carseat and letting water spill.
He thinks it's a hysterical game; thankfully it's just water, but until this phase passes we have just started opting for the Camelbak instead of the Eco Vessel.
The best thing about the Camelbak for kids is that it doesn't leak.
All of the other water bottles with straws that we tried leaked when my son (inevitably) turned the bottle upside down in his carseat.
It's actually become a game for him – to turn water bottles upside down and make a mess.
So, we've chosen the Camelbak as his bottle for in the car because he can't spill it all over his carseat.
Most Versatile Water Bottle
If you have a baby or toddler and are you're looking for a versatile water bottle or sippy cup buy a Safe Sippy 2.
Because of the variety of options – straw, regular sippy top, and travel cap and valve – and extra features like the protective sleeve and removable handles – this is a bottle that will grow with your child.
Around the House Bottle
If you're looking for a water bottle that does well just being carried around the house – I'd recommend the Camelbak.
All of the other bottles we've tried are known to leak if turned upside down or turned on the side in just the wrong spot.
However, the Camelbak bottle has yet to leak on us.
And because it doesn't leak in any circumstances it's the go to bottle that I let my son leave on the couch, behind the couch, or on the silk oriental rug.
In the High Chair Bottle or Sippy Cup
We really like the Safe Sippy bottle for when my son is in his high chair.
We like the stainless steel for safety, and he likes the handles.
When he drops it on the floor the silicone sleeve shields the bottle from denting.
If you don't need a straw, the Pura Kiki is also a great choice.
Least Likely to Leach Chemicals
In an ideal world the water bottle I let my child use wouldn't let any plastic touch the water for an extended period of time.
But the reality is that my son likes bottles with straws – and every bottle I've seen has straws that are made from plastic.
If my son wasn't so insistent on having a straw, he would use the Pura Kiki bottle all the time.
Because the bottle is made of stainless steel, because there's no plastic straw sitting in the water, and because the nipple is made of silicone, it is the bottle I would choose as the Pura Kiki as safest of all the bottles I've seen.
Water Bottles for Kids Made in the USA
Unfortunately none of the water bottles for kids that we tested are made in the USA.
All of the bottles are made in China.
You can see a lot more about the issue of stainless steel bottles being made in the USA on this post and in the comments; but the bottom line is is that there are no stainless bottles currently made in the United States due to the cost.
Bottom line
All of the water bottles we tested have great features.
They are BPA Free and so which bottle you buy depends on the features you or your kid likes best.
Let us know in the comments if you have any questions about the bottles or if there is another kids water bottle that you recommend.