Updated:
Best Christmas Gifts for Travelers – Whether you're a traveler looking for ideas for your Christmas wish list or a shopper in search of holiday gift ideas for your favorite traveler, you've come to the right place.
From luggage and clothing to gadgets and water bottles, this list of the best Christmas gifts for travelers is full of excellent picks.
We even have ideas for kids who like to travel.
Read on and get your holiday shopping finished early!
Best Christmas Gifts for Travelers
Gift Luggage
Small Travel Backpack
I'm an advocate of packing light and a good backpack can make that easy.
I traveled in Argentina for 6 months with only a small travel backpack and an even smaller school backpack.
Opt for a front-loading backpack because top-loading ones make organization difficult.
Look for a backpack that's comfortable, compact, attractive, and has lots of pockets.
Our pick: Osprey Farpoint 40 .
(Read our Osprey Farpoint 40 review.)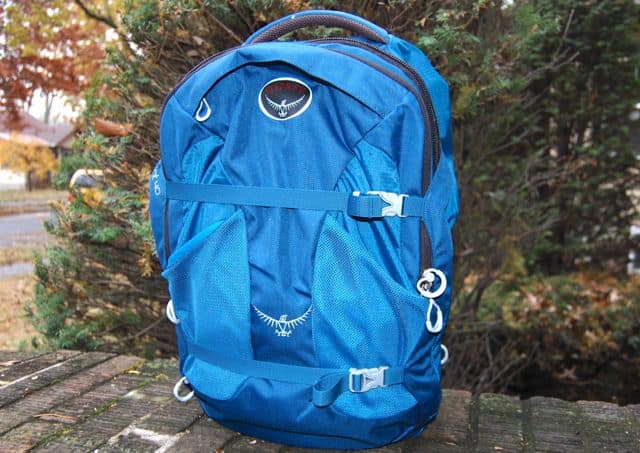 Lightweight, Rolling Carry-On Suitcase
A well-made carry-on suitcase is a gift that can last decades.
Opt for a lightweight suitcase that will make travel a breeze, so the recipient won't have to worry as much about going over the airlines' allowed weight.
With airlines charging steeper fees for luggage, every ounce counts.
Our pick: Atlantic Ultra Lite 22" Carry-On.
(Read our lightweight luggage review for more ideas.)
Pack-It Bag
A pack-it bag is a great way to stay organized while you travel.
Plus, it minimizes wrinkles, making it perfect for the business traveler.
The Eagle Creek Pack-It holds between 8-12 shirts or pants and fits into most carry-ons.
Our pick: Eagle Creek Pack-It Folder.
I've never owned a bag this size or of this type before and love it.
Gadgets
Tablet
I always thought tablets were unnecessary if you already had a laptop and a smart phone.
But after I won a Google Nexus, I have to admit it's life changing.
It's far easier to quickly look something up online on the tablet than it is on a phone or computer.
Plus, it's portable. Bringing it on the plane or train is much less cumbersome than a laptop.
I've really enjoyed watching movies, drafting documents, or reading on it.
Our picks: Google Nexus or Apple iPad.
eReader
While tablets are great, for the truly avid reader, eReaders are just a bit better.
The batteries last longer and they don't put quite so much strain on your eyes.
Plus, when you're traveling a lot they are much lighter and easier to carry.
Our pick: Kindle Fire.
Noise Canceling Headphones
As the folks now with the fussy baby on the plane, I'm a bit more sympathetic when it comes to other crying children.
But, air travel is stressful enough and there's really no comparison between a flight with noise canceling headphones and one with out.
You can read our full post on noise canceling headphones here.
Or just buy Our pick:  Bose Quiet-Comfort.
DSLR Camera
While the iPhone may take great pictures, there's no substitute for a DSLR camera.
If you have an aspiring photographer, avid traveler, or wildlife enthusiast in your life buy him or her a DSLR.
Our resident photography expert, Katie, detailed a full explanation about the best digital DSLR cameras for budget travelers here.
Our pick: DSLR Camera
Dry Case for Cell Phone
This makes an excellent stocking stuffer and chances are, the recipient doesn't already own this.
Travelers who love their gadgets and the beach are the perfect recipients of a cell phone wet bag.
These bags keep phones dry while still allowing you to use them.
They are recommended by active kayakers to poolside loungers as a great way to keep phones from getting wet.
Our pick: Dry Pack Cell Phone Case.
Gift card for ebooks
If your traveler already has enough stuff to carry around, buy him or her an Amazon giftcard to buy ebooks or music and just about anything he or she could possibly want.
Clothing & Shoes
Travel Jacket or Fleece
A travel jacket isn't just for keeping you warm.
A good travel jacket makes getting through security a breeze.
It can dress up an outfit or serve as a pillow on a long plane ride.
This year, we've discovered Scottevest jackets and I love them.
They're stylish, versatile, and have tons of pockets.
Our picks: Scottevest Chloe Fleece Hoodie or Scottevest Molly Jacket.
(Read our Chloe hoodie review and our Molly jacket review.)
Travel Jackets Rain Jackets, Fleece Jackets, Lightweight Jackets
Pair of Hiking / Travel Sandals
A high-quality pair of sandals is great for walking, hiking, and travel.
I love my Chaco Unaweep sandals and wear them all summer.
The model I have is a bit bulkier than the alternatives, but I like that because it makes the sandals so comfortable and supportive.
When you're picking out a pair of travel sandals, make sure they're comfortable to wear for long periods of time, high quality, adjustable, and versatile.
Our pick: Chaco Unaweep sandals.
(Read our Chaco Women's Unaweep review.)
Pair of Vegan Walking Shoes
What's the most practical item you can buy a traveler?
A pair of excellent walking shoes.
Vegan shoes (not made out of leather) are a must for sustainable travelers and there's a short list of vegan walking shoes here.
Our pick: Jambu Barefoot ($99).
recyclable flip flops review of made in America sandals
Best Christmas Gifts for Kids
Carry-on Luggage
Besides the practicality of have your child have his own luggage, kids carry on luggage makes a great gift because it helps kids anticipate and get excited for an upcoming vacation.
Encourage your child to pack her own bag in the weeks leading up to a trip and see what they decide to include or exclude.
And for kids who aren't quite old enough to know what to pack, they'll have fun either climbing in the suitcase (as our child does) or just carrying it around the house with them.
See Amy's choices for the best suitcases for kids.
Our pick: Eagle Creek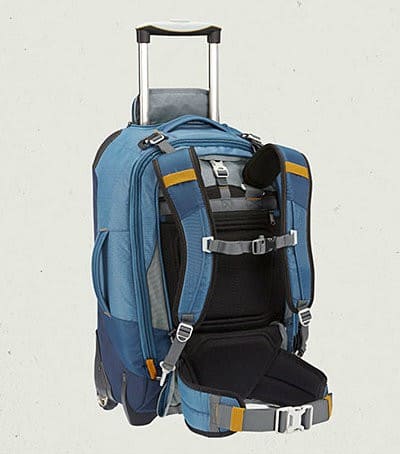 Water Bottle
Kids need to stay hydrated just like adults.
Travel water bottles for children come in a variety of shapes and sizes, and for babies my son likes this Pura Kiki Stainless bottle.
Either use a water bottle as a stocking stuffer or for extra fun use the bottle to hide another holiday present in.
Our pick: Camelbak Kids.
iPad or iPod Touch
What makes an iPad an indispensable travel tool?
Its ability to be all things to all kids (and parents!): on one device, you can download movies to watch in the backseat, play music, listen to audio books as a family, play games, and read books.
You can also map your route, check for nearby restaurants and parks, do some light work from the road.
If multiple iPads are not in your budget, consider purchasing an iPod Touch.
Essentially, it can do everything an iPad can do, albeit on a smaller screen.
Our pick: Apple iPad
Portable DVD player
If you don't have an iPad, or have very young children who like to watch the same movies from your DVD collection over and over, a portable DVD player for travel is essential.
They're cheap to buy, sturdy, and easy for kids to operate.
Our pick: Philips 7″ Portable LCD Dual DVD Player
Handheld Video Game Device
Young kids have an easier time navigating and manipulating a handheld gaming device than an iPod, and games tend to have more value.
We travel with a used Nintendo DS for our seven-year-old; the battery lasts a long time, it can take a beating, and leaving it in a hotel room won't set us back too far.
Our pick: Nintendo 3DS
Best Christmas Gifts for Hydration
Collapsible Water Bottle
Collapsible water bottles are the newest trend and Amy put together this top guide to collapsible water bottles.
These are great for travelers because of their size and portability and the fact that they easily attach to backpacks, day-packs and camera bags.
Our pick: The Platypus.
Glass Water Bottle
We wrote about glass water bottles for the first time over two years ago.
They've only become more popular since.
While not the best item for the frequent traveler as they are slightly heavy, they are perfect for use at home, in the car, or at work.
I've been using one nearly every day for the past few months and can't say enough about how much I love it.
It's sturdy and the water tastes amazing.
We love Eco Vessel and Zulu.
Our pick: Eco Vessel Surf made from recycled glass.
Best Gifts for Travelers ~ Gift Ideas for Green Travelers
Whether you're buying a present for a green traveler or want to buy something for yourself, there's no shortage of options available today.
As more and more people become conscious of the environment, companies and manufacturers are taking steps to make sure that these customer needs are met.
If you can't make up your mind on what to buy or where to start, this guide to the best gifts for travelers will get you on the right track. Check out these gift idea lists:
Amazon's Kindle is Good Reading Device for Green Traveler
Best Travel Gadgets for Kids on the Go
Best eReader for Travel ~ Amazon Kindle vs. Kindle Fire
A mug will come in handy for those quick camping outs and hiking trips, as it gives the traveler a reusable container for water or coffee.
Because it's stainless steel a traveler can reuse it again and again, eliminating the need for paper or plastic cups.
While these mugs are often used for short trips, they'll also come in handy for school or office.
With a stainless steel mug, they can pack up more quickly and get going.
There are few things an eco-friendly traveler needs more than a water bottle.
Different types of water bottles are available, but regardless what you buy make sure that it's BPA free and it's stainless steel as it will make the bottle last longer.
There's a lot to be said about stainless steel water bottles, but their biggest benefit is they're versatile enough to be used at home or on the road.
Since water bottles are so cheap, you can buy several of these.
Nothing beats a nice pair of eco-friendly shoes, and there are plenty of these available today.
Just go online and you're going to find an array of green footwear made from recycled materials and using environment friendly processes.
Note that some of these shoes are for casual wear, so if you expect your recipient to wear it while traveling, get a pair of heavy duty travel shoes that can withstand rugged terrain.
This isn't as hard as you might think as green footwear has become more commonplace.
Best Gifts for Travelers Travel Books
No traveler will be complete without a travel book, it's a fact.
Yes there are travel apps available, but what if he / she goes somewhere where there is no reliable Internet connection?
With a good travel book, a traveler will never be lost.
A good travel book will provide information about the country as well as photos, so it's going to be an invaluable aid.
If your friend likes to travel to foreign countries, consider getting him / her a dictionary or a book with commonly used phrases and expressions, and it will also help if you get them an etiquette book, very handy to prevent misunderstandings and culture shock.
Ask any frequent traveler and he / she will tell you that a compost bin is a must-have, so why not give one as a gift?
They're very practical, portable and eliminate the odor that would otherwise emanate from the thrash.
Many are sold in 1 gallon sizes although other options are available, and if you're going to buy one, look for those with a charcoal liner as that helps eliminate odors.
A green traveler will appreciate this because it means they don't have to rely on whatever the hotel is providing them.
And if they're staying in simple lodgings chances are they're not going to get any towels at all.
Towels for home use are large, warm and soft but usually not fit for travel, so it is better if you buy one that's made of microfiber because it dries quickly, can absorb a lot of water and folds tightly and easily.
Best Gifts for Travelers Molcajete
A molcajete (mortar and pestle) may not seem like a necessity, but if the traveler enjoys cooking then this will be something they'll appreciate.
If you're not familiar with it, a molcajete is the Mexican version of the pestle and mortar, and it's especially useful for grinding and crushing herbs, spices and foods.
For hikers and campers who like to prepare their own food, this will be indispensable.
Anyone who travels frequently will need a backpack, but for eco-friendly travelers the recycled ones are going to be most appreciated.
Don't let the term recycle mislead you, because these are as comfortable and dependable as any other backpack.
from the green factor, there are a lot of other factors to consider when buying a backpack, such as the size, capacity, and type and so on.
This all depends on what type of traveler your gift recipient is, so take that into consideration.
However, buying won't be as difficult as it used to be since there are a lot of options available sold today.
Best Gifts for Travelers Gelato Maker
Does your friend have a sweet tooth?
Then a gelato maker will be most welcome.
This might not seem to have anything to do with being green, but it does actually: having their own gelato maker means they won't to deal with the urge to buy candies and consequently, not worry about where to throw away the wrappers.
Is there a better way to capture the beauty of nature than with a digital camera?
There are a lot of gadgets you can buy, but no question, a camera is what the green traveler will appreciate the most as it allows them to capture the most amazing moments of their trips.
Digital cameras are no longer as expensive as they used to be so finding one won't be too difficult.
It's true that smartphones and tablets have a built-in camera, but the quality a real camera provides is superior.
If your friend is picky about pictures, then only a "real" camera will do.
So there you have it, the best gifts for travelers, and whether your recipient has been traveling for a long time or just new to it, there's no question that they will be grateful and will benefit from any of these gifts.
How the NutriBullet Helped Me
Money Belt Reviews for Every Traveler
10 Awesome Stocking Stuffers for Travelers
10 Christmas Gift Ideas for the Traveler
Whether you're a traveler making your own Christmas gift ideas list or a you're shopping for a present for someone else who loves to travel, we've got you covered.
Here are our top 10 Christmas gift ideas for the traveler who's not currently traveling.
Contigo Stainless Steel Travel Mug
It's not something you'd bring with you on a long trip, but the Contigo stainless steel travel mug is great to throw in your bag to transport your coffee to work or school.
 Stainless Steel Water Bottle
If you read our blog regularly, you know how much we love our stainless steel, BPA-free water bottles.
They're great to use while traveling or at home.
Our favorite is the Klean Kanteen, but check out our Stainless Steel Water Bottle Smackdown to see how others stack up.
 Simple ecoSNEAKS
As I mentioned in my ecoSNEAKS Satire review, I love these recycled shoes, but they're not ideal travel shoes.
They are fun for every day wear, though, and Simple's ecoSNEAKS would make a great gift.
 Lonely Planet's The Travel Book
I love this book. With its amazing pictures of every country in the world, The Travel Book will make any lifelong travel want to hit the road again.
 Kitchen Compost Bin
Any green traveler who's on a temporary break will appreciate an under-the-sink Kitchen compost bin.
They reduce waste and it means you have to take out the trash less often. (And no, they don't smell.)
Eat, Pray, Love by Elizabeth Gilbert
Eat, Pray, Love is a fantastic book for anyone who loves to travel and misses the life-changing experiences that come with living in new countries. Read our Eat, Pray, Love book review.
 Molcajete (Mortar and Pestle)
For the traveler who likes to cook, a molcajete is an excellent gift.
The guacamole you can make with a molcajete is amazing.
 Mountainsmith Recycled Backpack
Do you know a traveler who's about to take off on a long trip?
Get him or her one of Mountainsmith's recycled backpacks and he/she will be forever grateful.
Not only are these backpacks recycled, they're comfortable and attractive. Check out our reviews of the Lily recycled backpack and Ivy recycled backpack.
Gelato Maker
Does anyone really need a gelato maker?
Technically, no, but having one is life changing — especially if you've experienced authentic Italian or Argentinian gelato.
This machine will make you want to go back.
Nikon Digital SLR Camera
Whether you're on the road or at home, the Nikon is an amazing camera.
When you are not traveling, practice taking photos to hone your skills so you can better capture your travels.
Want More Green Gift Ideas?
Our Green Travel Gear page
Amazon Green
21 Gift Ideas for Green Travelers
Money Belt Reviews for Every Traveler
Best Gifts for Travelers
10 Awesome Stocking Stuffers for Travelers
6 Tips for Traveling by Rail in Europe with Kids
Spending an Unforgettable Christmas in Europe
Oftentimes a great gift is something you love yourself.
Would it be appropriate for the traveler in your life too?
Hopefully you can add some of these gift ideas to your list of great Christmas gift ideas, especially in an age and time when so many people have everything already.
Best Holiday Gifts for Travelers – Top Picks
It's the holiday season, which means it's time to buy some gifts for the favorite traveler on your list.
Here are our top picks for Best Holiday Gifts for Travelers.
Our latest holiday gift guide has many gifts that are made in America, our favorite type of gift.
We all know someone who has too much, and it's often hard to think of the perfect gift. Here are our top picks.
Touch Digital Camera
The Olympus Tough Digital Camera is waterproof, shockproof, and freezeproof – what more could a traveler ask for?
Universal Power Adapter
There's nothing like arriving in a new country, trying to plug in your laptop, and realizing you brought the wrong travel adapter with you.
The Universal Power Adapter gives you an all-in one option for less than $10.
xShot Camera Extender
Perhaps one of the coolest gadgets I got to try out this year was a pocket xShot.
It's pretty much an extendable arm or handheld tripod so you can take better shots when there's no one around to ask for assistance.
A highly recommended stocking stuffer that someone will actually appreciate and use, unlike other bric-a-brac that often goes inside stockings.
Reusable Water Bottle
There are excellent stainless steel water bottles, glass water bottles, and fruit infused water bottles.
There are even water bottles with water filters in them now.
For an outdoor enthusiast, a reusable water bottle would be a welcome gift.
Any Food Related Gift
We love kitchen gadgets that bring home the taste of travel.
Be it a guacamole making molcajete or a tagine, here are our favorite gadgets, from gelato makers to pasta makers that bring home the tastes from far away lands.
While we are on the subject of food, we really, really love food as gifts.
Fill a basket with some gourmet pasta and sauce. Bring a box of endangered species chocolate.
Bring some desserts from a sustainable restaurant, bread from a nearby bakery, or beer from a local craft brewery.
It's wonderful when you know a gift will actually be used/eaten and won't take up any space in the receiver's home.
Any Technology Gadget
We really like the idea of portable travel chargers and solar chargers too.
Check our guide to the best technology gifts and gadgets for travelers for gifts for the travel techie in your life.
Travel Journal
We always love the Moleskine line of products.
There's nothing like the feeling of pen to paper.
One can never have too many blank pages to fill with all their memories.
Here are some more travel journals.
TuGo Cup Holder
What an awesome invention, as when you're rushing through the airport, you never have enough hands.
The TuGo Cup holder attaches to your bag and allows you to keep moving with your favorite beverage until you reach the waiting area.
 Travel Gift Cards
 There are websites in which you can buy gift cards for your favorite airline or hotel.
They have gift cards saving you from 4% to 17% for places including Disney, Southwest, American Airlines,  US Airways, Jet Blue, Mariott, Hyatt, Four Seasons, and more.
For a traveler who is spending from $100 to $2000 at one of these places, the savings for such a card can be up to $350!
We've previously written about how you can essentially get a 10% off coupon for American Airlines by buying gift cards at a discount.
Other Awesome Best Holiday Gifts for Travelers Ideas
If you're curious about previous year favorites, check out these posts:
Happy holidays, and enjoy shopping for these best holiday gifts for travelers.
There's sure to be the perfect gift idea for everyone on your list.