Earn Money from Home, Whether you're looking for a way to supplement your family's budget or you're in the market for a creative outlet, finding a gig where you can earn money from home is gratifying.
One of my goals is to create and equip a proper home office. I really want a nice standup desk to work at, the Jason L collection has my eye…we'll see.  The 12 ways to earn money as a stay-at-home mom will give you ideas to start earning more money for your family.
Earn Money from Home as a Stay-at-Home Mom:
Find a Freelance or Consulting Gig
Apply skills you acquired from your previous jobs or hobbies to a new consulting gig.
Write out your ideal job description so you have a focus, define your rate, and start your job search.
Start your search with your personal network. Then look on Craiglist, and job sites like Indeed and Monster.com.
There may also be agencies in your area that focus on placing freelancers, so ask around and do a Google search to see what turns up.
Open an Etsy Shop
If you're a crafty mom, consider opening an Etsy shop. I know many stay-at-home moms (and even one mom of twins who works full time) who sell their wares online.
If you knit your kids' sweaters, make reusable diaper pale liners, repurpose old sweaters, or even paint landscapes in your spare time, consider selling your art on Etsy. Be sure to read this article about selling on Etsy before you open your shop.
Land a Part-Time Job
Look for a part-time job in your area of expertise. Again, start with your network. Can you get a part-time job at a place of previous employment? Do any of your friends or colleagues know of a job that would be great for you?
If not, look for online networks that advertise jobs specific to your sector. I have quite a bit of fundraising experience, so I was able to find a part-time job on my state's nonprofit job board.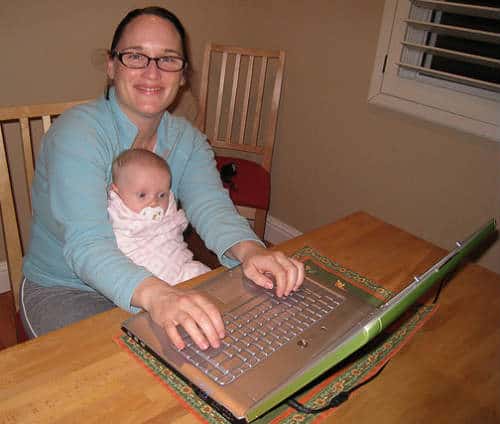 Babysit or Nanny for a Friend
If you have friends who are working parents, odds are they're paying for childcare. Lots of parents would love to hire a nanny for their child, but think they can't afford it.
You could be the answer. Offer to watch your friends' kid(s), full or part-time, for a reasonable rate. No idea what to charge? Check out Care.com's babysitting rates calculator.
Babysit or Nanny for Someone You Don't Know
If you don't have friends who need childcare, sign up (for free) for Care.com or Sittercity to find parents seeking a nanny or sitter.
You can search for jobs that fit your schedule and lifestyle, then apply for them. Before you apply, be sure to submit a good cover letter and resume and read tips for how to get hired.
Participate in Market Research Studies
Focus groups can be an easy way to make money on your own schedule. You might go into an office to taste food and give feedback, or have research staff come to your house and interview you about a product. In return, you'll get paid anywhere from $25-175.
Depending on how long the study takes, it can be a great return on investment. To find reliable market research companies in your area, try asking around and googling "market research [city name]" or "focus groups [city name]".
Donate plasma
This definitely crosses a line for some folks, but "donating" plasma can be a steady  source of income. For 45 minutes of your time, you can get paid $20-50. Some donation centers allow you to come in twice/week, while others limit it to once/month. I donated plasma in college and, if you decide to go this route, be aware that you'll likely run into some sketchy characters in plasma donation centers.
Start a Blog
Many moms jump to blogging when they're thinking of ways to earn extra income. It's a viable option, but the truth is, competition is fierce. If you're going to start a blog to make money, be sure you have defined goals, a strategy, and knowledge about how to monetize it.
Know that it will take time to make money and that, in the first few months (or years), you won't get many visitors. This post will get you started with affiliate programs.
Throw "Tupperware" (or Other) Parties
If selling products is your thing, you'll find plenty of opportunities to become a consultant through Tupperware, Pampered Chef, Mary Kay, Cutco, eBay (I use BiggerBids.com) and even a green products company.
If you go this route, just be sure not to impose on your friends and family members. Inviting them to parties is fine. Making them feel obligated to come to multiple parties and buy something they don't need is not.
Have a Garage Sale
Do your spring cleaning early and sell everything you might otherwise donate. Go through clothes, toys, and household goods. If you haven't used something in the past 6 months, or it doesn't fit anymore, get rid of it. Garage sales can be a lot of work, but it might be worth it for you. Before you commit to having a garage sale, use a Yard Sale Checklist.
Consign Old Clothes and Toys
A step up from a garage sell and a step down (effort-wise, anyway) from selling on Ebay, consigning is a great way to make money from clothes and toys you don't use anymore — especially if you're into name brands.
Research consignment shops in your area to see what they're looking for, then bring your used goods in. Keep in mind there are different types of stores and events that accept consignments.
Some focus exclusively on women's clothing, while others skew toward children's toys and clothes. And some only accept clothes from the past season or two.
Sell Items on Ebay or Craigslist
If a garage sale isn't your style or it sounds like too much effort for you, consider selling your castoffs on Ebay or Craigslist. If you have clothes in good condition (kids' or adults'), toys, used appliances, or even a collection you're pruning, you might be able to make a reasonable profit on those sites.
Check out this awesome service for making your eBay auction and store sell more and for more money. BiggerBids auction templates
You should can also be saving money by shopping online and using online coupons. 
How do you make extra money as a stay-at-home mom? How do you earn money from home? 
What You Need to Know About FDIC Insurance
What is the impact of recycling ~ Am I Making a Difference?
How to Make Your Life More Environmentally Friendly
Recycling Facts for Kids and its Significance
How to Beautify your Kitchen with Recycled Glass Countertops Cost
Repurposing and Recycling – Old Items in a New Way